Everything you need to know about merchant processing
Businesses everywhere depend on their payment processors to get paid for their products and services. This is sometimes referred to as "payment processing" or "merchant processing". As a business owner or manager, you want a payment processor that is truly reliable. So first you need to know: what is merchant processing? Let's find out!
Transactions between a business and a customer involve a form of payment. These days, that may be in the shape of cash, credit/debit card, online, check, or digital wallet.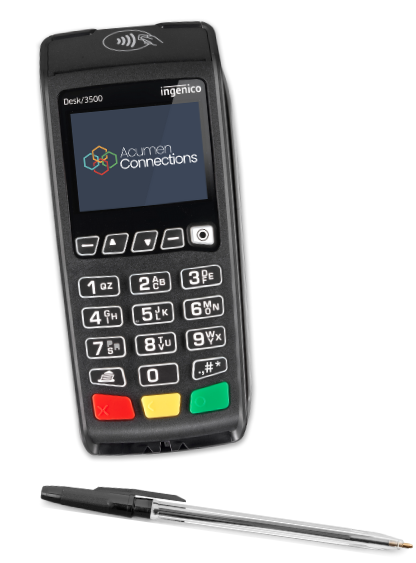 Level up your payment game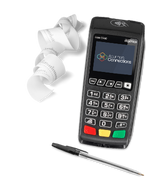 Take payments with confidence. Make our YouTube channel your go-to for all things payment processing.

In order to accept many of those non-cash payments, a business needs to be equipped with a payment processing system. This is where we come into play. We enable businesses to accept payments in a simple and secure manner. Our role is usually referred to as a "merchant service provider" or "payment processor."
But what exactly is merchant processing? It's one of the many things we do, and in today's article we'll be talking about the ins and outs of merchant services. We're happy to share the secrets.
What is merchant processing?
People often ask, "What is merchant processing?" The simple answer is that merchant processing is a service that enables businesses to take credit or debit card payments in a secure way.
We all know that in this day and age, a business has to be compatible with electronic payments (like credit and debit cards). Afterall, 80% of consumers agree that the options they have to pay at a store does impact their purchasing decisions. Not everyone carries cash and sometimes, we tend to forget our wallets. However, very few people are likely to leave without their smartphones, and so, it is recommended that businesses accept Apple Pay and Google Pay along with other digital wallets.
The principle is straightforward. You sign up with a payment processor like Acumen Connections and gain the ability to collect payments from your customers. The payment processor ensures that the funds get deposited to your account and they charge fees for their services.
As a business owner or manager, you want to work with a provider that understands your unique needs and offers a plan that is tailored for you.
The merchant processing transaction flow
There are a series of steps that need to occur for a merchant to accept payments for sales. We have broken down the steps below for clarity:
Step 1:
In a physical store, when a customer makes a purchase, they swipe their credit or debit card at a credit card terminal during checkout. This action involves running the card through a point-of-sale (POS) system and the customer's card information is sent to the payment provider for processing. Similarly, if it is an online transaction, the customer is directed to enter their card information through a secure gateway for processing.
Step 2:
The merchant account provider and their bank receive the transaction details.
Step 3:
The merchant's bank then sends the transaction details to the card association, which forwards it to the customer's bank for approval.
Step 4:
The customer's bank will approve or deny the transactions based on several factors. These could include the availability of funds/credit, suspicious activity, value of purchase, and more.
Step 5:
The customer's bank relays their decision to the card association. If the transaction is approved, the bank sends an authorization code with their response.
Step 6:
The card associations send the approval code or rejection outcome to the merchant's bank.
Step 7:
The merchant's bank sends the approval code to the merchant's terminal, which may print out a receipt for the customer to sign. Or the customer might be asked for an electronic signature on the terminal display. This entire process, from step one to seven, only takes a few seconds. Often, it's fast enough that the merchant nor customer notice.
Step 8:
A record is made of the purchase. The customer and business both get proof of the transaction. The customer gets their receipt.
Step 9:
The last step is settling funds. At the end of every business day, a merchant must close out all the sales incurred on that day. The POS system will add up all the sales and send this information to the merchant account. Then the merchant's bank will request funds from all the clients' banks. The clients' banks will send the right amount of funds to the merchant's bank account.
Types of merchant payment service types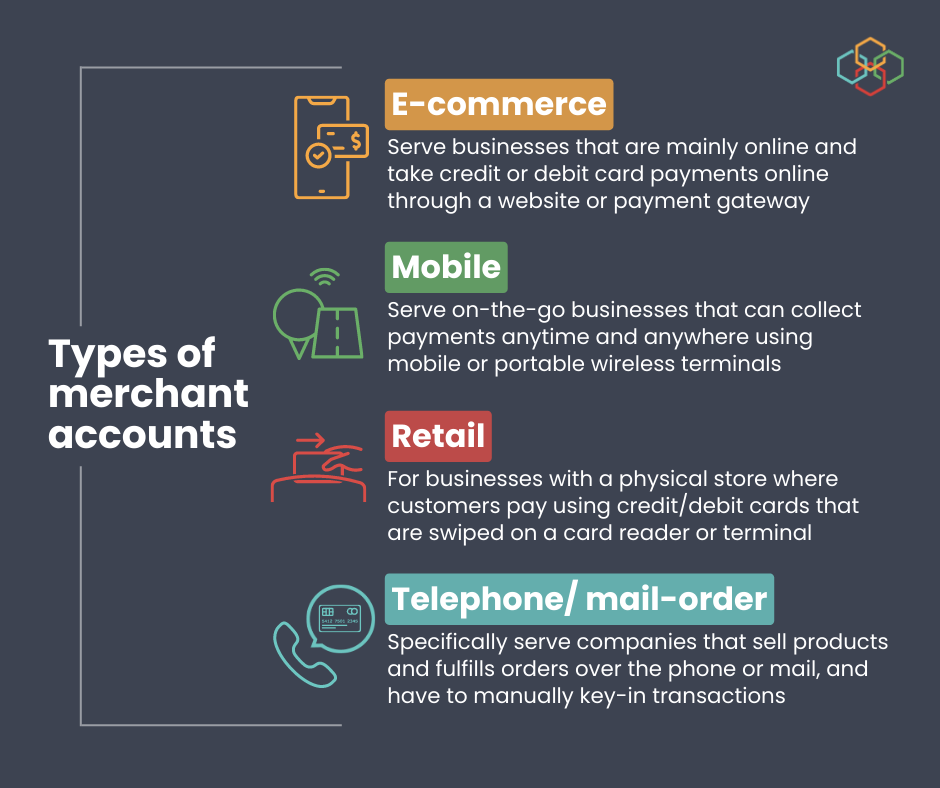 There are a few merchant service types depending on your company's needs. See which merchant payment service type matches your business the most:
1. E-commerce merchant accounts
If your business is primarily online, then this might be the one for you. These accounts work with businesses that have an online store and sell their products and services by taking online payments. Shoppers can pick what they want, usually from a website, and are directed to enter their card information through a secure gateway.
2. Retail merchant accounts
Does your business have a physical store? If yes, this could be the option for you. In such businesses, customers make payments during checkout using credit or debit cards that they swipe or tap at a terminal or credit card machine.
3. Mobile merchant accounts
These are for businesses that deliver door to door and collect payments from the customers' homes. Same goes for service-based businesses that work at people's homes or offices and charge there. Collecting payments is made easy using wireless terminals, or mobile POS, that can take card payments anywhere.
4. Telephone/mail-order merchant accounts
If a business takes orders over phone or mail, they're the perfect clients for this type of merchant payment service. Telephone and mail orders require card information to be entered by hand to take payments. These are called manually keyed-in transactions.
Oftentimes, companies need more than one payment service type. For instance, a tow truck service could want a system that allows for purchases at their repair garage, online, on-the go, and over the phone. Similarly, a retail store could want a solution that allows them to accept sales in-store or online.
Merchant service products
An integral part of merchant processing is the range of merchant service products available. These tools play a vital role in how payments are collected and what types of payments are accepted. We have listed out some common products:
Credit card terminals
These are the card readers that customers swipe or tap their cards on when making payments. They can be of different types – countertop or mobile. Explore the options we have for you.
Best credit card machines for small businesses.
Payment gateways
When making online payments, the secure platform that facilities the transaction is the payment gateway. One can enter their credit or debit card information online to complete a purchase.
More information on payment gateways.
Point-of-Sale systems
A POS, or point-of-sale, system is a combination of hardware and software that work together to accept payments. It also runs day-to-day business functions like processing sales, running reports, inventory management, accepting gift cards, signing up people for loyalty programs, accounting for tips, digital invoicing, and more.
Mobile POS systems
A mobile POS system, or MPOS system, is a point-of-sale system that isn't confined to one physical location. Traditional countertop terminals are at the checkout counter in a store. Using MPOS means, you can carry the terminal around your store and help customers checkout anywhere. Or you can take it to other geographical locations and collect payments. There are MPOS systems that run on Wi-Fi and MPOS systems that run on mobile data.
Discover more about MPOS systems.
What are common merchant service fees?
There are a few different types of fees charged by payment processors. Let's take a look at the common ones: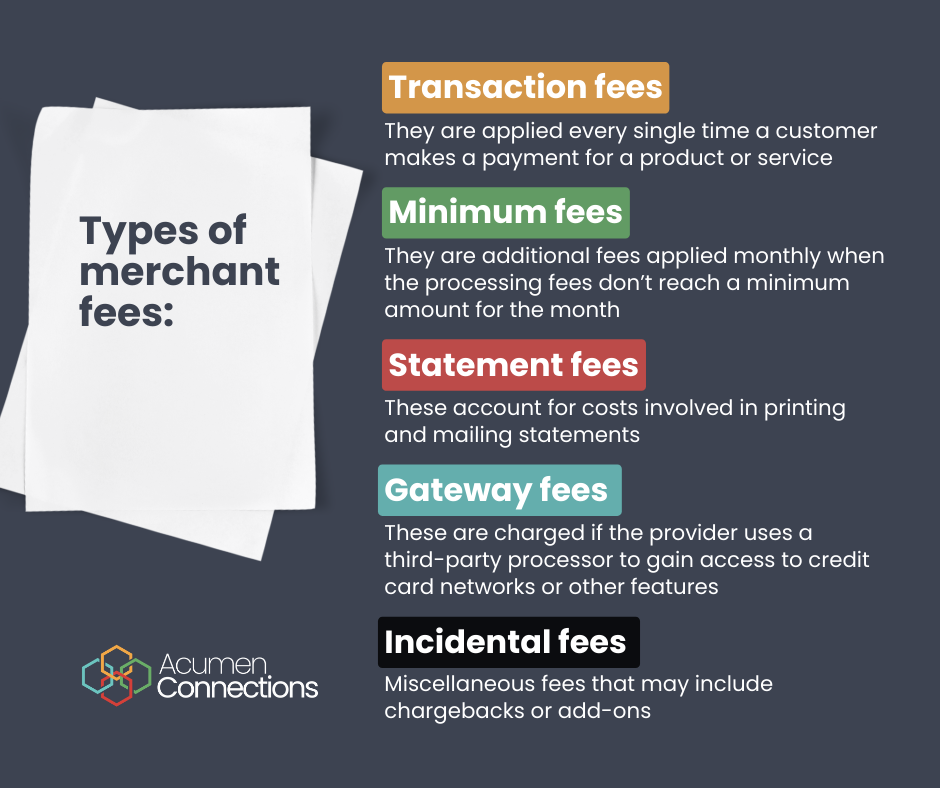 1. Transaction fees
These fees are applied to every transaction and can be charged in two ways. First, it can be a percentage of the actual transaction and second, it can be a flat amount for each transaction. The percentage as well as flat fee can depend on factors such as business size, processing volume, and more. There are several ways these fees can be calculated and charged. Learn more about these transaction fee options like interchange, flat rate, and more.
2. Minimum fees
When processing fees don't reach a minimum amount for the month, an additional fee is applied that month. This fee is the difference between the set minimum and the total processing fees that month.
3. Statement fees
These cover the costs of printing and mailing credit card statements.
4. Gateway fees
This is a fee for using a third-party gateway to have access to card networks or any other processing features. Some merchant services providers only offer third-party processors as a middleman. It is charged as a monthly subscription fee.
5. Incidental fees
These fees arise from events such as chargebacks and lead to a one-time charge. They're not routine and may only occur if a particular type of incident occurs.
More information on fees charged by payment processors.
6. Cancellation fees
These fees are charged by a provider if you cancel your account with them before your contract ends. At Acumen Connections, we never charge cancellation fees! Yes, you read that right. We believe in providing services with no strings attached.
Are you aware of PCI compliance and its significance for your business? Being PCI compliant can save you a lot of trouble. Most businesses charge an annual PCI DSS compliance fee once a year. After listening to our customer feedback, we split the annual PCI compliance charge into four quarterly payments.
Swipe Swipe Baby!
Collecting payments shouldn't be a hassle and we aim to simplify the process. Payment processing makes payments possible. For detailed information on credit card processing and collecting payments, check out our e-book.
Acumen Connections has a team of dedicated players that go above and beyond to serve your business. Along with a wide range of products and solutions to accept payments, we offer custom gift cards, business tips, a robust online security system, and tech support at your fingertips!
Got questions for us? Contact us today!
Anna Reeve, MBA