Want to collect payments easily? Our mobile card readers can make it happen
Elevate customer experience by introducing easy-peasy checkout solutions in the form of mobile card readers. Yes, one simple switch can improve the overall experience for your in-person shoppers. We've listed the best mobile card readers for you to choose from. Keep reading!
Every business wants to attract new customers while keeping their current customer base. Your efforts must be centered around both goals to do so. To sweeten the deal for everyone, choose checkout solutions that wrap up the buying process on a positive note. As a trusted payment processor, this is exactly what our credit card processing products and services aim to accomplish.
Why do you need mobile card readers?
A mobile card reader can keep customers happier and keep your card processing expenses down.
Benefits for stores
If you own or manage a store, you're aware that some days are busier than usual. With only one or two checkout lanes, your customers are made to wait in line for their turn. Nobody likes to wait more than a few minutes or at all. They have lives to get to. One survey says that businesses report losing 75% of customers due to waiting times.
If you're able to speed up the checkout process, your customers appreciate it. Instead of having everyone line up at checkout, hand-held mobile card readers can be used to collect payments anywhere in the store. From retail stores and restaurants to dental offices, businesses in diverse industries can benefit from wireless or mobile card readers.
Benefits for businesses on the go
Do you provide services like housekeeping, repair services, window washing, dog walking, HVAC (Heating, Ventilation, and Air Conditioning), car servicing, car detailing, or anything else that's on-the-go? Do you sell items door-to-door? In any of these situations, you are not close to a checkout counter. Often, the service takes place at a customer's home or office.
Cash and checks are viable ways to collect cash but they're not always convenient. Sending out and chasing down invoices is incredibly time consuming. Writing down the customer card information to charge later is very risky. It goes against PCI compliance best practices as it could be lost or stolen. Plus, card not present transactions are more expensive.
That's why you need wireless or mobile card readers to collect payments in-person at locations away from your physical store if you have one. A wireless or mobile card reader allows a seamless checkout process for you and the customer.
Benefits for everyone
Along with serving your customers, you want to accept payments in a way that is convenient for you. You want a reliable merchant processor that lets you get paid in a secure and systematic manner. Explore our list of best card readers for small businesses for more ideas of solutions for your business.
When a merchant doesn't accept card payments, they could suffer a huge dent on their sales and profits. Merchants without the ability to accept credit card payments may be:
Forfeiting potential sales and profit from customers that don't carry cash  
Seeing fewer sales if the checkout process is too long 
Disappointing customers that now won't return in the future 
Paying higher credit card processing fees 
Making risky decision that could put their customers and business at jeopardy
Facing an expensive and time-consuming invoice management process
Missing opportunities to expand their business
Creating headaches for themselves that could easily be resolved with a simple checkout system
Our only advice: Don't be that merchant! Find out how much money you could potentially be losing by being a cash-only business.
How much business do you do? (in dollars)
---
You're losing
XXX,XXX
by not accepting card payments
The 5 best mobile card readers for your business
When it comes to your business, we recommend top-notch products and solutions. At Acumen Connections, we offer nothing but the best. Explore these mobile card readers below and compare them to pick your perfect match. Let's dive in!
| Device Name | Connectivity | Type of payments accepted | Cost of hardware | Features |
| --- | --- | --- | --- | --- |
| BBPOS Chipper 2X BT | Bluetooth 4.0, USB | EMV chip or swipe cards, digital wallets | Purchase it for $135 or rent it at $15/month | Ultra-compact design, suitable for high-volume and on-the-go transactions when Wi-Fi isn't available |
| Ingenico Tetra Desk 5000 Wi-Fi | Wi-Fi, ethernet, dial | Chip tap or swipe cards, mobile wallets | Purchase it for $520 or rent it at $45/month | Wired base with portable terminal, suited for businesses where payments are collected in multiple locations in a store |
| Pax A920 | 4G, Wi-Fi, GPS | Chip, tap or swipe cards, digital wallets | Purchase it for $525 or rent it at $45/month | Similar to an Android tablet, 5" IPS touchscreen, PCI PTS 5.x compliance, 4G and GPS capabilities – great for when Wi-Fi isn't available. It is compatible with merchant discount program.  |
| Dejavoo QD2 | Bluetooth, 4G, Wi-Fi | EMV chip, swipe, contactless payments | Purchase it for $600 or rent it at $50/month for the first 12 months and after that, it is rent-to-own.  | User-friendly terminal with 5.5″ LCD touch screen and 5M camera, has a charging base. It is compatible with merchant discount program.  |
| SwipeSimple POS Subscription + a smartphone | Wi-Fi or 4G | Chip or swipe with a mobile reader for your phone. Connect with a PAX A920 for chip, tap or swipe. Or manually key-in transactions on your phone  | $15 monthly subscription for the service. | A smartphone is used to collect payments. SwipeSimple can also be paired with the PAX A920 device. |
Take a look at our complete list of products and solutions for all your payment needs.
Choosing the right mobile card readers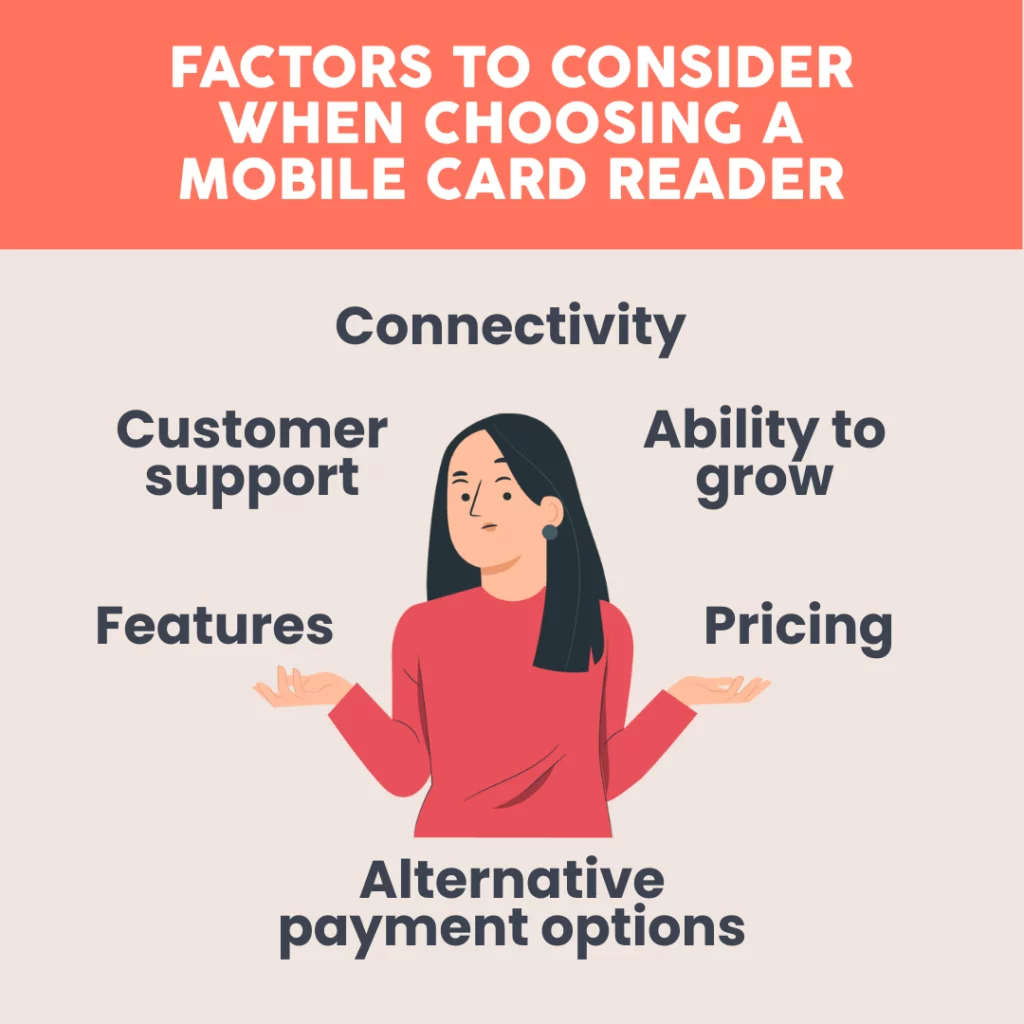 There are a few factors to consider when looking for the winner among the best mobile card readers. We've listed some of these factors for you:
1. Features
Mobile card readers have several essential features in addition to payment processing. When selecting one for your business, you want to check off all the features you want like inventory management, digital invoicing, touchscreen options, and software integrations. Keep in mind that some mobile credit card machines can be used on their own, while others require a smartphone.
2. Pricing
You want the best value for the price you pay, and you want costs to be fair. Some processors may even have hidden fees. At Acumen Connections, we believe in transparency regarding credit card interchange fees and other costs. We offer a wide range of products and services at a reasonable cost. We have merchant discount programs to help save you money.
3. Connectivity
There are several types of connectivity such as ethernet, wi-fi, dial, and 4G. Many wireless or mobile card readers can connect to your Wi-Fi. Some of our options are able to connect to your mobile data service through the use of 4G. Depending on what you have access to, we suggest picking a terminal accordingly.
4. Customer support 
This is non-negotiable for most businesses. You want to work with a credit card processing team with people who are quick to resolve any issues and answer your questions. Quality customer and tech support can elevate merchant experience and that of their customers.
5. Ability to grow
Payment solutions need to grow and adapt with the businesses they serve. This is also called scalability. If a merchant wants to upgrade their setup, they should be able to do so without much hassle. Businesses that are currently in one location now have the ability to take their business mobile.
6. Alternative payment options
Credit and debit cards are the primary type of payment when using wireless or mobile card readers. However, some merchant terminals support contactless payments like Apple Pay, Google Pay, and other digital wallets. There are more payment options now than ever before. Mobile card readers can help businesses stay current.
Read more about mobile POS (Point of Sale) and other alternative checkout solutions to see how other businesses are using these innovative solutions.
Closing sales with mobile card readers
Every merchant likes to get paid on time. Wireless or mobile card readers can help simplify the process. These terminals make checkout convenient for businesses and their customers alike. You want your shoppers to have a positive customer experience and having efficient checkout options contribute to it.
We want you to make the best choice for your business and pick wireless or mobile card readers that can serve you better than others. That's why it is important to go through the list of mobile card readers and make comparisons. Not every product is made for every merchant. It takes some digging to find your true match. We hope our list of mobile card readers along with their descriptions will help you make a choice.
Got merchant processing questions? Curious how much we can help you save money? Want to know what options you have to expand your business? We're happy to answer your questions! Contact us today!
Anna Reeve, MBA