Looking for terminals and credit card machines for small business? Look no further!
80% of customers prefer making card payments over using cash. As a business, you must be equipped to handle non-cash transactions. This is true even for small businesses. Let's explore some of the top credit card machines for small business and get the inside-scoop on "all things payment processing" from a payment expert.
When was the last time you visited a store that didn't accept card payments? We don't think there's too many of them nowadays. There's a growing number of consumers who limit their transactions to cards and digital wallets.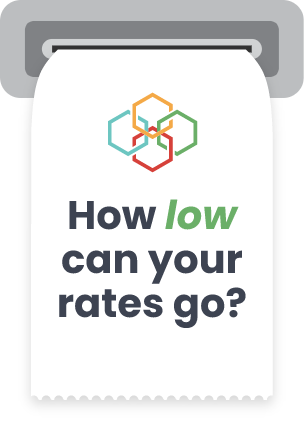 How low can your rates go?
Revitalize your profit margin. Eliminate payment processing fees through a merchant discount program.
How low can your rates go?
Revitalize your profit margin. Eliminate payment processing fees through a merchant discount program.
In a CNBC interview, one entrepreneur shared, "75 percent of the negative [reviews were about not taking credit cards]… We were losing a lot of sales in terms of people not having cash and going to a competing coffee shop." How much are you losing out on sales by not accepting card payments?
How Much Business Do You Do? (in dollars)
---
You're losing
XXX,XXX
by not accepting card payments
Businesses of all sizes, including yours, need to accommodate these customers to avoid losing them to competitors that accept these forms of payment. There are several important reasons why businesses need to accept credit cards and other payment methods.
Starting a business isn't easy. You're often faced with challenges, but credit card processing shouldn't be one of them. There is a clear-cut solution and that is to get set up with a reliable payment processor. This is where we come in with our credit card machines for small business and other equipment that can help make the process smooth and convenient.
When a customer walks into your store, there are several factors that influence their purchasing decisions. As the business, you need to provide positive shopping experience to encourage repeat customers and good referrals. They need to be able to effortlessly checkout at your counter and leave with their purchases.
Sean High is the Merchant Services Account Manager at Acumen Connections. He specializes in credit card processing in Wichita and across the country. He is a driving force behind helping small businesses achieve their goals while saving money using our services. We picked his brain and managed to gain some insight into picking the best credit card machines for small business.
Payment options and credit card machines for small business
Although choosing a payment processor for your small business may seem intimidating, it is quite straightforward in reality. We asked Sean how a small business owner should make this decision and he replied, "It's pretty simple. Businesses only need to know two things. First, which payment processor has the right tools and support to help your business continue growing. Second, how much is it going to actually cost."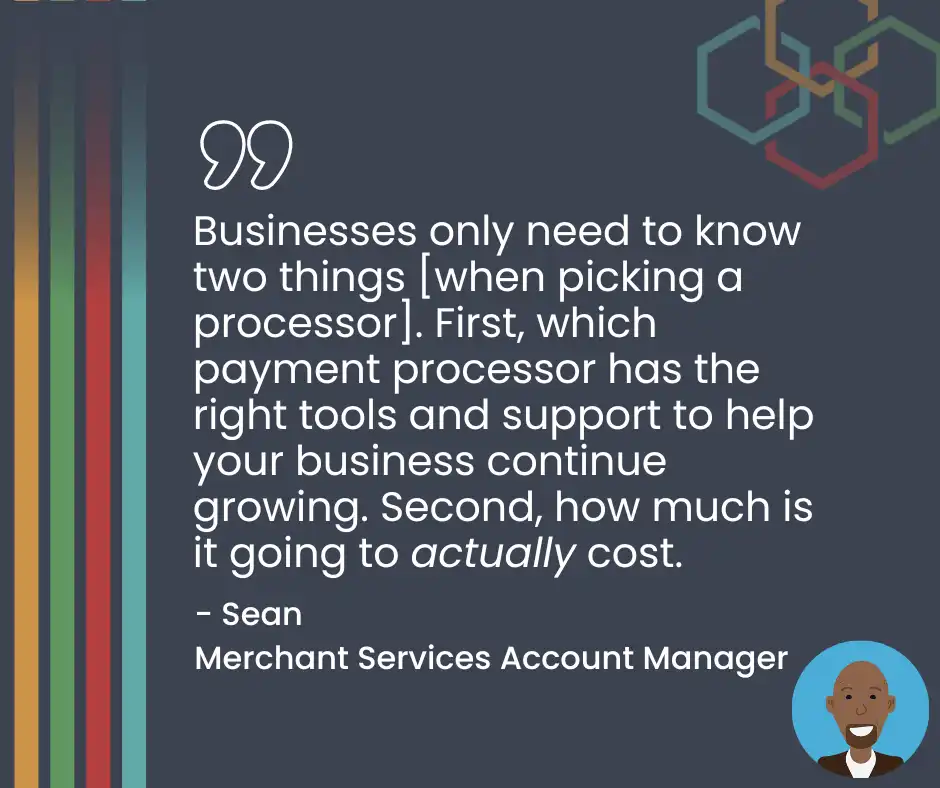 Helping your payment processing for small business growth
At Acumen Connections, we carry a diverse range of products and services to suit all your business needs. We understand that every business is unique and so are our services and packages. There are several types of credit card machines for small business, and they all come with features that make accepting payments easier. We offer credit card processing for the modern world, one small business at a time.
How much does payment processing cost?
You're probably wondering how much is a credit card machine for a business and if it is a worthwhile investment. You need to know straight off the bat that the cost of not having payment processing set up far outweighs the cost of investment. Now, speaking of what it costs to get set up with a payment processor, let's ask the expert!
Sean shares, "The amount you pay in processing fees depends on several factors. This includes the processing and transaction fees, the brand of card the customer is using, if it's credit or debit, how the card info is entered, and more."
People often wonder how much does a credit card machine cost per transaction. On average, per transaction cost is between 2% – 4% of the total transaction. There is no clear-cut answer as your processing fees will depend on factors such as transaction volume, payment options, industry, etc.
To provide more insight, Sean shares this article to help explain how credit card processor pricing models work.
Before picking a payment processor, it's important to be aware that some providers unfortunately do bait and switch. They advertise one price, get customers into a long-term contract, and then suddenly businesses are surprised when they see their first bill.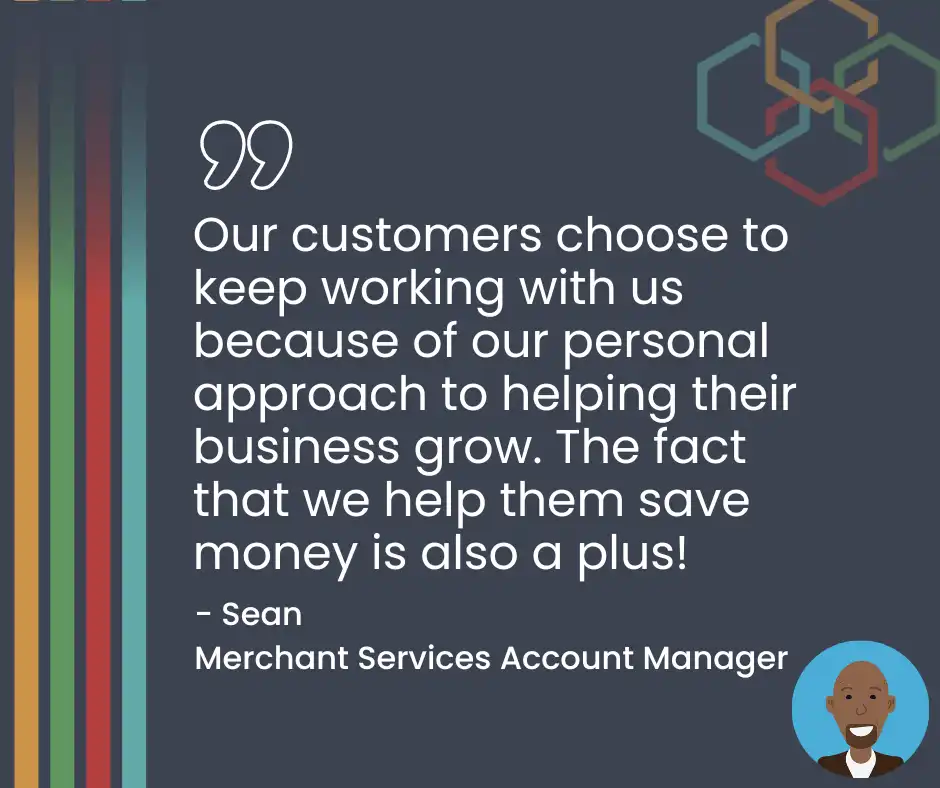 Work with a payment process that won't trap you. Sean explains, "At Acumen Connections, we believe that transparency is key, and we list the monthly fees that we charge." He adds, "we don't have long-term contracts. Our customers choose to keep working with us because of our personal approach to helping their business grow. The fact that we help them save money is also a plus!"
What is the cheapest way to take cards?
As a business owner, you must be wondering what is the cheapest way to take cards. Work with a payment processor that has a history of providing credit card machines for small business. The Acumen Connections team has been in the industry for over 15 years! Helping you get paid without hassle is our team's main goal. Our customers love our Merchant Discount Programs.
There's no secret that consumers get advantages from using their card for purchases. On the other hand, business owners are left with paying the processing fees to accept those card payments. Our Merchant Discount Programs helps incentivize cash purchases so the scales are more balanced, while still allowing you to accept many forms of payment.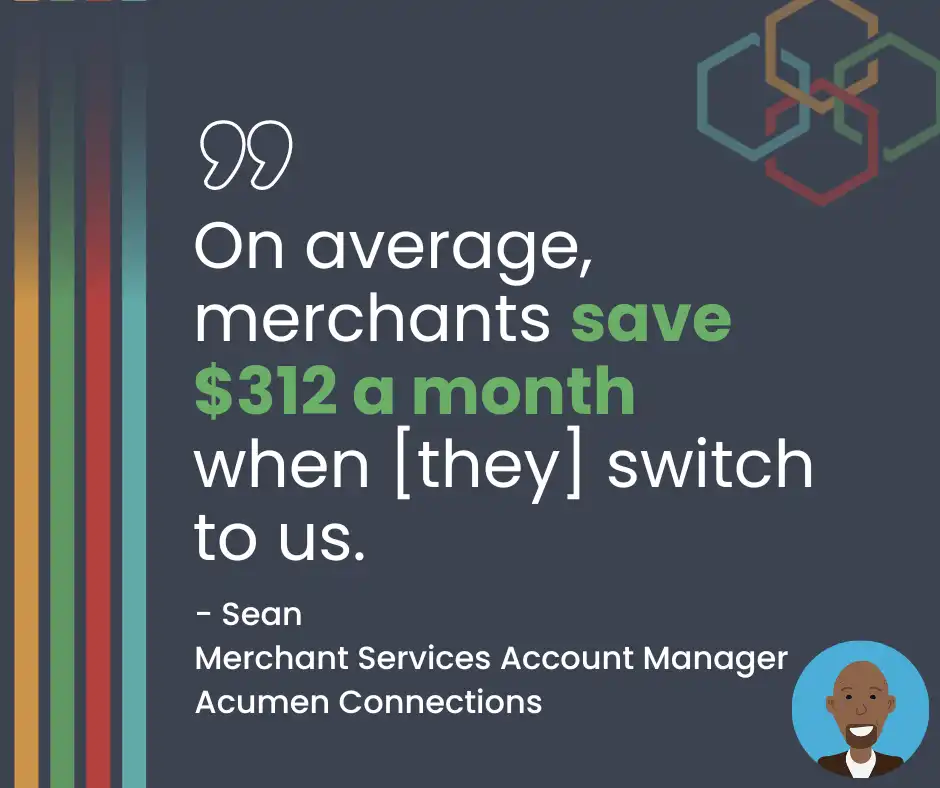 Sean adds, "On average, merchants save $312 a month when they've switch to us. Implementing this program has led to even bigger savings for small businesses." Your business may benefit from adopting one of these systems.
We offer two programs:
Dual Pricing
Non-Cash Adjustment
See which program is right for you: Learn more about our Merchant Discount Programs.
In addition, you can check out our solutions page for a full list of services we offer.
What can Acumen Connections do for my business?
In short, a lot! Yes, we are confident in our ability to provide solutions to most business problems. In addition to products such as credit card machines for small business and online gateways, we also empower small businesses with valuable information and resources.
If you're hoping to uncover which is the best credit card machines for small business, find your industry below and explore the options we have for payment processing and credit card machines for small business.
1. Payment processing for auto shops & dealerships
Drive your automotive business to full speed with an efficient point of sale system. Regardless of where the service takes place, we have payment solutions for your auto shop or store.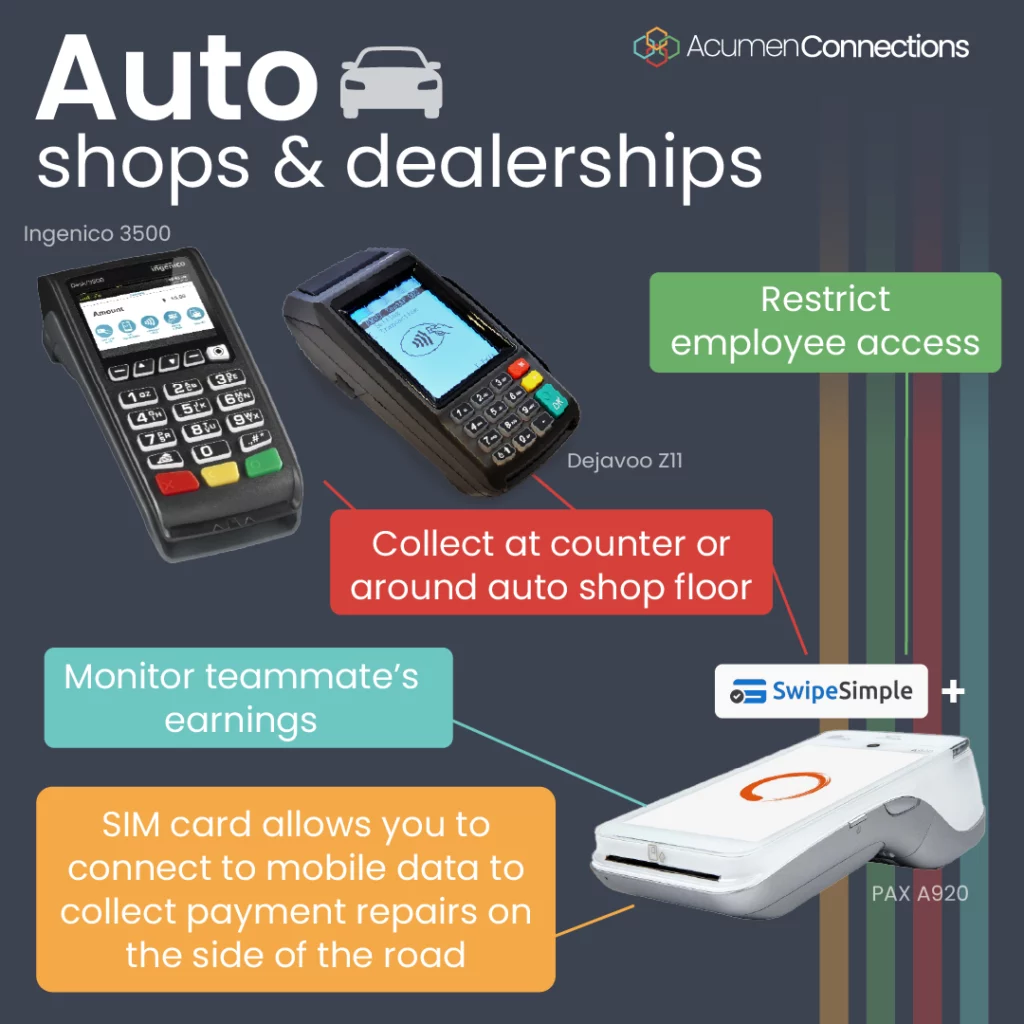 In-store checkout
Countertop credit card terminals require customers to pay at a designated checkout area. "Our handheld Wi-Fi and wireless terminals allow you to move around the store and collect payments," Sean explains.
Cost is a major factor when getting a credit card terminal. Prices vary depending upon features like connection type, screen details, and more. You can choose a terminal with a black-and-white screen, or one with color.
Mobile payment system
Have a team that's on the go? Our mobile payment solutions make off-site transactions possible.
You can collect payment at a customer's residence or on the side of the road. We set you up with SwipeSimple, or an online gateway, to collect payments while on the go. Both options have card swipe mobile card readers that link with an app on your phone.
SwipeSimple is great if you have multiple technicians. Your team won't need access to the full account to collect payments. Also, you can keep customer cards on file for repeat business in the future.
2. Payment processing for beauty services & salons
Are you in the business of making your clients look like a million bucks? We have payment systems designed for you.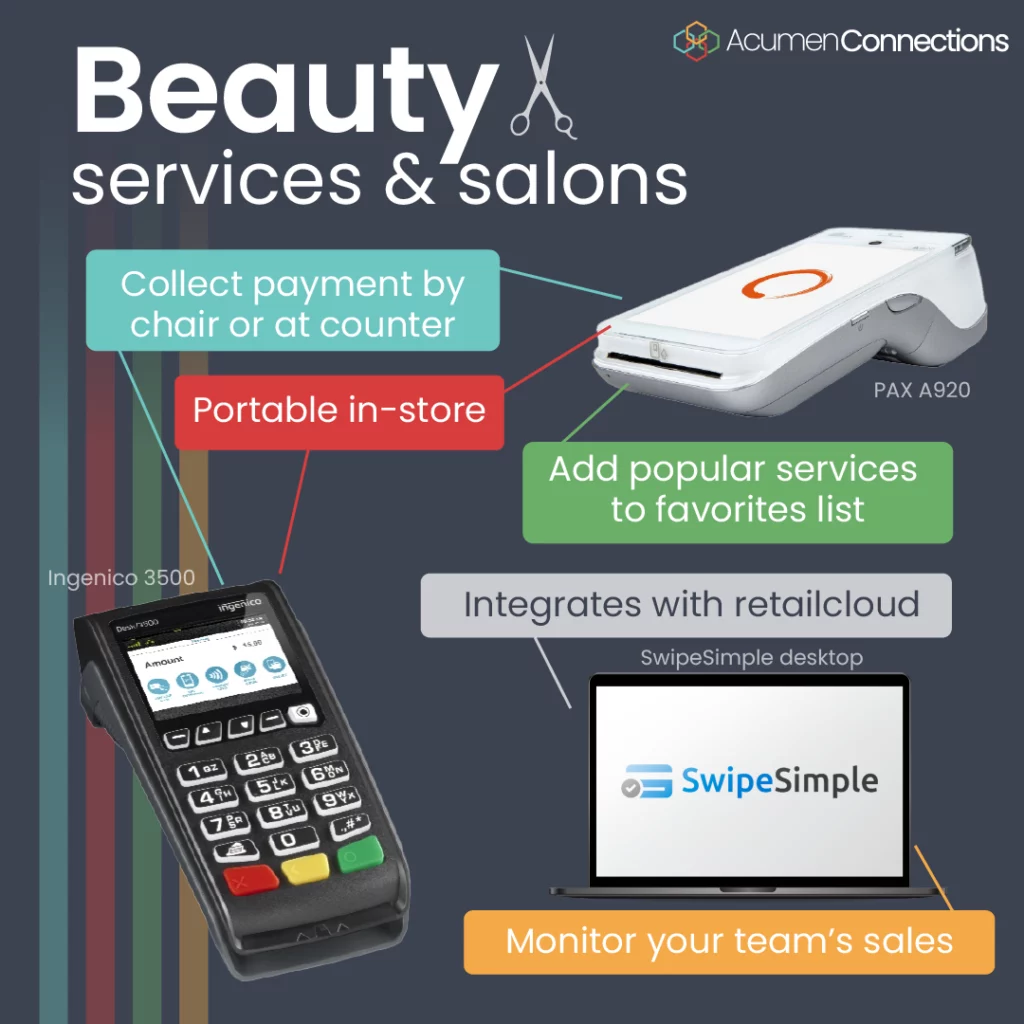 In-store payments
Pick a countertop card reader for your front desk. Or pick a mobile device to accept payments by the chair. Get a card reader with a simple black-and-white screen. Or splurge on a full color screen with downloadable app features! We have a variety of options based on your budget and needs.
Integrations
We offer SwipeSimple, a convenient digital service for accepting payments. Make speedy checkout possible by saving your most popular services to a favorites list. Increase gratuity by setting up preset tip amounts. Want to know how many credit card sales your team made in a day? You can access your current sales in real-time from your online account.
When partnered with Retailcloud, you'll find a point of sale (POS) system crafted for you. Retailcloud can help schedule appointments and manage walk-ins. With an online account, you can access your customer database and analytics at any time. This allows you to view records of previous purchases. "It's a helpful feature for marketing and reselling purposes," Sean adds.
3. Payment processing for ecommerce & online stores
Online shopping is fun and convenient. We believe that accepting payments online should be the same way.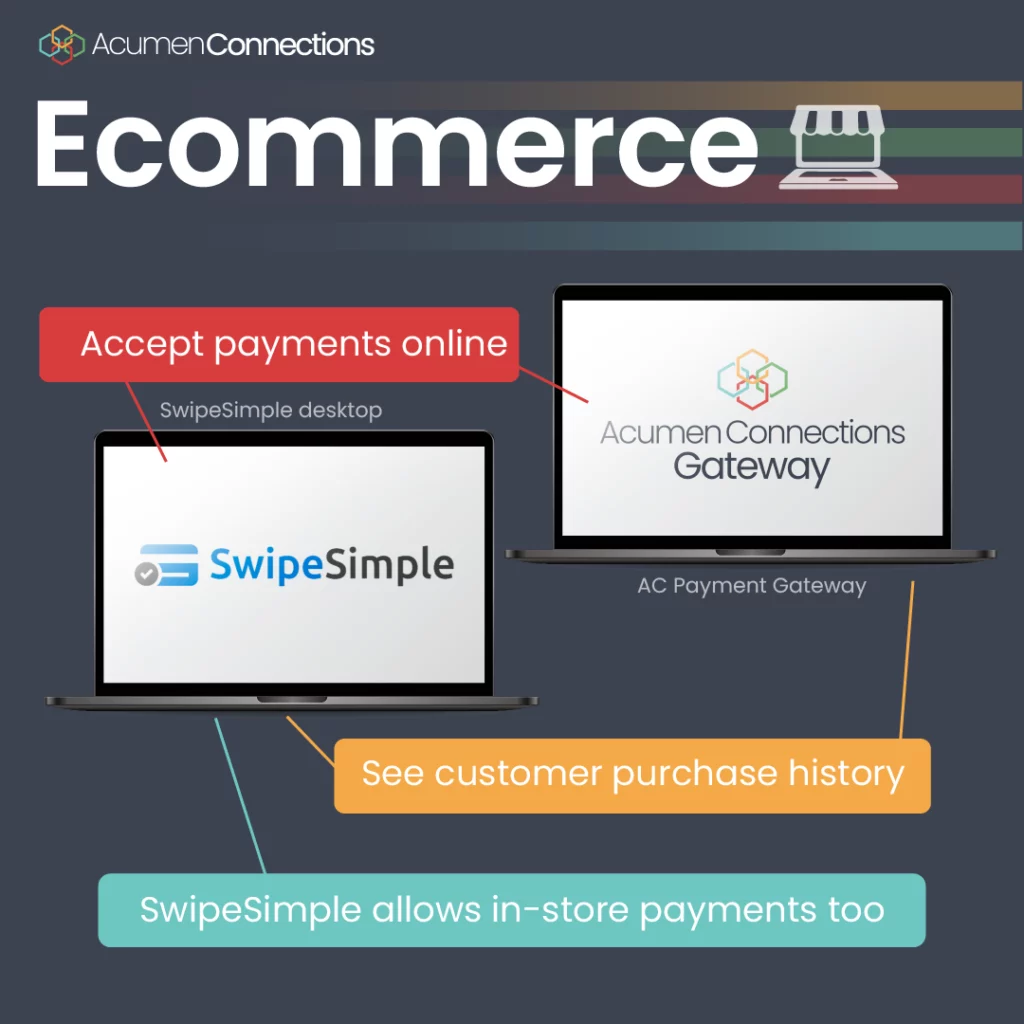 Online-shopping only
If you have an ecommerce store, our payment gateway is secure. It integrates well with Shopify and WooCommerce. Your customers will go from your website to your secure payment gateway seamlessly.
We can even help you set it up. Our customers have access to free ecommerce resources and best practices.
Online and in-person stores
"Establishing emotional connections with customers online is hard. We'll set you up with SwipeSimple to make it easy," Sean explains, "This service allows you to accept credit card payments digitally. It also helps you track which products and services are your bestsellers."
SwipeSimple enables you to collect customer contact information and purchase history. This is a major boon for customer service inquiries. It also helps with remarketing and sales efforts.
4. Payment processing for medical, dental, and wellness providers
Keep your business running healthy and strong with the best credit card machines for small business and other payment options.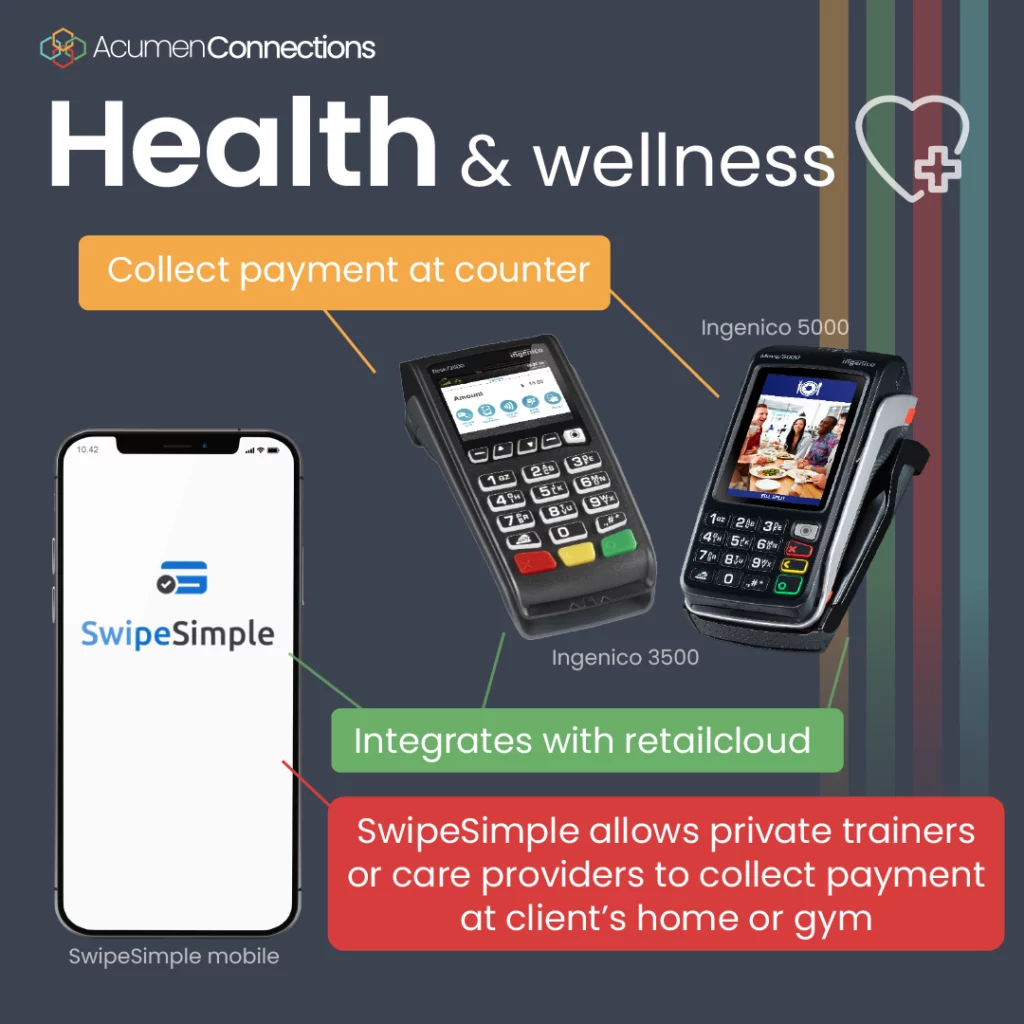 In-person checkout
If you have a "checkout area," our countertop terminals make a great option. Pricing depends on screen and app features. We have virtual options as well. Some connect to Wi-Fi and others connect to mobile data.
We offer retailcloud to help improve customer retention. Gain access to information on customer preferences. Retailcloud lets you schedule appointments, manage walk-ins, and access your customer database. It's a great tool to help you keep up with customers' needs and ensure a quality experience.
Integrations and online services
"Do you provide at-home services? We make it possible for you to collect payment right in your client's home," Sean shares. For health and wellness providers, we also offer SwipeSimple. It's a digital service that makes taking payments convenient. Save your most popular services to a favorites list for speedy checkout. Want to know how much your team has made in a day? You can access your current sales in real-time from your online account. SwipeSimple is mobile-friendly!
Do you have a customer portal? Connect it to our payment gateway so customers can make secure purchases online. It makes the payment process easy, simple, and seamless.
5. Payment processing for home repair & renovation services
Renovate and update your current POS system with Acumen Connections.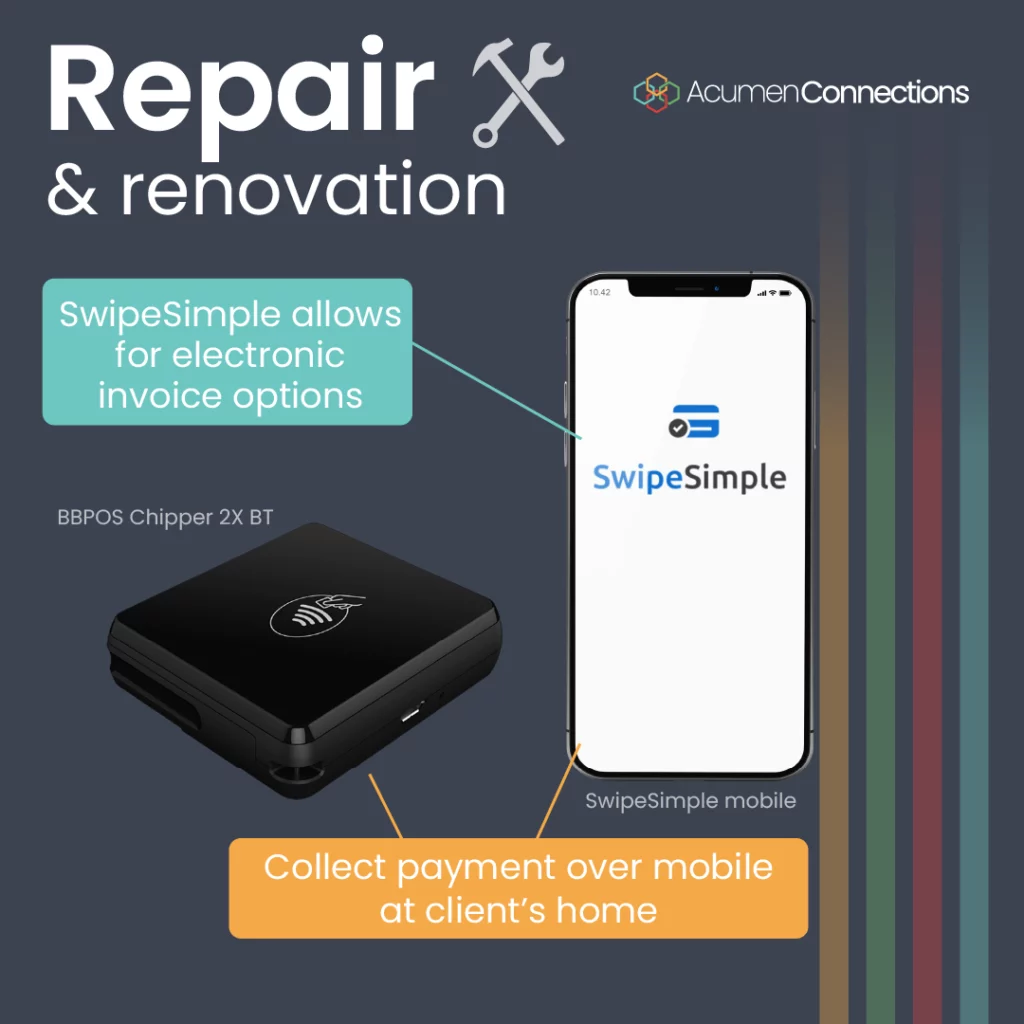 Making sales on-the-go
Our mobile credit card terminal and phone app options let you accept credit card payments at a job site. We offer SwipeSimple, which provides user restrictions. Your team can accept payments from anywhere, without having full account access.
Digital invoices and online sales
"If you'd rather your customers pay online, we offer online gateways, too. They are easy to set up, but we can take care of it for you if you'd prefer," Sean suggests. Your customers will be able to make secure payments online.
6. Payment processing for restaurants, food trucks, & caterers
Do you run a traditional restaurant, food truck, or catering business? We have tabletop and mobile restaurant POS solutions to fit your needs.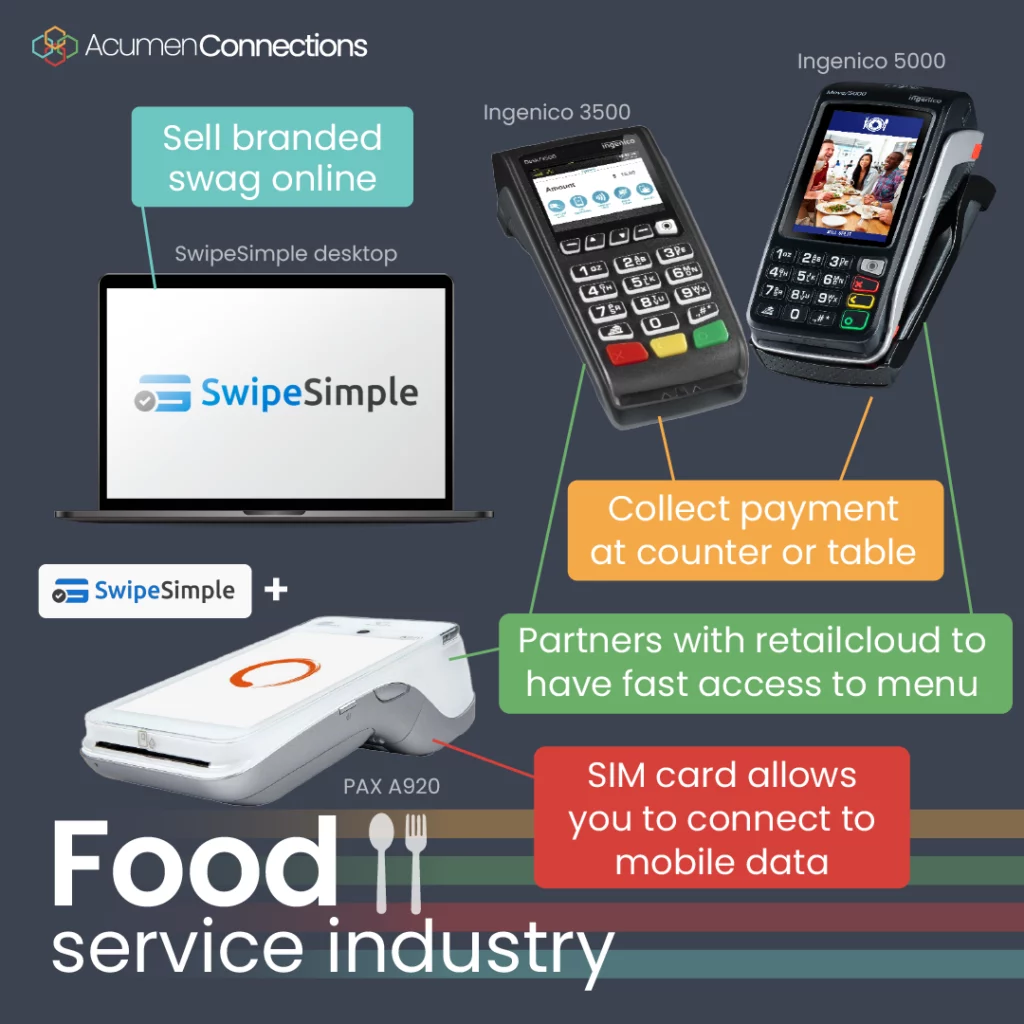 A dine-in experience
When going out to eat, customers want to enjoy their meal. This goes beyond the food, service, and ambiance. They should be able to settle the check without having to jump through hoops.
Our hassle-free restaurant payment processing allows diners to pay where and when they're ready. We have traditional credit card terminals to collect payment at "checkout."
Food on the go
We offer mobile terminals, too. "They're perfect for accepting payments out your food truck window or at a venue. More and more food providers are looking for options like this," Sean adds. Our mobile terminals come with optional restrictions for a larger team. Teammates can collect payment without having full access to the account.
When partnered with Retailcloud, whether inside or online, you'll have fast access to your menu. You can add new items or attributes quickly. Customers can customize menu items just the way they want. Plus, you'll increase revenue with tip adjustment options.
Even online
Ecommerce sales are possible through ShopKeep. You can expand online and sell your favorite items! It's perfect for a new revenue stream, or a terrific way to connect with your customers.
Discover more about restaurant credit card processing systems.
7. Payment processing for shops & retail stores
Looking for POS systems that fit your retail store like a glove? You're in the right place.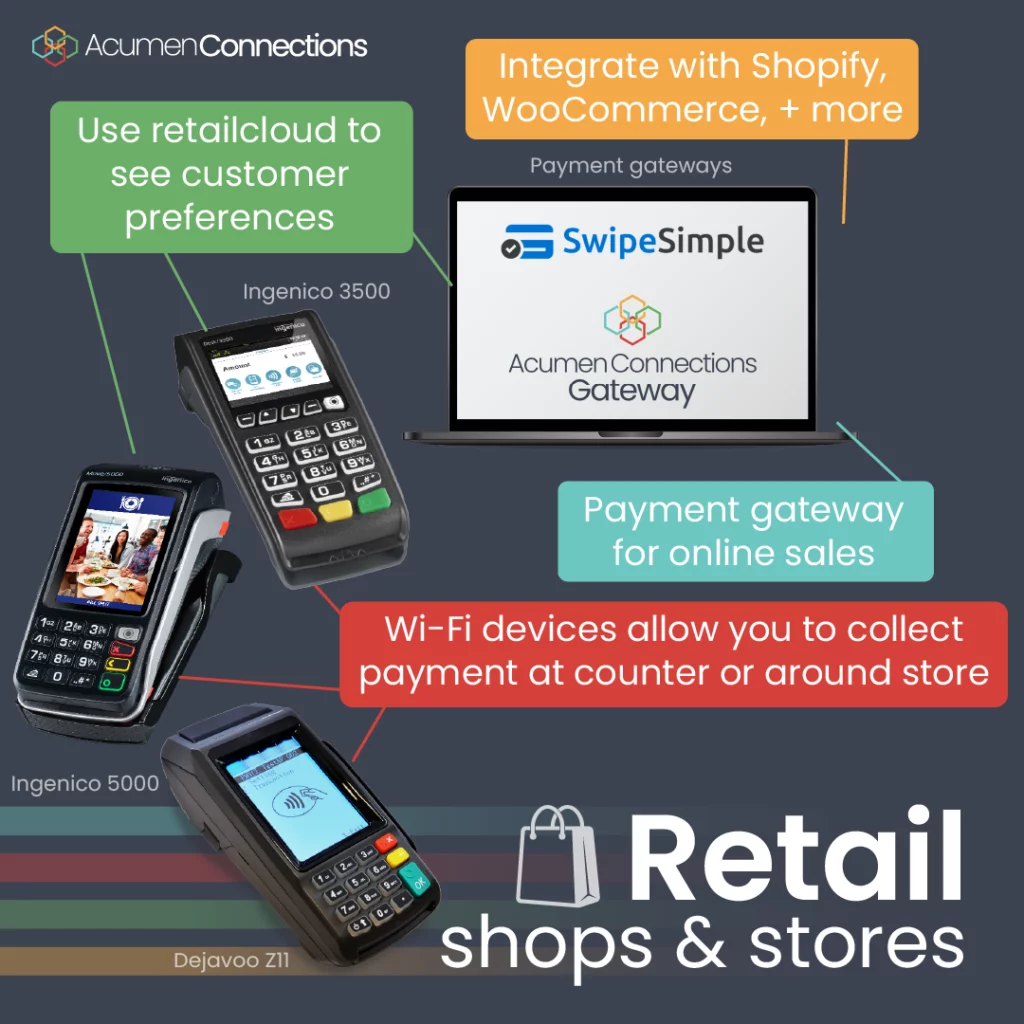 In-store sales
We offer a variety of credit card machines for small business and POS systems. They come in sleek designs to help keep your counter space modern and organized. For most retail businesses, we recommend ethernet or wireless terminals.
Payment transactions should be easy for your team and your customers. Along with countertop terminals, we offer mobile devices as well. Use these devices to open a new checkout line in the store. It's a lifesaver on super busy days.
Ecommerce shop
Do you have an online store or are you thinking of selling online? Sean explains, "Our payment gateway integrates well with Shopify, WooCommerce, and many other digital platforms." We help ensure that customers can shop online or in your store. We make it easy for your customers to buy their favorite products.
When partnered with retailcloud, in-store or online, you get quick access to inventory management. Adding new items, sizes, and attributes is a breeze! Plus, you'll gain customer preference and predictive reordering insights.
8. Payment processing for other small businesses
Believe us, we have options galore! Let's do a quick run-down of some of our products that could potentially be the right fit for your business.
Our traditional countertop terminals pair well with SwipeSimple. Together, they work great for most small businesses. We have a wide range of credit card terminals available for rent or purchase. Choose a credit card terminal based on your needs and budget.
Budget-friendly options include ethernet terminals. These are credit card readers that sit in one spot such as a front desk.
There are wireless terminal options that can connect to both 4G wireless and ethernet. These credit card terminals can move around an office or store as needed.
Premium models are the Wi-Fi connected PAX devices. They can connect to Wi-Fi, 4G, or ethernet. "The PAX is a smart device and can download a number of helpful apps directly to the device. You can even download the SwipeSimple app to your PAX device," Sean explains. SwipeSimple is an online POS system that facilitates collecting payments anywhere.
We have phone and mobile card reader options. SwipeSimple gives you the freedom to control teammate restrictions. This allows your team to receive payment without having full account access. Keep customer cards on file to speed up and encourage repeat purchases.
Final thoughts
Setting up credit card machines for small business can be accomplished in a smart and simple way with Acumen Connections. Our team of experts will cater to your payment needs and help you choose the best option for your business.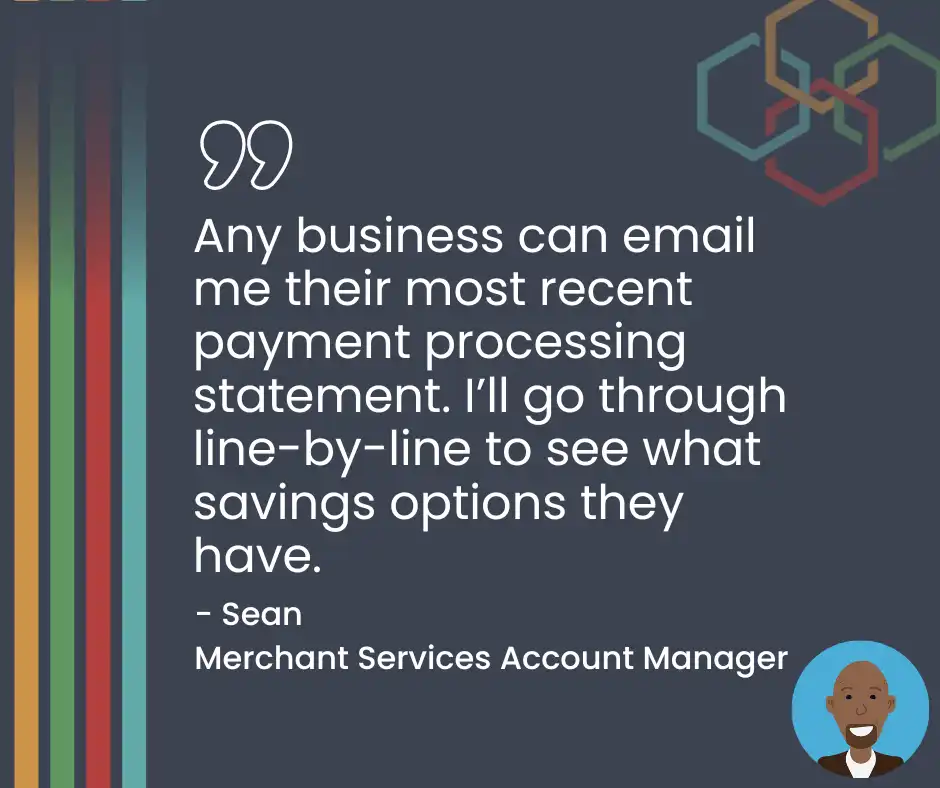 We asked Sean if choosing Acumen Connections as a payment processor is cost-effective for businesses. He responded, "Absolutely! I do free rate reviews. Any business can email me their most recent payment processing statement. I'll go through line-by-line to see what savings options they have."
Selecting credit card machines for small business is now easier than you'd imagine! 
Anna Reeve, MBA