Everything you need to know about content marketing in a nutshell
We all spend a good amount of time consuming content in various forms and through different platforms. Businesses and brands constantly create fresh and relevant content and get it to their audience. The end goal of most content marketing is to get people to buy a product. Keep reading to discover what content marketing is, explore examples of content marketing, and gain valuable insights from a Marketing Manager.
Did you know that the average American spends almost 7 hours a day online? That is a major portion of one's waking hours. People everywhere are fed an overdose of content in the form of blogs, videos, social media posts, music, television, podcasts, online games, and more. This is how businesses and brands create buzz surrounding their products and services. They market their content to potential buyers. That's the short answer to the question, "What is content marketing?"
As a business owner, it's essential to embrace content marketing because it has proven benefits one simply can't deny. In fact, 81% of marketers regard content marketing as a core business strategy. I asked our resident Digital Marketing Manager, Renee McBride, to share her thoughts on the value of content marketing, and she said:
"Content lies at the center of all marketing efforts. From getting leads to converting them into customers, content marketing has redefined our sales strategy for the better."
This sentiment is reciprocated by 78% of CMOs who see content marketing as the future of marketing. No wonder content marketing is a $400 billion dollar industry and is projected to reach $900 billion by 2028!
What is content marketing?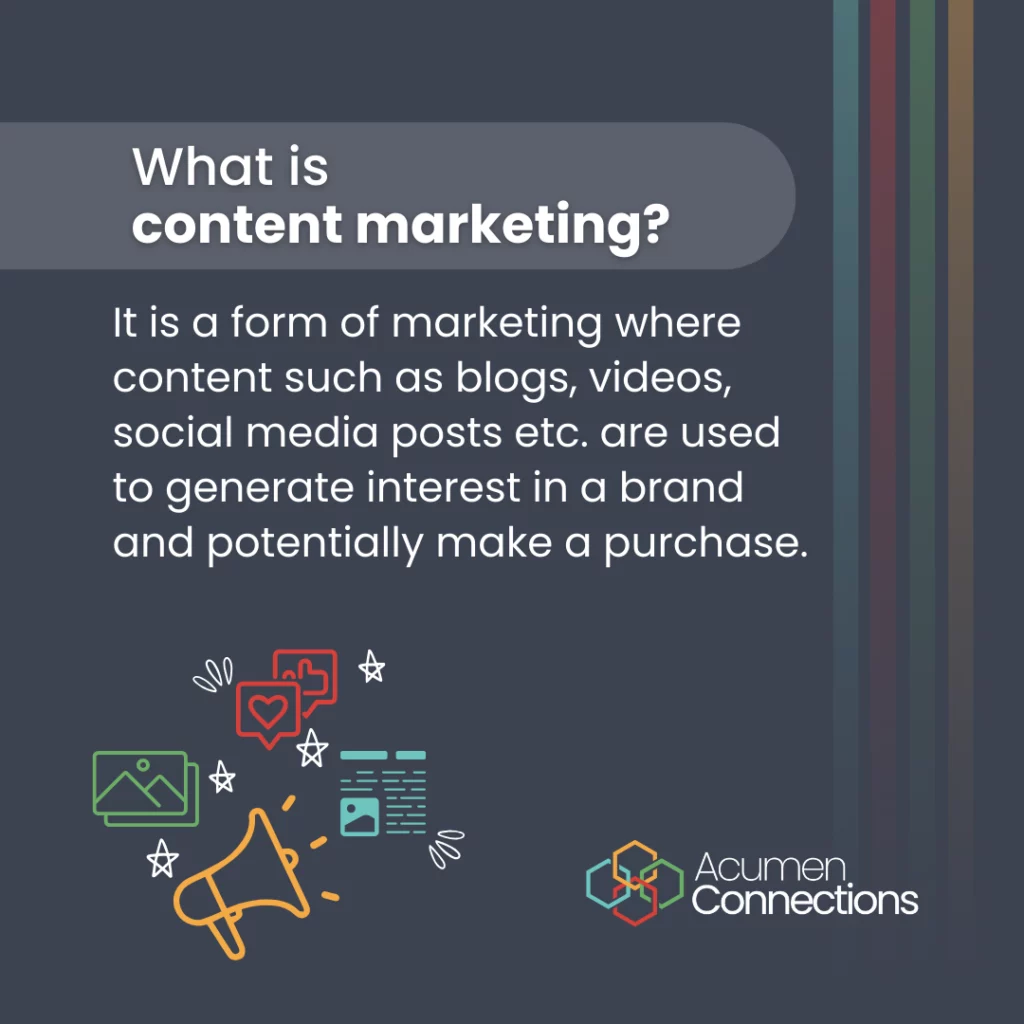 Content marketing can be explained as a strategy to convince potential consumers to buy something using different content types such as videos, blogs, social media posts, emails, etc.
Renee adds, "Your goal is to consistently create and share useful and relevant content with the purpose of attracting, retaining, and helping customers engage with your business and ultimately convert."
What are the benefits of content marketing?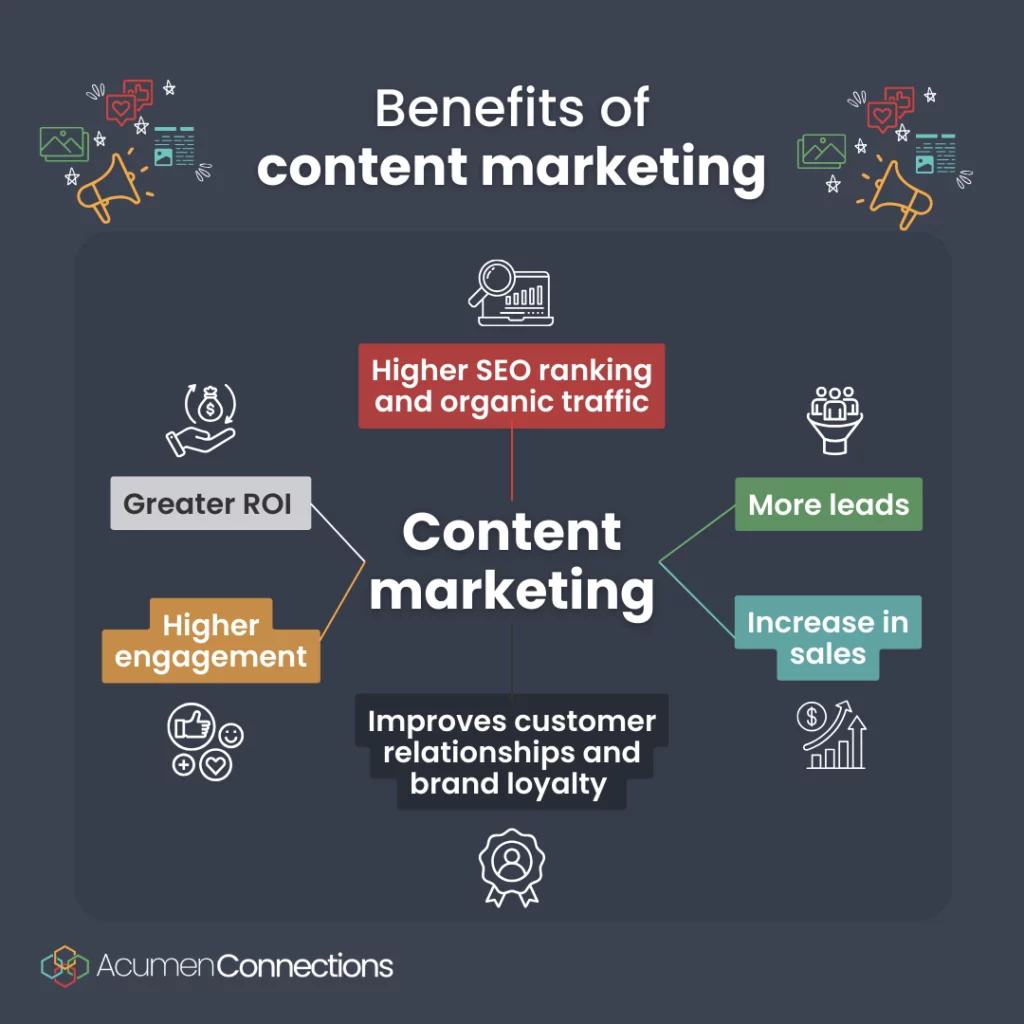 91% of B2B and 86% of B2C marketers use content marketing. There are several reasons to use content marketing for your business. Although content marketing takes time and effort, when executed right, you can reap the following benefits:
1. Higher SEO ranking and organic traffic
SEO is an abbreviation for Search Engine Optimization. Content marketing, together with SEO, can help your business show up higher on search results by using keywords that buyers are entering into their search bars. When done well, SEO can bring in a lot of traffic to your website from organic searches.
Renee confirms, "60% of people are motivated to look for a product after reading content related to it. I'm certainly one of those people!"
2. More leads
Content marketing can bring more leads to your site. When you have an influx of traffic coming to your website, thanks to content marketing, you're gaining more leads. People love a well-designed and easy-to-navigate website. If you're creating quality content and sharing positive reviews, customers are likely to shop from your business.
3. Higher engagement
It is very important to have viewers interested and invested. Engagement can be measured by number of clicks or views but other parameters like time spent on page, scrolling down pages, and viewing several pages on your website also matter. You want to keep potential buyers on your page for as long as it takes for them to make a purchase.
4. Increase in sales
You make a sale when a lead converts. Content marketing can help increase sales as it brings more leads. By creating compelling content, you stand a better chance at converting these leads. When customers see useful and relevant content, they're more likely to take action and complete the sales cycle.
5. Greater ROI
Content marketing costs less, and therefore leads to a higher ROI. Your bottom-line will thank you! To be exact, content marketing costs 62% less than traditional marketing? Yes, there are mediums such as billboards, radio, TV commercials, magazines, and newspapers, but numbers say that content marketing is the way to go as businesses can't rely on traditional marketing alone. You're welcome to use both if you have the resources to do so.
6. Improves customer relationships and brand loyalty
Content marketing helps raise customer lifetime value by 70%. This means content marketing can be a solid way to build relationships with current and potential customers. People like brands that offer relevant information.
"In fact, 82% of customers claim to feel more positively about a brand after reading custom content from them.," Renee expands.
Also, customers are likely to have brand loyalty as 78% of them perceive a relationship with a brand that uses custom content.
What are the types of content marketing?
There are several types of content marketing that you can use for your business. I have listed out the ones that are most relevant for small businesses:
1. Blogs and articles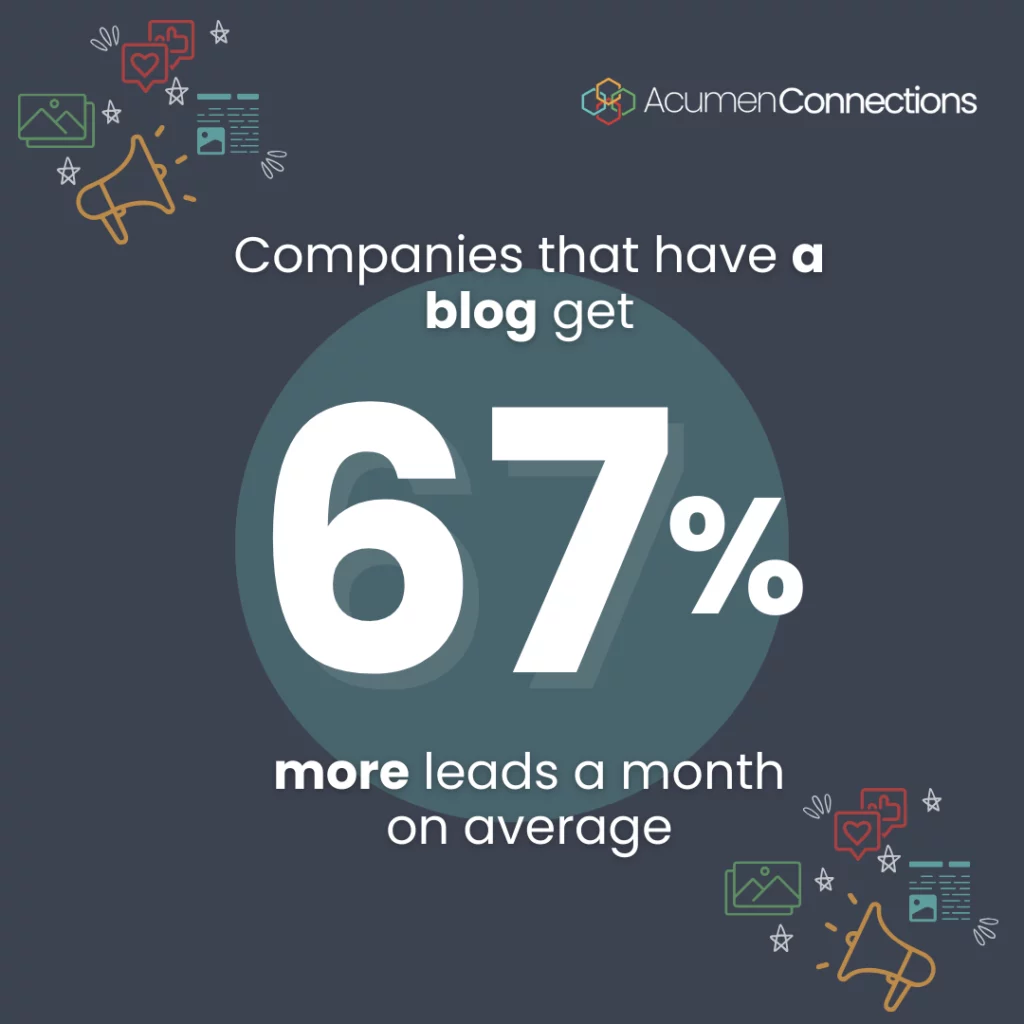 Blogs and articles bring a lot of value to a business. More and more businesses are using blogs as part of their content marketing strategy. I'd rather learn about a product from a blog or a social media post rather than an ad and 70% of people feel the same way!
Renee shares a few examples, "Other forms of written content like eBooks, whitepapers, and guides also provide your customers with a lot of information they seek. 90% of consumers consider custom content to be useful."
Take a look at our business tips blog.
2. Videos
91% of businesses use video marketing as part of their marketing efforts. Sometimes a video tutorial is just what the customer needs. From changing a tire to baking the perfect apple pie, video tutorials are lifesavers! Depending on what your business sells, you could create video tutorials showing viewers how best to use your products and services. 96% of people admit to watching an explainer video to know more about a product.
3. Emails
Email marketing has a very impressive return on investment (ROI). For every dollar you invest, the return is $36. Sending out emails periodically to your customers keeps them updated on your products and services. More importantly, it informs them of upcoming sales and offers. You can even introduce them to new products using email marketing. Take a look at these email marketing ideas for your business.
While you're at it, stay in the loop by subscribing to our newsletter.
4. Social media
Social media is a marketing powerhouse that is used by 92% of marketers for business. 52% of brand discovery happens via social media. That's why it is vital to be active on your socials and use content with relevant keywords and hashtags. Almost 40% of consumers have made a purchase after seeing it on social media. Influencer marketing is another tactic within the social media space to increase sales and promote your brand.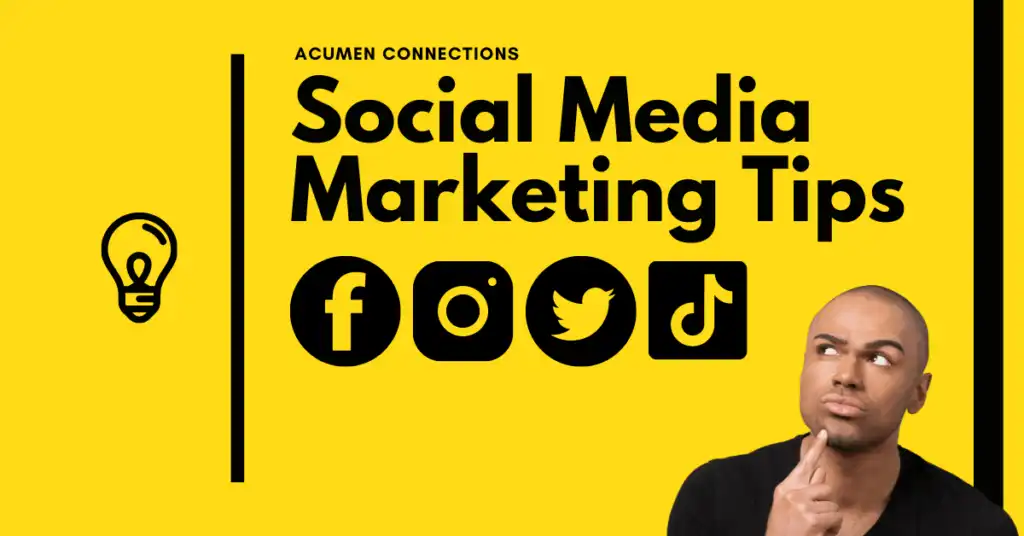 Read our article on social media for businesses.
5. Customer testimonials
Nothing helps build a positive impression more than genuine testimonials from customers. They add to a brand's credibility. Positive reviews are all the social proof buyers need before making a purchase. 95% of consumers refer to online reviews before making a purchase. That's why you really need to up your online reputation management game.
Want to know what our customers say about us?
6. Free trials
This one factors in just before a customer makes their final decision. When they're ready to buy, it is important to have someone talk to them and discuss their options. A free consultation or trial can really help seal a deal.
Content marketing examples
Let's explore a few content marketing examples from Acumen Connections!
1. How to use the Ingenico Tetra Desk 3500 (Blog and video)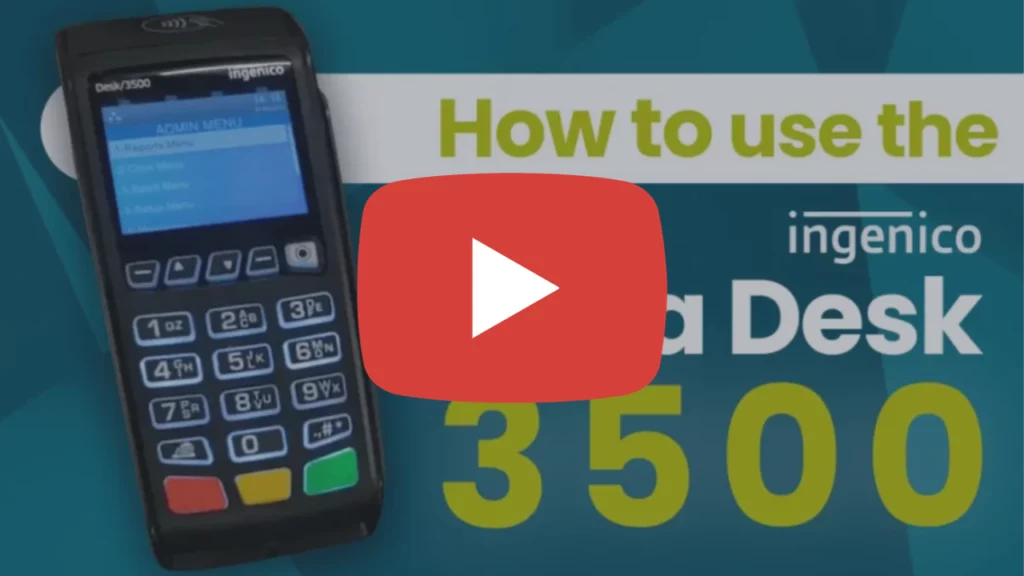 A how-to type of video aimed to help viewers use their credit card machine has over 23k views! Business owners with the Ingenico Tetra Desk 3500 model can watch this video and learn how to use it. This is a helpful resource for our current customers. It's also a helpful resource for other businesses that own an Ingenico Tetra Desk 3500, but don't use our services. This video provides them with an opportunity to engage with our business and see the level of customer service our team provides. There's an opportunity to change a casual viewer into a lead.
2. Top 10 antivirus software for your business (Blog)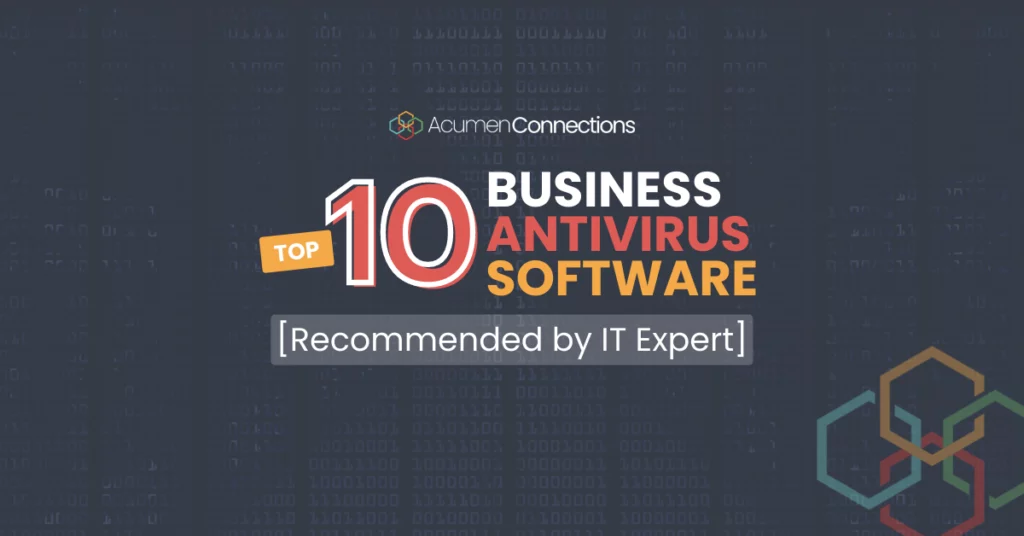 Renee shares, "We all know that cyberspace can be intimidating. There are so many unknown and unseen dangers lurking on the web. That's why cybersecurity solutions exist to help secure your business and keep hackers at bay."
Businesses and individuals need to be aware of cybercrime and follow these tips to stay safe. This article is another fantastic resource for our merchants, as well as other businesses.
3. Calling all dentists to save money on processing fees (Short-form video)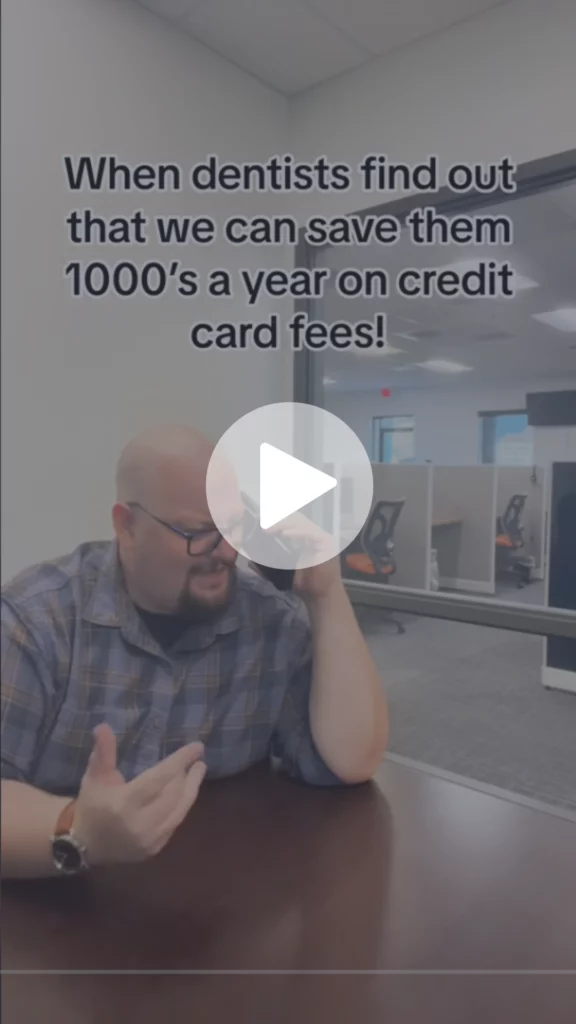 This is a TikTok video that talks about how dental practices can save money on their credit card processing fees.
"Unlike some of the content marketing examples so far, the primary goal of this short-form video marketing content is to target potential leads. Dentists love our merchant processing services, so we're publishing content like this to reach other dentists," Renee explains.
How to get started with content marketing?
Getting started with content marketing will require a few simple steps. It might seem intimidating in the beginning, but it will all make sense eventually as you get more familiar. I have listed a few things that you can do to get started. If you already have a content marketing strategy in place, this list might still interest you:
1. Set goals and expectations
It is very important to know what you're hoping to gain from content marketing. Set realistic goals. A content strategy takes a while to bring in financial gains. Some potential metrics or goals to consider include:
Determining how you want people to engage with your content
Setting a goal for number of article readers or average engagement time
Tracking social media engagement
And more!
When setting marketing content goals, be patient and be consistent.
2. Research customer behavior
You know your target audience better than everyone else. Promote your marketing content in the same spaces your target audience hangs out. Let's say your business caters towards services for children (pediatrician, babysitter, daycare, kids clothing, party planner, etc.), then your target audience are parents of young children. Where would these parents be more likely to be online? The Center for Disease Control website says that most parents in the US use YouTube and Facebook. So you'd want to share your content through these platforms. In this example, your marketing content has a much higher chance of performing well on YouTube and Facebook, than if you were to promote it on another platform that may not be as popular with this demographic, such as Snapchat.
3. Start creating and sharing content
The rate at which you create and share content depends on your bandwidth and available resources. Some small businesses may hire an in-house content manager while others use freelancers or sign up for a marketing service. Do what works best for your business. Start creating and start sharing!
Find a cadence that works for your business. Depending on your bandwidth, see if you're able to publish new content on a monthly, bi-monthly, weekly, or daily basis.
4. Get necessary tools
Don't jump the gun on sharing your content just yet! Leverage tools to optimize your content before publishing it. You need quality content to stand out. Tools like Ahrefs and SEMrush can help in your SEO efforts. Buffer can help with social media scheduling, Mailchimp with email marketing, and HubSpot can work wonders with sales and customer service. Once you have these tools set up to help your content marketing efforts, then you can publish your content.
5. Keep up with trends
When the Barbie movie was released in the summer of 2023, I was engulfed in a pink world of endless possibilities. So was every other person I know. Marketers picked up on it and there was a wave of Barbie-inspired content everywhere. I've seen blogs, social media posts, merchandise, and experiences centered around Barbie. You can do the same thing with your business when the next big thing breaks into the scene.
6. Monitor performance periodically
"Results matter. If at first you don't succeed, alter your strategy, and try again. It's as simple as that!" says Renee McBride, Digital Marketing Manager.
You need to track your performance to see if your current strategy is working. If not, try to find the flaws that can be addressed. Then act to resolve issues and launch a fresh take on things. Google Analytics will help you gauge website traffic and performance. Most social media platforms offer analytics to measure performance. Your goal is to continuously grow and improve.
Ready to blow away your audience with content marketing?
I hope this article, with tips from our Digital Marketing Manager at Acumen Connections, a team of dedicated merchant processing experts, proves to be useful for you. Content marketing is important, and it is equally important to do it right. I hope you're able to devise a winning content strategy using the tips and tricks discussed here. Also, the next time someone asks: what is content marketing? You'll have a whole lot to say!
Anna Reeve, MBA