The Latest Social Media Best Practices to Increase Reach, Brand Awareness, and Sales!
Businesses worldwide are employing new and improved tactics to boost their brand and sales. Social media isn't limited to just personal use today. Our social media marketing tips can help you gain an edge over your competitors.
Social Media has come to be an integral part of life for many people. This is especially true for the younger crowd. But over the last few years, people of all ages discovered Facebook and other social media platforms. They use it to connect with friends and family. Businesses have discovered social media and how it benefits them. They've found ways to leverage social media to grow and engage with their customer base.
This article will cover social media marketing tips and best practices. If you're looking for social media strategies, check out our blog: 8 steps for the perfect social media strategy.
Having a social media presence for your business is almost a requirement in the 21st century, at the very least it's a huge opportunity to increase sales. Leveraging social media isn't only for acquiring new business, but also for building customer retention. The first step is identifying your business target audience, then marketing your business on your audience's preferred platform(s).
If you're a staffing agency, your choice of platform is LinkedIn. This is because you're looking to recruit professionals. LinkedIn is where you can find them. But for a lot of blue-collar jobs, Facebook is the best place to advertise. If you are a makeup artist, your ideal platform is Instagram and TikTok. A majority of your clients are likely to be young women (and men). This demographic is highly active on TikTok and Instagram.
The first step would be to encourage people to follow your business social media profiles. This can be done in a few ways. If you require your customers to "sign-up" for your services, you get access to their email address. Send them a welcome email along with clickable social media icons that are linked to your pages. You can include your socials on your business cards. You can even have signs in your store with a QR code prompting customers to scan it with their phone camera. And once they do, it would lead them to your social media. Remember to include links to your social handles on your website as well.
We have created a blueprint to help you navigate using social media. Below are a few major social media platforms. And we have listed our suggestions for each. Let's get started!
Facebook Marketing Strategy: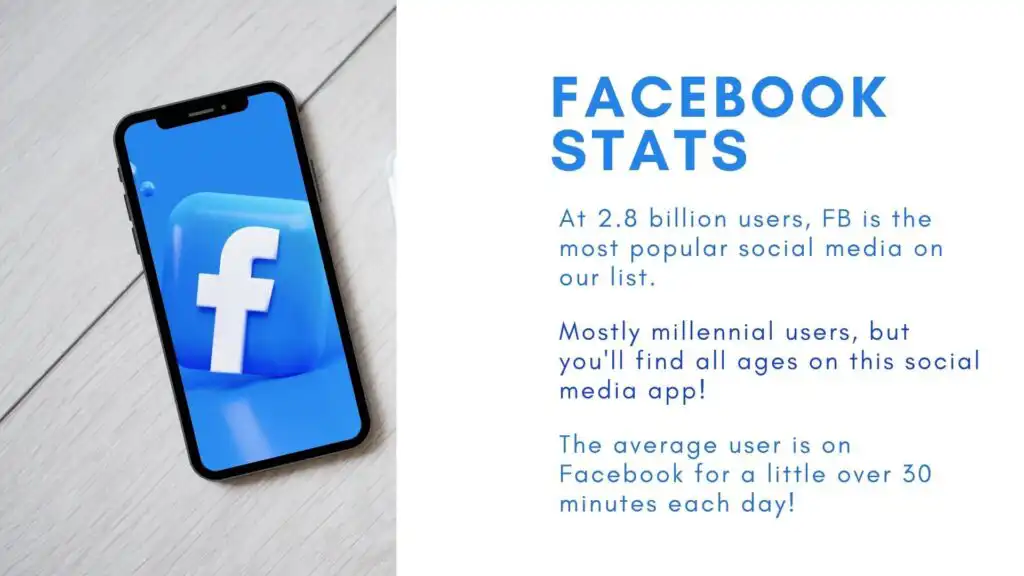 Info from https://market.us/statistics/social-media/facebook/
Facebook is a mega tycoon in the digital world. There are about 2.8 billion Facebook users in the world. If your business only has bandwidth to manage one social media account, then having a business Facebook Page is the right choice. However, it's not just enough to have a Facebook Business profile, but that you're utilizing it to the fullest potential by regularly posting content and engaging with your audience. A few social media marketing tips for Facebook are as follows:
Convey your brand image. This means you need to have the colors, text, logo, and graphics that represent your brand. Take time to fill out the "About" section on your Facebook page. All of this will contribute towards brand recognition. Prospects looking at your page might think your business isn't legit if the "About" section is left blank.
A call-to-action (CTA)button or lead magnet. When a prospect visits your Facebook page, you want them to take action. It could be to visit your website or to just email you. Introducing a button that says "Visit website" or "Contact us" will guide the visitor towards the next step.
Social proof and credibility. Always know that a prospect needs to trust you before they pay for your products or services. It takes time to build trust and credibility as do most great things. The best way to get started is by collecting reviews and testimonials. Send automated text messages or emails to your customers after a purchase. Thank them for their business and request a review. You can even mention during checkout that you'd appreciate a review on Facebook. Consider posting the best reviews from Google on to your Facebook page. This will create a sense of credibility and help build social proof. The goal is to encourage prospects to buy from your business. Social proof contributes to it.
Paid ads. We love Facebook Marketing ads. There's a reason it's on our list of top affordable marketing strategies. If you have the budget to invest in paid advertising, we suggest looking into it, starting with paid advertising on Facebook as a cost-effective solution. Facebook Ad Manager allows you to create fresh ads, pick your target audience, and allot a budget to the campaign. You can perform A/B testing and obtain quantifiable results. You can use a tool like Visme to help create ads.
Create great content. People consume a massive amount of content every single waking second. The average attention span for an adult human has decreased in the last few years. Research concludes that our attention span has dropped to 8 seconds. There has been a 25% drop in the last few years. You only have a few seconds to capture a prospect's interest and keep them engaged long enough to make a decision to take the action you identified earlier. In addition, you're competing with thousands of businesses targeting the same customer. That's why you need to create quality content consistently. Videos are found to have more engagement than posts with text and/or images. Try asking questions which will encourage your followers to respond. Share offers, coupons, holiday greetings, events etc.
There's a lot you can offer. The good news is, there are tools that can help. Use Canva to create impeccable graphics and videos. Tools like Buffer help schedule social media content in advance.
Metrics matter. Go to your Facebook business page and scroll down the menu on the left-hand side. Click on "Insights". You will be able to see data regarding how your posts and page have been doing lately. It is advised to keep records of the data on this page. Over time, you will see trends and patterns that confirm whether a certain type of content is performing well or not.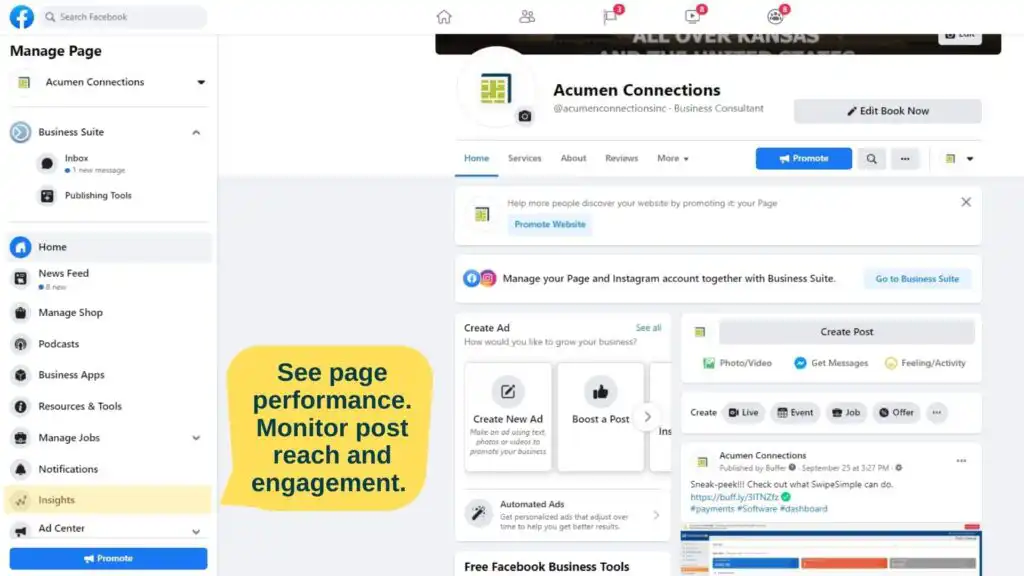 TikTok Marketing: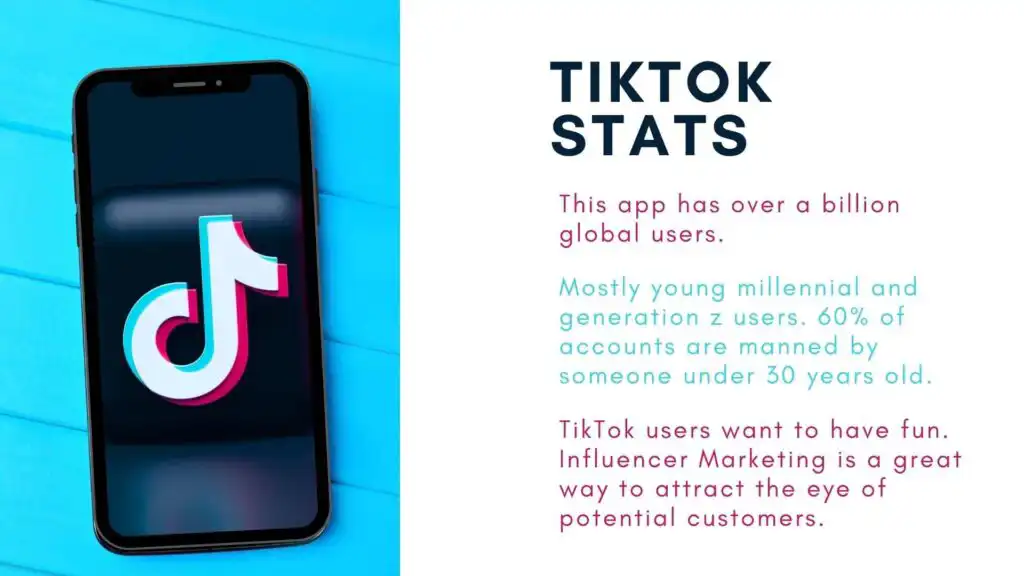 Info from https://newsroom.tiktok.com/en-us/1-billion-people-on-tiktok 
A relatively new platform that took the digital world by storm is TikTok. It has over a billion global users. And about 60% of them are under the age of 30. If most of your customers are in that age group, you need TikTok marketing. Promote your business on TikTok by doing the following:
Create stellar content. Shoot videos or take pictures and edit them using Canva to create enhanced content. If you sell tangible products, this is a great way to promote them. There are options to add effects, filters, and music. Keep track of what's trending and what other creators are doing to get inspiration. Participate in the trends and challenges when they apply to your brand and business. It helps show the personality behind the product.
Use hashtags. Try to use relevant hashtags to increase visibility. The algorithm shows your posts to users who prefer similar content. It is an effective way to find people that are your target audience. Research popular hashtags and use them if you're trying to reach a broad audience. Niche hashtags works best for targeting a particular demographic of users.
Include links. Add links to your website or simply encourage viewers to drop comments. Try to respond in a timely manner. A fail-safe strategy would be to add links to your pages on your TikTok bio.
Consider Influencer Marketing. This form of marketing involves employing an influencer. An influencer is someone with a massive social media follower count and paying them to endorse your product could boost sales. Most small businesses don't have the budget for an influencer with millions of views. We recommend selecting a micro influencer. They are individuals with a reasonable following among your target audience. Conduct research before exploring the territories of influencer marketing.
Instagram for business tips: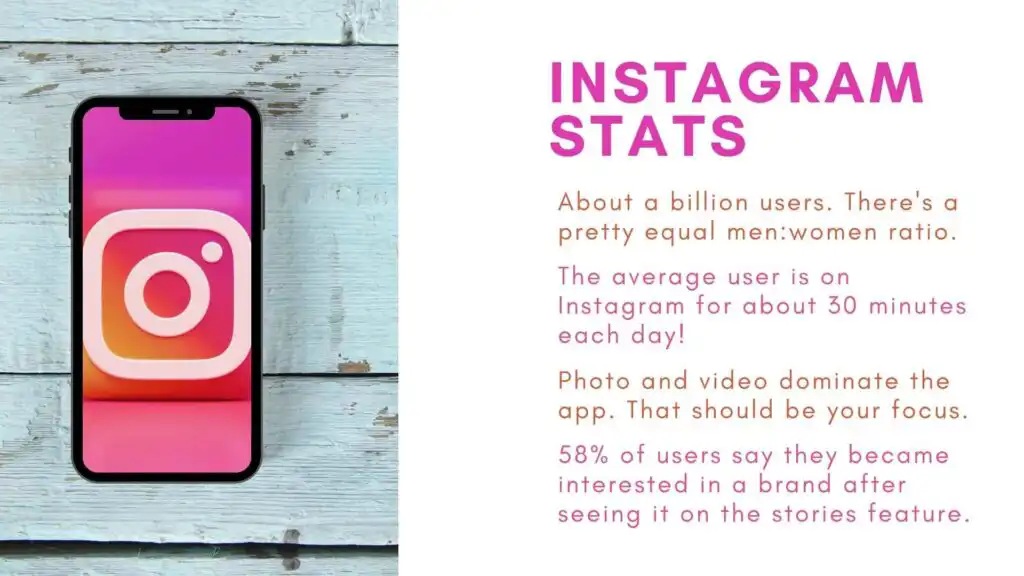 Info from https://blog.hootsuite.com/instagram-statistics/
Dedicated to sharing pictures and videos, Instagram is every social butterfly's go-to platform. You see people documenting their lives in pictures and reels. Some influencers have found ways to monetize Instagram to generate revenue. As a business owner, you too need to dip your toes in posting insta-worthy content. Here are a few ways to make Instagram work for your business:
Create and share content consistently. Instagram relies heavily on pictures and videos. Create visually appealing content using filters and other tools. Make it a point to share frequently as it helps promote engagement. Using hashtags will enhance your content and add to visibility. We suggest trying out hashtag tracking tools.
Use Instagram Stories. Instagram offers a feature that enable users to post "stories". These are basically pictures and videos that disappear after 24 hours. There are tools to add text, music, location, and graphics to a story. Stories are placed in such a way that they grab a viewer's attention. They help increase engagement, gain more followers, build relationships, and sell products and services. Statistically speaking, 58% users say that they became more interested in a brand after they saw it in stories.
Keep track of analytics. Just like Facebook, Instagram business accounts grant you access to "Insights" which is their analytics tool. You can locate it on your profile. It helps track engagement statistics to help hone your content strategy.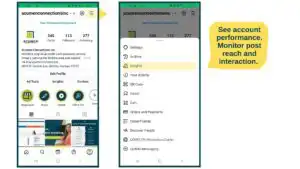 Sell your stuff. Businesses can sell their products directly on Instagram. You can turn on Instagram Shopping to share and tag products in your posts and stories. Clicking on a tagged product will take one to your website so that they can complete the transaction. Check eligibility before diving into it.
Twitter marketing: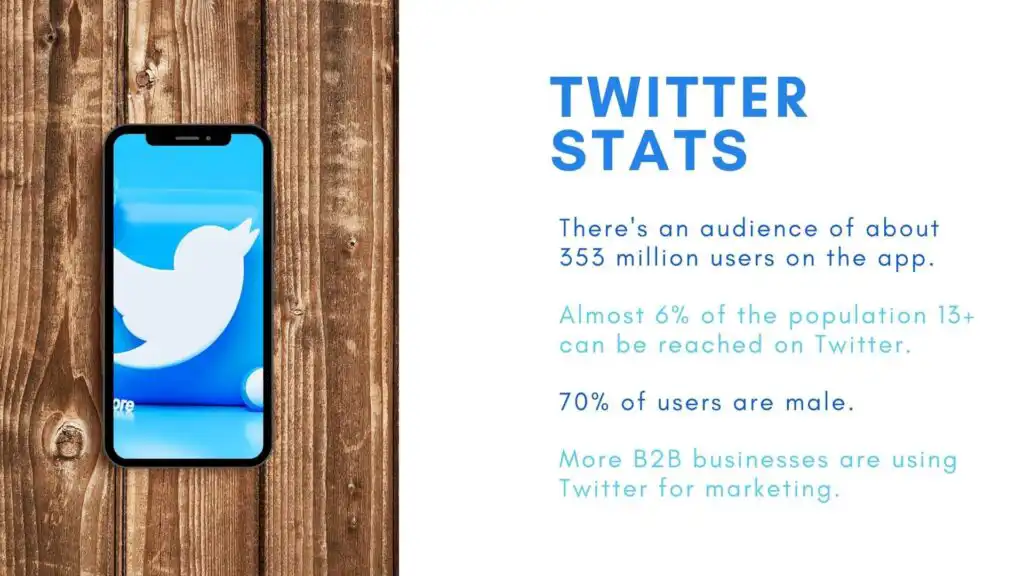 According to Hootsuite, there is an advertising audience of 353 million on Twitter. This makes Twitter marketing a vital tool for your business. If your target audience is mostly men, twitter makes a great platform as over 70% of their users are male. Check out our tips for Twitter marketing:
Focus on Brand image. Complete your business profile by including imagery, text, and other content that represent your brand. Use the bio to show more about what you do and what you sell.
Create winning content. Twitter is conversational. Twitter marketing calls for increasing the number of posts than other channels since the character limit is small. Keep the banter going by sharing content that speaks to your target audience. It needs to reflect personality and have a voice. Try to make your tweets unique and interesting. Your content will stand out if it is witty and eye-catching. A tool like CoSchedule will help create captions that encourage engagement.
Run polls. People on Twitter seem to always have an opinion. Take advantage of it by creating polls and encouraging users to vote yay or nay. For instance, if you own a fashion boutique, ask viewers to vote on whether paisley looks good on men. If you run a barbecue place, ask viewers if you should introduce a new sauce.
Visual appeal is prima facie! Most users are visual consumers. If they like what they see, they are more likely to engage. Tweets with images are found to receive thrice as much engagement. Those with videos get engagement times ten! Tweets with GIFs are found to generate 55% more engagement.
Closing thoughts:
The digital age has created an entirely new environment for businesses, and what steps are to be taken to determine success. Businesses need to have an online presence to attract and retain their customers. Not having a digital footprint puts a business at severe disadvantage. Most businesses are actively using social media for many reasons; including, but not limited to, engaging with their target audience to reach new customers, increasing brand awareness, and growing their revenue.
We hope our social media marketing tips can help your business. For a business to thrive, you need to be adding new customers and retaining current customers through repeat sales. Social media allows you to connect with your customers and prospects. You can promote and share information about your products and services. Your customers can reach out to you with their queries and requests. And it builds better communication between you and your customers. With the ongoing worker shortages, you could post your job openings on social media to fill the vacancies.
There are scores of things a business can do using social media. It helps build brand recognition and popularity. People get to see more of you and learn more about what you offer. You become part of a large online community. Your products and services gain more visibility. Let's navigate the world of likes, shares, followers, and more. The possibilities are endless!
Acumen Connections is a locally owned and operated payment processor in Wichita, Kansas. Our organization seeks to help small businesses meet their goals with real solutions designed by real hardworking people. To help businesses and individuals achieve personal and professional successes, we're providing new content weekly. Stay up on our posts by visiting the Acumen Connections Facebook, Instagram or Twitter pages, and visit the blog for a full catalog of resources fit for hardworking people.