Influencer marketing is a hot topic these days. Consumers and businesses alike are talking about it. Influencers can make money. Businesses have more marketing opportunities. Even social media scrollers are finding enjoyment. Here are 30 influencer marketing statistics you need to know this year.
Every day, we are inundated with content from a variety of sources. Social media has been phenomenal in connecting us with people and products. Many people started creating and sharing content. Yet, some emerged more successful than others in terms of views, likes, and follower count. This is how social media influencers were made.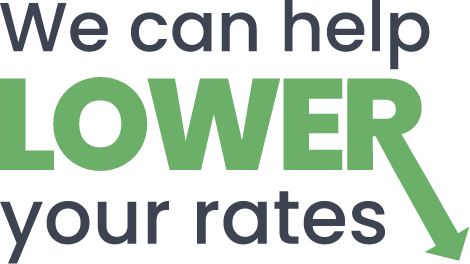 Revitalize your profit margin
See lower rates and greater gains. Enroll in our merchant discounting program today.
Revitalize your profit margin
See lower rates and greater gains. Enroll in our merchant discounting program today.
Is there a topic that interests you? There's an influencer for that!
People consume content that speaks to them. In some ways many of us have welcomed these influencers into our lives. We may not even know them personally! Yet, just like our friends, we value their opinion. When they recommend a brand, we're more likely to take notice.
Businesses in various industries have felt the impact of social media influencers in many ways. As such, it becomes vital that business owners should be aware of influencer marketing trends. These are not just numbers and data. Influencer marketing statistics act as a mirror. It shows consumer behavior and how brands are perceived.
Key takeaways
Influencer marketing involves using a digital creator's reach to promote products.
A sizable percentage of marketers and brands use influencer marketing.
Influencer marketing impacts consumer behavior.
People follow influencers they perceive as relatable and honest.
There are several benefits of using influencer marketing for a business.
Both B2C and B2B marketers consider using influencer marketing.
Demographics like location and gender factor in when making brand deals.
Influencer marketing generates better results than other marketing methods.
Influencer marketing explained
Wondering what influencer marketing is? In simple terms, influencer marketing is a form of marketing where businesses partner with a social media influencer for product mentions and endorsements. The goal is encouraging viewers to purchase a product or service.
Most creators chose to share niche content. They may explain how to use power tools or navigate the stock market. Other creators dabble in discussing parenting tips or cooking easy meals.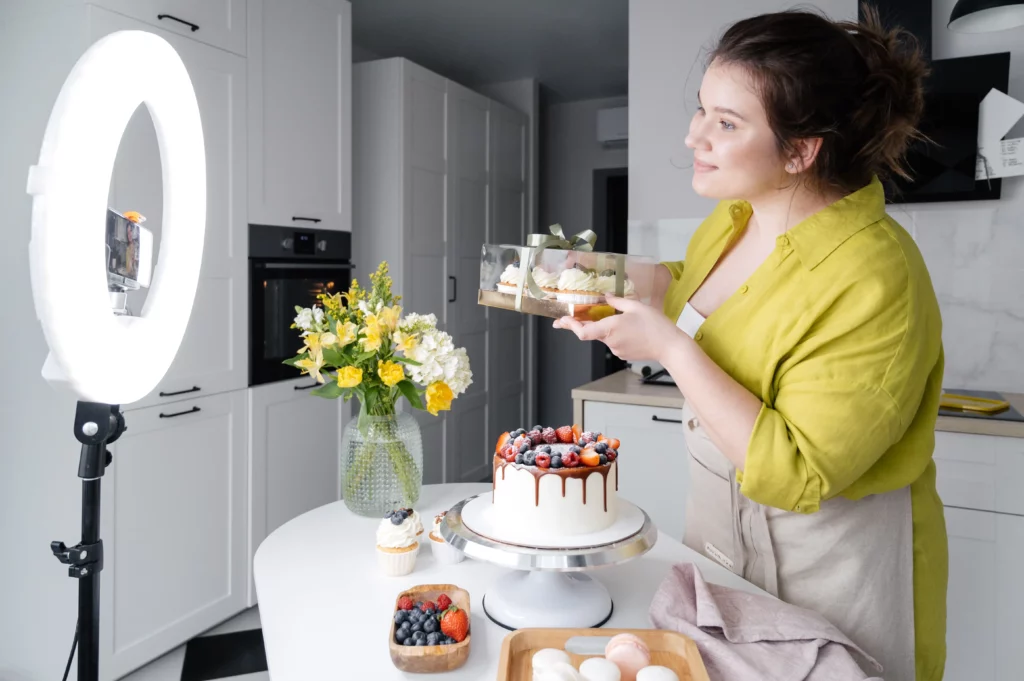 Every social media scroller can find an account they enjoy. Likewise, every business can find an influencer that caters to an aligning market.
When an influencer builds a following, they can monetize it by promoting products and brands.
Ok, but how big is the influencer marketing market, really?
(Spoiler alert) it's a $16+ billion industry!
Considering influencer marketing? Knowing some of the more potent influencer marketing statistics will empower your business.
Benefits of influencer marketing
Why consider adding influencer marketing?
Businesses of all sizes can implement it
Circumvents ad blockers which target display ads
Helps target niche communities
Highly effective if your target demographic is younger in age
Provides opportunity to help boost SEO (Search Engine Optimization)
These are reasons why a business should consider influencer marketing as part of their marketing strategy.
Top 30 Influencer marketing statistics
Is influencer marketing on the rise? Yes, it is! Numbers don't lie, and we have data to back up the claim. Influencer marketing is growing.
We've compiled a list of influencer marketing statistics for you. These metrics will allow you to be informed and make the right decisions. These statistics might surprise or even shock you and introduce you to a world of new possibilities.
Here are our top influencer marketing statistics:
The influencer marketing market is valued at $16.4 billion.
This shouldn't come as a surprise. The influencer marketing space has been growing as more businesses begin utilizing it as part of their marketing strategy.
Thinking of adding influencer marketing to your strategy? Read our guide to influencer marketing for small businesses.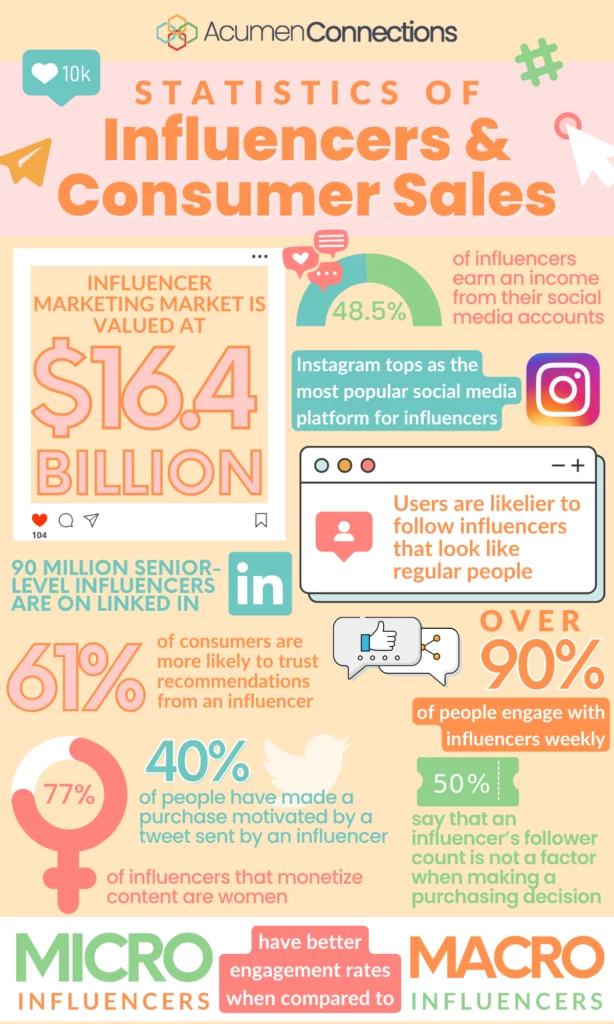 48.49% of influencers say that they earn income from their social media accounts.
Half of all social media influencers get paid for their content. The rest often get free products and samples in exchange for promotions. This is among the more interesting influencer marketing facts as it sheds light on the fact that not all influencers are in the same boat as far as compensation is concerned.
The largest fraction of Instagram influencers are lifestyle content creators.
Considering how aesthetic Instagram posts can be curated to be. It explains why there is a large cluster of lifestyle content creators. Also, people that are more likely to consume lifestyle content are active Instagram users.
61% of consumers are more likely to trust influencer recommendations.
In some ways, influencer marketing can be considered paid-for word-of-mouth promotion.
Consumer behavior is impacted by influencer marketing. Most people are going to make purchase decisions based on influencer recommendations. Often, we gravitate towards certain influencers and their content. This plays a vital role in trusting their reviews and recommendations when deciding to buy a product.
Users are more likely to follow influencers that look like regular people.
It is plain psychology that people are attracted to those they find shared commonalities. That's why they're more likely to follow an influencer that looks like the person next door. It's easier to relate to them and trust their opinions.
1 million people (about the population of Delaware) self-identify as "creators" on social media.
This oddly makes sense because most social media users create and post some type of content from time to time.
Do you consider yourself to be a social media "creator"?
Influencers based in the United States get the most number of deals.
US-based influencers receive the most deals followed by influencers based in Canada, the UK, and Australia. This is due to the large size of the north American consumer market.
Instagram tops as the most popular social media platform for influencers.
Instagram is followed by TikTok when it comes to influencers getting brand deals. Not to mention, millennials and GenZ are highly active on these platforms and are the top consumers.
Micro-influencers have better engagement rates than mega-influencers.
This is one of the most unexpected influencer marketing facts we have. Micro-influencers have a following of 1,000 up to 10,000 while mega-influencers have over a million followers. As an influencer's follower count increases, there is a decline in engagement. We guess all their followers can't be their top fans.
Women make up 77% of influencers that monetize their content.
Women dominate the influencer marketing arena. There are more of them across Instagram, YouTube, and TikTok. On average, they have more followers too.
Unfortunately, the glass ceiling is still present in the influencer market. Women find themselves earning $108 less than men on the average post.
Over 50% of users say that an influencer's follower count isn't considered when making a purchasing decision.
This is great news for small businesses! Many smaller brands often do not have the big money charged by mega-influencers. As a small business, you can approach an influencer with a few thousand followers and still make an impact.
60% of consumers trust recommendations and promotions by an influencer that engages with their followers' comments.
When an influencer responds to comments, they come across as real people. They seem more genuine and friendly. This helps them build a relationship with their followers and subsequently impacts buying decisions. Afterall, wouldn't you trust the opinion of your friend?
Over 90% of people engage with influencers every week.
This is an overwhelmingly large percentage of social media users who interact and engage with influencer posts. It adds to the pro column if a brand is debating the use of influencer marketing.
Which influencers are you engaging with online?
LinkedIn has 90 million senior-level influencers.
LinkedIn is a website that connects working professionals. It provides a platform for hiring new talent, job-seeking, and sharing content. Here are the 11 best LinkedIn influencers.
60% of subscribers are more likely to follow advice from their favorite YouTuber than a traditional celebrity.
This shows how much more impactful a YouTuber or content creator's input is. Influencers feel more like friends than full celebrities. We trust them.
Also, it's no secret that several social media influencers either started out as YouTubers or have expanded to YouTube. With over 2.5 billion users, there are bound to be a few influencers.
About 40% of people have claimed to have made a purchase motivated by an influencer tweet.
Instagram and TikTok aren't the only platforms leveraged by influencers. They often have accounts on multiple platforms. It allows them to cross promote their content.
More than 69% of people admit they became influencers to make money.
This isn't surprising at all. Most people are money-driven. Like most jobs, they get into influencing with the goal to earn revenue.
If you knew you'd be successful, would you try to become a paid influencer?
70% of marketers say that they measure ROI (Return on Investment) from their influencer marketing campaigns.
We recommend measuring ROI from most of your marketing ventures. It is important to know how much you're earning for every marketing dollar spent.
In addition, monitoring ROI allows you to make changes as needed to your campaigns. Make sure you're investing your marketing dollars in strategies that are working for you.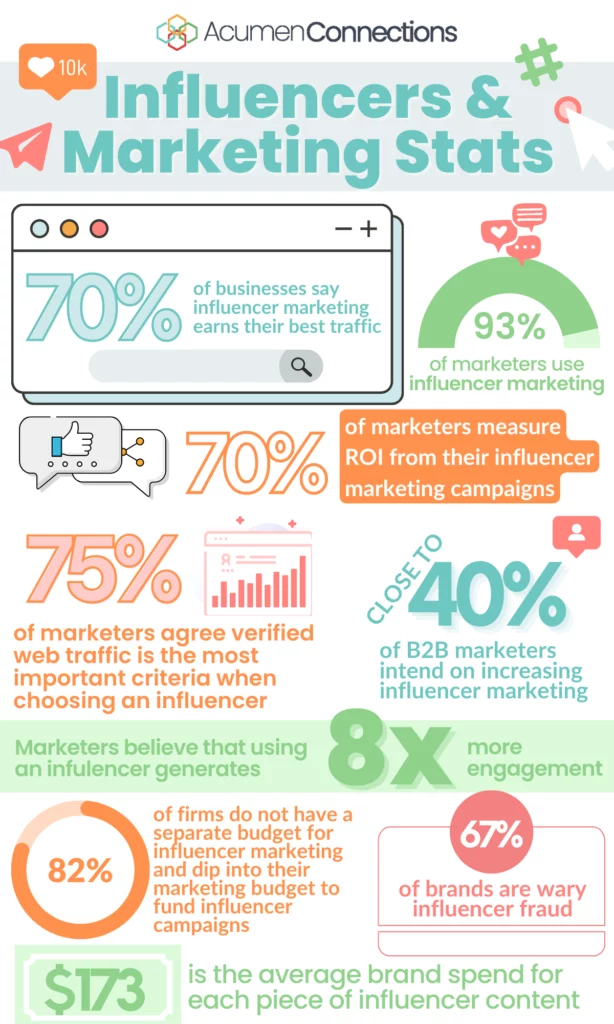 4/5 brands report using Instagram for influencer marketing.
This accounts for 80% of brands. Since influencers prefer Instagram as their medium, it completely makes sense that brands do the same.
82% of firms do not have a separate budget for influencer marketing.
Instead, they dip into their marketing budget to fund influencer campaigns.
Plenty of businesses have increased their marketing spend in recent years to accommodate influencer marketing. As such, they do not have a separate budget. Some brands use their PR spend to fund influencer marketing to increase their brand awareness.
Do you see your business having a separate budget for influencers?
Influencer fraud is a thing and 67% of brands are wary of it.
Sometimes, creators allegedly indulge in fraudulent actions. These may include buying fake followers, unleashing bots, phishing, etc. Stay diligent when working with influencers. Look out for these red flags of influencer fraud.
75% of marketers agree that the most important criterion for choosing an influencer is verified web traffic.
Selecting an influencer isn't easy for a brand. There are so many to choose from in today's age. There are a few parameters to consider. Brands also try to partner with influencers that align with their goals and ideologies. For instance, a health-centric company will want to collaborate with a health and fitness influencer.
Over 42% of marketers focus on sales as an essential influencer marketing metric.
Measuring the success of an influencer marketing campaign is often done by noting tangible results. This could include the number of units sold, or revenue earned.
There are other metrics that could be considered. Even engagement and reach contribute to the effectiveness of influencer marketing.
Ecommerce stores make up 54.1% of brands that use influencer marketing.
If you own or manage an ecommerce store, influencer marketing could be something to consider. It will help with building brand awareness, brand recognition, and sales.
70% of businesses say influencer marketing earns their best traffic.
We all know how important website traffic is for business. The higher the traffic, the larger the possibility of making a sale.
93% of marketers report using influencer marketing.
A vast majority of marketers say that they have used influencer marketing. We think the real interesting takeaway here is that about 7% of marketers say that they have not implemented influencer marketing.
Is influencer marketing 2023 effective?
This is a valid question, and the answer is yes! Influencer marketing isn't going anywhere anytime soon. In fact, it is projected to reach more people and businesses in the upcoming years.
Brands say that they spend $173 for every piece of content on average.
It is an estimate of average initial spend which increases with each campaign.
Don't forget! The more followers they have, the more you can be expected to pay.
Marketers believe that using an influencer generates 8X more engagement.
Every brand wants more engagement and interaction. As influencer marketing is seen to increase engagement, it is yet another reason brands are taking the influencer route.
Close to 40% of B2B marketers intend on increasing influencer marketing.
We are aware that influencer marketing has been extremely successful in the B2C space. It has expanded to other industries over time. Now we have more B2B businesses that are keen on using influencer marketing.
Each dollar of influencer marketing typically makes businesses $5.20.
When done right, influencer marketing works well. A huge proportion of businesses report better results from influencer marketing than other avenues. It's about 89% of businesses to be exact.
Conclusion
Weve come to the end of our list of influencer marketing statistics. We hope that you consider these when toying with the idea of using influencer marketing.
As the world evolves, so do businesses and marketing techniques. There was a time when word-of-mouth and print media were the top platforms. Eventually, other modes such as radio and television broke into the scene. The last decade or so has seen social media marketing scale to new heights. Alongside it, there have been a booming number of influencers.
Already, 25% of small businesses have included influencer marketing in their marketing strategy? This number will only increase with time.
At Wichita payment processor, Acumen Connections, we do our best to keep small businesses informed about all business-related topics. Our team continues to create new and improved resources for small business owners to help them in different ways. We hope these influencer media statistics have opened the possibility of incorporating the same for your business. For business insights and valuable information, check out our business tips.
Additional sources:
Anna Reeve, MBA