As a business owner or manager, it's vital to have BBB accreditation. Here's everything you need to know to become BBB accredited.
We all know that running a business can be a Herculean task. You want your customers to pick you over the competition. To accomplish that, there are several tactics you can employ. One sure shot way to get more customers is by being credible. This is where BBB accreditation steps in to validate your business' trustworthiness.
Trust in business is delicate and priceless. You can work for decades to build a reputation and gain trust, but it takes very little to lose that trust.
Oftentimes, you're only as good as you're perceived to be. That's why it is vital that your business builds trust.
You want your business to succeed and there are many little things that come together to make that happen. Credibility can be a make-or-break factor. That's why your business needs to have the stamp of approval and become BBB accredited.
Seamless integration, effortless payments
Keep business running smoothly. Our solutions integrate with popular programs
What is BBB?
BBB stands for Better Business Bureau. It is a private nonprofit organization established in 1912. It's a third party that grades businesses on how well they're operating by certain standards. Businesses with BBB accreditation are usually considered trustworthy and legit.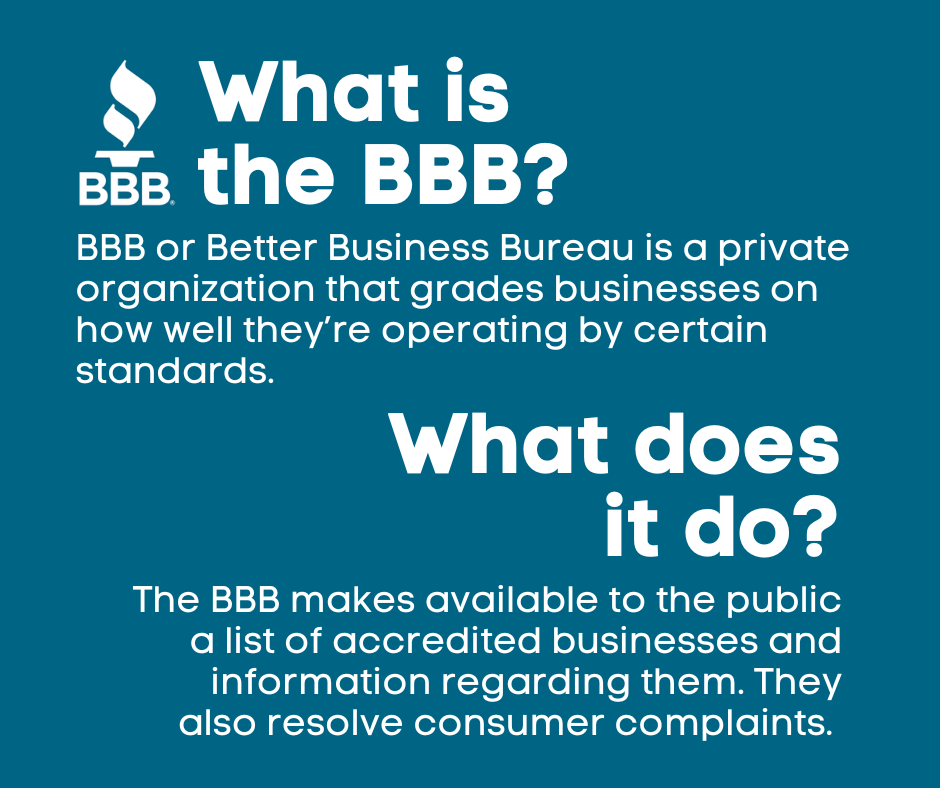 What does BBB do?
They make BBB accreditation information public. They provide a list of BBB accredited businesses, and information pertaining to the businesses. The company can also help resolve consumer complaints.
The BBB uses a rating system that goes from A+ to F. These grades indicate the degree of confidence that BBB has that a business is conducting its activities adhering to standards. It evaluates businesses and gives them a grade.
Businesses that are BBB accredited get to display a trademarked logo on their printed and digital materials. Potential customers can check a business' BBB accredited rating before making a purchase.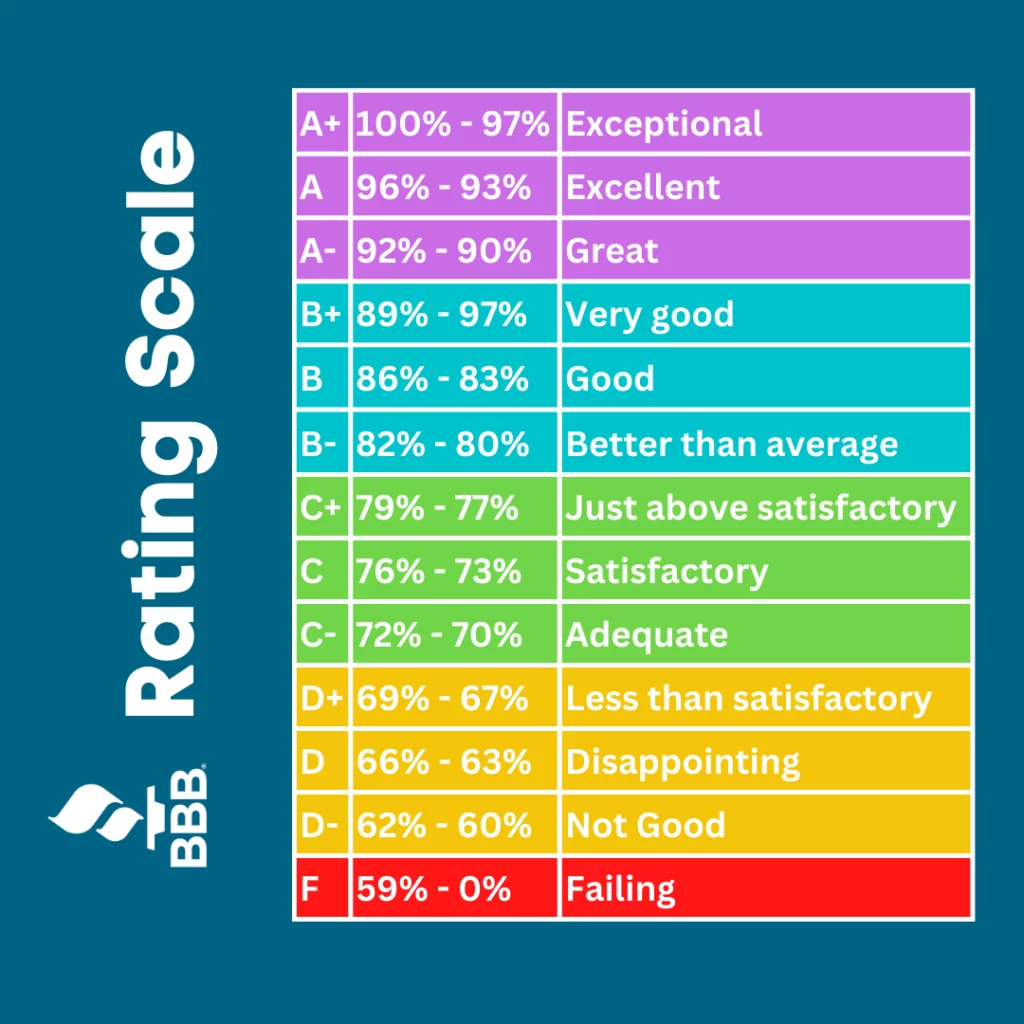 Does a BBB accreditation cost anything?
Yes, there are annual fees that businesses need to pay in order to gain and keep BBB accredited status.
The fee is dependent on the number of employees your team has:
1-3 employees: $510
4-7 employees: $585
8-10 employees: $660
11-49 employees: $850
50-99 employees: $1,035
100-200 employees: $1,225
200+ employees: Base fee plus a small additional fee per employee
Benefits of BBB accreditation
There are several benefits of a business having BBB accreditation. They are:
Building consumer trust
The BBB provides the review of an outside 3rd party. This party has nothing to gain or lose from giving a business one grade over another. If anything, its unbiased opinion is why shoppers turn to it.
Higher visibility
If BBB accredited, your business becomes searchable on the BBB site. Anyone using the BBB site to search for a reputable brand will be able to find your business within the results!
Enhanced search presence
Being listed on the BBB provides businesses with a link. This is one way to improve your organic rank in search results.
Lead generation
Not only does the BBB provide your business with its own review, it also provides the information you share about your business. Customers that read the BBB accreditation score your business receives may feel more likely to become a customer. In addition, if they're researching a specific product or industry, they may come across your BBB profile instead. There should be plenty of information there to encourage them to convert. They'll have instant access to your website, phone number, email, address, and hours of operation.
Conflict resolution
Dealing with an unhappy customer can be complicated. Thankfully, the BBB provides space for parties to find resolutions during conflicts. They can provide cost-effective and speedy conciliation, mediation, informal dispute resolution, conditionally-binding arbitration, and binding arbitration options.
Use of the BBB seal
Using the BBB accredited seal on your site offers two opportunities. For starters, it's a badge of trust. This can make customers feel secure in shopping with you. Additionally, it's a familiar symbol that can put consumers at ease.
These benefits show why BBB accreditation is important.
Why does BBB accreditation matter?
Small businesses are often run on good will and trust. Having a BBB accreditation status and good score sends the message that a business upholds truth, integrity, honesty and transparency in all its dealings. Such businesses are viewed as abiding by an honor code. This is found to draw in potential customers.
Is it worth it to get BBB accredited?
That BBB accreditation has benefits that could really help a business. That's why the membership fees seem like a worthwhile investment.

In 2021 alone, consumers investigated businesses over 200 million times on the BBB site! Modern-day shoppers do care if a company has BBB accreditation.
That being said, there are people who do not care about a business' BBB rating. One common misconception is that any business can have an A rating. In reality, the BBB even says on its own site that of the 6.3 million business profiles, only about 400,000 meet their lofty standards. Being BBB accredited takes effort.
What does it mean to not be accredited by the BBB?
It means that a business is not recognized by the BBB.
Such businesses aren't allowed to use the BBB seal on their marketing materials unlike businesses that are BBB accredited.
The good news though is that there are other ways to build trust and credibility with customers Tools such as referrals, positive online reviews, loyalty programs, gift cards, and word of mouth are all trust factors that consumers consider when making a purchase decision.
Here are a few affordable marketing ideas to help you improve customer trust.
It may make sense to have a BBB accreditation for a new business. The fee would be low, and there are likely not a lot of other trust factors available at that point.
As the company grows and builds its own reputation, the BBB accreditation may not have as much value as it once did.
How to get BBB accredited?
Getting BBB accredited is fairly simple.
First of all, you need to fulfill the list of standards set by the BBB. These standards are: build trust, advertise honestly, tell the truth, be transparent, honor promises, be responsive, safeguard privacy, and embody integrity.
Once you meet these standards, all you need to do is visit the BBB website and apply for accreditation.
The final step is paying the membership fee.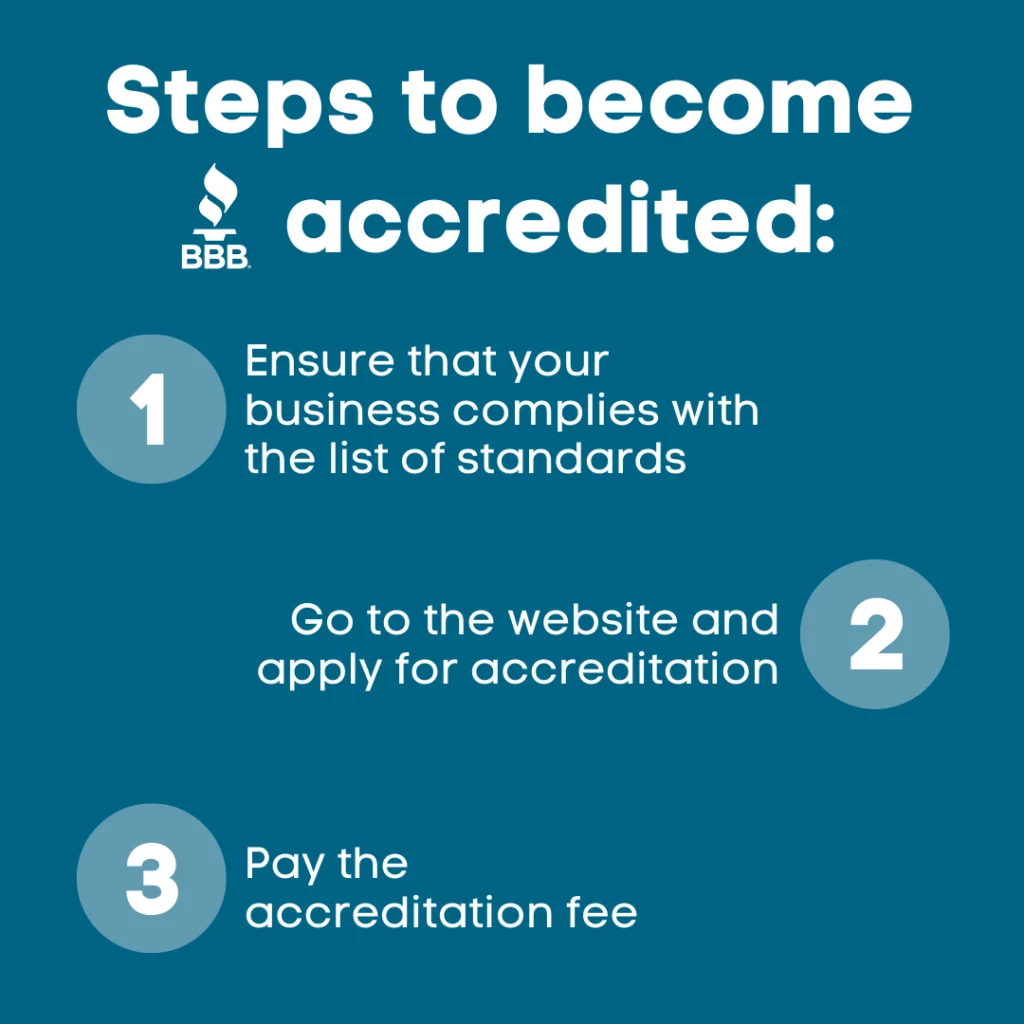 Closing thoughts
Today, customers have almost unlimited choices. If they want their car serviced, there are several conveniently located automotive places. What makes one auto shop better than another? Their quality of service, products, competency of employees, price point, and customer service. However, when a potential customer is looking online for an auto shop, a BBB accredited status or logo will immediately convey a sense of standard. This is one way to gain trust even before serving a customer.
Getting BBB accredited is a serious step for any business. In a way, it legitimizes a business and presents it as a credible party to potential customers. Yes, there are associated fees involved but the rewards are projected to offset these costs. You want your business to be seen as legit, and we want you to succeed. Let's get your business BBB accredited!
At Acumen Connections, payment processor Wichita, we care about small businesses and aim to empower them with every resource they need for success. From bookkeeping or accounting to customer service, we have conducted in-depth research on various business aspects. Have you checked out our resources on effective hiring and employee retention? We have thorough analyses of most business elements, and we hope you're able to benefit from them. Our goal is to offer insight and provide a blueprint for achieving targets and continued growth.
Anna Reeve, MBA