Do you want to gain mastery of ecommerce? We can help you get started!
Customers love the convenience of shopping from home or on the go. Businesses have adapted themselves to offer the same. Proficiency in the ins and outs of online shopping and website management is vital. We're happy to share some tidbits along with tips from an expert. In this article, online business owner, Ellie Staver, shares her insight. Discover how to become an ecommerce specialist.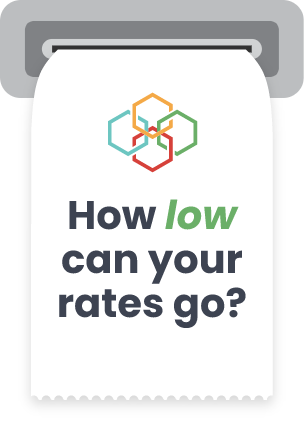 How low can your rates go?
Revitalize your profit margin. Eliminate payment processing fees through a merchant discount program.
How low can your rates go?
Revitalize your profit margin. Eliminate payment processing fees through a merchant discount program.
Shopping online is more mainstream now than it has ever been previously. Did you know that there are over 26 million ecommerce websites worldwide?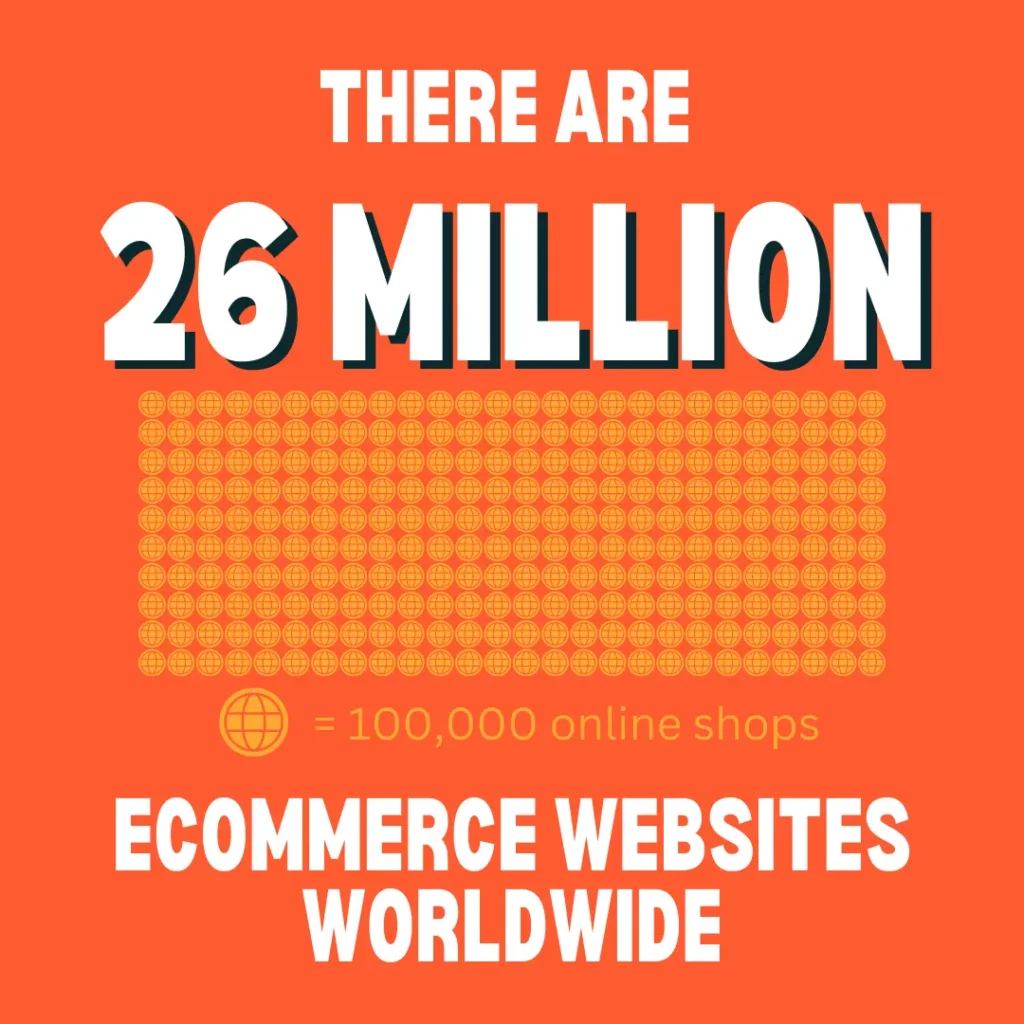 What's more interesting is that this number increases every day. The United States alone accounts for 9.5 million ecommerce websites. These numbers prove how massive the online shopping space is.
Competition is fierce. What sets apart one business from another is how well it executes its online strategies. This is where an ecommerce specialist comes in to support a business.
We interviewed Ellie Staver. She's a Kansas-based female entrepreneur in the sustainable fashion industry. Her company EMLE is an online multi-brand retailer. She specializes in conscious brands. To reach a wider audience, she's started her own ecommerce site, in fact her business is exclusively online. You will find her advice throughout this article.
In case of an ecommerce business, everything is done online. That's why businesses need to be set up with a trustworthy and reliable payment processor for convenient online checkout. To accept payment in a secure way, a business requires a payment gateway.
Please note that a payment processor and a payment gateway are not the same thing.
What is an ecommerce specialist?
An ecommerce specialist is a professional who devises and executes online sales strategies across marketing channels to ensure conversions on a website. Along with meeting sales goals, they are responsible for increasing brand awareness, monitoring website performance, enhancing user experience, and developing brand loyalty.
Being a good specialist requires a certain level of skill and dedication. There's always something new to learn and implement.
Businesses often run into unexpected situations. It takes skill and knowledge to resolve issues. Ellie explains, "there are many issues you face as an ecommerce [manager] that you wouldn't expect. Before starting an online business, you run through what you think are all possibilities… As you continue to grow [online], it's all you think about during the day."
What does the daily job of an ecommerce specialist look like these days?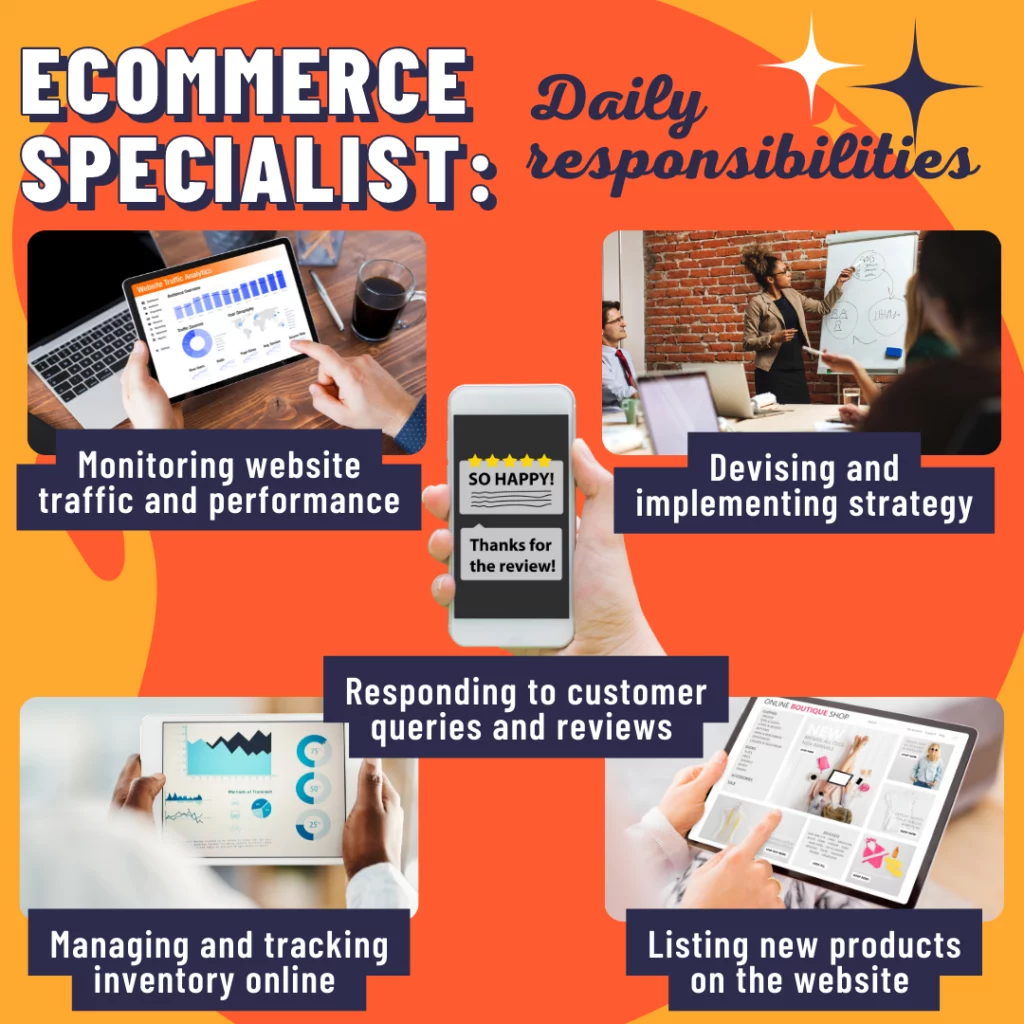 The daily job of an ecommerce expert is bound to be busy and challenging at times. A few daily functions would include:
Responding to customer queries and reviews in a timely manner
Managing and tracking inventory online
Listing new products on the website
Creating descriptions and taking pictures of the products
Creating digital ads
Promoting products on social media
Engaging with online audiences
Monitoring website traffic and performance
Developing online campaigns
Devising and implementing strategy
Ellie adds that the job of an ecommerce expert is ever-changing. Problem-solving is one of the biggest day-to-day responsibilities.
"There will be surprises and issues you didn't plan… You are one person who cannot know everything under the sun. Learning to let go and let yourself 'fail' is a hard, but valuable, lesson. [That's where] problem-solving helps. With an ecommerce business you must learn to fail to succeed," she explains.
How much do ecommerce specialists make?
The average ecommerce specialist salary in the United States is $54,056 annually. That's $25.99 per hour.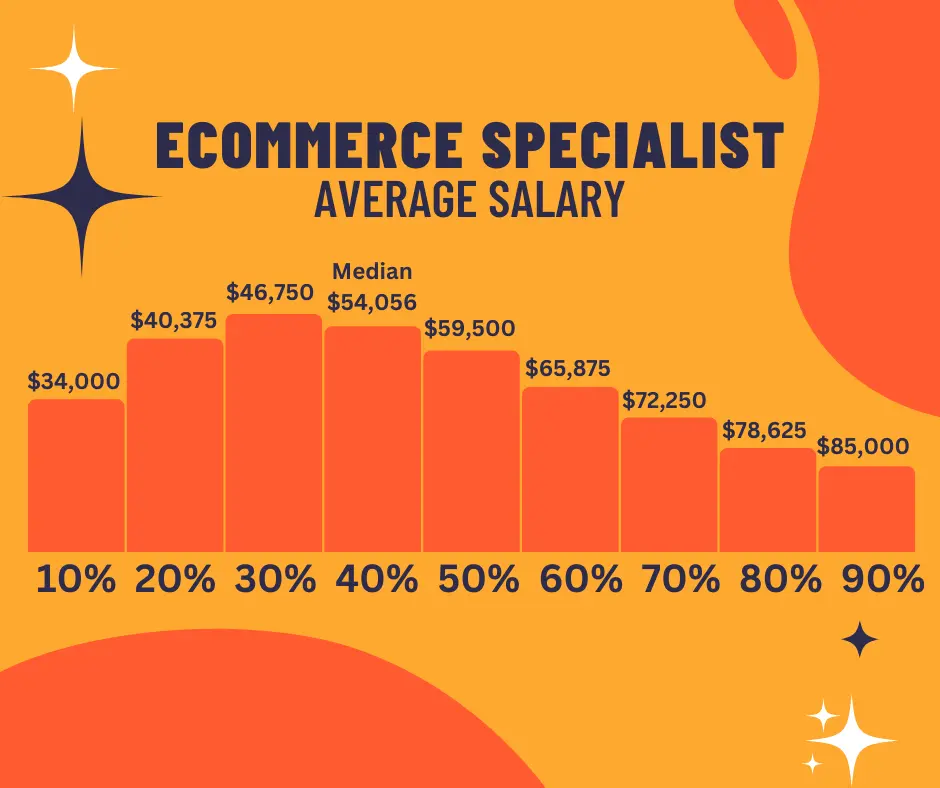 Data from Zippia.
The right combination of skills, education, and experience can help ecommerce specialists command salaries as high as $85,000 annually!
The area you're in may impact pay for a role like this. A heads up that businesses in Delaware tend to pay the most, and businesses in Mississippi tend to pay the least for this role.
Skills needed to become an ecommerce specialist
If you're thinking – How do I start an ecommerce career? The answer is to start by acquiring the necessary skills.
You can earn certifications for the field from Google, Udemy, and Coursera.
Is that enough education, though?
Hard skills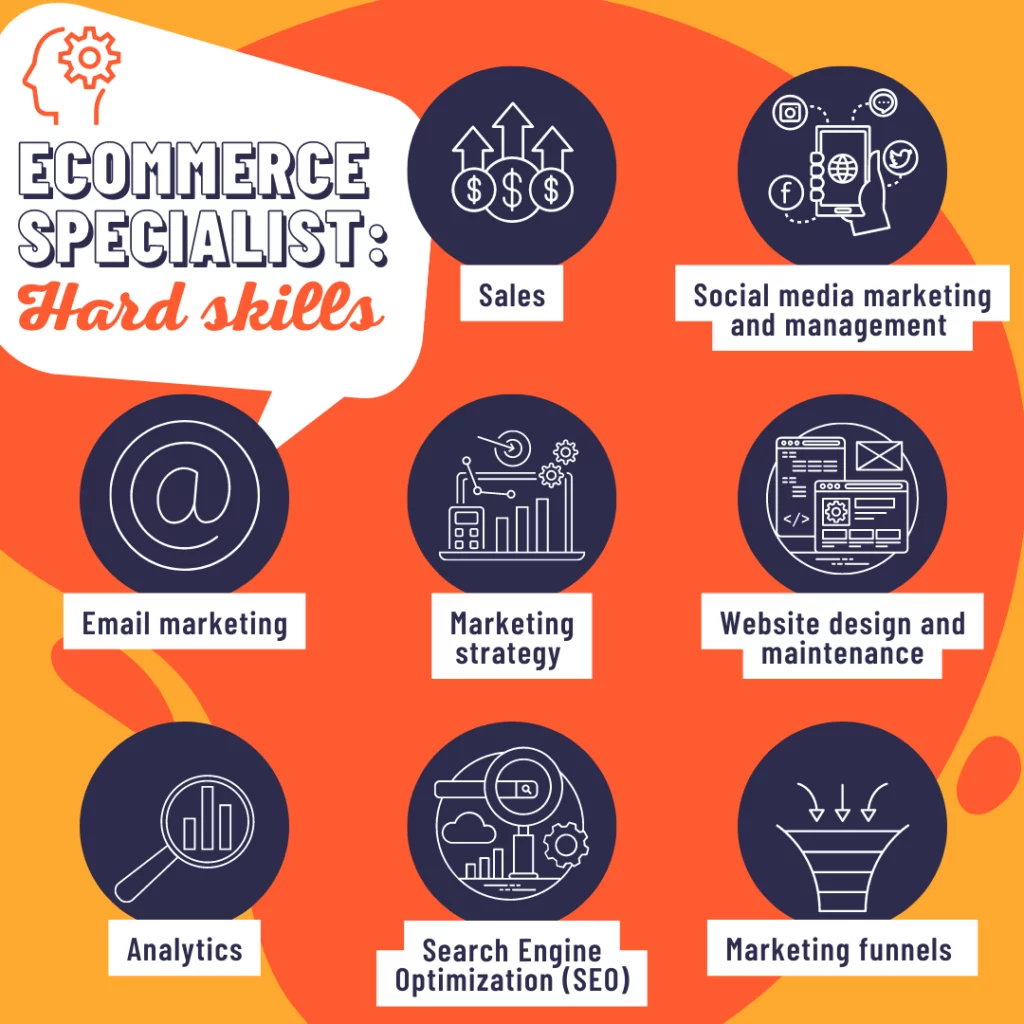 Hard skills are those that enable an individual to perform their job. In the case of an ecommerce expert, these skills include:
Web site design and maintenance. Knowing how to update and improve your website is key to this role.
Marketing strategy. Understanding digital marketing is important if you're looking to attract buyers to your online business.
Marketing funnels. Understanding marketing is the first step. Understanding marketing funnels and determining exactly where customers are exiting or converting is the next step. When you understand your customers' experiences better, you can make slight changes that result in big impacts on your sales!
Search Engine Optimization (SEO). One of the best ways to bring in new leads is with SEO. There are a few steps you can follow to optimize your site. This will help more potential shoppers find your site when researching products.
Social media marketing and management. One piece of marketing that you should be experienced with is social media promotion. Your site is online, and so are your shoppers. Interact with them where they already are – online. Social media is a great way to highlight the best parts of your brand and interact with customers. Plus, it's another outlet to promote your products or services.
Email marketing. Want customers to keep coming back? Knowing how to create an email campaign will help you encourage repeat businesses. Want to find new customers? Understanding how to set up a lead collection form will help bring in new customers.
Analytics. You'll need to be able to monitor your website and determine what is and isn't working. From there, you can pick and choose how to make improvements to your site. Learning how to use Google Analytics can be a big win for your career.
Sales. Having experience meeting sales goals always looks good on a resume. It shows that you're able to meet expectations and adjust to as needed. When it comes to managing an online store, you might be behind the scenes. However, you'll still be expected to sale.
Most of the hard skills can be acquired by taking courses online. Some courses are free of charge. You can also check out a course or two at your local college if you have the time and resources.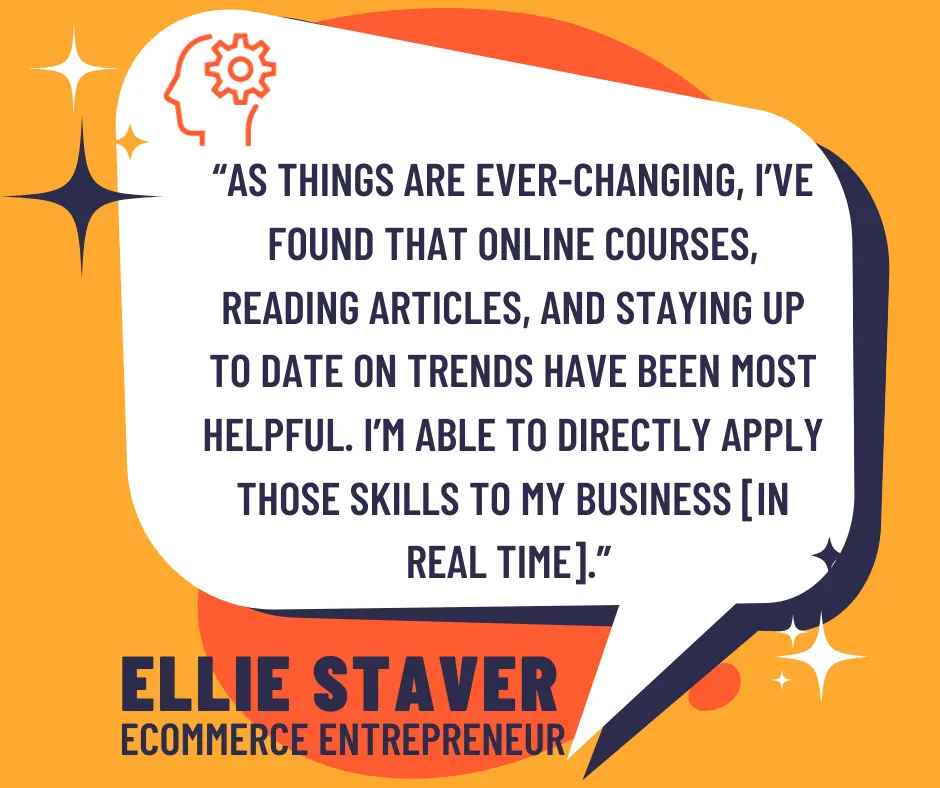 Not sure which route to go? Ellie shares her best resources for learning these skills, "I graduated from the University of Kansas with a degree in marketing… However, as things are ever-changing, I've found that online courses, reading articles, and staying up to date on trends have been most helpful. I'm able to directly apply those skills to my business [in real time]."
Along with some specific hard skills, ecommerce specialists are expected to have a few soft skills to be good at their job. Let's explore them.
Soft skills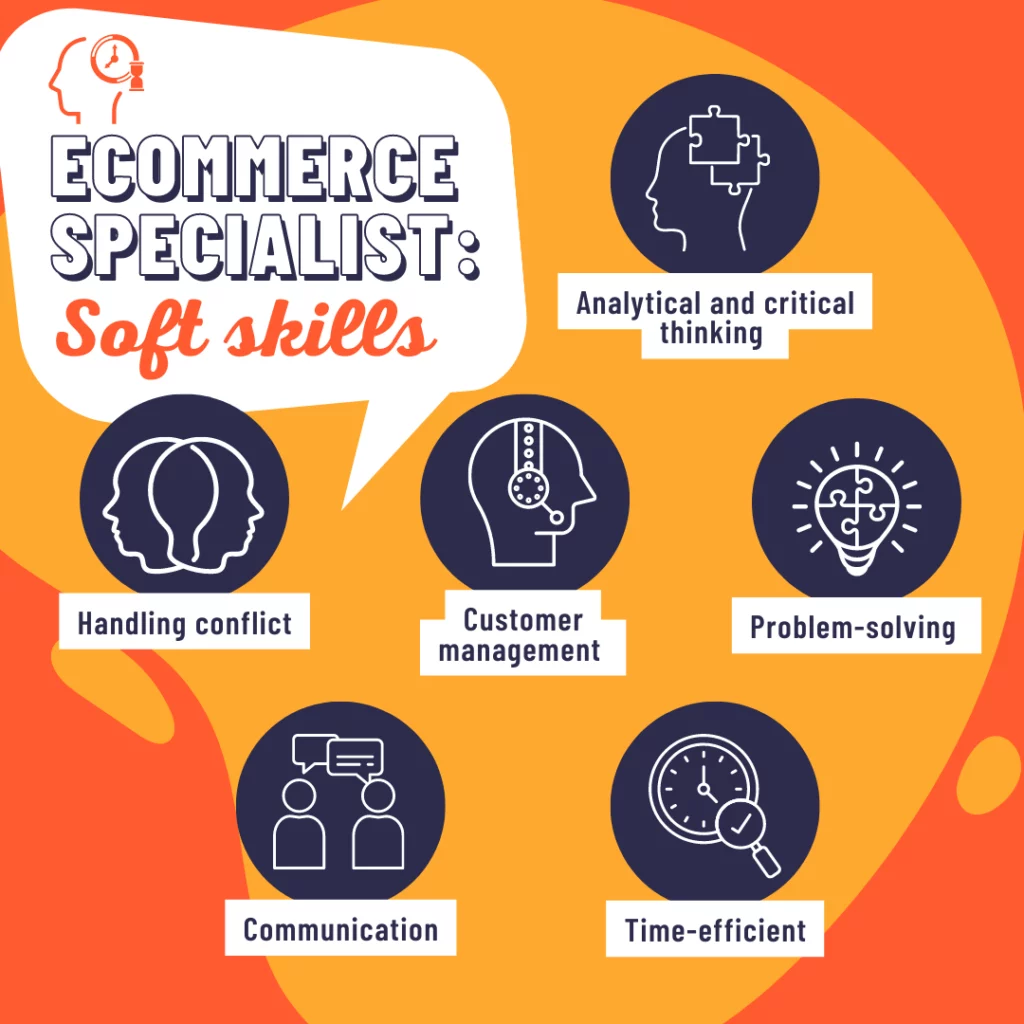 These are interpersonal skills that help professionals perform well in collaborative work environments. They are more closely associated with one's personality. Ecommerce specialists should have the following soft skills:
Communication. You'll be expected to help resolve online issues. In addition, keeping strong communication with your team is ideal.
Customer management. Customer service can come in handy. You'll be expected to work with customers to resolve their concerns or answer their questions. This is more complicated than traditional retail, because you'll often be missing customer body language and tone.
Handling conflict. You'll run into trouble with inventory providers, customers, and more with this role.
Problem-solving. Expect the unexpected. Know that technical problems will arise, and you'll be expected to identify the cause, and correct them. Be ready to read up on other experts' experiences.
Analytical and critical thinking. These soft skills go hand-in-hand with problem solving skills.
Time-efficiency. Like most roles, you'll be expected to meet deadlines. When it comes to online businesses, real-time service is expected. To meet that demand, you'll want to be working two steps ahead.
Having a higher number of the above skills on your resume will boost your odds when interviewing for jobs.
When asked to share her own experiences in learning soft skills, Ellie replied, "working in customer service taught me more than I could have imagined… Customer service and working with people is at the core of everyone's job. [Learning] how to work with and deal with multiple types of people has been so helpful to my career." The best way to learn customer service skills is through practice and perseverance.
We couldn't agree more!
Why become an ecommerce specialist?
Of course, starting something new is scary and challenging.
Ellie shares though that she enjoyed the experience. In particular, she loves the flexibility that ecommerce brings, "running an online business allows me to operate my business from anywhere. I can sell to anyone around the world. The reach of EMLE is truly endless."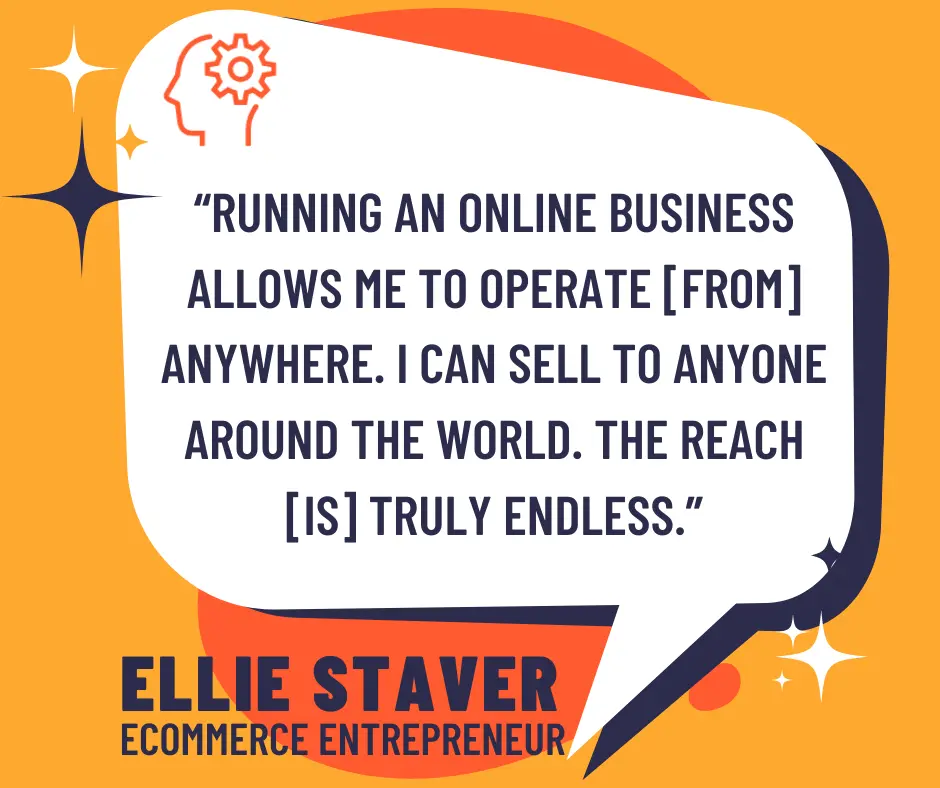 There are other very compelling reasons that could motivate one to specialize in ecommerce. They include:
It has promising long-term growth potential
The compensation package and benefits are impressive
It helps you develop leadership skills
You learn about several facets of business
It is possible to break into the field with a GED
Closing thoughts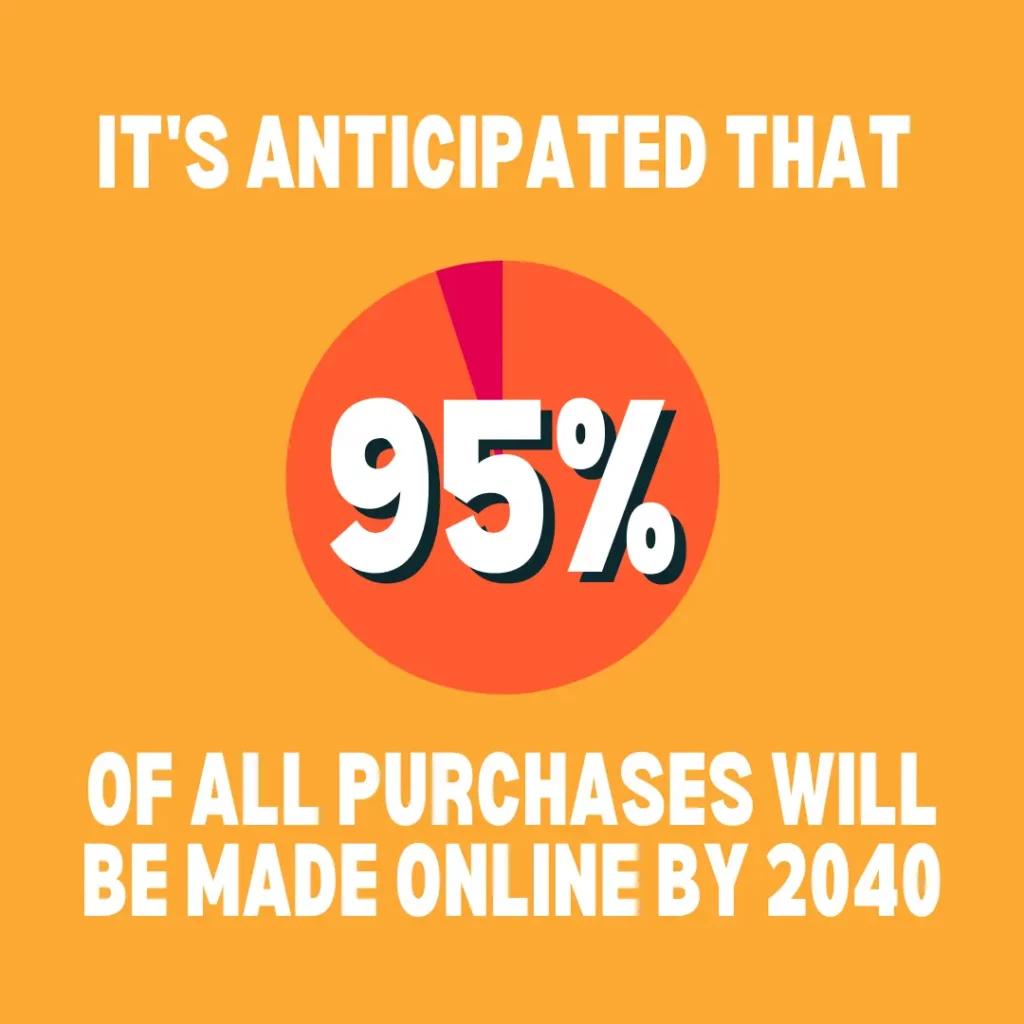 It is projected that by 2040, 95% of all purchases will be made via ecommerce. That means online shopping will continue to grow in the next many years. As such, most businesses will require an ecommerce specialist.
We hope we were able to provide an overview of what it means to be an ecommerce specialist and how to go about becoming one.
One thing Ellie wants every specialist to be aware of is that, "with being entirely online, there is no face-to-face feedback on how customers interact with your ecommerce business. [Adjusting the] website has been a learning curve."
To learn more about becoming an ecommerce specialist, we recommend exploring the following resources:
Kansas payment gateway provider, Acumen Connections, consistently develops resources to help small businesses. Our team is dedicated to conducting thorough research and presenting necessary information to our audience. To streamline your business operations and continue your growth trajectory, we recommend checking out our business tips.
Anna Reeve, MBA