Want to retain customers and boost sales? Discover how…
Customer experience is at the core of a successful business. Without positive experiences, shoppers are unlikely to come back. They're also unlikely to recommend your business to others. Repeat customers and referrals are results of great customer service.
Every business exists to fulfill a need. We need food, and so we have grocery stores. Looking for new clothes? Try the plethora of retail stores around town. Need a new dentist? You can find one near you. From our needs to our most frivolous desires, businesses fulfill them all.
Why is customer service important?
As American families search for ways to recover from the pandemic and preserve tradition, businesses face calls to rethink holiday sales strategies. These strategies may shape the face of retail beyond this year.
Improving customer experience should be a prime objective for businesses. Statistics show that 73% of consumers say that their experience drives their buying decision. That is a large majority of your consumers. In fact, 86% of shoppers agree that they would pay more if it meant better customer experience. More and more shoppers are focused on getting better customer experience. This is especially the case at businesses they frequent.
It pays to have provide customer experience. As a business, you need to dedicate yourself to improving this element. It is necessary when aiming for business growth. At the base level, start by employing people with helpful personalities in customer-facing roles. The next step is to train and provide resources on how to handle shoppers. There could be additional training on how to handle difficult shoppers. The goal here is to create positive experiences for customers.
72% of consumers share their positive customer experience story with six or more people. When you offer a great customer experience to one person, they are likely to recommend your business to several others. One pleasant experience has a multiplication effect. It provides opportunities for more sales and more shoppers. It provides opportunities for more positive experiences.
Not just in-store, but your online presence has a lot to do with it, too. 57% of people say that they don't recommend a business or brand if the website is poorly designed. The same goes for sites that are not optimized for mobile devices. Customer experience is relevant to your business' physical location and online.
Businesses that work towards improving customer experience are looking at an 80% increase in revenue. This is because customer experience directly correlates to repeat customers. It also has an effect on referrals, increased sales, and higher profits.
Did you know that 60% of consumers take into account what their friends and family have to say before trying a new product? Reviews are that powerful. They have the ability to sway one's opinion of your brand and products. Brand loyalty and customer satisfaction go a long way. They have a strong impact on sales and revenue.
Many experts boast that customer service can be broken down into three key pieces. Or to be more specific, they've identified what they call the "3 C's of customer satisfaction". This leaves many individuals with questions. What are the three most important things in customer service?
What are the 3 C's of customer satisfaction?
The three most important things in customer service are: consistency, consistency, and consistency!
Customers like to know what to expect. Issues arise when their expectations are not met. As human beings, we're all creatures of habit. We expect good service everywhere. This is especially true if we are a paying customer. We are likely to notice if something is unaligned or out of the ordinary.
Consistency helps foster a strong brand image and reputation. It gives a business the distinction of being dependable. That in itself is a major accomplishment. Consumers are loyal to brands and businesses that don't let them down. Being consistent helps strengthen customer relationships and build customer loyalty. It also ensures you have a reliable brand image.
We agree that consistency is key. However, it is possible to be consistently bad. So, our team has identified specific ways to improve customer experience.
How to improve customer experience
We believe in empowering small businesses with knowledge and information. We want our merchants to improve sales and performance. After thorough research, we've compiled a list of five to-dos. These items will help enhance customer experience. Take a look at our list:
1. Instill customer service into everything
This may be easier said than done. However, everything you do in your business needs to take the customer into consideration.
Shopping carts or baskets at your store need to be sanitized and conveniently placed. Offering hand sanitizers at checkout is a good idea. Inventory management also needs to be done while bearing the customer in mind. There are ways for small businesses to manage their inventory for optimum results.
Your store needs to be clean and organized to improve shopping experience. Friendly staff members contribute to the overall positivity at your store. Make checkout easy and smooth by employing a reliable payment processor.
If you have an online store, make sure your website is easy to navigate. You want it to be aesthetically pleasing, too. Some business websites have an interactive virtual assistant to help customers make their selections. A secure payment gateway will help shoppers make online payments without hassle.
2. Keep things simple for your customer
Don't be another problem your customer needs to solve. Make things easier by streamlining processes. Minimizing work where you can. Identify areas that could use improvements. The goal is to make processes simpler.
Make it easier for customers to buy from you. Offer pickup services like curbside pickup or home delivery. Make payment easier with cashless payment or buy now pay later options. Look for ways to improve your store's flow. This may include rearranging shelves, opening up a second register, or even designing your website with simplicity in mind.
Make it easy for customers and prospects to contact you. Do consumers have multiple ways to contact you, including phone and email? Can they find that contact information on your website? What about all your social media channels? The easier it is for consumers to find what they're looking for, the more likely they'll make a purchase. The better customer experience they have, the more likely they are to return.
Be sure to follow up if there are issues that need assistance. If customers run into a problem, they shouldn't have to be the ones to look for a solution.
3. Your employees are your best investment
Customer experience begins with employees. Happy employees lead to happy customers! You need to invest in training and empowering your employees. Identify gaps using employee surveys. Fill in those missing gaps.
Team building activities help foster better communication. Your employees will feel like they're all part of a team. They will recognize the value of working together. Analyze your company culture. Determine if it is a positive environment for employees to grow. Remember that great customer experience comes from a great team.
Improve teammate experience
There are ways in which you can help enhance teammate experience for your employees.
Your staff forms the backbone of your business. They are on the floor every day. These teammates are handling the various functions and processes to keep your business running. Improving teammate experience will help them provide better customer experience. Happiness is contagious. We have a few suggestions on how to achieve better teammate experience: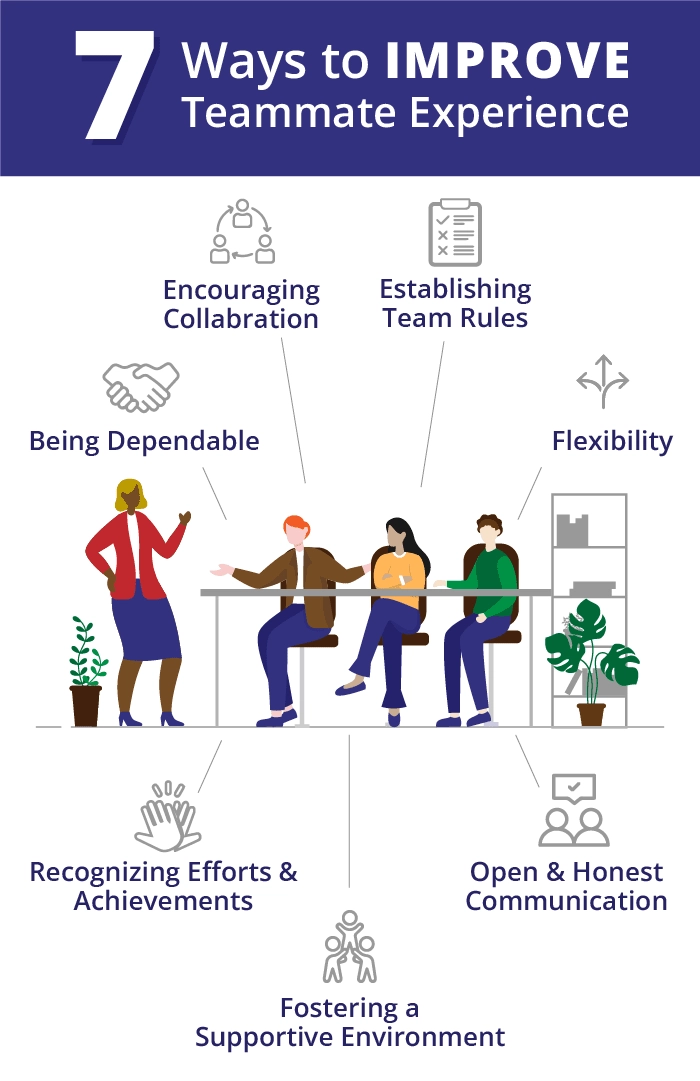 4. Customer service and how to improve
Excellent customer Service is non-negotiable. There is no customer experience without customer service. Consumers are ready to pay 17% more at a business that offered stellar customer service. There are several factors that go into customer service at a business. Your employees need to be trained and exhibit helpful attitudes. You need to focus on your shoppers just as much as you do on improving efficiency. Focus on them just as much as you do on improving profits. A few smart ways to improve customer service are:
Use CRM (Customer Relationship Management) tools like Salesforce or HubSpot. They help organize and improve client relationships. CRM systems collect and analyze data. Their job is to identify consumer patterns and behavior to serve them better. For more information on CRM systems, click here.
Adopt an omnichannel approach. This means offering customer service via several channels. Some examples are phones, websites, social media, apps etc. If your shopper needs to place an order or make an enquiry or request, offer them the flexibility to reach out more than one way. Give them email, phone, and other options. That way they can reach out via a platform of their choice.
Close the loop on a positive note or outcome. Remember, the goal is to ensure that a customer leaves your store happy. If they have a complaint, it needs to be addressed and resolved. In situations where a resolution isn't feasible, there are other things you can do to help. We recommend offering upset customers a gift card or coupon to use on future purchases. It gets them back in the store. Hopefully, the second time around they'll have a better experience. It may even change their mind.
5. Feedback and surveys
Your customers are not just numbers that show up in your analytics. They are real people with feelings, emotions, and lives. Getting to know them on a deeper level begins with seeking feedback and surveys.
Surveys and feedback present the opinions of your customers. Did a customer inform you that a certain service can be improved? Maybe it's time to revisit processes. Did a client inform you of something they enjoyed? Maybe it's time to highlight that feature.
Surveys offer a check on how you're doing and how you could improve. It helps identify buying patterns and consumer behavior. You're able to understand the thought processes behind their buying decisions. It can help you plan out ways to help other customers in the future.
Improve sales with better customer service
In conclusion, there's competition in every industry. One of the best ways to stay at the top of your game is by offering top-notch customer experience. Shoppers are more likely to stay with a business that takes into account their experiences and constantly tries to improve.
Anna Reeve, MBA