12 effective employee retention strategies to implement at your workplace
Do you want to minimize turnover and improve employee retention? Of course, you do! Our employee retention strategies will help you retain talent and build a better work environment.

What is employee retention?
In simple terms, employee retention is the ability of a business to keep its employees and reduce turnover.
Alternatively, turnover is the rate that people leave a company.
In the United States, about *3-4.5 million people quit their jobs every month. This is a relatively large number of people. Unfortunately, there are costs associated with turnover.
When an employee quits or is let go, considerable time goes into finding, hiring, and training their replacement. We can break it down to the cost of a few factors:
Job postings
Employee hours spent going through resumes
Employee hours interviewing candidates
Time and resources spent on onboarding a new employee
Training costs
And more.
In fact, it costs 50-75% of an employee's salary to replace them. (That's 6-9 months of paychecks)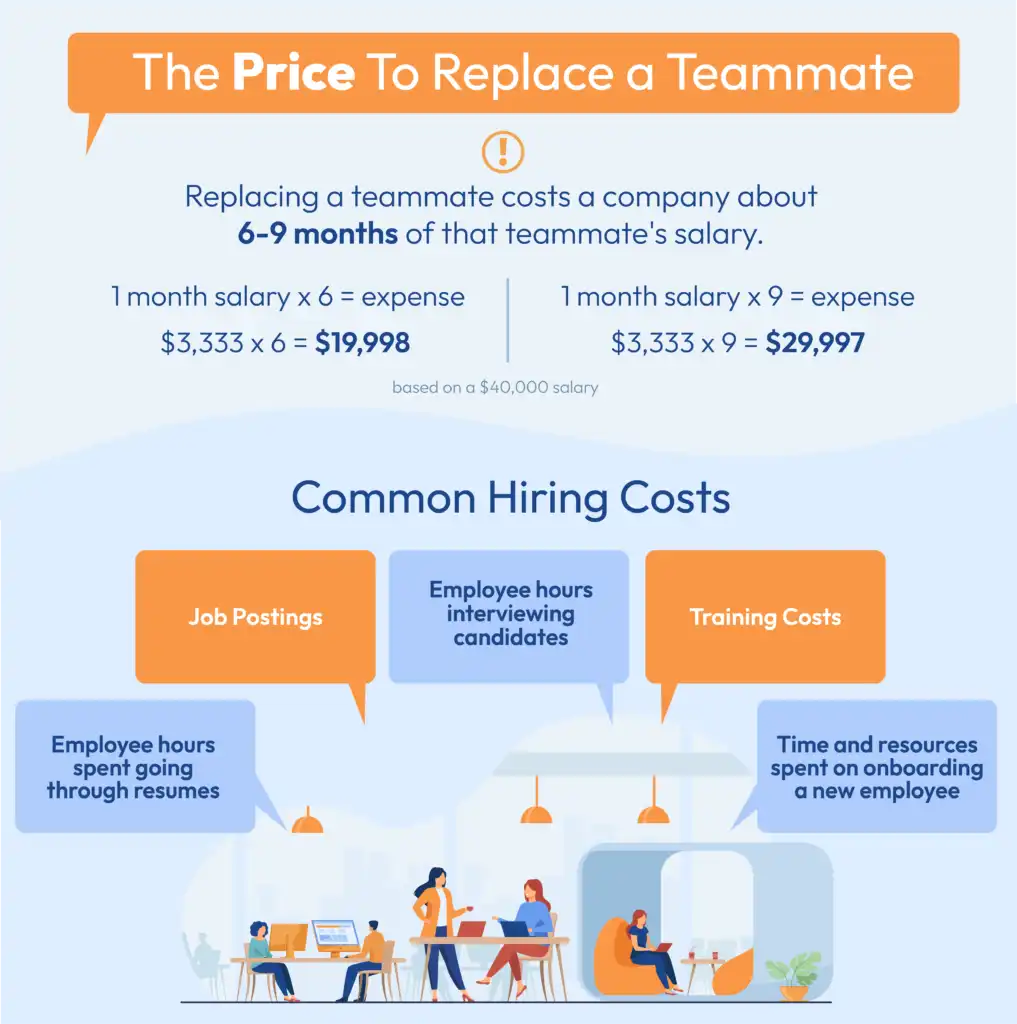 Why is employee retention important to your business?
There are several reasons why employee retention is important to a business.
Reduces costs
Boosts morale
Increases productivity
Improves customer and employee experience
Increases revenue
Enhances culture
Promotes employee satisfaction
Helps prevent top talent from leaving
It's crucial that a large part of your team stays with your company. You don't want to lose your best teammates. Any significant change in your employees may impact work performance and culture. You'll want to maintain a high retention rate.
What is employee retention rate?
Employee retention rate is the percentage of employees who stay with a company for a given time. Employee retention rate is a good indicator of how happy teammates are.
High employee retention is ideal. Low employee retention can be a warning sign. It's a sign that company culture should improve.
An employee retention rate of *90% or higher is generally considered a good employee retention rate.
Want to calculate your own company's retention rate? You'll need to use an employee retention rate formula.
Employee retention rate formula:
Employee retention rate = (Remaining number of employees during set period/Starting number of employees during set period) x 100
This equation will give you a rate in the form of a percentage.
Turnover will happen regardless. Ideally, though, you want to keep turnover to a minimum.
Leading causes of turnover:
There could be several reasons behind turnover at work. Listed below are the major ones:
Financial reasons
Work-life balance
Incompatibility between employer and employee
Conflict between work peers
Lack of growth opportunities
Lack of recognition
Poor management
The Great Resignation
It's a term that refers to the influx of people quitting and switching jobs, seeking better opportunities. This 2021 and 2022 trend may be caused due to the pandemic.
This is a relatively new phenomenon that is gripping the nation and worldwide. In the second half of 2021, over 20 million people quit their jobs.
This is labeled "the big quit" or "the great resignation". It shows that employees today have more power than they did in the past.
The alarming statistics prove that companies and businesses need to up their game. Your top talent is probably being pursued by several competitors. These competitors may offer more in terms of compensation, benefits, job seniority etc.
You must pull all the stops and retain your people. That means maintaining consistency and performance as a business.
What are the 5 main drivers of employee retention?
The main drivers of employee retention are:
Fulfillment
Growth
Empowerment
Collaboration
Structure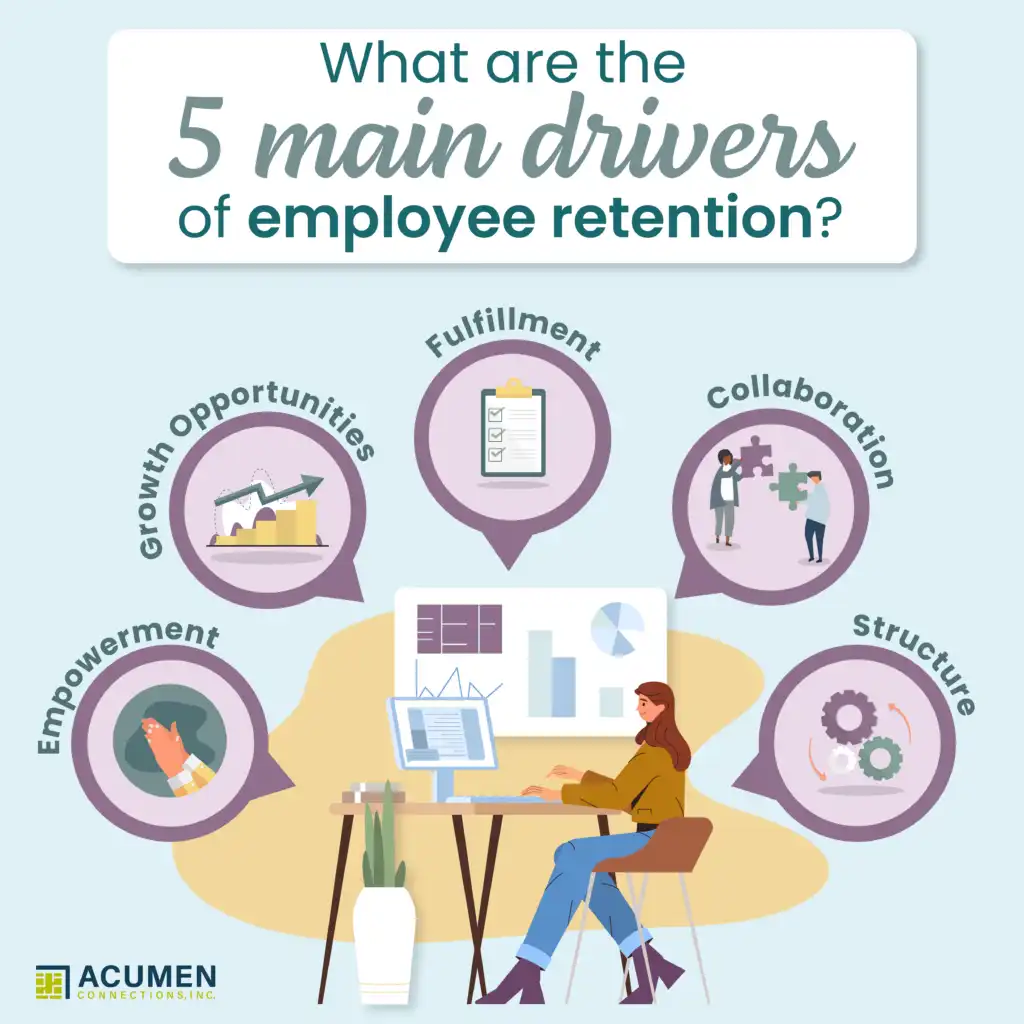 12 innovative employee retention strategies for your business:
We have listed a few strategies to help your business retain employees. Take a look.
1. Retention begins at recruitment
When selecting employees, look far beyond their skill set and interview performance. Take the extra steps to make sure they are a good fit with the entire company. This includes managers and co-workers they will work with closely.
A significant component of the hiring process is interviewing. Check out our piece on how to conduct an interview.
2. Be Competitive
Regardless of your interest in the candidate, they may not be interested in working for your company. Focus on offering a competitive salary and benefits package. This package may include
Health/life/dental insurance
Retirement plans
Vacation/personal/flex time
Stock options
Bonuses
and other perks/incentives, depending on the company's size.
Offer the best package you can. This allows you to be competitive within your company's sector of industry and geographical location. Be as transparent as possible regarding what you can offer. Be sure to clarify what level of performance you feel is necessary for that type of benefits package.
3. Implement an effective onboarding system
Onboarding is invariably the next step when you hire a new employee. Provide training for their role and responsibilities. Brief them about the company culture. You want to ensure they are well informed about their role and the environment.
Every team is different. It is helpful to prepare new hires on what to expect before they start working with the team. Inform them about the hierarchy, different processes, and whom to approach for help when needed.
Humans are creatures of habit. Oftentimes, it's facing the unexpected that leads to dissatisfaction.
4. Have a Good Core Team in Place
We've all heard the old saying that people tend to quit managers rather than jobs. No one ever seems to debate that point. So good management and a solid team are top priorities to help retain valuable employees.
Ensure your management team is well-trained and supported. After all, they are the ones employees deal with daily. Managers must be a positive example of the company.
A good Human Resources (HR) department is also a key to providing employees with any support and assistance they need. HR is the first impression a prospective employee has of your company. It should be a stellar one.
5. Be Clear and Attentive
Conduct reviews or evaluations as often as possible. This allows the entire company to remain on the same page. Many companies utilize a yearly review for each employee. These are typically an opportunity to review the years' performance in arrears and advise on future plans, which could include new or changed responsibilities as well as a pay increase. Disappointments in performance may also be addressed in performance reviews, but poor performance should be addressed as it arises rather than waiting until an annual review to discuss.
Take time to understand what employees like about the company. Why do they choose to work there? Gather feedback about what areas may need some attention. All of this goes into play to keep employee satisfaction levels high.
Be clear and prioritize your goals. That goes for both the company and for each employee. Explain how you plan to achieve these goals while encouraging honest opinions and ideas from all teammates. Be sure to make it a positive conversation. This could be an added element of coaching or an informal meeting.
When you keep a reasonable "open door" policy, employees feel empowered to discuss concerns as they arise. This enables the company to resolve issues before any escalation.
6. Effective communication
It is vital to have an open dialogue between employees and their supervisors. It is a two-way street. Supervisors need to establish a relationship where employees feel at ease to communicate their needs, issues, and goals. Quite often, companies suffer in this area.
Management needs to be transparent with employees regarding their expectations and protocol. Both parties need to be prepared to give and receive feedback.
7. Provide Training and Facilitate Advancement
Allow employees to have room to grow within the company. Not every employee strives to become a manager. So, provide a plan for advancement in which management is not the final goal. Providing up-to-date training for positions held and cross-training for other positions is a winning proposition for your company. It's a way for your employees to expand their skill sets quickly.
Allowing time for outside training programs, classes, and lectures is a stellar strategy. It's a good way for employees to gain fresh perspectives and new ideas. They can utilize what they learn within the company.
Promoting within the company is always a great way to show employees that they are valued and respected team members and to show that there is a path for personal and professional development within the company rather than an employee seeking that growth by looking at positions outside the company. Be clear about what it will take to "get to the next level" and what you're looking for in an employee to merit a job role promotion.
8. Recognize Achievements
Make it clear that achievements will always be acknowledged and often rewarded. Bonuses for productivity are a strong motivator for employees. Contests with prizes are a way to inject some fun into the usual "daily grind."
Keep in mind that everything doesn't always have to revolve around money. Recognition of a strong performance in any way is an appreciated gesture. It can be motivational for the employee and team.
9. Keep a Safe and Comfortable Workplace
It seems so simple that it is often overlooked but providing a workplace that is conducive to efficiency is good for everyone. Ensure work areas are clean, at a proper temperature, and well-lit. (Check out our blog Creating a Functional Workspace for more ideas.)
Keep equipment well-maintained. Keep all necessary supplies on hand. Seemingly minor things like a non-working light or a climate control issue can make an employee chronically uncomfortable. When problems are left unaddressed, little distractions can become big problems for employees. Over time, they can lower company productivity and morale.
Try to invest in the safety of both your company and your employees. Having a safety manager is ideal, but that may not be feasible for your company. Hence, a sound security system, a well-lit exterior, and a robust set of safety rules are good ways to prevent crime and accidents on the premises.
To learn about protecting your company from a tech standpoint, please read our blog on Cyber Security for Business.
10. Work-life balance
Today's corporate world isn't the same as it was a few decades ago. Your employees are people with lives outside of work. There's more than just family and work. Plenty of professionals like to focus on improving and maintaining their mental health. As such, they must have a proper balance between their work life and their personal life. Frequent late nights, having to be on call during holidays, etc. are common reasons behind employee burnout.
11. Remote and Hybrid schedules
Get on with the times and offer the option to work remotely when possible. More and more companies are now offering remote work opportunities. People can cut down on commute time and costs. Remote work proves to be an attractive perk when hiring new employees. It also serves the same purpose for employee retention.
Remote work doesn't have to be full-time either. You can't build an office community if no one is physically there. Many employees value flexibility. Giving employees a hybrid schedule allows them flexibility in their day-to-day life.
12. Team building activities
We saved the most fun one for the last. For employees to commit to a company long-term, they need to feel at home with their team. We recommend planning fun activities. These could be team outings, catered lunches or potlucks, friendly contests etc. They're all great ways to help strengthen professional connections. Get creative with what you and your team can do.
At Acumen Connections, we employ a wide range of ways to promote team building. In addition to "Food Fridays" (a monthly catered lunch for all employees), we also hold themed potlucks on special occasions. We encourage employees to show their competitive side by participating in costume contests, cornhole tournaments, trivia, crafting, etc. These activities have been proven to break the monotony and improve productivity.
We've even seen departments create their own unique plans for fun. That allows their team's interests and personality to really shine through.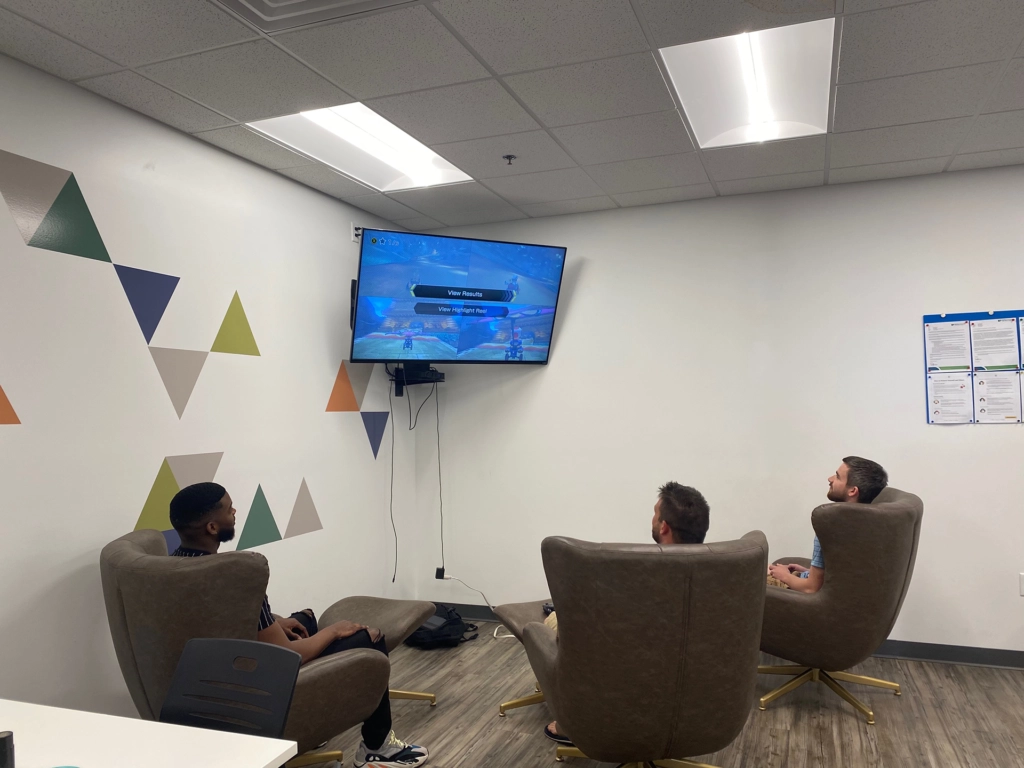 We hope our pointers can inspire you to make positive changes in your company. Avoiding high turnover is one of the best ways to keep costs down. Plus, it promotes a great work environment! At the core of it lies the fact that you need your employees. Treat them as valuable assets. Invest in them and their growth. It will serve you better in the long run.
*retention statistics provided by https://www.apollotechnical.com/employee-retention-statistics/
Anna Reeve, MBA