Different types of traffic, one common goal: Business growth
Every business aspires to grow. Website traffic contributes to that growth, garnering new and repeat customers, higher sales, and greater revenue. If you want your business to gain more visibility, there are numerous tactics you can adopt. In this piece we will explore two main elements—direct traffic and organic traffic. Bonus: Interview with a marketing expert and free search engine optimization (SEO) checklist!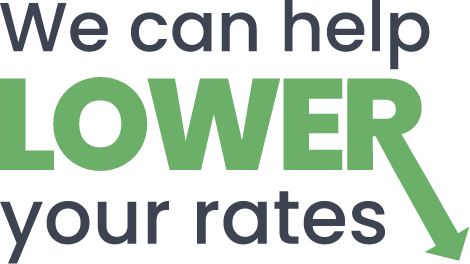 Revitalize your profit margin
See lower rates and greater gains. Enroll in our merchant discounting program today.
Revitalize your profit margin
See lower rates and greater gains. Enroll in our merchant discounting program today.
What is the difference between direct traffic vs. organic traffic [quick answer]
Organic traffic includes any visitors that arrive at your website from a search engine result (like Google). Direct traffic includes any visitors that arrive at your website by using a direct link. This could include someone typing in your URL, having it saved as a bookmark, or even scanning a QR code. Direct traffic and organic traffic are two of the most popular ways a website visitor will land on your site. For more context, watch our video on organic and direct traffic.
Video coming soon!
Understanding channel types (including organic and direct traffic) [in-depth answer]
Having an online presence has become a basic requirement for a business to thrive. The first step is creating a website, followed by having profiles on all relevant social media platforms. You want customers and prospects to come to your website. In order to do that, you need to use strategies that drive users to your website.
Most traffic-driving marketing strategies fall into two categories: direct traffic and organic traffic. These include ways to grow your business' social media pages. Similarly, they can increase the number of customers on your website. Here is the beginner's guide to the two ways you can attract visitors so you can increase your social media reach and website traffic.
So, what makes something organic or direct traffic in digital marketing?
In this article, we work Digital Marketing Manager Renee McBride, to learn the differences between organic traffic and direct traffic. We will also look at ways to increase both. Keep reading to discover how you can boost sales with different types of traffic.
Why traffic and acquisition source matters
Website traffic is vital for a few reasons. First, it presents your products to customers and prospects. When more people come to your site, you have more opportunities to make a sale. Second, it communicates your brand and helps build brand recognition. Third, it offers a platform to build relationships and gain credibility.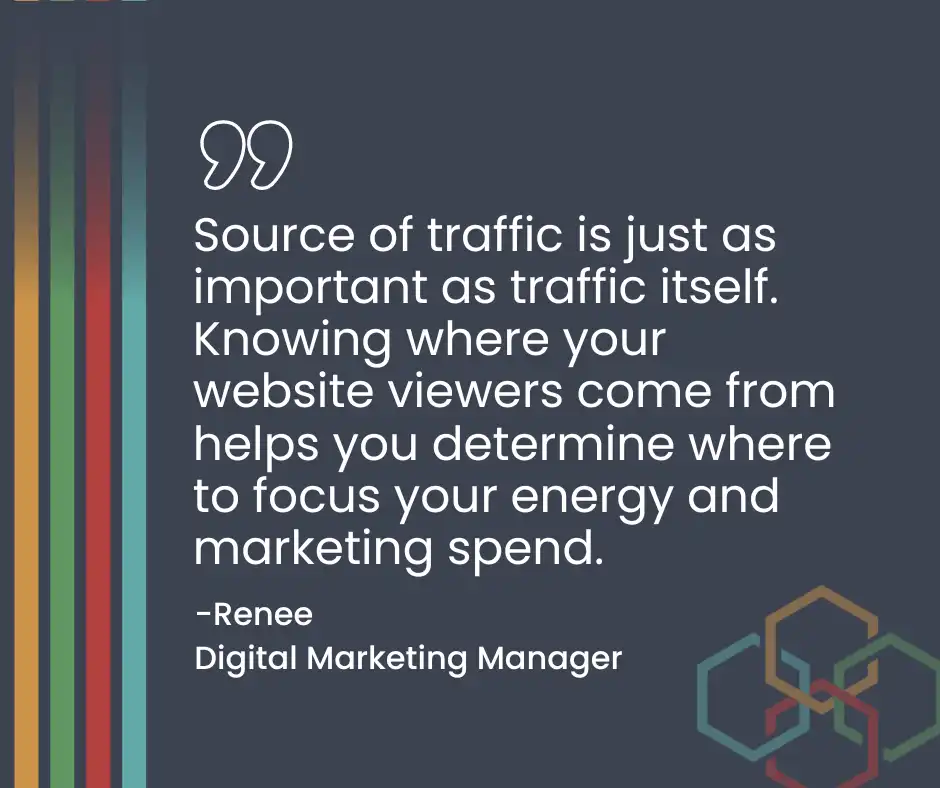 "Source of traffic is just as important as traffic itself. Knowing where your website viewers come from helps you determine where to focus your energy and marketing spend. The behavior of direct traffic leads may be different from the behavior of others," Renee explains.
For example, if most of your leads come from social media, that's where you need to invest towards.
Tracking where traffic comes from may allow you to determine where more effort may be required. For instance, if most of your traffic is coming from social media because you're spending a lot of money on ads per month, and you're looking to reduce marketing spend, you could start focusing on improving the amount of leads from organic.
Similarly, if most of your traffic comes from search engines, you need to work towards maintaining SEO rankings. Keeping track of your numbers over time will help identify trends and execute more effective marketing strategies.
Types of traffic and where it comes from
As discussed earlier, to reach more customers, your website needs to attract more and more users. There are several ways to do so. Each method helps generate a type of traffic to your website.
We have listed the various types of traffic below to help differentiate them from each other.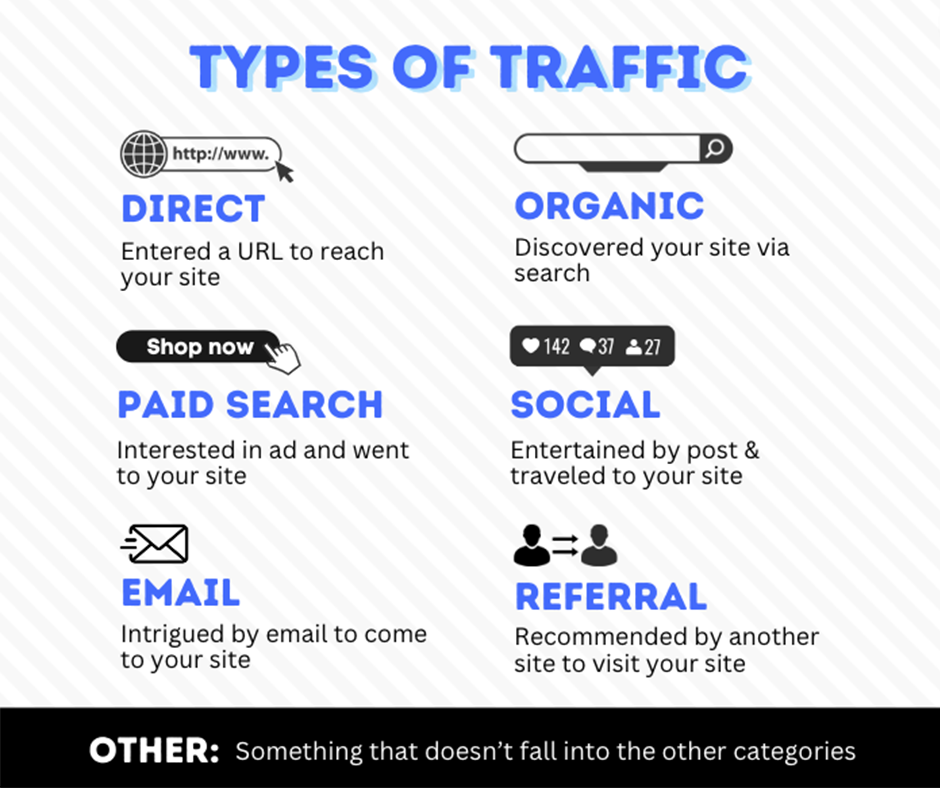 1. Direct traffic
Renee explains this type of traffic, "Direct traffic refers to the visits to a website that occur without a digital referring source." The user goes directly to a URL in their browser to arrive at your website.
Typically, direct traffic visitors type in your website URL or use a bookmark from their browser. Experts consider 20% as a healthy rate for direct traffic. However, a high direct traffic rate could indicate strong brand recognition.
2. Organic traffic
Visitors arriving at a website via a search engine make up organic traffic. This type of traffic is unpaid. Interestingly, organic traffic constitutes 53.3% of all website traffic, which makes it the most common type of traffic. That's why it is important to focus on cultivating a steady rate of organic traffic to your website.
Renee shares her favorite source of organic traffic, "Did you know that blogging is an effective way to boost organic traffic?" In fact, blogs make up a quarter of all websites. To discover new and improves ways to improve your business, do check out our blog. To discover ways to improve organic traffic, keep reading.
3. Paid traffic
This type of traffic requires monetary investment to bring visitors to a website. It could be as simple as spending money on display ads or getting set up with a PPC (Pay Per Click) campaign. Businesses often pay to have their ads featured at the top of search results and thus take advantage of paid traffic.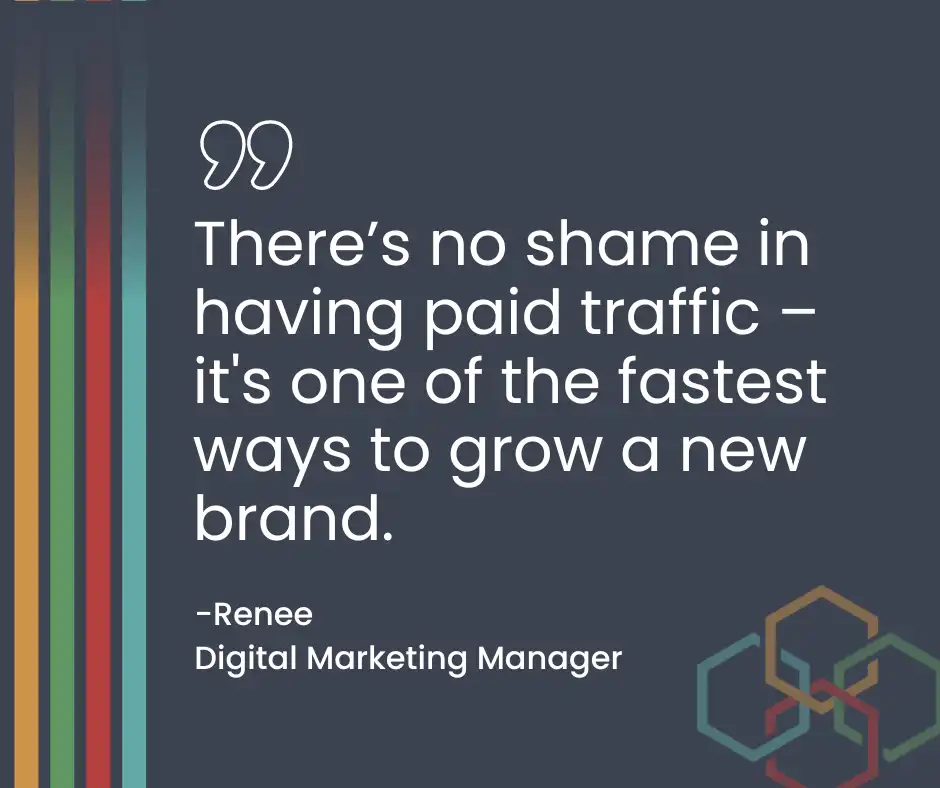 It is easy to set up and helps a business gain more exposure with the potential to get more leads and conversions. Many smaller brands opt for paid digital marketing opportunities as a more cost-friendly alternative to traditional paid marketing, like television or billboards. However, even paid traffic can get expensive. Small businesses don't always have the budget for this for extended periods of time.
4. Social traffic
Visitors coming to a website through social media platforms like Facebook, LinkedIn, Twitter, etc., make up social traffic. Depending on what platforms your customer base favors, it could be worthwhile to create engaging content. Social media marketing can work wonders for a business.
5. Email traffic
This type of traffic brings in visitors to a website when they click on a link sent to them in an email.
Email marketing is typically sent to people that have interacted with your business or website at some point. It's a great way to improve website traffic, customer retention, and brand recognition.
There are 4 billion daily email users and this number is only increasing. There is value in email marketing and that's why 37% of brands are increasing their budget for the same. You can improve your marketing strategy by incorporating email marketing into it and start reaping the benefits.
6. Referral traffic
When visitors come to a website by clicking on a link on a different website, they contribute to referral traffic. Guest posts and press releases are excellent ways to encourage referral traffic.
Think of this as "word of mouth" marketing on the web! Other people are verifying your business, so users and Google alike see your website is trustworthy. The Google algorithm reacts positively to referral links, and this can potentially boost your SEO rankings.
7. Other traffic
Any website traffic that doesn't fall under the above categories conforms to this type of traffic. It can be any time there is traffic coming to your website, but your tracking tool can't quite tell where. Popular examples may include other kinds of ads, SMS marketing communication, and more.
Tracking traffic
Did you know that user demographics (age, gender, location, etc.) can influence the type of traffic they become? If we focus on social media, Gen-Z is more likely to use TikTok and Instagram over Twitter. Professionals are more likely to use LinkedIn. Pinterest has more female users in comparison to male users. Therefore, if you know what demographic forms the bulk of your customer base, it is smart to identify and target the platforms they prefer.
You can take that same idea and apply it to a bigger scale. "Think about it," Renee says, "Customers that are familiar with your brand, or doing research on your brand, are more likely to be direct traffic. Customers that are interested in learning more about a field, or general product type, are more likely to be organic traffic."
Not all traffic data is 100% accurate. For example, a consumer searches for information, and Google recommends your Facebook video to them. They click the link to watch your video on Facebook. Then, from the description of the video, they follow the link to your website. They'd be classified as social traffic. However, they originally found your content through organic search.
How to track traffic type and acquisition source
To pinpoint where the bulk of your traffic comes from, you can use tools like Google Analytics, Ahrefs, and SEMrush. These tools will enable you to decipher where your traffic is coming from and that could be monumental in shaping your marketing strategy.
Please note that businesses with employee and customer logins may see higher direct traffic in Google Analytics.
We asked Renee how she tracks traffic channels. She explains that, "there are several tools you can use. Our favorite is Google Analytics. It's free, and we already use it to track other pieces of site behavior."
This is where you can find traffic acquisition within Google Analytics. It will show you all the channels viewers use, everything from email to direct traffic: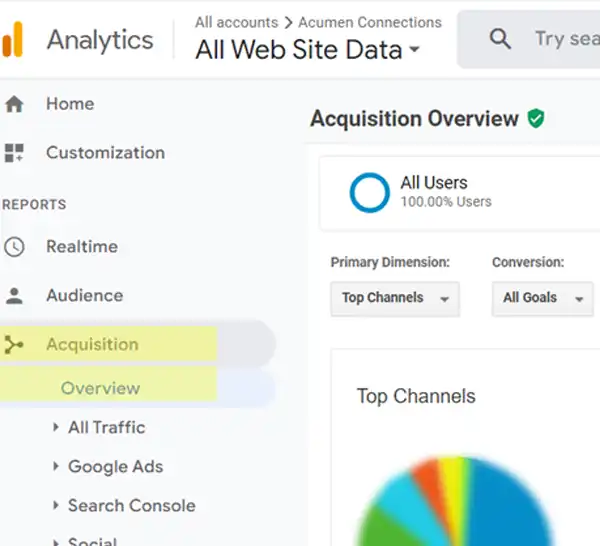 Many businesses focus on direct traffic vs organic traffic, but they need a mix of all types of traffic. A healthy traffic mix would include traffic from all sources and not rely exclusively on one type of traffic. For example, if most or all traffic coming to a website is direct traffic, this could be an indicator that they're only getting repeat customers or visitors that are familiar with their site name. To grow their business, they need to direct their efforts towards other channels.
A survey estimates that marketers waste about 26% of their budget. Not knowing which traffic to focus on could ultimately cause a drain of marketing dollars. That's why it is important to know and understand the different types of website traffic and how they impact your business.
Here's what a healthy balance of website traffic.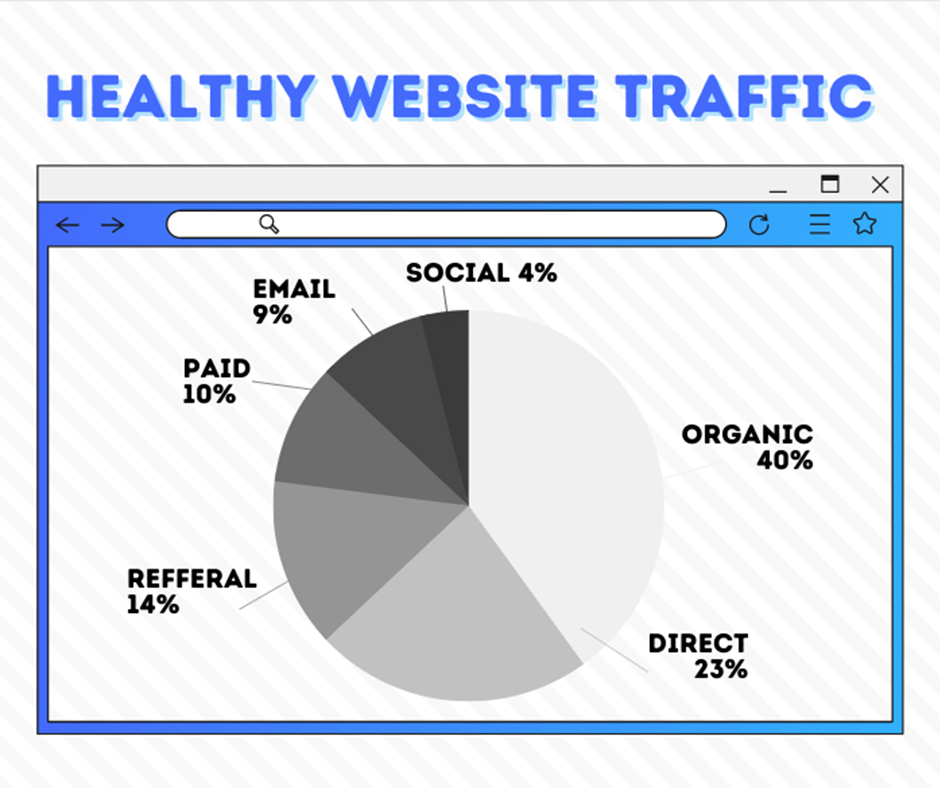 It doesn't have to be these exact numbers, but, "you do ideally want a balance between your traffic channels," Renee explains.
Renee continues, "Direct traffic visitors tend to be more familiar with your business… possibly return customers, which traditionally support any business. Organic traffic visitors are more likely to be new visitors… it's a good sign of growth. Word of mouth marketing is great. Referral traffic can have a similar recommendation effect. There's no shame in having paid traffic – it's one of the fastest ways to grow a new brand… Email marketing is successful in finding new leads and encouraging repeat business. It should be part of your marketing strategy. Finally, social media can send signals to search engines and consumers that your business is legitimate."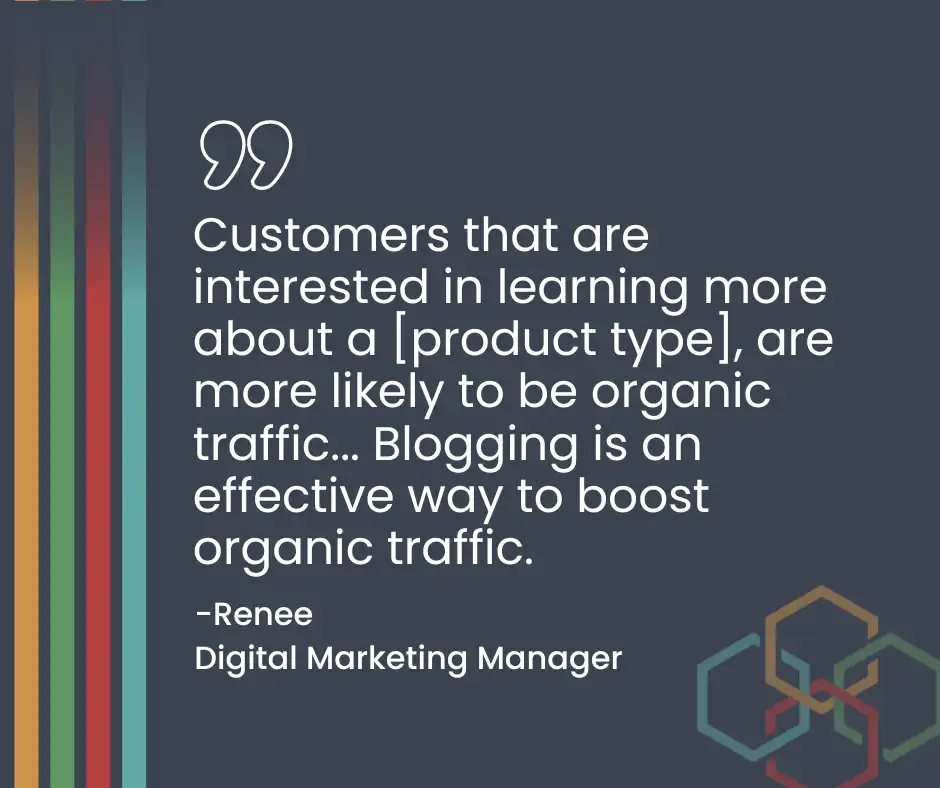 Direct traffic vs Organic traffic
In this section we will compare two types of traffic: Direct traffic vs organic traffic and how each of them works.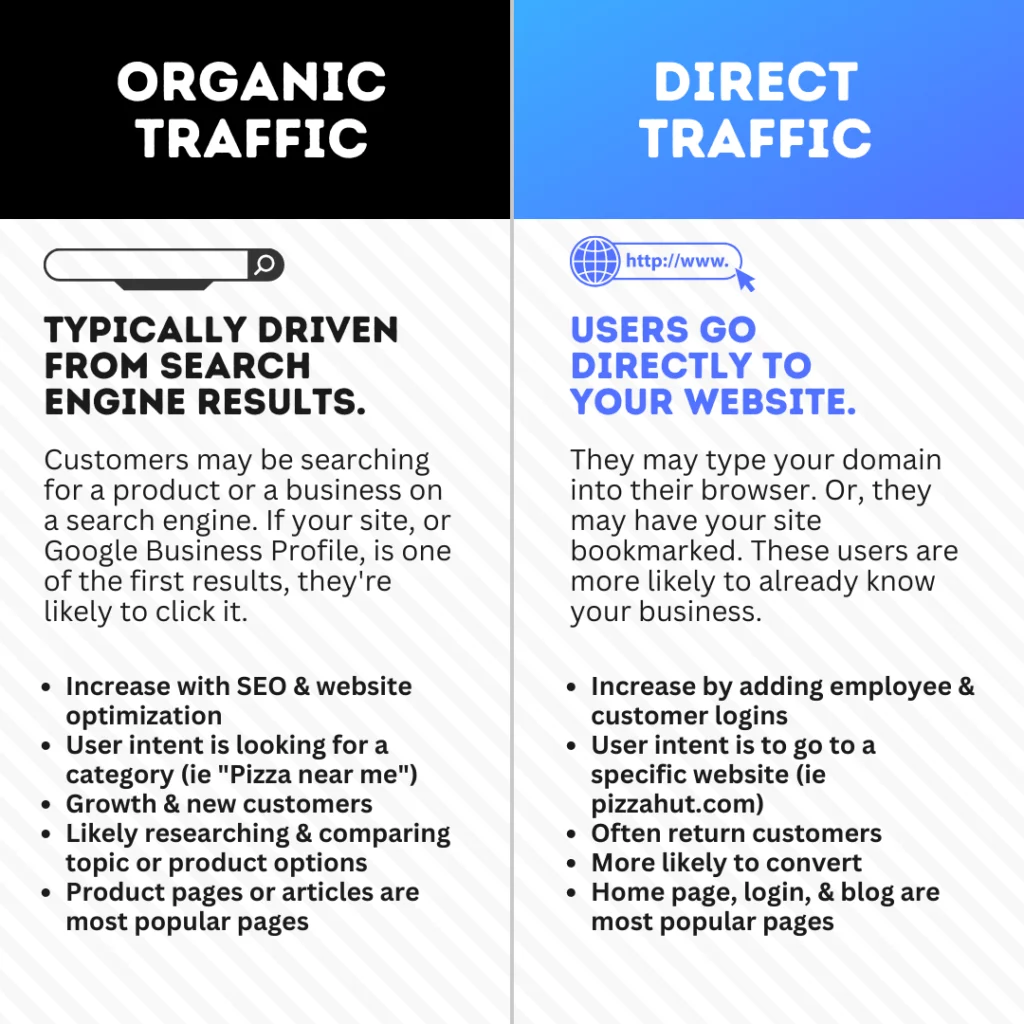 1. Improving Organic Reach
Organic traffic can capture over 40% of your revenue and it accounts for 51% of all website traffic. It's no surprise that businesses choose to focus on improving their chances at reaching organic traffic and organic leads.
There are several ways to improve organic traffic.
Consider what you know about social media already. Organic reach on Facebook happens when people like your content enough to interact with it or share it on their page. The more people that interact organically with your content, the more people Facebook will show it to on their site. The same thing happens with Google.
If people seem to like your website when searching for a topic, Google will list your page higher on the search results. If Google thinks that your website has some interesting and helpful information on a subject, they will list it higher on the search results.
Being listed higher on the search results is free! Or at least, it's only the cost of labor…
The common term associated with organic reach is SEO. Organic traffic is sometimes referred to as 'natural SEO'. You might be wondering what SEO is or why SEO is important for your small business. The goal is to optimize your website so that search engines like it more.
There are a number of ways to do that. You can make more blog content since blogs increase website visitors by 55%. Renee explains, "You can also improve your use of keywords in text, or even make your website faster. Try some of these ideas from our list."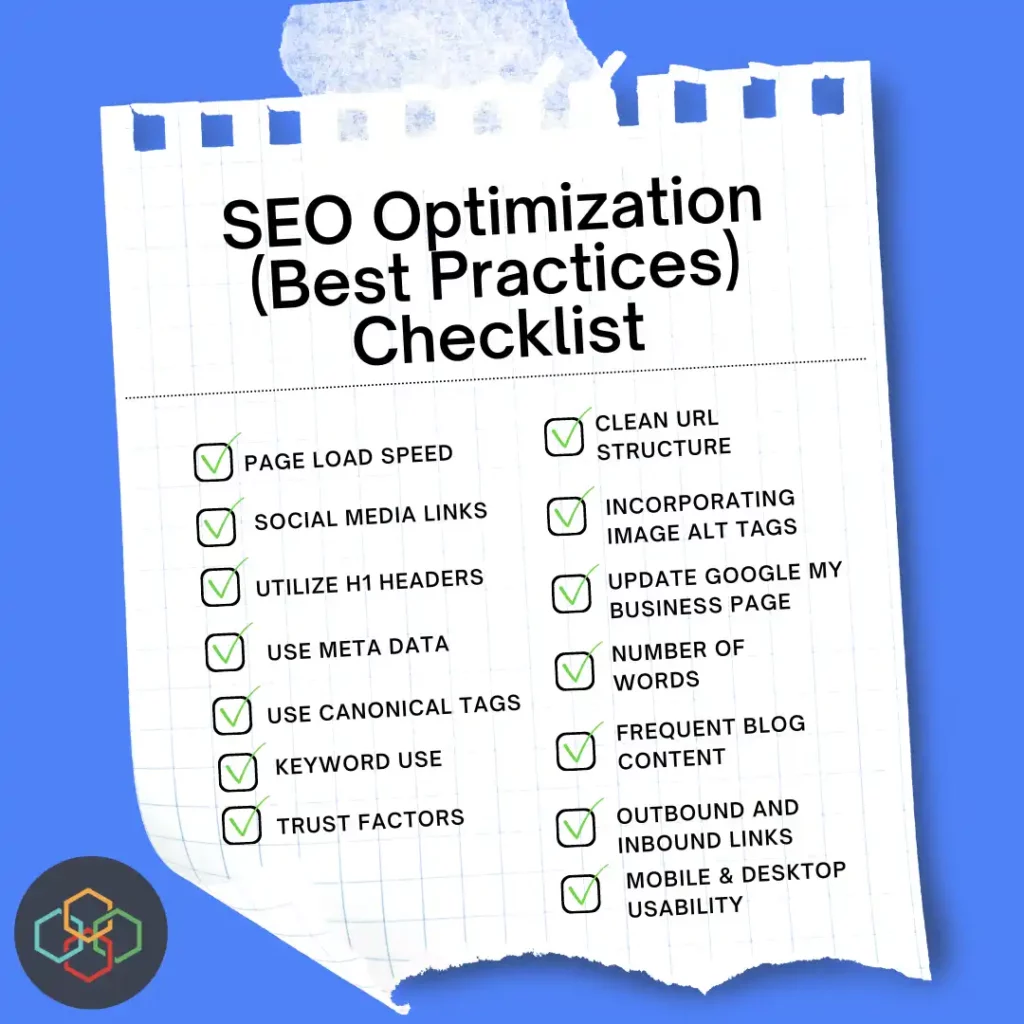 Take a look at more SEO best practices that you can implement for your website.
There is a high possibility that your customers and prospects look you up on Google. As such, it becomes important to claim and optimize your Google My Business profile.
2. How to increase direct traffic
Direct traffic is when a user types the website URL into the browser. As such, most direct traffic users are current and returning customers. Direct traffic may have been to your site before, or they may be familiar with your brand and guessing your URL. There may be instances where direct traffic leads were referred to the website by word of mouth. At times, they could also come from sources such as print ads.
If you're seeking to increase direct traffic vs organic traffic to your website, you can employ the following ways:
Have a simple and easy to remember website name
Use a dot-com extension as they're more frequently used
Business cards with your website name printed on them
Promotional imagery at trade shows or networking events
Add a login portal to your site for employees or customers
Encourage your loyal customers to bookmark your site
All these strategies can lead to higher direct traffic.
Closing thoughts…
A high-converting website is one that attracts leads from several sources. Such websites see sufficient activity and an influx of visitors. They have healthy direct traffic as well as organic traffic. We have identified ways to boost direct traffic to a website. Generating organic traffic is also essential since organic traffic accounts for a major chunk of traffic.
At Acumen Connections, Wichita merchant account provider, we aim to empower small businesses in addition to offering secure and easy online checkout to their customers. We hope this guide was able to shed light on the difference between direct traffic vs organic traffic along with other types of website traffic. If you're looking for ways to increase direct traffic, organic traffic, and other types of traffic to your website, we hope you find this information relevant!
Anna Reeve, MBA