Your customers can find you with SEO digital marketing
You get new business when you get noticed. Use our SEO best practices to evaluate your SEO strategy or implement a brand new one to reach your target market. If they can't see you, they can't buy from you or hire your services. SEO can help increase visibility, reach, leads, and sales!
Running a business today takes more than great products and excellent service. You're competing with your peers in the industry. There are multiple mediums to reach customers and digital is one of the most prominent. You need to direct your marketing efforts across all digital platforms like social media, websites, and email campaigns.
Before we explore SEO, let's take a look at Website Optimization…
What is website optimization?
SEO contributes to website optimization. Your website will need to be optimized for you to reap the maximum benefits. Website optimization helps generate website traffic and convert leads into sales.
Why is website optimization important?
Website optimization is crucial for any business. It is important because it helps users find answers to their queries, enables search engines to understand your site, helps improve CTR (Click Through Rate), and helps you rank higher in search results.
How do we optimize a website?
Wanting to improve what you already have? There are a few ways to optimize your website. They are:
Audit your website. It will help identify the issues and guide you on how eliminate them. You can optimize your website's performance to get the best results. Semrush offers free site audits.
Make upgrades post audit. Your site audit will show you where it is lacking and what updates are necessary. We suggest making these changes as soon as you get the results of your audit.
Improve both on-page and off-page SEO. Both are important for the visibility and accessibility of your website.
Have stellar content. There is no way out of this one. Your content is key! Having captivating content is what sells.
As we see above, SEO helps in website optimization. Let's dive into SEO and discover what it entails…
What is SEO?
SEO stands for Search Engine Optimization. It can be described as a combination of steps that enhance the quality of a website so that it ranks higher in search results and increases organic traffic. It is different from other forms of digital marketing because SEO focuses primarily on website rankings while digital marketing supports brand promotions through several different channels like websites, emails, and social media.
What are SEO best practices?
Are you consistently creating quality content but not getting traction? Are you struggling to get views? There are a few things you can do to tweak your SEO for optimum results. We have jotted down a list of suggestions for you:
Improving the technical structure of your website
Create Powerful Title Tags and Meta Descriptions:
Arguably the two most crucial elements of a page, your title tag and meta description need to be compelling.
When you type a query in google and hit enter, your search results show up with clickable headlines. These are title tags. They're significant when it comes to SEO, and they give a quick preview of the page content. We recommend using target keywords when writing title tags. Remember to craft it in a way that corresponds with search intent. Make them concise and avoid keyword stuffing. For best results, try to keep your title tags under 60 characters.
Just below a title tag on a search results page, you will see a brief summary of the page. These are meta descriptions. It is advised to keep them under 160 characters. Meta descriptions need to provide accurate information, include target keywords, and be unique for each page on a website.
Focus on improving user experience on your website:
This is one of our favorite SEO best practices. It doesn't take a lot for a prospect to lose interest and exit out of a website. Once someone is on your website, your efforts need to be directed towards retaining them long enough so that they can make a decision. This is where user experience comes into action.
A few steps you can take to improve user experience:
Subheadings & visually appealing layout make it easy to read and friendly. Customers are more likely to stay on your page if it is well designed and easy to navigate.
Keep in mind that 92% of internet users use mobile devices. Optimize your site or mobile devices.
Keep page loading speed fast. Advertisements and popups slow down your site. Large images can do the same and so we suggest compressing them to make your site faster.
Add alt text to images to enhance web accessibility. Want to make sure your alt text is an accurate description of the image.
If you have multiple urls for the same page, use canonical tags to streamline them all to one main url.
Make sure your root domain is helpful to customers searching for your brand or product. Listing your business name and/or product is best. Condensed urls are easy to remember, but they're not good for search.

Improving the content structure of your website
Optimize keywords
Potential customers are searching for something. It could be a product, a brand, or the answer to a question. Do research to determine which words and phrases your customers are searching. Include those terms in your website.
Add keywords to your URL
The best URLs aim to offer users and search engines insights regarding the page. Short and keyword-rich URLs have been found to be more effective than others. It needs to be readable and crafted in a way that is simple and logical.
Add keywords to your text
When you're creating a blog or article, scattering the keywords throughout the text helps the SEO. We recommend using keywords in the headlines for best results. It helps search engines as well as users to know what they're looking at in the search results.
Add keywords to your meta data
In simple terms, metadata helps explain other data. Page title and meta description are two components of website metadata. We suggest using keywords in your metadata to assist the search engines and also help users identify the content. Avoid adding keywords that don't come naturally. No one wants to read poorly written content.
Improving blog content
Writing blogs provides several benefits.
Educates the customer
Lets customers do research between products and services
Helps customers find your website
Establishes you as an industry expert
Long-form content performs better on Google
It has been found that long-form content in blogs or articles get more traffic than their shorter counterpart. They are more Google friendly and get more shares. We recommend creating content-rich blogs after thorough research. HubSpot recommends having 2,100-2,400 words per blog post.
Ensure articles fit your brand. It would be unusual for a construction company to write about NYC fashion. Or for a health magazine to publish blogs on astrophysics. Keeping your content consistent and relatable is key to having a steady viewership. Nothing can compensate for irrelevant or poor content.
Post articles in a timely manner. If you're a go-to resource, your readers will want an expected blog schedule. It doesn't have to be down to the exact second, but if you normally post one blog a week, or one blog a month, stick with the schedule. It's a lot better to post articles on a routine basis throughout the year, rather than posting all your blogs at once. It helps show that your website is up to date and informed.
Building up external resources
External resources really help support and build your SEO.
Linking is essential:
External linking
Often, we come across websites with links that lead to a different website. These are called external links. There's two ways external links help your site.
External Resources
When you create content and include a link to a high-authority website, you are essentially displaying that you get your information from credible sources. It shows that your article information is accurate.
Backlinks
When other websites link to your content, it shows you've gained votes of confidence. This is called a backlink. Backlinks are a vital part of SEO digital marketing strategy, as they show trust in your site's content. You can see the backlinks you currently have https://monitorbacklinks.com/seo-tools/backlink-checker.
Internal linking:
Another potent SEO best practice is to use internal links on a page. These are links on a page that lead a user to another page on the same website. Internal links assist Google in deciphering your site and its structure.
We recommend using both types of links in your content for better SEO performance.
Use Social Media:
There are ways to employ social media marketing for your business. When you promote your business on different social media platforms, you are likely to gain new customers and help retain existing ones. It helps build a two-way communication street between you and your customers. We recommend advertising you specials, offers, discounts etc. on social media for greater reach.
Share your blogs to social media. Although it's not the same as a backlink, it still helps promote your content. Plus, if people are talking about you on social media, it's noticed. It's a social cue for search engines that a particular brand/topic/article is important to others on a social level.
We recommend optimizing your business social media accounts as well.
Take advantage of your Google My Business profile:
This is often one of the most-overlooked SEO best practices, but it has great benefits. A Google business listing or business profile helps businesses gain visibility on Google. You can create a free business profile and a separate Google My Business account to manage that profile. Your Google My Business account serves as a tool to optimize your business profile. When a prospect looks you up on Google, they will see your business profile that has your location, website, contact information, reviews, and more.
Optimize your Google Business listing just as you would your website. This could be an excellent way to reach the top search results in a way that stands out from the competition.
Keep your info up to date, stay involved with customers, include recent images and updated text. Keyword optimize it. Build trust by collecting and responding to reviews.
Check out our SEO Best Practices Checklist
Want to make sure you're making all the right changes? Use our SEO Best Practices Checklist.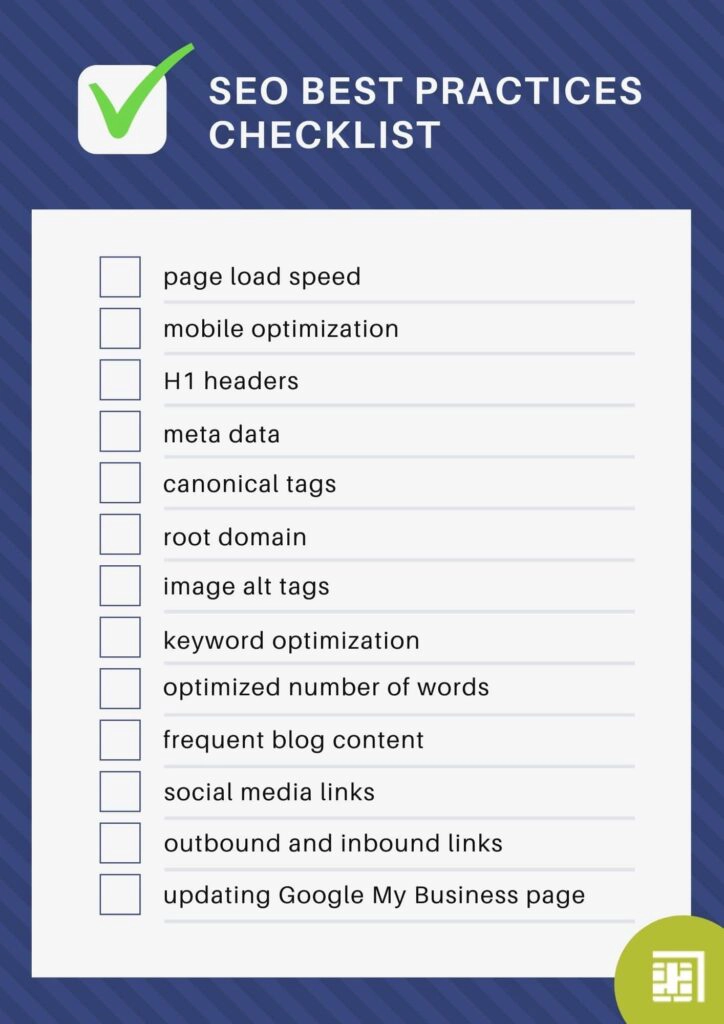 SEO best practices are implemented by businesses worldwide for several reasons. They want to build a brand and gain brand recognition. Businesses want to find their target market and be found by prospects. They want more leads to convert to sales and they ultimately want to make more sales and earn higher profits.
SEO allows businesses to be seen and get heard. Prospects are able to find them through organic search. Businesses are able to gain visibility by ranking higher in search results. We hope our comprehensive guide to SEO proves to be of help to you. It is a powerful tool that offers endless possibilities.
Acumen Connections is a locally owned and operated payment processor in Wichita, Kansas. Our organization seeks to help small businesses meet their goals with real solutions designed by real hardworking people. To help businesses and individuals achieve personal and professional successes, we're providing new content weekly. Stay up on our posts by visiting the Acumen Connections Facebook, Instagram or Twitter pages, and visit the blog for a full catalog of resources fit for hardworking people. 
Anna Reeve, MBA