Use Google My Business to gain more customers and grow your business
You're probably using Google My Business like most business owners. However, are you utilizing it to its highest potential? Do you see results you want yet? Stay tuned to find out more…

So, you're not new to marketing your business but could use some help? You've come to the right place! Acumen Connections has insights for business owners at each step. For any business, visibility on Google is vital. This is where the Google My Business tool plays a pivotal role.
Today we will explore how to get the most of Google My Business. If you are new to Google My Business, we suggest consulting our resource here:
Over the past few years, businesses have had to evolve with the times. More businesses dove into the digital space. Now, many small businesses have online stores to benefit from online shoppers. Also, most restaurants partner with online food delivery services to serve their customers.
About 71% of small businesses have a website. This means that most small businesses today have some sort of online presence. Google My Business is a great platform for many areas of your organization.
To make the most out of your account, you need to tailor it for success. Let's discuss ways you can get the best result from your Google My Business account.
Do I need to optimize my Google My Business profile?
Yes, your business should optimize its Google My Business profile.
Why do I need to optimize my Google My Business profile?
There are a few reasons to optimize your Google My Business profile. Doing so will:
Help your business rank higher on search results
Make it easier for customers to find you
Help grow customer engagement
Offer a website citation
Make it easy to locate on Google Maps
Keep customers up to date on changes to your business
How to optimize your Google My Business profile
Note: For the sake of convenience, we have abbreviated Google My Business as GMB throughout our tips.
Businesses can boost their chances in the market with GMB. To do so, they must strategize to outperform their competitors. When it comes to GMB, optimization can catapult businesses to greater success. Let's take a look at how to optimize your profile.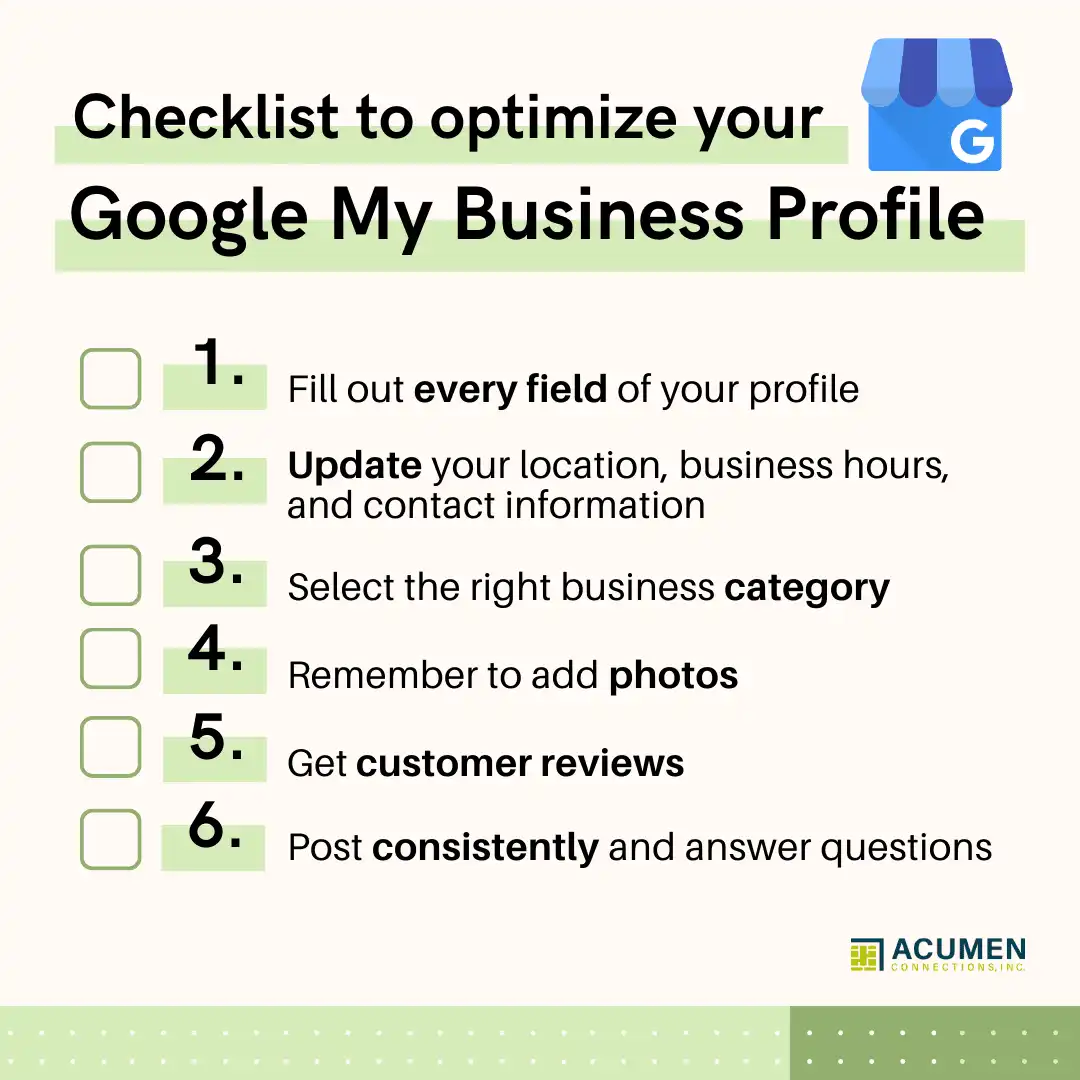 1. Fill out every field of your profile
Your Google My Business profile and your Google My Business account are two separate entities. First, you have a GMB account, and then you connect to your profile. To optimize your profile, you do so through your account.
Having a completed GMB profile boosts your local search ranking and increases user activity. Tackle fields asking for basic information like name, address, and contact information first. Next, give some thought to fields like category, products and services, questions and answers, etc.
2. Update your location, business hours, and contact information
Double-check the address you provide while filling out your GMB profile. You want to avoid mistakes.
Be clear about your regular and holiday hours. Customers may leave negative reviews if they drive to your business and find it closed.
Reminder: The information you provide is visible to anyone with an internet connection. So, ensure you don't enter your personal phone number or email.
3. Select the right business category
You must pick a business category to optimize your GMB profile. It helps you gain visibility in discovery searches. A discovery search is when a user types in a product or service and the business pops up in the results. In fact, more GMB views come from discovery searches than from direct searches. A direct search is where a user types in the business name or address.
Once you select your category, you can choose features. For example, if you own a restaurant, you can select specifics like dine-in, takeout, and no-contact delivery.
You can choose up to 10 business categories. But only one can be your primary business category. Google's algorithm places the most importance on your primary business category.
4. Remember to add photos
Photos make your GMB profile more appealing. People are more likely to visit a business if they can see pictures beforehand. We suggest adding at least one photo every seven days. Use your business logo as your thumbnail photo. Avoid using stock photos and ensure that your pictures are high quality.
5. Get customer reviews
Did you know that reviews are the number 1 influence on customer making a purchase? Having 5-star reviews makes your business more appealing to consumers. It also improves your ranking.
To build a positive Google rating:
Start by approaching your long-time customers
Mention that you'd appreciate it if they gave you a good review
Reach out by text, email, social media, and in-person
Customers are more likely to leave a rating if you ask. Having a link to create a review could be helpful and convenient. Try to respond to reviews often to build effective communication.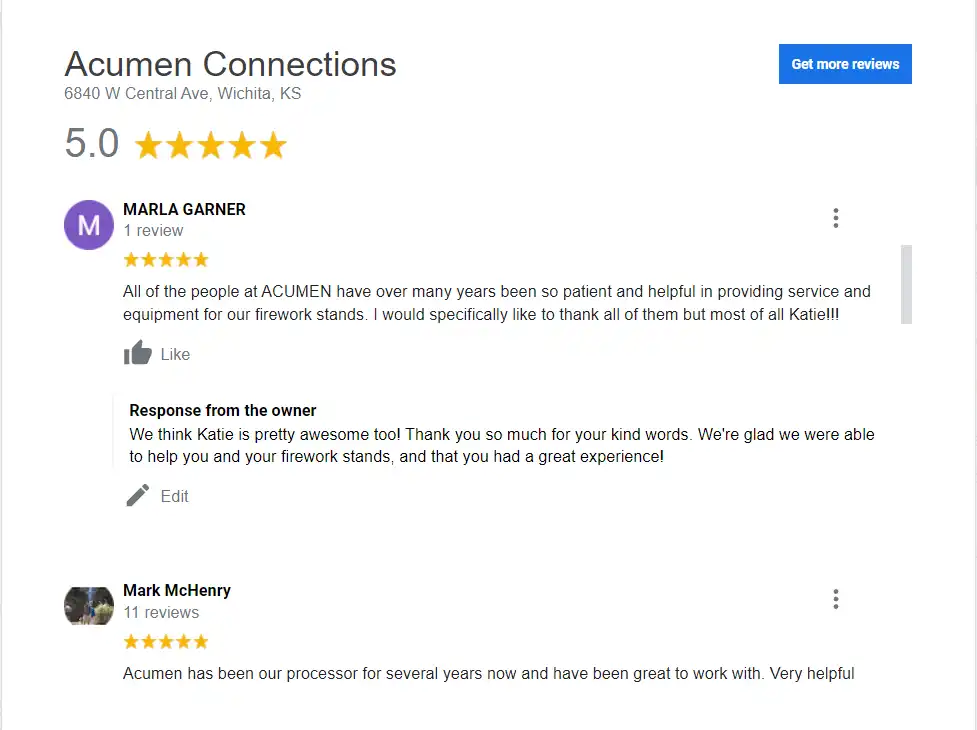 6. Post consistently and answer questions
Try to talk with customers on every social media platform. GMB is no exception. Posting on your GMB profile keeps customers informed and engaged. Posting at least once a week or once every 7 days is a good frequency.
Keep an eye out for customer questions. Then, do your best to answer them. Your responses should be clear, concise, and have a positive tone.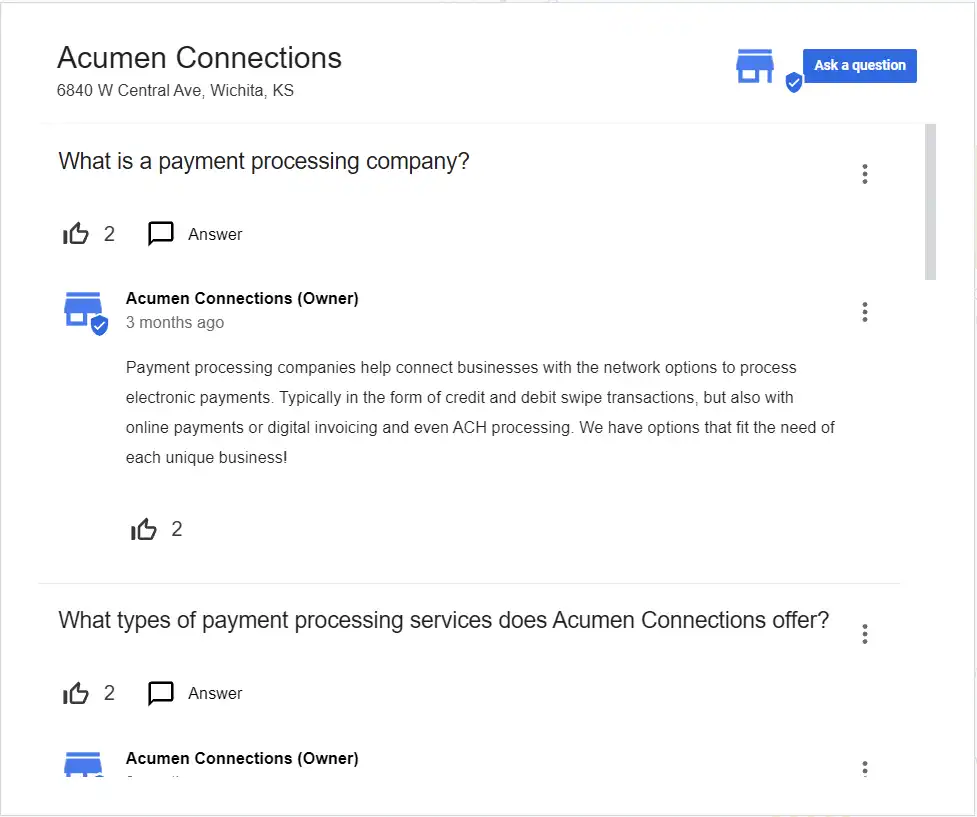 SEO (Search Engine Optimization) tips for Google My Business
There is a "From the Business" section in your GMB account dashboard. You can add a business description in this section. There are a few ways to optimize it for the best results.
First, try to use all 750 characters. Aim to utilize the first 250 characters to enter essential information. We suggest curating content from the "About" section of your website.
Secondly, use keywords. Using relevant keywords helps users discover your business.
Lastly, refrain from mentioning pricing and avoid using links.
Google My Business optimization for the win!
Optimizing your GMB is a smart move. It helps your business gain visibility to target new customers. Over time, customer reviews will reflect your earnest efforts. It will enable you to assess your capabilities and identify areas that could use improvement. Along with other digital platforms, GMB continues to draw in users. Optimization will get great results.
You want customers to find your business. You want your voice to be heard. This is one step towards acquiring new customers. We hope our tips will help increase lead conversions and boost your business.
For information on social media tips, website optimization, or online reputation management, check out the following resources:
Anna Reeve, MBA