No, they're not quite the same, nor are they alternatives!
Often confused to be one and the same, payment processing and payment gateway are two different items. They can't be used in lieu of each other. Are they related? Yes, they are! But are they identical? Not necessarily.
As someone who owns or manages a business, you have systems set in place for various processes. You have a way to assign tasks to your employees, a manner in which orders are processed and delivered, and a method to do your inventory. Just like that, you also have a system to accept payments for your products and services.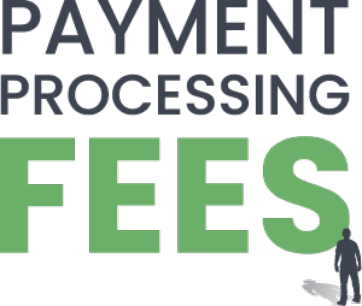 Break free from fee overload
Eliminate payment processing fees through a merchant discounting program.
Break free from fee overload
Eliminate payment processing fees through a merchant discounting program.
Cashless payments are increasing every year. More and more Americans started using credit and debit cards over the last few years. 80% of consumers like to use cards instead of cash to make payments. In fact, the world today relies heavily on card payments. There has been a steady decline in checks while card payments continue to increase. New forms of electronic payments like Alternative Payments (Google checkout, PayPal) and Mobile Wallet (ApplePay) are gaining momentum. It looks like we're headed towards a cashless world!
There's a lot of jargon in the world of payment processing. As newer developments emerge, it gets rather confusing, which is normal. Often, entrepreneurs are confused on the terms. It is understandable that they might have questions regarding the ins and outs of payment processing.
Is a payment processor the same as a payment gateway?
The answer is No. A payment processor is not the same as a payment gateway. Nor are they alternatives for each other. Instead, a payment gateway is one way to facilitate payment processing.
The difference between a payment gateway and payment processing
To understand the difference between the two, you need to know what each of them is and what they do.
Payment processing
The process that allows a business to carry out transactions using credit or debit cards is called payment processing. We are all familiar with in-person transactions where we swipe our card at the terminal of a business to make payments. But what about transactions conducted online? What facilitates payment processing in case of online payments? This is where payment gateways step into use.
Payment gateway
In short, payment gateways facilitate payment processing in case of online transactions.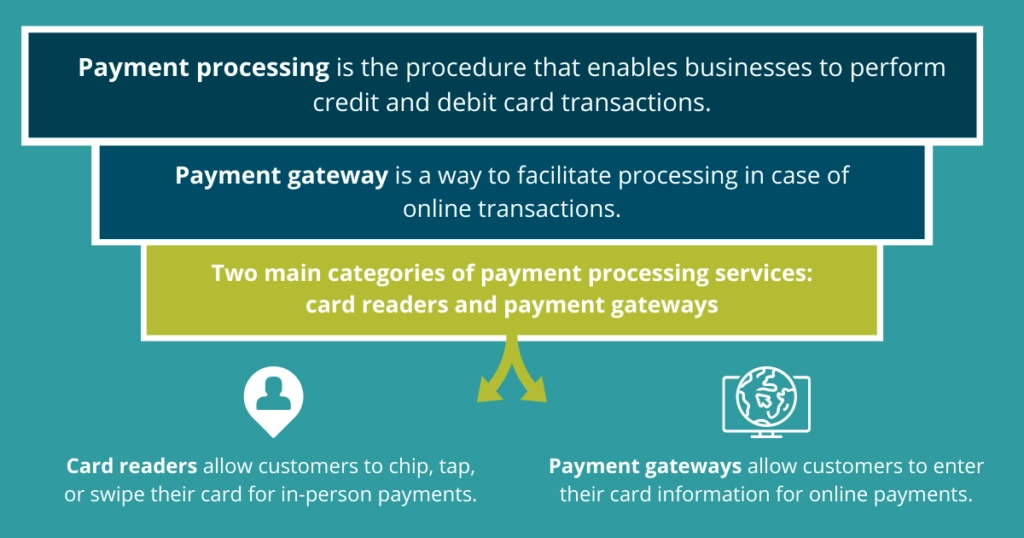 Business owners may wonder if payment processing vs payment gateway is better for their business. Some look at it as an "either this or that" type situation. As if trying to decide if they can pick one over the other. Ultimately though, these two terms aren't mutually exclusive.
A quick analogy…
Payment processing vs payment gateway is a lot like saying hammer vs nail. With a hammer, you're hammering in something. It's an action. Payment processing is similar. It's an action to accept payment from a customer, completed by a payment processor.
The nail is the way in which you're putting two boards of wood together. There're other ways to stick two pieces of wood together with a hammer (like with a wooden dowel for example), but you chose a nail. A payment gateway is the way in which you're collecting payment online. There're other ways of collecting payment (like with a card reader to collect in person) but you chose a payment gateway.
Accepting card payments
Almost all businesses accept cash. But cash can be inconvenient due to many reasons such as:
Having to carry a lot of cash as a customer
Customers carrying a lot of cash are likely to misplace some or get robbed
Difficult to track expenses
Inability to shop online
Doesn't allow customers to build credit or avail credit card points, cashback, and other rewards
A lot of time and effort goes into handling cash as a cashier at a business
General reluctance towards using cash due to spread of germs and disease especially during Covid-19 times
Also, there are costs associated with cash. They are listed as:
Labor costs for counting the cash
Cash lost or stolen
Shrinkage
Cost of services that pick-up cash from the store locations and deposit it in the bank
There are also costs associated with card payments. Often, the benefits of accepting card payments at your store are worth much more than the costs. In today's modern world it's important to accept credit cards.
In order to accept credit cards, you'll want to work with a payment processor.
A payment processor will have different solutions for your business to collect payment. Here are two of them:
A card reader is used for customers to make a purchase in-store. Customers can chip, tap, or swipe their card on the card reader to make a purchase.
A payment gateway is used for customers shopping online. Customers can go to a business' online store and check out by entering their card credentials into a payment gateway to make a purchase or pay an invoice online through a digital invoice from a service provider. Payment gateways can also be used to set up recurring payments like a monthly gym membership.
Using a payment gateway
Businesses that accept credit cards work with a payment processor. The payment processor will give them the tools they need to accept payments the way they want.
Similar to the card terminals at a store, a payment gateway is a way to carry out payment processing. It doesn't involve in-person card swiping.
If they only accept sales in-store, they can use a card reader.
If they want to accept sales online, they can use a payment gateway. E-commerce merchants use gateways as well as service-based industries that don't have a store-front but are sending invoices or taking payment at the place of service i.e. an electrician collecting payment while at the house the service took place. Payment gateways can remove the inefficiency and potential income loss or delay that comes from chasing paper invoices.
If they want to accept sales both instore and online, their payment processor will provide them with both tools.
Here's what a payment gateway looks like to the customer.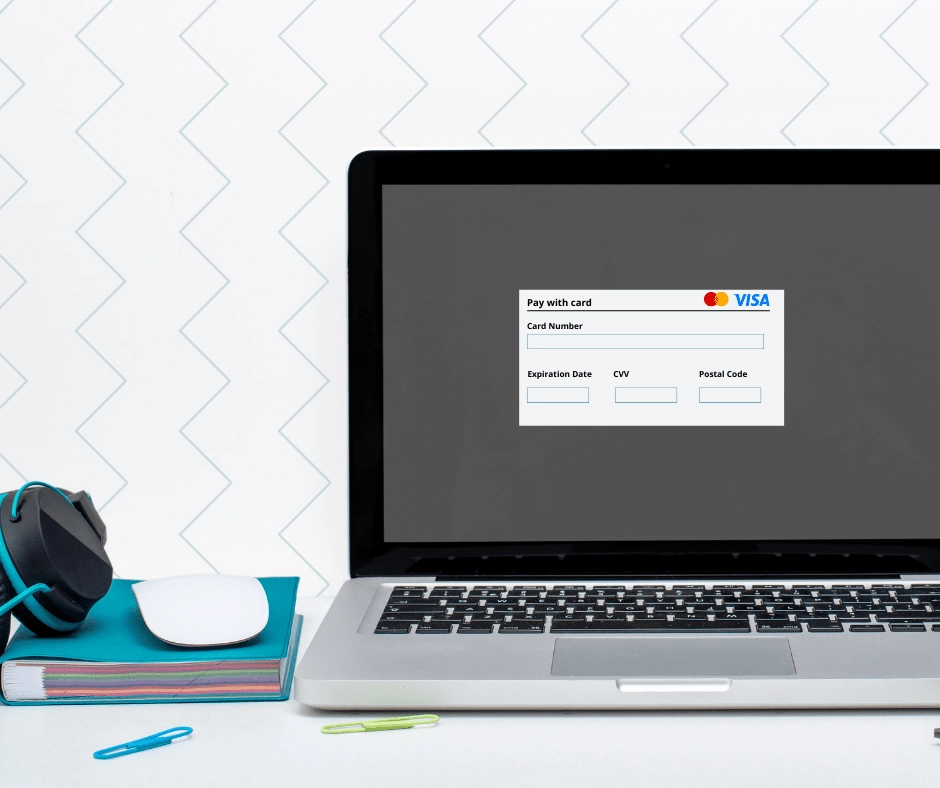 Here's what a payment gateway looks like to the merchant.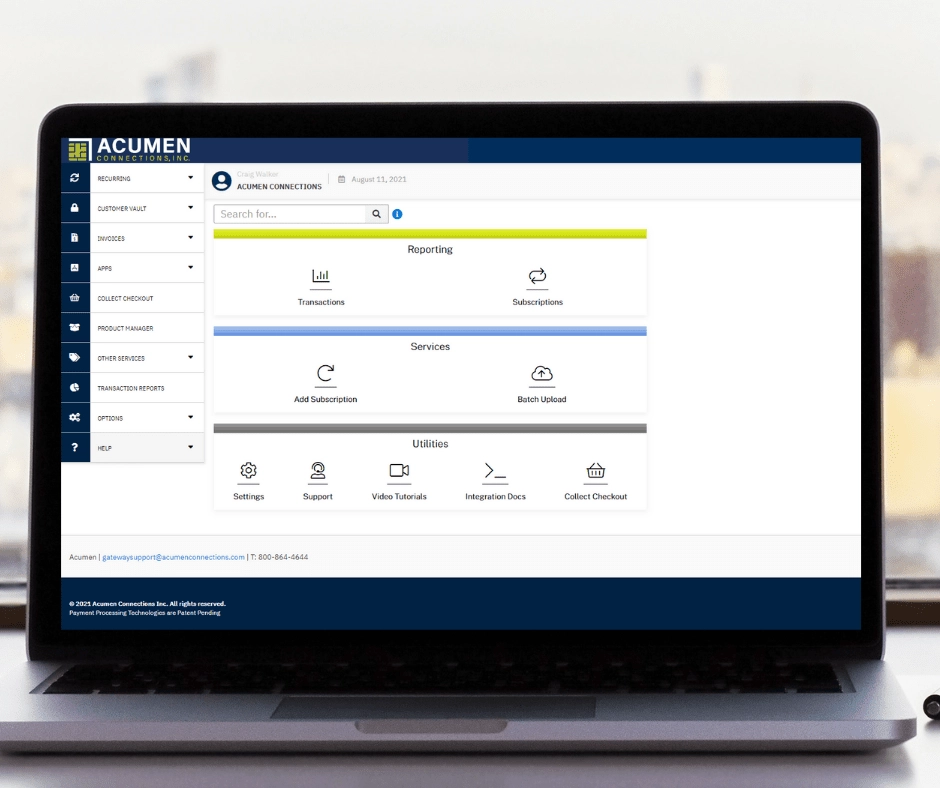 For small and mid-size businesses, gateways usually charge a monthly fee along with fees per transaction. The large businesses usually just pay a flat monthly fee to avail gateway services.
What should a merchant look for in a gateway? You'll want it to come from a payment processor that:
Cares about PCI compliance
Has excellent customer service
A gateway that is compatible with your online shopping cart.
The ability to support multiple cards and currencies
Fraud detection and prevention features
Fair costs
Closing thoughts:
Businesses exist to fulfill a need. They offer products or services that customers value and require. There are several businesses in every industry, and this leads to competition. How well you serve your customer is vital as another business could do it better. This might cause you to lose customers. You want to offer easy and convenient checkout as it adds to the overall customer experience.
To make the checkout process smooth, you need to have a reliable payment processor. If you own an online store, a secure payment gateway is a must. You want your customers to have a great experience shopping from your business. These customers are more likely to recommend your business to friends and family. Repeat customers and referrals are how you grow as a business.
You need a payment processor to accept cashless payments and you need a payment gateway for online transactions. Both options work to serve you and your customers. We hope this article was able to clear up common misconceptions regarding payment processing and gateways.
Acumen Connections is a locally owned and operated payment processor in Wichita, Kansas. Our organization seeks to help small businesses meet their goals with real solutions designed by real hardworking people. To help businesses and individuals achieve personal and professional successes, we're providing new content weekly. Stay up on our posts by visiting the Acumen Connections Facebook, Instagram or Twitter pages, and visit the blog for a full catalog of resources fit for hardworking people.
Anna Reeve, MBA