Not all customers carry cash, and cashless transactions are on the rise.
Some days, a vending machine can be a total lifesaver. From schools and college campuses to hospitals and offices, these machines find their way into our lives. They make it possible to conveniently access food and drinks. When using cash isn't a choice or preference, cards come into play. That's why vending machines need to accept card payments. In this article, we'll compare several vending machine card readers and answer your FAQs.
Isn't it a relief to find a vending machine when you're on the go and need a snack or a beverage? Now imagine trying to purchase something only to realize that you're not carrying any cash. To make things worse, there's no card reader, or it's broken. Would you want to be in that situation? Of course not!
Seamless integration, effortless payments
Keep business running smoothly. Our solutions integrate with popular programs
Your customers shouldn't have to be in this pickle either.
Finding the right card reader is key for any business. You need to choose the right credit card machines for your small business to make transactions faster and more convenient. Hassle-free checkout can be a vital factor in ensuring good customer experience. This is true for brick-and-mortar businesses, ecommerce websites, and even kiosks and vending machines. You want to work with a payment processor that integrates with a user-friendly card reader.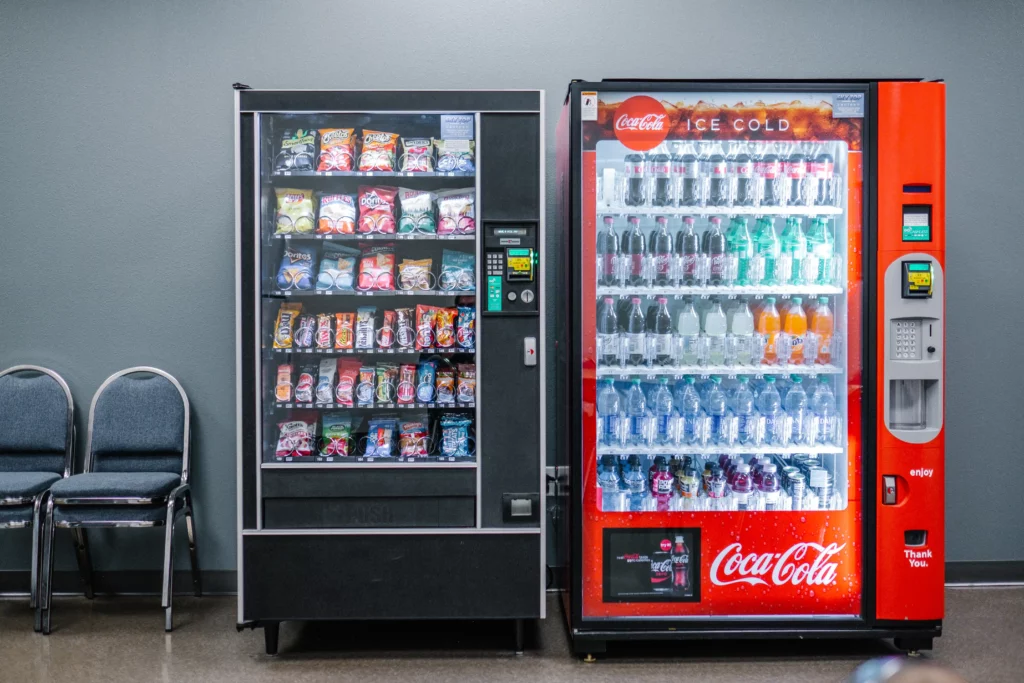 Vending machines are a good business choice. The average vending machine makes about $75 each week, or $300 a month.
Adding a credit card reader may help you increase those sales, though! See our full list of vending machine credit card reader benefits.
Importance of card readers on vending machines
We know that vending machines have been around for a while. As such, the earlier models didn't come with card reader options. As more consumers turn to plastic over cash, there is value in making vending machines card friendly. If you're on the fence about going the card reader route for your vending machines, check out these compelling reasons:
Reduce time and labor
In the case of cash-only vending machines, all the currency needs to be collected, counted, and transported to the bank. This requires time and labor. With card reader options, transactions will be cashless. The money gets deposited into the bank account directly!
Decrease likeliness to be targeted by miscreants
There have been instances of vending machines being broken into and vandalized. The main motive behind such actions is stealing the cash stored in these machines. Card readers utilize digital transactions and decrease the amount of stored cash. Consequently, the risks of getting broken into will decline in kind.
Increase sales and customer satisfaction
Did you know that 80% of consumers prefer using cards over cash when making payments? When vending machines offer card transactions, they become more appealing. Their market widens. Also, according to NerdWallet, people are likelier to spend more money when using card payment. This could lead to an increase in sales volume for vending machines that have a card reader. Impulse purchases and credit cards go hand-in-hand!
Improve sales reporting accuracy
A card reader on your vending machine along with a vending management system (VMS) can increase the accuracy of sales reporting. You will be able to track sales and observe trends to analyze customer behavior. This could help you make better decisions about what items to stock in your machines.
The perfect card reader for your vending machine is closer than you think!
Vending machine card readers
We understand that it can often be a tedious process of trying to narrow down the options. That's why we decided to do some digging and review the best options out there so that you can make an informed decision.
Let's take a look!
Nayax
Founded in 2005, Nayax serves unattended retail industries by providing cashless, management, monitoring, and business intelligence products. This global Fintech company has over 800 employees and 9 offices worldwide.
Their products support both Wi-Fi and cellular connection to the internet. Nayax card readers are built to accept chip or swipe cards, digital wallets like Apple Pay or Google Pay, PayPal and mobile app payments.
Nayax offers a monthly service package. It includes a terminal fee, interchange fee, processing fee, and merchant account fee. Nayax does have an activation fee and a modem maintenance fee that is charged monthly along with a fee per swipe.
For vending machines, Nayax has two card reader options. They are VPOS Fusion and VPOS Touch.
1. VPOS Fusion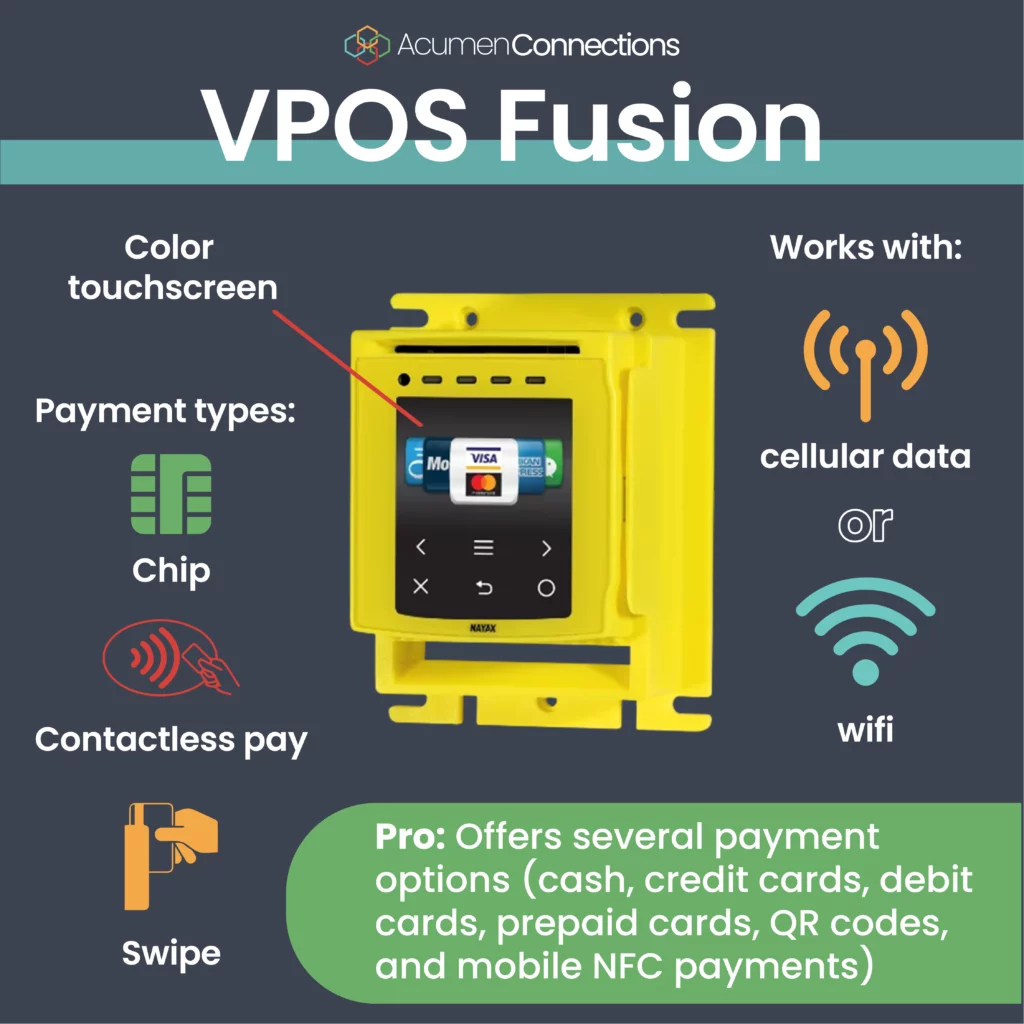 Info from: https://www.nayax.com/solution/vpos-fusion/
This model supports both cash and cashless payments. It has been described as an all-in-one solution for payments. It has a color touchscreen which makes it friendly and easy to use.
This device accepts a surprising number of payment options. It can accept credit and debit cards, prepaid cards, mobile wallets, QR codes, and even mobile NFC payments!
Some additional features we like:
Voice interaction
Ability to plug and play
Telemetry & management system
Accepts cash too
2. VPOS Touch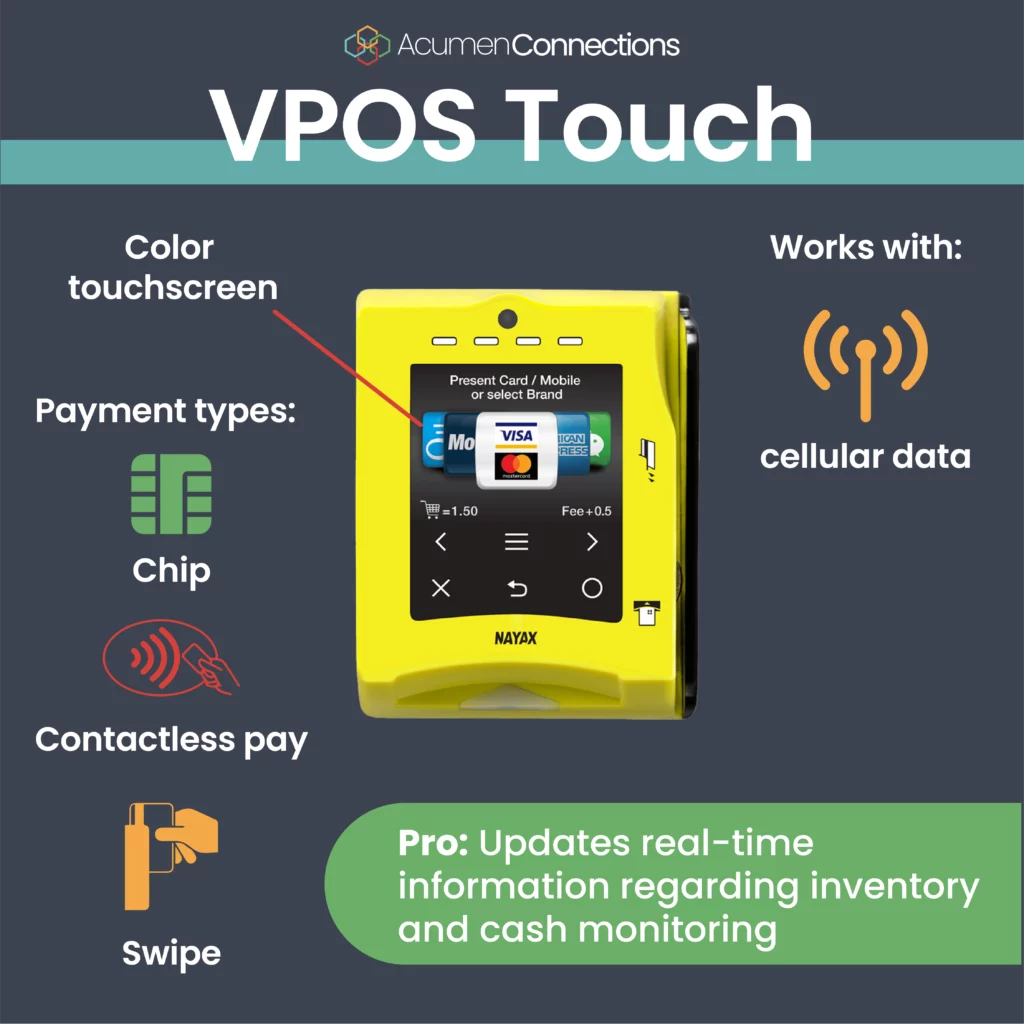 Info from: https://www.nayax.com/solution/vpos-touch
The website calls it an all-in-one device that creates sales and marketing opportunities leading to higher revenue. It also offers round-the-clock operation.
Features:
Color touchscreen
Reports in real-time
Easy to plug and play
Voice interaction
AirVend
AirVend Inc. was founded in 2012 and acquired by 365 Retail Markets in 2015. Their products accept swipe cards, digital wallets, and mobile app payments. AirVend charges a monthly service fee and a transaction fee which depends on purchase amount.
We have two models that could work with your vending machine. They are: PicoVend Mini and Pico Vend.
Info from: https://365retailmarkets.com/vending/
1. PicoVend Mini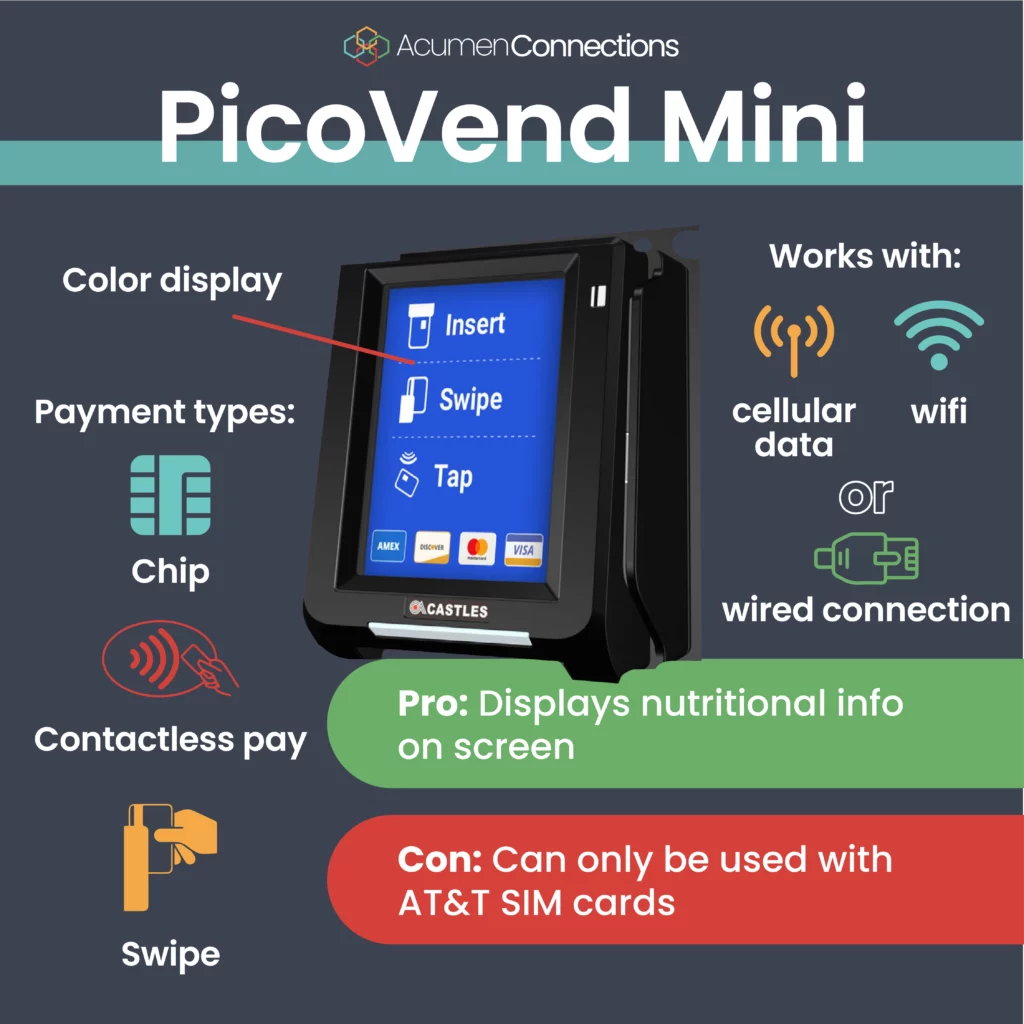 A self-service technological innovation, the PicoVend Mini can work with most vending machine models. It allows touchless flexible payment options, making sales a breeze. Customers love convenience, making this a great choice for your vending machine.
Some features we like:
Easy to use
Smaller size fits on more vending machine models
Screen displays nutritional information of food items
2. PicoVend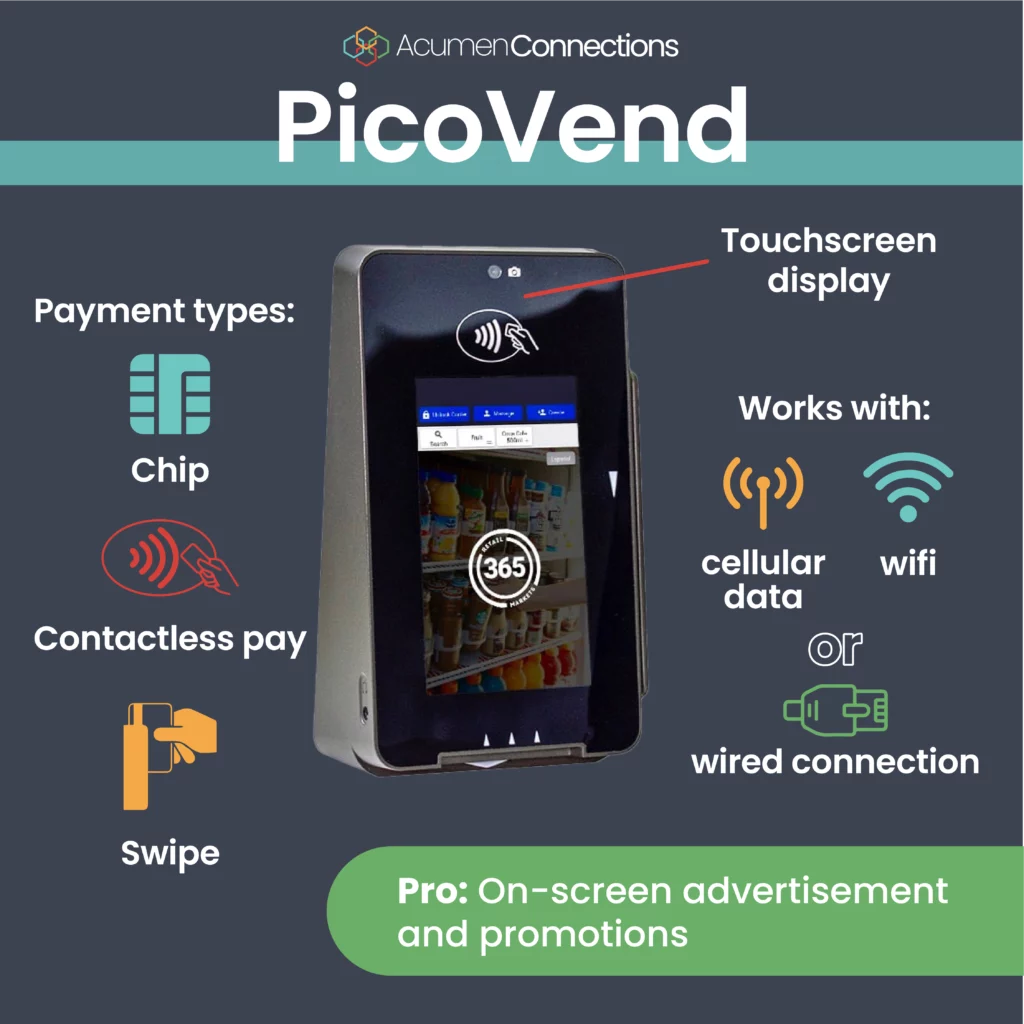 Most businesses today are customer-focused and they care about convenience. The PicoVend products are no exception. PicoVend offers advanced vending technology that is easy to upgrade and integrate. Some important features include:
Interactive color touchscreen
Promotion and advertisement options
Payment versatility
Cantaloupe ePort
Established in 1992, this company is huge on people-first. The vending market is cash-based traditionally, but Cantaloupe is at the forefront of cashless acceptance. Their products work on Verison and AT&T cellular networks, and accept swipe cards, mobile app payments, and digital wallets.
Cantaloupe charges a monthly service fee and a transaction fee.
We picked a few models that would be ideal for most vending machines. They are the ePort Engage and the ePort G Series.
Info from: https://www.cantaloupe.com/hardware-eport-cashless-devices/
1. ePort Engage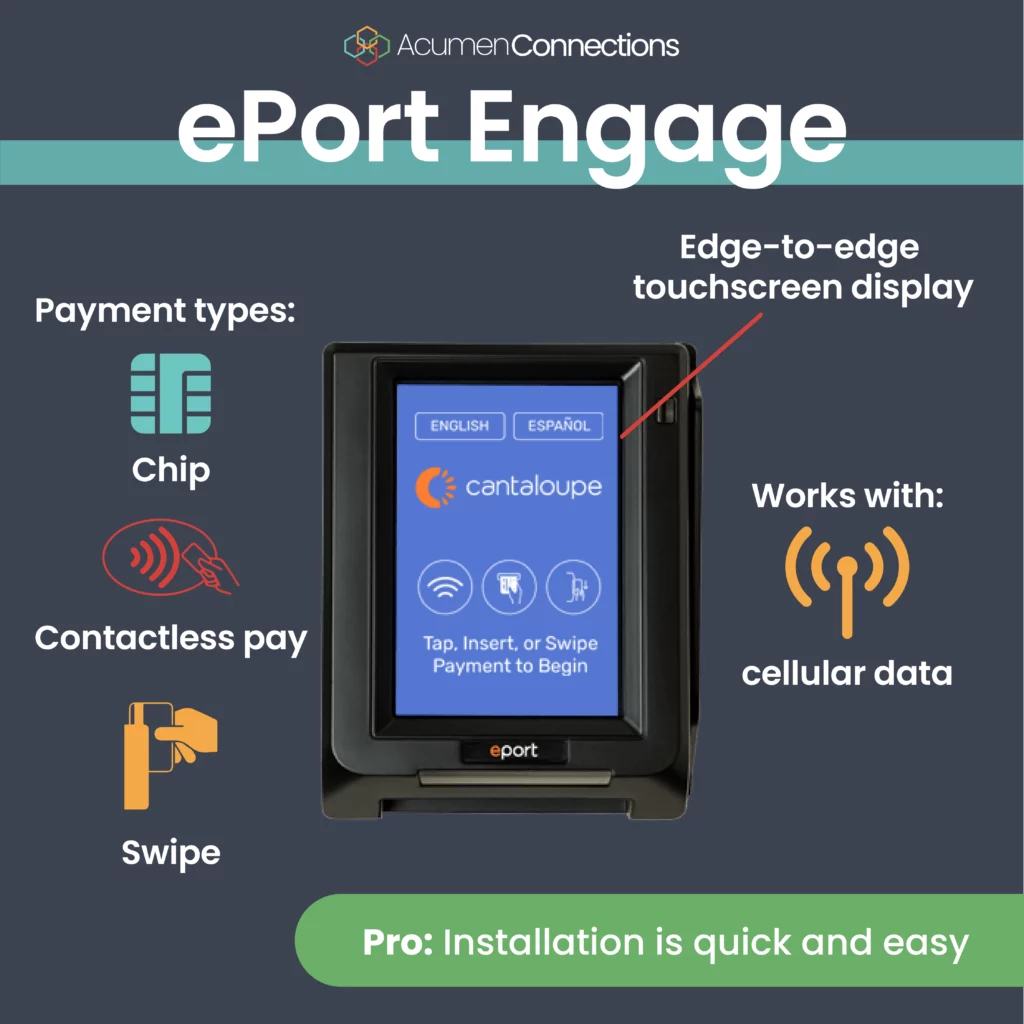 Customers are often captivated by the brilliant touchscreen display which leads to an increase in sales. These devices accept EMV chip, EMV contactless, mobile wallet payments, and NFC payments. When you choose this option, you get an all-in-one card reader, telemeter, edge-to-edge touchscreen, and payment platform.
Additional features we find neat:
VMS integration
Remote monitoring
Anti-tamper security
2. ePort G series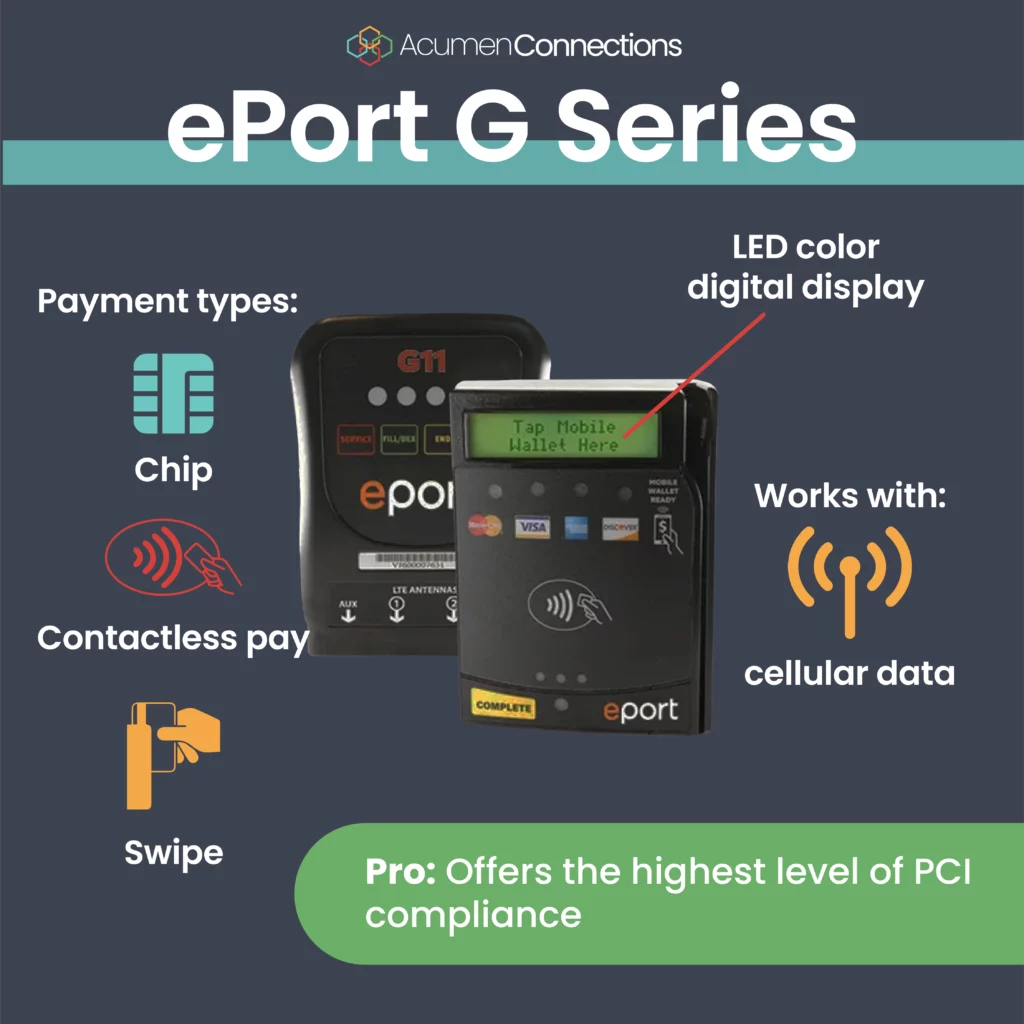 These devices support cashless and contactless transactions while offering advanced security. They accept EMV contactless, EMV chip, and mobile wallet payment options. They come with card readers, telemeters, and interface adapters. There's no touch screen, but they still come with an LED color digital display.
They offer many of the same features:
Ultra-fast processing and remote monitoring
VMS integration
The G Series devices are just a little smaller than the ePort Engage, which makes them compatible with more vending machine models.
Vending machine card reader FAQ
Acumen Connections offers payment solutions to businesses across the state and country. We've been helping businesses get paid for over two decades. We provide stellar payment processing customer support to our merchants.
We believe in transparency, and are here to help support businesses in several ways. Let's cut straight to the point: Since we don't sell the devices listed above, our reviews are unbiased.
Even though we don't sell card readers for vending machines, we're still familiar with them. Our payment processing services integrates with many card readers out there. With our decades of experience, we'll help answer your frequently asked questions around vending machine card readers.
How do card readers work on vending machines?
A card reader on a vending machine works on the same principle as a card reader in any store does. Let's break it down into a few simple steps:
A customer swipes, inserts, or taps their card on the card reader. The card reader reads and encrypts the data on the card and transmits this information to the vending machine and to a payment gateway.
The credit card data is sent from the payment gateway to the customer's card provider or bank for approval.
The card provider or bank approves or denies the transaction based on the customer's accessible funds. It sends its decision back to the vending machine card reader within seconds.
If approved, the sale is made and the customer gets their snack or drink. A record of the transaction is made.
The vending machine owner batches out their sales at the end of the day. The funds from that day's transactions will be direct deposited into the owner's bank account within 1-3 business days.
For more details (and pictures) please read our free payment processing eBook.
Are card readers on vending machines safe?
Yes, card readers on vending machines are safe. Your customer's card information isn't stored anywhere by a vending machine. It is just as safe as swiping your card at a store.
Vending machines that accept credit cards and debit cards likely contain less cash. This could deter potential theft and vandalism.
Can you add a card reader to a vending machine?
Some newer vending machine models are built with a card reader already attached. Luckily though, it's possible to add a card reader to an older vending machine.
There's a reason the vending machine industry has an 80% success rate. It's because it's possible to make small adjustments to increase sales. Adding a card reader is one such small adjustment.
The ability to add one depends on the make and model of your vending machine. Most machines do allow you to mount a card reader on your vending machine. The process is rather simple. Some brands even boast that adding a card reader only takes five minutes.
If you're lucky, you might even find a card reader for vending machine for sale at a reasonable price.
Do vending machine card readers need internet?
All card readers need to connect to the internet in some way to send and receive information. It could connect through a mobile network, wired internet connection, or WiFi.
Each device is different. Which connectivity type is best for your machine and place of sale?
Make sure to purchase a card reader that matches.
Cha-ching! You've made the sale!
Vending machines are found in so many locations around us. We see them at airports, parks, hospitals, offices, malls, and more. Have you worked at an office with a vending machine?
People want the convenience these machines bring, and an easy checkout process with a card reader makes them even better.
Need information on payment solutions? Contact us!
Acumen Connections, a provider of credit card swipe machines and more, is committed to serving small businesses. Card readers and payment gateways aside, we also offer business tips. Our goal is to empower small businesses in every feasible way. We have a wide range of products for stores as well as for online shopping. Check us out and sign-up for a risk-free trial today!
Anna Reeve, MBA