Fortify your business with the best business antivirus software available
Don't put your business at risk! Gain peace of mind with the strongest software solutions. We teamed up with IT expert Rashaad Newhouse to narrow down the best business antivirus software. Check it out!
All businesses have vulnerabilities to protect when it comes to cybersecurity. You want to shield your information and confidential material as a business owner. If you accept credit card payments, you are privy to customers' credit card information. If you're a health or dental provider, you have records of your patients' medical history. Data breaches can have severe consequences for businesses—and their customers. It is vital to have business antivirus software to prevent data theft and its aftermath.
Large corporations often have IT teams that work relentlessly to avoid cyberattacks. However, many small businesses do not have the budget to hire IT consultants. 43% of small businesses are found to be targeted for cybercrime. Sadly, only 14% of these businesses are prepared to face such situations.
It can be challenging for small businesses to recover from a cyberattack. Before we jump into the top 10 business antivirus software, let's go over some basics.
Is your business PCI compliant? Learn more.
What is antivirus software?
Antivirus software refers to computer programs that prevent, detect, and remove computer viruses, malware, and other online threats. IT experts strongly recommend antivirus software for both personal and business use. These programs work on various devices, such as desktops, laptops, smartphones, and tablets.
We asked Rashaad Newhouse, Network and Security Manager at Acumen Connections, to share his thoughts on selecting a business antivirus software. He said, "the best approach to take when choosing a business antivirus software would be to use a trusted subject matter expert to help you figure out which solution works best for your business."
At Acumen Connections, we aim to be that trusted subject matter expert for you and your business. We're solutions finders for more than just merchant processing. Contact us today to discover how we can empower your business.
What is malware?
Malware is short for "malicious software". As the name suggests, malware is a type of software designed with ill intentions. Malware can damage a computer or network, give hackers unauthorized access, leak confidential data, and more.
How does antivirus software work?
Antivirus software protects devices and networks by searching for, detecting, and removing malware. It protects your systems in two ways. The antivirus software scans programs and files as they're entered in your devices and compares them to viruses. It also scans programs and files that are already present in your device, detecting the presence of viruses and malware. If any suspicious elements are found by the antivirus software, steps are taken to remove them.
What can antivirus software block?
Antivirus software can block the following from damaging and compromising the integrity of your business:
Spyware
Worms
Viruses
Ransomware
Trojan horses
Phishing emails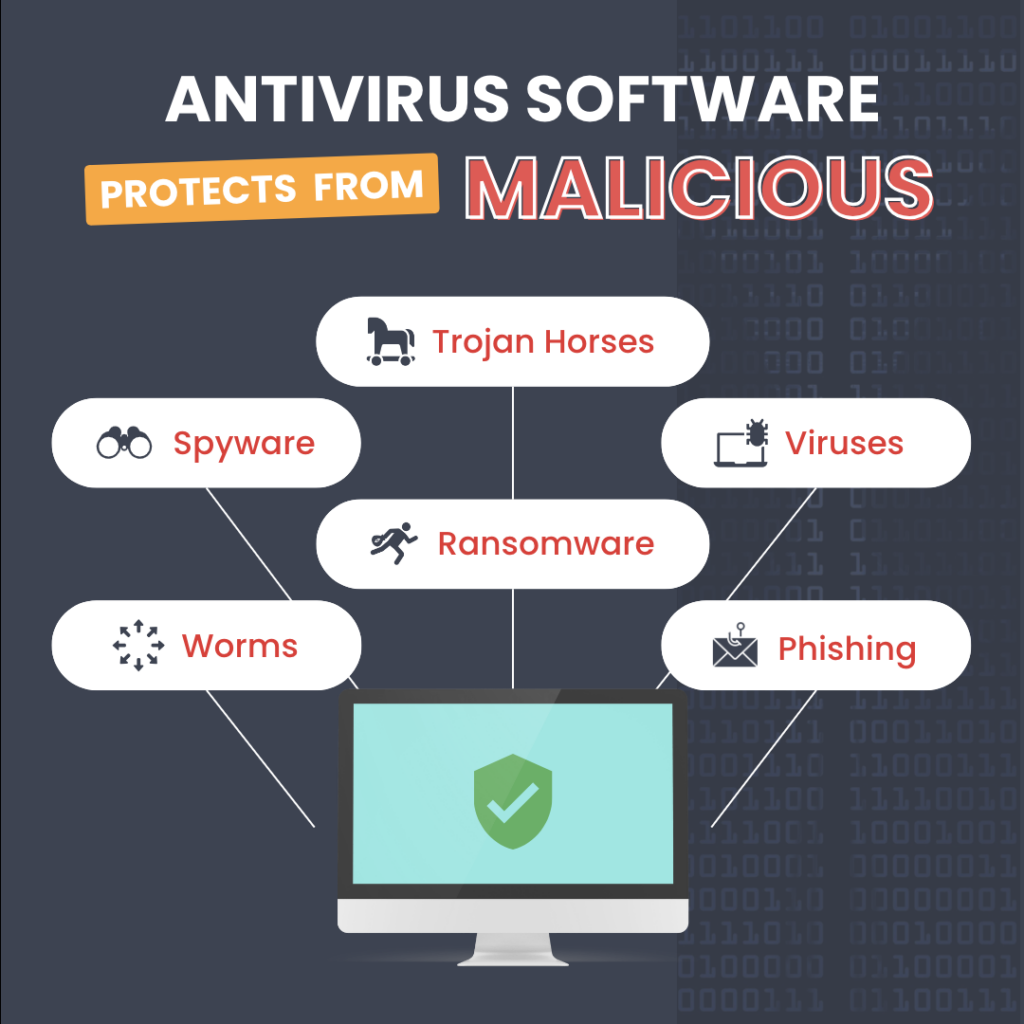 Antivirus software can't protect you from insider threat. You need to be prepared to avoid employee fraud at your business.
What to look for in a business antivirus software
When searching for the best business antivirus software, look for the following features:
Scheduling and running scans without disrupting day-to-day business operations
Web filtering to block spam and harmful websites
URL scanning and attachment sandboxing to keep phishing attempts from causing harm
Can support automatic updates without employees needing to update software
Quick and easy set up
Efficient without causing delays and slowdowns
Why is business antivirus software necessary?
Every business can be targeted by cyber criminals.
These bad actors launch attacks in the form of malware, ransomware, phishing, viruses, and more. Business antivirus software is necessary to thwart attacks by them. To break it down, here are the main reasons business antivirus software is crucial:
Preventing loss of intellectual property and other important information
Safeguarding customer data
Avoiding identity theft and financial fraud
Staying clear of legal troubles
Maintaining business reputation
Customer retention and customer loyalty
Did you know that businesses are often at the risk of two types of fraud – hard and soft?
The 10 best business antivirus software recommended by IT experts
Your business is important to you and so is the safety of your customers' data. When it comes to cybersecurity, we always bring in the big guns – our team of IT experts. These dedicated professionals use their skills and grit to protect our business, employees, and customers. We want you to have the best level of online security for your business. That's why we're sharing our IT team approved list of business antivirus software. Take a look!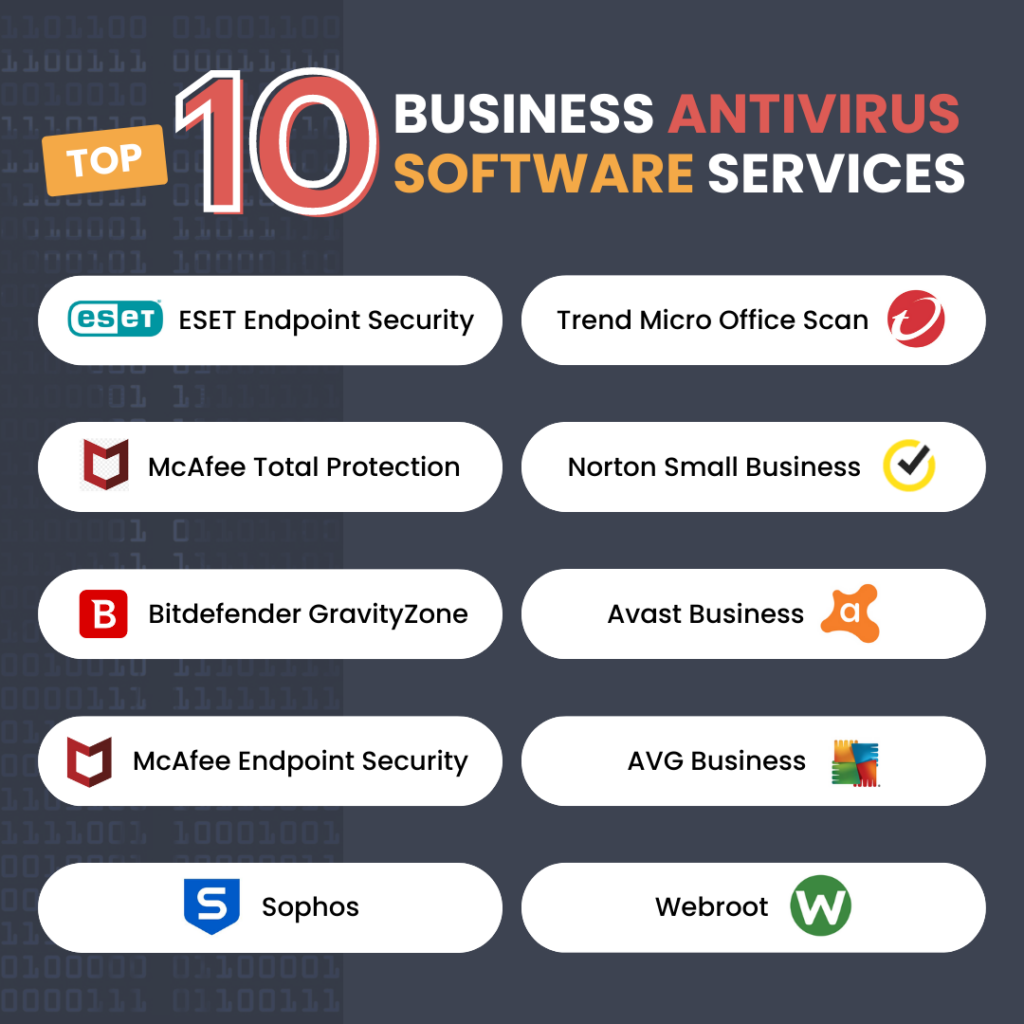 1. ESET Endpoint Security
This business antivirus software offers multilayered protection and cross-platform support. ESET tackles ransomware, fake websites, phishing, data breaches, and malware, along with offering remediation. Some other important features of this business antivirus software include identity protection, cloud security, mail security, advanced threat defense, and file server security. Visit their website for a full list of features and capabilities. Remember that they do offer a 30-day free trial.
Why pick ESET?
Chat protection
Safe browser
Phone and email support
2. Trend Micro OfficeScan
An interesting feature of OfficeScan is that it utilizes high-fidelity machine learning to remove security gaps. This business antivirus software can be used in your network while also being available as a service. Their 24/7 customer service and a 30-day free trial period makes this a viable option for many businesses. Single console and customization options aside, this business antivirus software offers advanced malware and ransomware protection, connected threat defense, and mobile security integration.
Why pick Trend Micro?
Adware protection
VPN service
Live help
3. McAfee Total Protection
Did you know that McAfee Total Protection includes both cloud-based and offline protection? This all-in-one protection platform offers 2 years of antivirus, safe surfing, identity monitoring, and VPN services for a reasonable price. You could pay $89.99 for 2 years for up to 10 devices. Along with a 30-day money back guarantee, 24/7 customer support and business antivirus software protection across devices, you get firewall, file shredder, web protection, password manager, and other important features.
Why pick McAfee?
Device tune-up
Safe browser
Live help
4. Norton Small Business
Along with protection from malware and ransomware, this business antivirus software includes password manager, cloud backup, VPN, dark web monitoring, and identity theft protection among other attributes. It involves cloud-based set up and device management in addition to protection across devices and 24/7 customer support. It might cost up to $109.99 annually for 5 devices. Fortunately, much like several business antivirus software on this list, you can avail a 7-day free trial before you make a decision.
Why pick Norton?
VPN service
Device tune-up
Live help
5. Bitdefender GravityZone
When looking to secure a business on a budget, GravityZone by Bitdefender is an easy choice. Its capabilities include layered endpoint protection, ransomware prevention, single console, web-based security, network attack defense, and more. In addition, they offer preemptive protection, blocking, real-time monitoring, and risk mitigation as far as system vulnerabilities and cyberattacks are concerned. Sign up for a free trial and decide if this business antivirus software is the right fit for your business.
Why pick Bitdefender?
VPN service
Ticket support
Live help
6. AVAST Business
The AVAST website claims to provide high-quality endpoint security and antivirus software for small businesses. Ransomware, phishing support, password protection, and VPN are some of the services they offer. Along with a 30-day free trial, AVAST also has a 30-day money back guarantee! Prices range in between $185.45 and $283.85 annually for five devices. Check out their business plans to see if they have any discounts.
Why pick AVAST?
Smartphone optimizer
Adware protection
Phone and email support
7. McAfee Endpoint Security
Did you know that McAfee blocks 42 million threats every single day? Yes, this only goes to show how many cyber threats are sent out to people and businesses worldwide! It has to be an astronomical number. Along with firewall, file shredder, secure VPN, and web protection, this business antivirus software also offers identity theft support and lost wallet support. Check out their plans and see if they're offering discounts. Another advantage of using them is their 30-day money back guarantee.
Why pick McAfee Endpoint?
Email protection
Safe browser
Live help
8. AVG Business
AVG is designed for small businesses and their security tools offer customers top-notch antivirus protection. Packages of this business antivirus software include 24/7 customer support, firewall, cloud management console, multi-layered protection, smartscanner, password protection, and more. AVG business solutions may cost between $46.99 to $56.99 for a single device per year. Safe surfing and malware protection aside, they also offer quick threat alerts and the ability to install, update, and configure remotely. (Source: AVG website)
Why pick AVG?
Adware protection
VPN service
Live help
9. Sophos
If you're looking for affordable threat protection that requires a one-time easy setup, Sophos is most likely your ideal match. They offer a wide range of products and services for small businesses for you to choose from. Also, they have 24/7 customer support! Check out their list of products here.
Why pick Sophos?
VPN service
Email protection
Live support
10. Webroot
Designed with small businesses in mind, this business antivirus software offers advanced email encryption, DNS protection, business endpoint protection, security awareness training, and more. The best part is that they believe in "try before you buy" and therefore they offer free 30-day trial options with no obligation. Webroot was a pioneer in harnessing cloud and AI (Artificial Intelligence) to thwart zero-day threats in real-time. Webroot believes in everyone having the right to a secure connected world. They're passionate about protecting people and businesses from cybercrime.
Why pick Webroot?
Email protection
Ticket support
Email support
For more insight on endpoint protection programs, we recommend reading this article:
Magic Quadrant for Endpoint Protection Platforms
Installation complete!
We live in a world that offers multiple options for everything. This is also true for software solutions. These business antivirus software options can enhance security and protect your business from harmful elements. Our dedicated IT team curated this list of business antivirus software to help you pick the right one. Our IT guru Rashaad Newhouse also highly recommends reading up on detecting adversary behaviors.
Once you've decided which business antivirus software to use, empower yourself with best practices on cybersecurity for businesses.
Are you a merchant with an online store? Read more about the best online credit card processing options with Acumen Connections.
Anna Reeve, MBA