Happy Labor Day, the small business way. Freebies included.
Small businesses everywhere are trying to create a successful and happy Labor Day experience. You don't want to be left behind while your competition breaks all sales records. Read our list of tried and tested strategies to elevate your marketing and sales efforts. Also, use our free downloadable templates!
What is Labor Day?
Labor Day is observed on the first Monday in September, forming a 3-day weekend that is called Labor Day Weekend. It is a federal holiday created to celebrate the American labor movement and recognizes the contributions of the workers.
Fun fact: The first ever Labor Day was observed on September 5th, 1882, in New York City. It was on a Tuesday!
On the very first Labor Day, New York City witnessed ten thousand workers celebrate by engaging in dancing, fireworks, and merriment while on unpaid time off from their jobs. The organizers dubbed it "a general holiday for the workingmen of this city." The event was repeated a year later on September 5th, which was a Friday. The idea spread like wildfire and some states passed legislation to recognize this workers holiday. The Central labor Union decided to move it to the first Monday of September. In 1894, the US government and President Grover Cleveland established this annual to honor workers.
Is it okay to say Happy Labor Day?
Yes, it is okay to say "Happy Labor Day" when greeting people.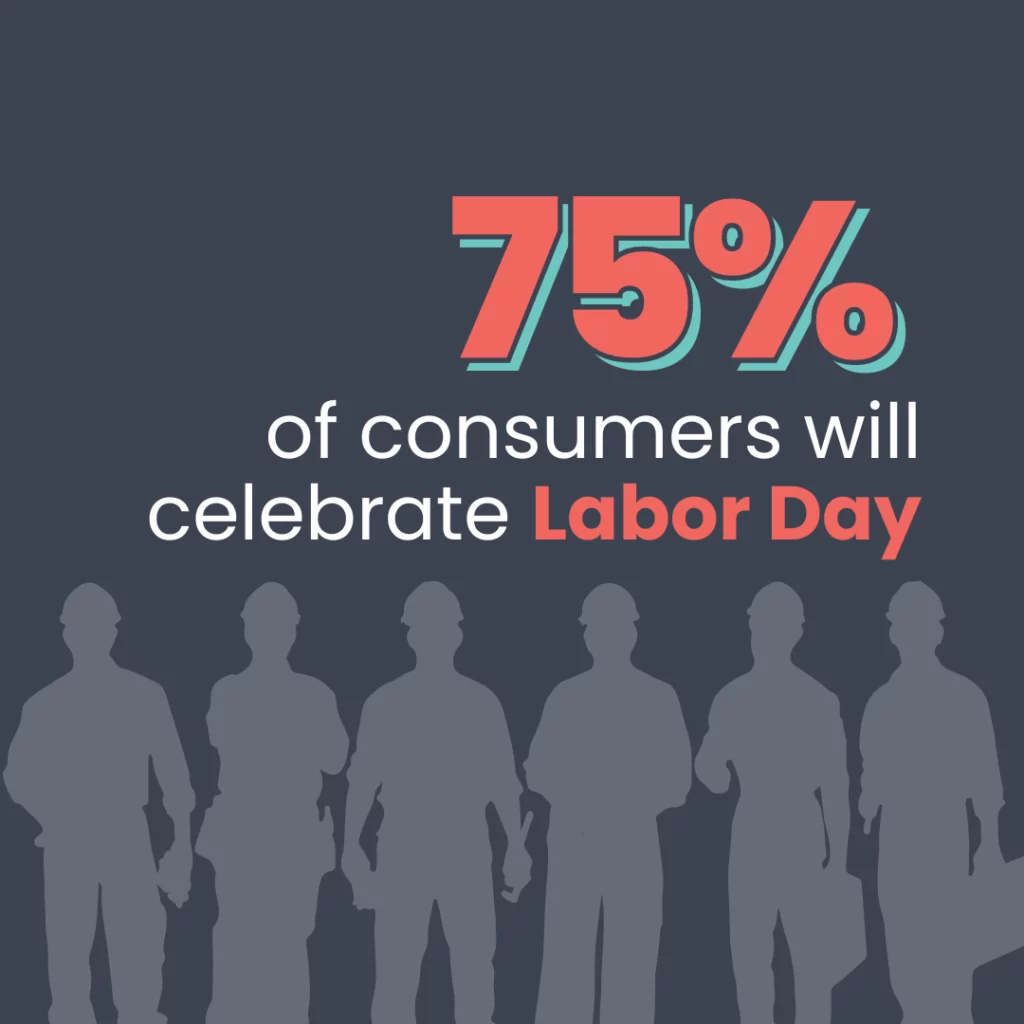 It can be a little confusing when greeting someone on a holiday that isn't among the more festive ones like Christmas, Thanksgiving, or 4th of July. For example, many people are also not sure if it's alright to say "Happy Memorial Day" in May. Rest assured; Labor Day is to celebrate our workers for all they do. It's okay to say, "Happy Labor Day".
Is it alright to say, "Happy Memorial Day"?
When is Labor Day 2023?
Labor Day falls on Monday, September 4th this year. We have listed the dates of Labor Day for the next 10 years:
| Year | Date | Day of the week | Week in the year |
| --- | --- | --- | --- |
| Labor Day 2023 | September 4th | Monday | 36 |
| Labor Day 2024 | September 2nd | Monday | 36 |
| Labor Day 2025 | September 1st | Monday | 36 |
| Labor Day 2026 | September 7th | Monday | 37 |
| Labor Day 2027 | September 6th | Monday | 36 |
| Labor Day 2028 | September 4nd | Monday | 36 |
| Labor Day 2029 | September 3rd | Monday | 36 |
| Labor Day 2030 | September 2nd | Monday | 36 |
| Labor Day 2031 | September 1st | Monday | 36 |
| Labor Day 2032 | September 6th | Monday | 37 |
| Labor Day 2033 | September 5th | Monday | 36 |
Why can't you wear white after Labor Day?
Not wearing white post Labor Day is a time-honored tradition. Is it a fashion faux pas or is it something steeped in elitism? Well, the answer is both. It's almost customary to put away all your whites as summer ends. However, this practice dates to the end of the 19th century when people that came from generational wealth wanted to set themselves apart from the nouveau rich. This is ironic since this holiday is to honor our workers.
Another theory states that since Labor Day marks the end of summer, people would put away their summer clothes and get ready for the next season – fall. New season calls for new wardrobe choices.
Regardless of what the origins of this fashion "rule" might be, we encourage our readers to dress however they please.
Business strategies and marketing ideas for a happy Labor Day
I have curated this tried and tested list of ways to ensure a terrific and happy Labor Day for small businesses and their customers. Also, don't miss out on our free Labor Day marketing resources and templates and Labor Day quotes!
1. Begin early
Starting early can be a great way to inform your customers in advance of your holiday sales. Leverage all your marketing channels and start spreading the word. When you start sooner, you have more time to consider more options and try out several ideas. If you want to start a Labor Day campaign, August is a great time to start!
2. Create a hype
There's a reason why celebrities hire PR firms and it's not only to do damage control. They want to be in the press and stay relevant. The same goes for your business and products. Create a buzz way in advance for your upcoming sales and events.
3. Early bird offers
Reward customers for pre-ordering. Give out discounts if they start shopping online before the weekend and make it clear that these are early bird offers.
4. Create FOMO
FOMO – fear of missing out – can be a powerful marketing tactic, especially when it comes to sales and deals that won't last long. Remind your customers about the upcoming sales and convey that they don't want to miss out.
5. Introduce Labor Day at the end of summer
Labor Day is often regarded as the end of summer as businesses, consumers, and even nature heads towards pumpkin season. Combine end-of-summer sales and clearances with Labor Day weekend to get rid of your summer inventory.
If your store sells summer items, like patio furniture or sporting accessories, you don't want to miss out on holding a Labor Day weekend sale!
6. Add in a referral program
92% of customers trust referrals from friends and family. Adding a Labor Day referral program is a great way to gain new customers. Having this for a short period of time will create a sense of urgency which could work in your favor. Ask your current customers to refer your business to friends and family and offer a discount or some other incentive for every sale made through a referral.
7. Offer limited-time deals and discounts
Summer can't last forever, and neither can your sales. Make it clear that the deals and discounts are valid only for the weekend. That way you can play into customers anticipating regret in future for missing out on these deals.
8. Hold contests and giveaways
Contests have a conversion rate of 34% which is higher than other types of content. People love the chance of winning something. Contests can be of various types depending on your customer base. They can be held in-store or online. Let people guess the number of jellybeans in a glass jar at your store. Or maybe ask people to write a caption for the upcoming sale and the winner gets a prize.
9. Add props like a photobooth
Photobooths are fun and a total crowd-pleaser! However, if you don't have the budget for it, you can DIY them. Or, you have something else. Having props will encourage people to take pictures in your store. Request shoppers to tag you in their social posts. There's an opportunity to create a hashtag! All you have to do is pick a hashtag and then ask shoppers to use that tag when they post their photo.
10. Host an event
Several businesses host events to kick start a happy Labor Day weekend for attendees. It might include food trucks, beverages of different kinds, games for kids, and so on. Pledge part of the proceeds to a local charity and consumers are more likely to show up and support your event.
11. Concise messaging on all campaigns
Words are powerful. Use them with clarity in your campaigns to get the message across. Here are a few Labor Day quotes you can use in your marketing campaigns or emails. Remember to credit the source or person.
"All labor that uplifts humanity has dignity." — Martin Luther King, Jr.
"There is no substitute for hard work." — Thomas A. Edison
"Amateurs sit and wait for inspiration. The rest of us just get up and go to work." — Stephen King
"Nothing will work unless you do." — Maya Angelou
"Pleasure in the job puts perfection in the work." — Aristotle
"The big secret in life is that there is no big secret. Whatever your goal, you can get there if you're willing to work." — Oprah Winfrey
If none of the above speaks to your business, stick to a simple "Happy Labor Day" greeting like this template.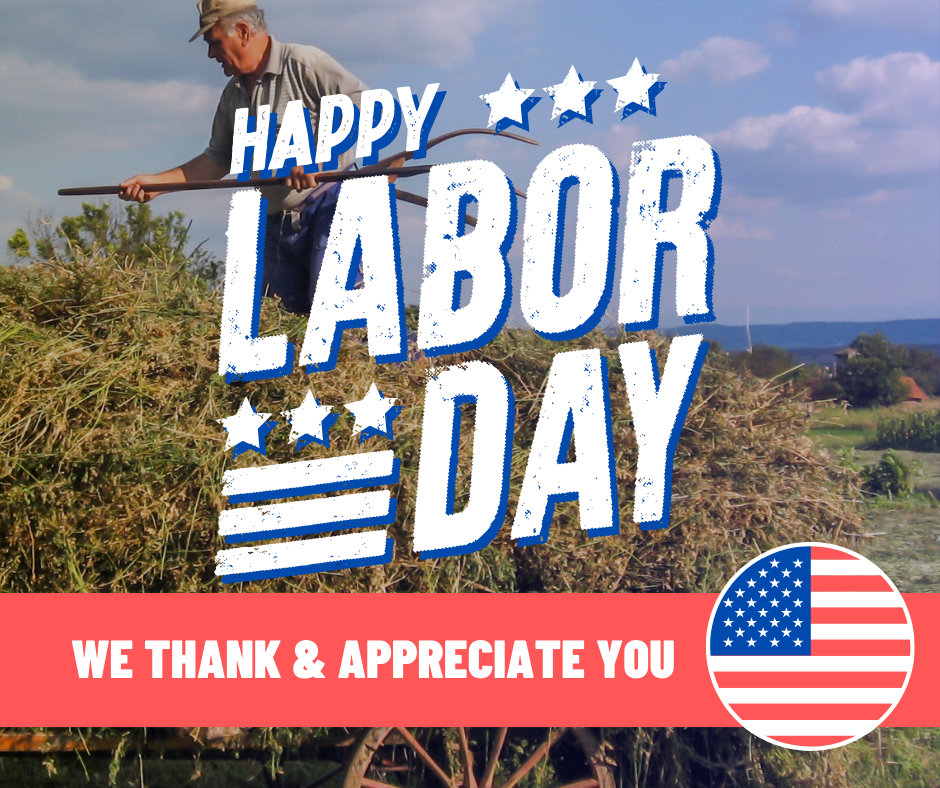 12. Graphics can make or break an event
Over 92% of consumers rate visuals as the top factor that influence buying decisions. This proves that graphics are extremely important in your marketing efforts. We understand that not every small business has an in-house graphic design team or the budget for a freelancer. That's why we created some fun and easy-to-customize templates that can be downloaded for free!
Download customizable Labor Day marketing templates for free!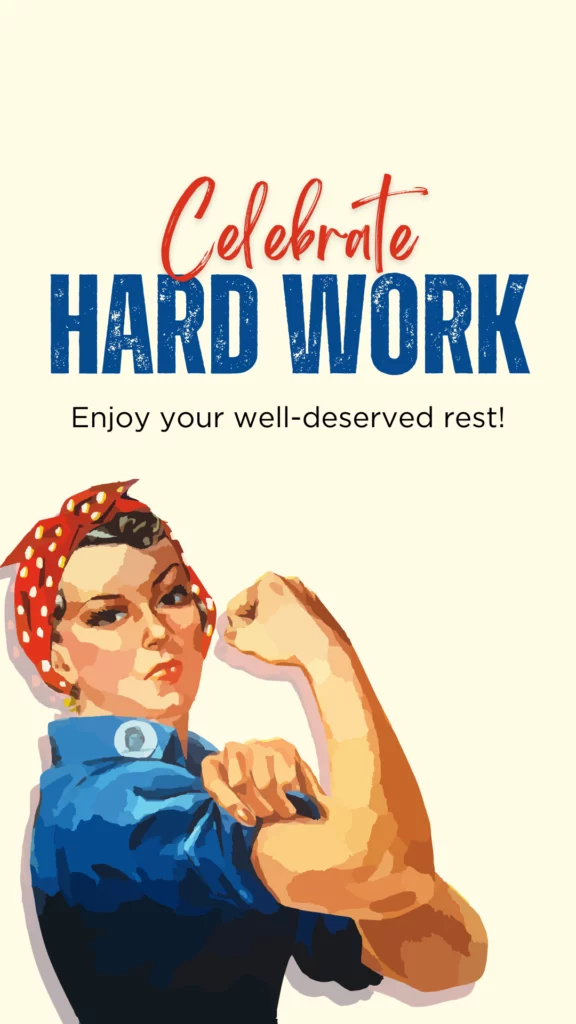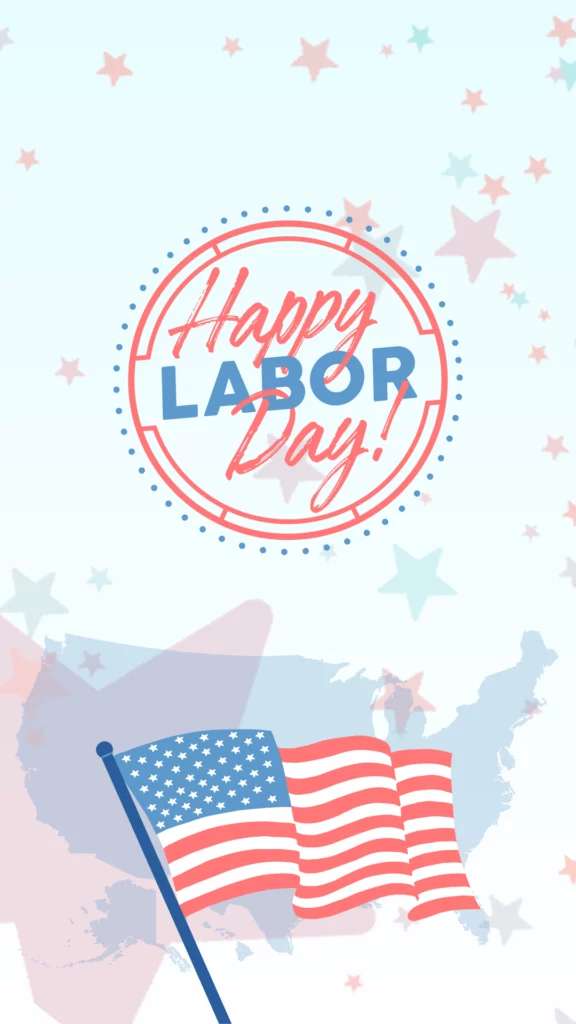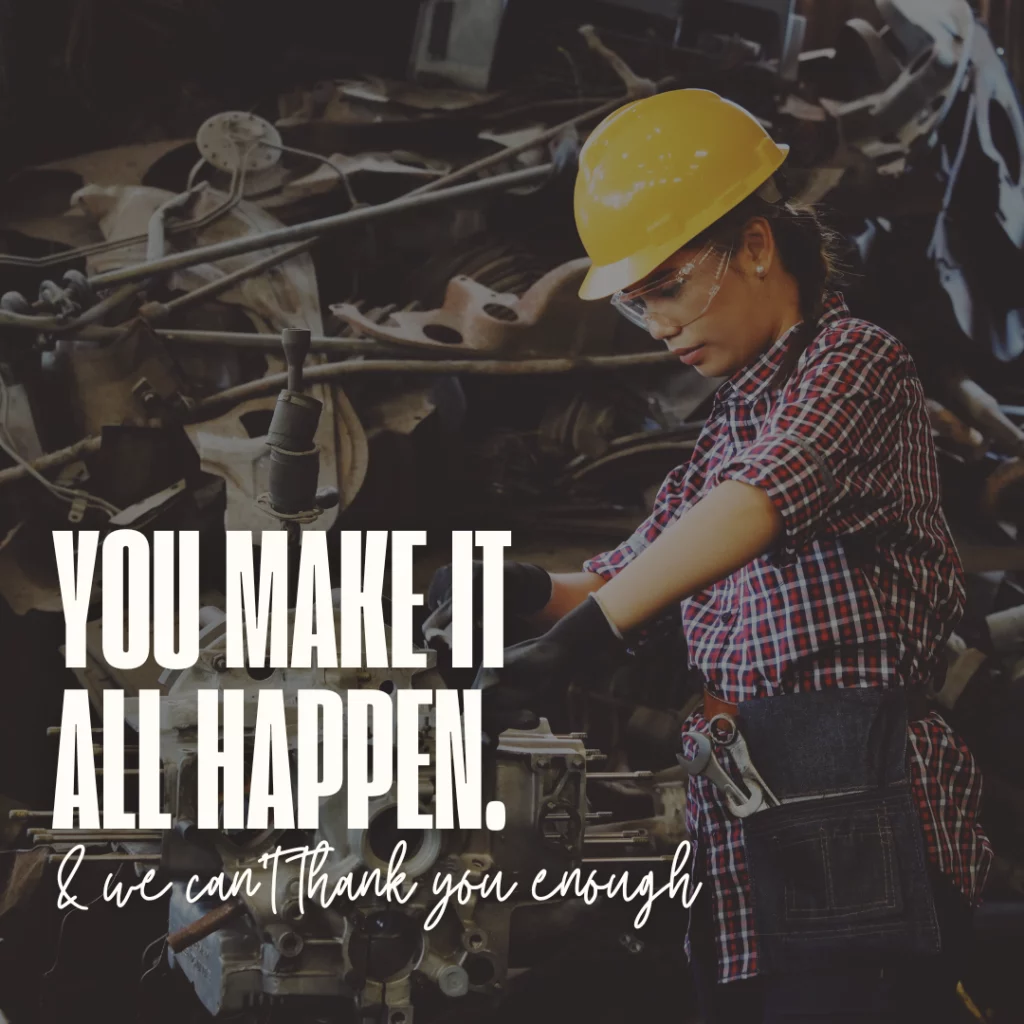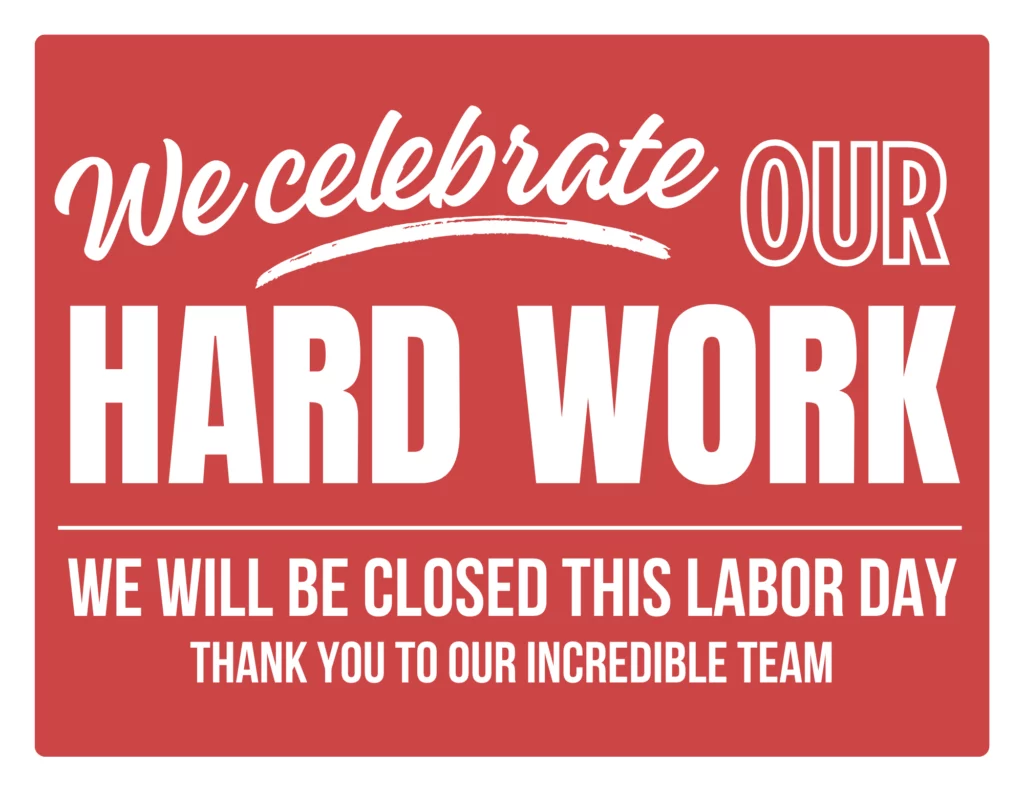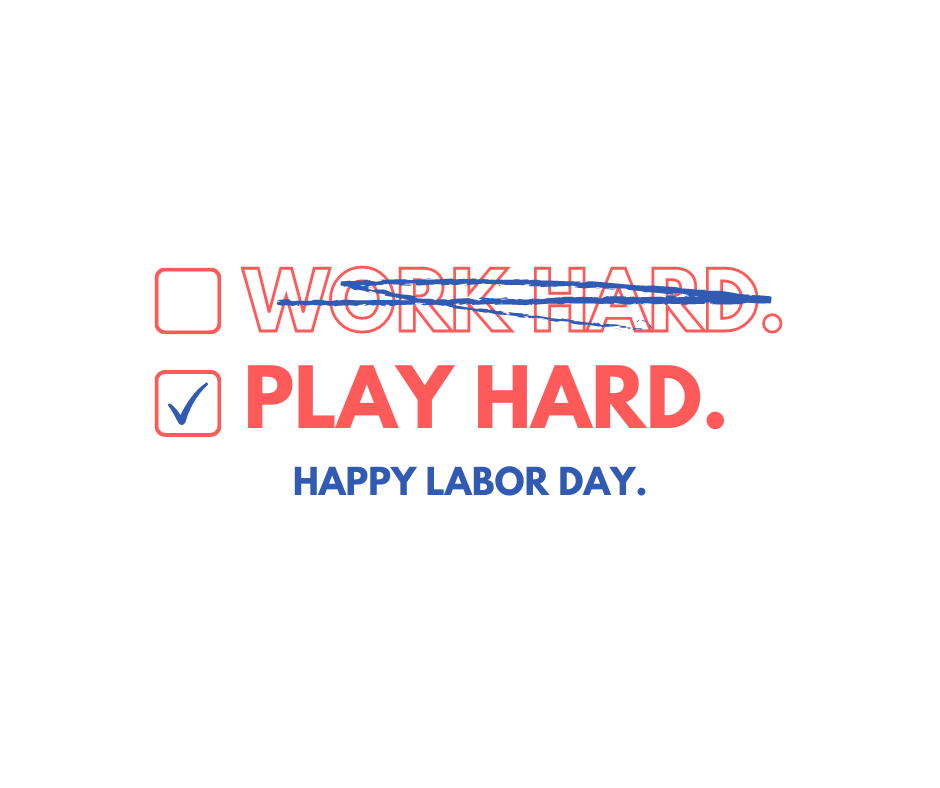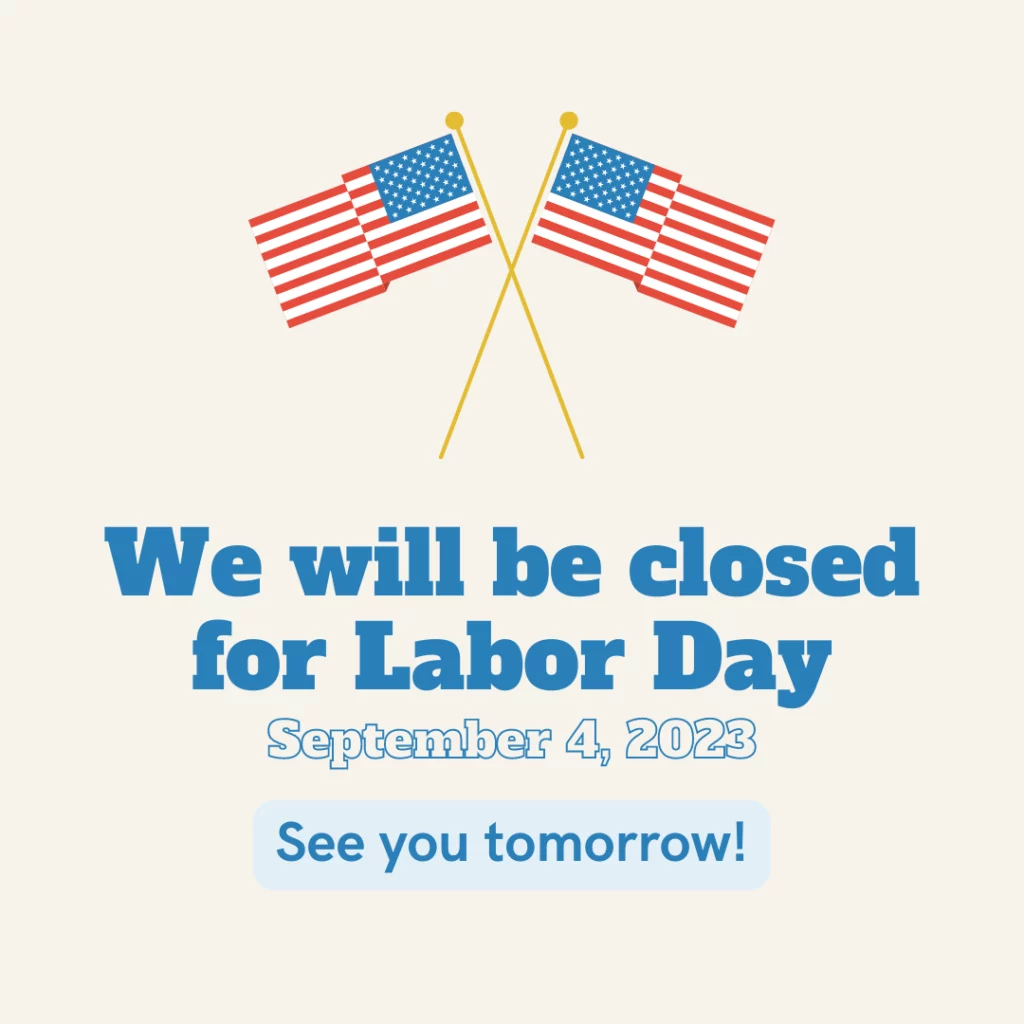 To access these editable templates, you'll need a free Canva account. You can click the image of the template you want to create, and it will take you to an editable design. Canva is incredibly easy to use with drag and drop features. Add your logo, your own images, or even change text.
13. Combine with back-to-school sales
A smart way to sell more is to combine Labor Day sales with back-to-school shopping. The average American household spends over $800 in back-to-school shopping. This includes school supplies, clothing, footwear, accessories etc.
If your store sales school items, Labor Day weekend is the perfect time to market them.
Happy customers = a Happy Labor Day sale! This is pretty simple. Grab a few of your 5-star Google reviews and share them on your website and socials. Or get video testimonials from customers and share them online. A whopping 95% of consumers consult online reviews before buying a product.
15. Sustainable packaging or paper bags
Consider switching to sustainable packaging and paper bags for the weekend if it's not a feasible option for your business in the long term. 88% of consumers are more likely to support businesses with a social or environmental focus.
16. Reciprocity marketing
Customers are known to respond well to reciprocity marketing tactics where a business creates a value upfront which motivates consumers to make a purchase. An example would be offering a free product with every purchase. There could be a set minimum purchase amount to receive this freebie.
17. Free shipping
Offer free shipping on orders during the holiday weekend to encourage people to buy. 73% of consumers are more likely to buy a product if it comes with free shipping. Now that's one way to ensure a profitable and happy Labor Day weekend!
18. Incentives for signing up
If you want more people to sign up for your rewards program or simply subscribe to receive emails and text notifications, reward them for doing so. It could be something small, but people love rewards and freebies! Getting their contact information makes it easier to send out future marketing information about upcoming sales and events.
19. Make product recommendations
Group products into "Labor Day essentials" or "Labor Day top picks" categories to recommend specific items to your customers. A lot of consumers love checklists, and this could be an effective way to recommend products to boost sales. These categories could be set up on your online store, in an aisle-end display in-store, or even listed in a blog.
20. Start early Halloween campaigns
Thinking you're a little too late to run a Labor Day special? That's okay. September is the perfect time to start your Halloween campaign as it's not too early and you still have ample time to set up everything. You want to start moving inventory and avoid pile up. Encourage customers to pre-order Halloween products that are predicted to fly off the shelves.
21. Have an active email campaign
If you're not using email marketing for your business, we suggest you get started at the earliest. The average ROI (Return on Investment) to be expected is $40 for every dollar spent on email marketing. Make it a happy Labor Day by getting into your customers' inboxes with a carefully curated email that contains all the important details.
Download our design team's free email templates.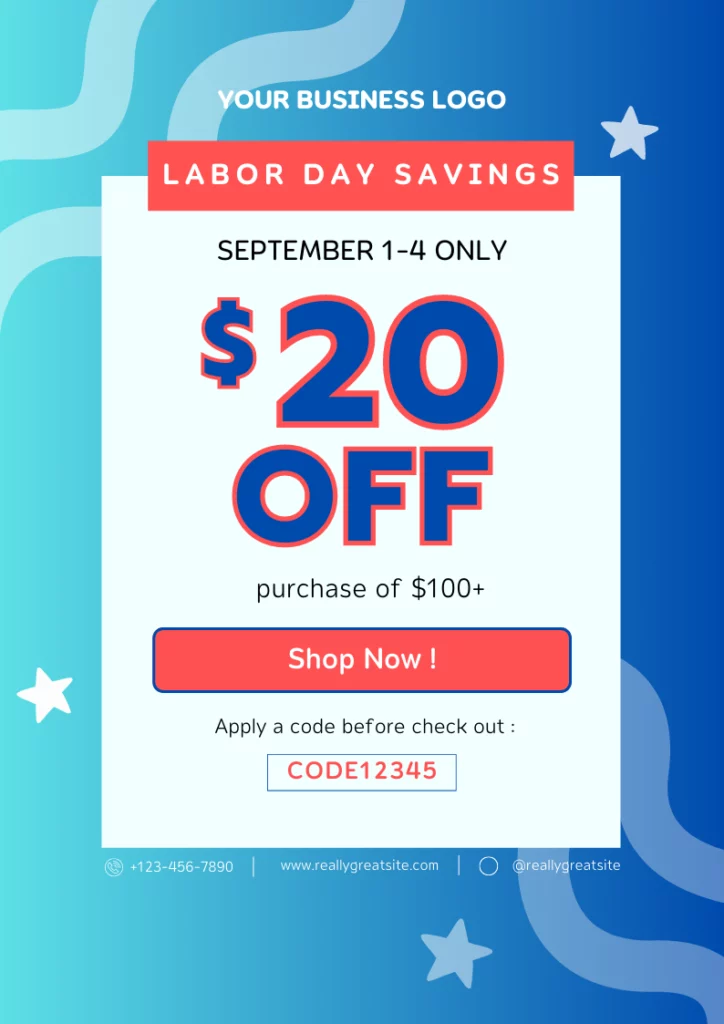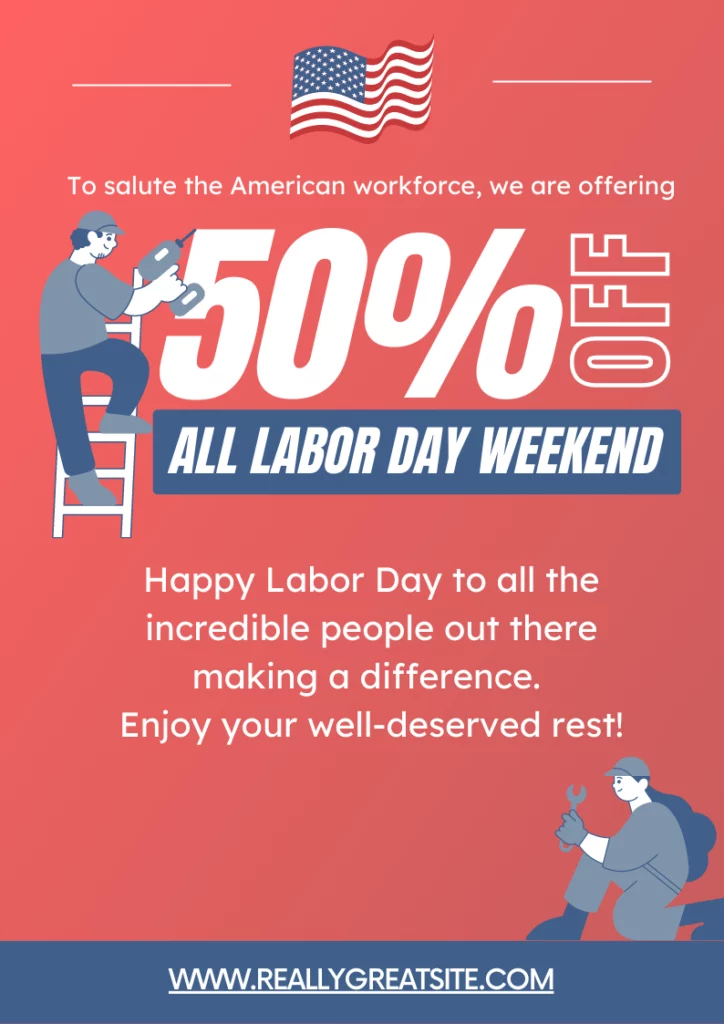 Need a refresh on email marketing? See our email marketing tips for your business.
22. Run a text/SMS campaign
Did you know that 91% of consumers say that they want to receive texts from businesses? The odds seem to be in your favor when you employ SMS or texts as one of your marketing channels. Inform your customers via text about Labor Day deals at your business.
23. Don't sleep on print media
Most consumers are visual creatures. If you have attractive signage around your store, people are likely to remember. If you're having a free event, contest, or even a raffle, you could submit a press release to the local news. Newspapers love talking about local free events! Alternatively, we suggest sending flyers out, having an ad in the local newspaper etc.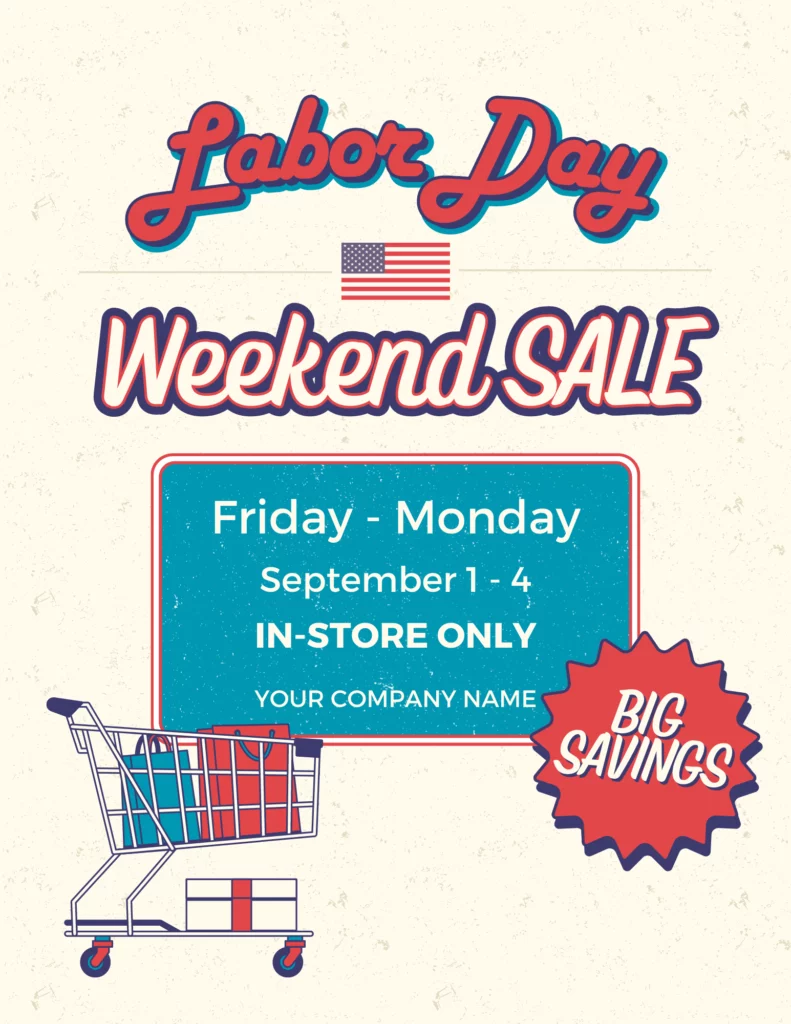 24. Have an open-mind approach towards new things
Don't hesitate to try something new. It could be something as simple as adding another social media channel to your marketing efforts. Or you could look into influencer marketing opportunities. Is your business on TikTok?
25. Enter every customer into a raffle for a prize
Ask customers to submit their name and contact information during checkout for both in-person and online transactions. Inform them that they are entered for a Labor Day prize.
26. Join forces with other small businesses
A happy Labor Day weekend involves satisfied customers as well as businesses. Collaborate or partner with other small businesses to help each other sell more. For example, offer coupons for another business at your store in exchange for something that would benefit you. Make collaborative content on social media to reach more people. There are endless possibilities here.
27. Participate in community events
A little research will help you locate upcoming community events, and we encourage participating in these. From craft fairs to barbecues, there are several local events held during Labor Day weekend. You can set up a stall and hand out merchandise, samples, flyers etc.
28. Update your website
With all the new promos and sales, it can get a little busy and things tend to get overlooked. However, make it a point to update your website because you don't want to lose out on sales. Did you know that 85% of consumers look up a business online before making a purchase? Your customers are looking you up online and the last thing you want is to update your holiday sales and hours.
29. Delicious food for a happy Labor Day party
A fun and happy Memorial Day includes food, and lots of it! Since the holiday is inherently food-centric, businesses can either offer food/snack samples at their store or just share easy Labor Day recipes on their websites and socials.
Labor Day is all about workers and teams. In the spirit of solidarity, help out other small businesses like ours by sharing this blog. Acumen Connections is a small business that aims to serve businesses with premier merchant processing solutions and business insights.
Let the fun begin!
Labor Day pays tribute to our workers and it's a great time to reconnect with family and friends. For small businesses, this is a mega opportunity to make your customers happy while making bank for your team!
Every business has different capabilities and budgets. While some ideas on our list may work great for your business, others might be a bit of a stretch. We recommend keeping in mind your budget and expected return on investment when making plans.
Keep up with booming sales with reliable credit card processing. Whether you need in-person checkout solutions or an online checkout system, contact us today!
Raise a glass to our workers. Happy Labor Day! 
Anna Reeve, MBA