A look at the biggest job-quitting event in post-pandemic America
Since early 2021, the resignation rate in the United States has reached an all-time high. The Great Resignation saw millions of Americans quit their jobs and is ongoing today.
The last few years have been unlike anything we have ever known. A global pandemic has caused changes on a massive scale. We have adopted new ways to work, shop, and entertain ourselves. Another curveball that hit us is called the Great Resignation or the Big Quit.
What is the Great Resignation trend?
The Great Resignation is a trend that started in spring 2021. It describes how workers in the United States have resigned from their jobs in large numbers.
Anthony Klotz, a professor at Texas A&M University, is credited with coining the term.
Workers have continued to quit their jobs across industries. The Great Resignation has a profound impact on our economy. It has led to high unemployment rates and labor shortages. It has also resulted in a new stance towards work culture.
There has been significant interest in the Great Resignation, and everything that comes with it. Look at how many people have been Googling the word in the last year. It has become quite a popular trend.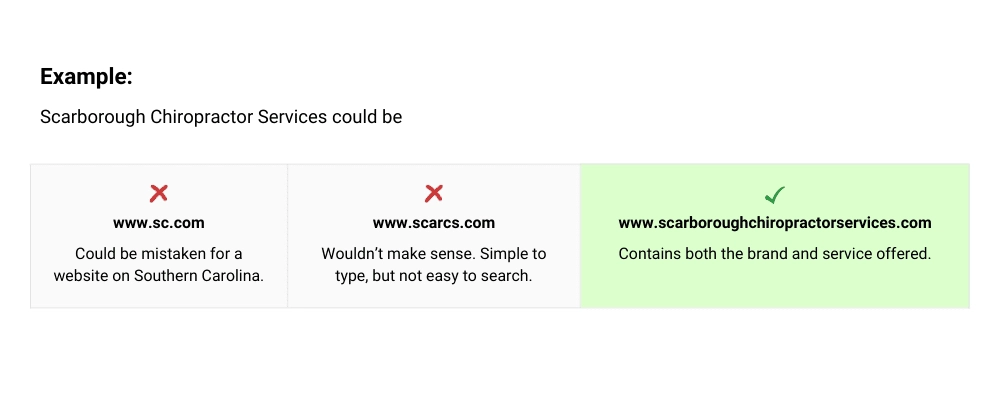 How the Great Resignation is impacting employees
The Great Resignation has proven to be a powerful phenomenon.
Millennials with over 5 years of experience are the most likely demographic to participate in the Great Resignation. It's not just an aged based trend though. Workers from every generation, have quit their jobs. These people are making different choices for their careers.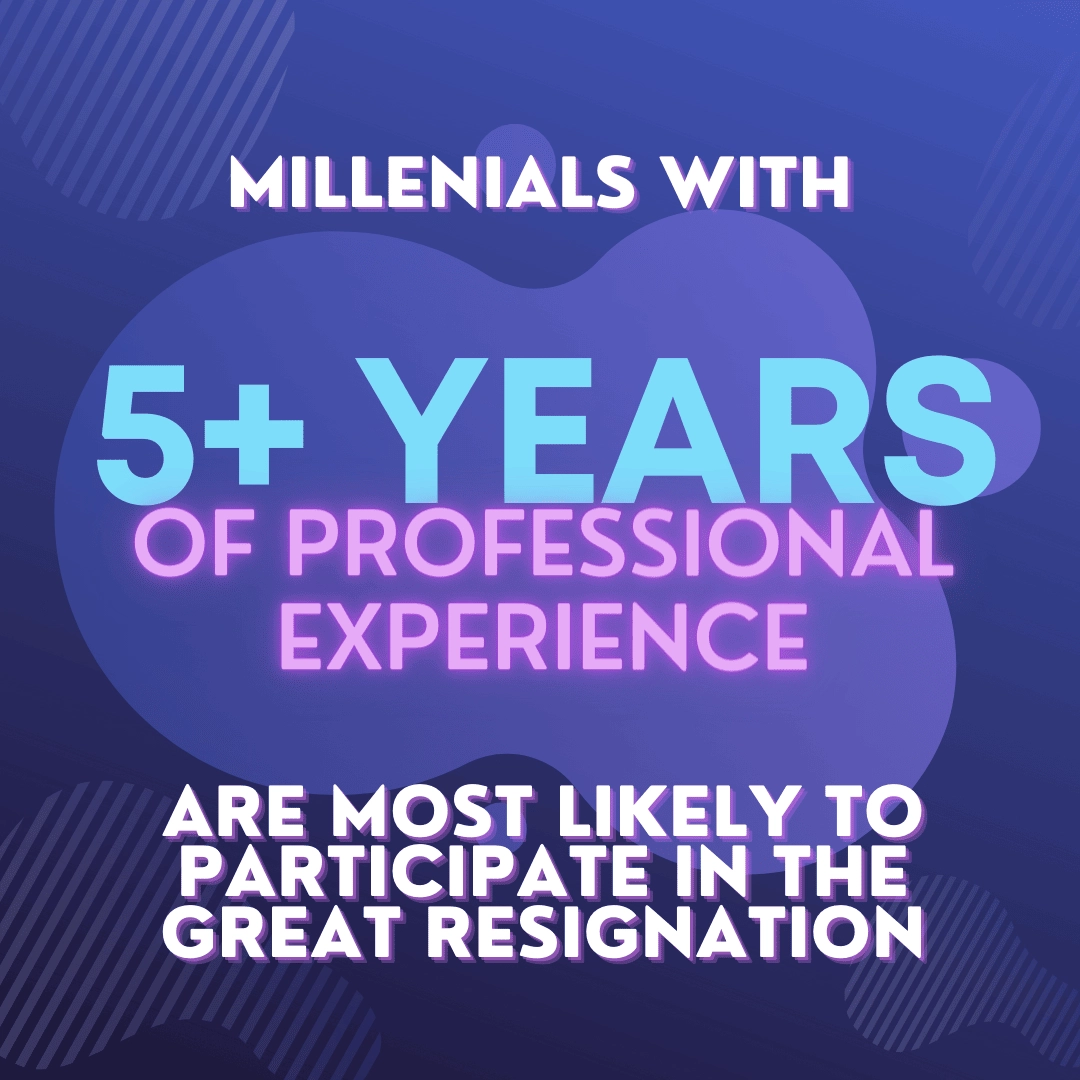 COVID-19 brought a lot of changes. It impacted work and personal life. Since then, millions of people have reconsidered their career goals. Some decide to seek employment that is more aligned with their values.
In many ways, the Great Resignation has brought employees better opportunities. They now know that they have choices. Thus, they are leaving jobs where they feel undervalued.
The phenomenon has given more power to employees. Workers now look for a better work-life balance.
How the Great Resignation is impacting businesses 
The Great Resignation is seen as favorable for employees. However, it isn't as good for businesses. One major downside is being understaffed. Many businesses must constantly hire extra help. Hiring a new employee takes a lot of time and resources. Companies of all sizes may scramble to operate while seeking new talent.
According to one report, 95% of employees are thinking about switching jobs. This is a high percentage that businesses can't afford to ignore. As a business owner, you'll need to understand your workers' needs. We recommend open and honest communication with your staff. Try to accommodate their needs within reason.
The Great Resignation is negatively affecting employers across the country. Steps need to be taken to offset this effect.
How to set up your Google My Business account
It is not a back-breaking task to set up your Google My Business account. In fact, it is pretty simple. Let us walk you through the process:
Which industry has been affected the most by the Great Resignation?
As per the U.S. Bureau of Labor Statistics, the manufacturing industry has been the most affected by the Great Resignation.
A few other industries have taken a significant hit. These include retail, transportation, food services, hotels, and air travel.
How many people quit their jobs in 2021?
47 million people quit their jobs in 2021. (Source: https://www.cnbc.com/2022/02/01/roughly-47-million-people-quit-their-job-last-year.html)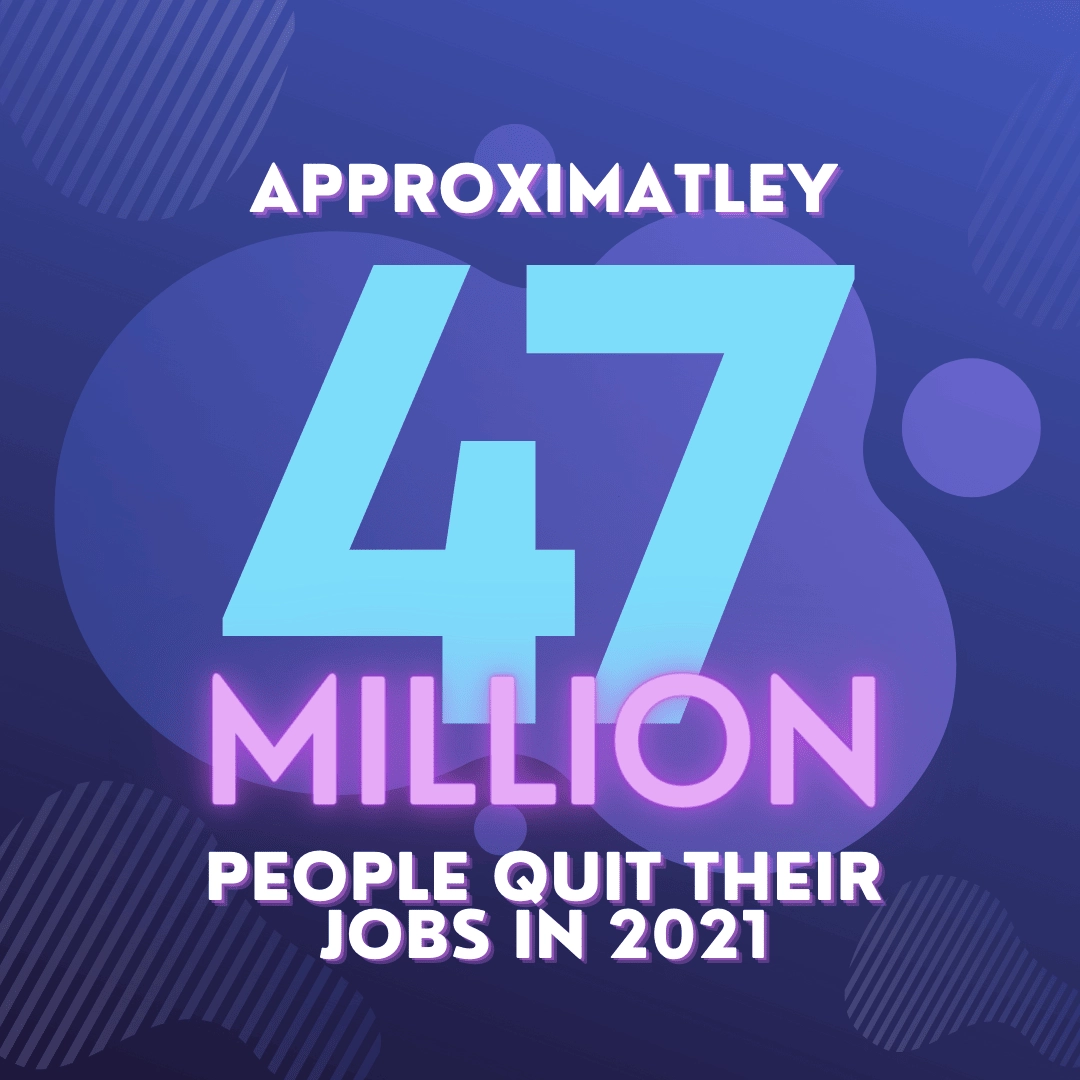 This staggering number makes the Great Resignation a pandemic of its own. It started in early 2021 and manages to continue into 2022.
Below, you can see just how many people quit their jobs throughout 2021.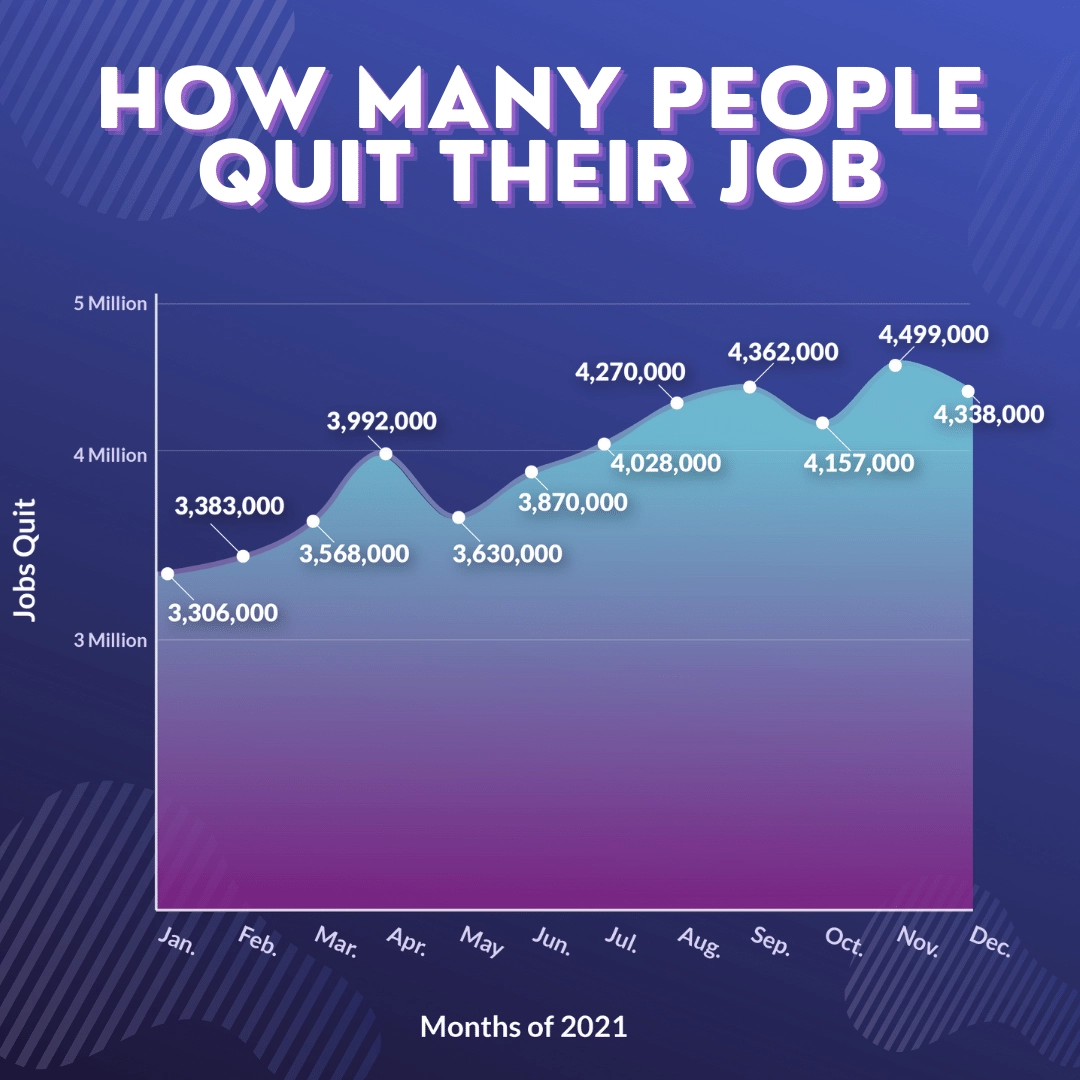 Why is the Great Resignation happening?
The noise around the Great Resignation can be loud. Sometimes it is enough to drown out the root issues. We would like to elaborate on those causes to promote better understanding. A lot of changes have happened in the last few years. They've worked together to brew the perfect storm for the Great Resignation.
Remote work options
Covid-19 has played a significant role in re-shaping businesses. Notably, it changed how businesses manage their employees. Many corporations resorted to remote work when COVID-19 rates were spiking.
In those months, employees could continue to work from home. This cut down on commute times and expenses. These changes opened new and sometimes better options for employees.
Many companies adopted remote work to stay open. Later, they implemented hybrid schedules. Now, a lot of businesses want workers back in the office. However, people may be motivated to find remote work opportunities elsewhere. Having a hybrid schedule can be an excellent middle ground. This way, employees can enjoy working from home as well as in the office. Did you know that 1 in 3 Americans would not like to work jobs without remote or hybrid options?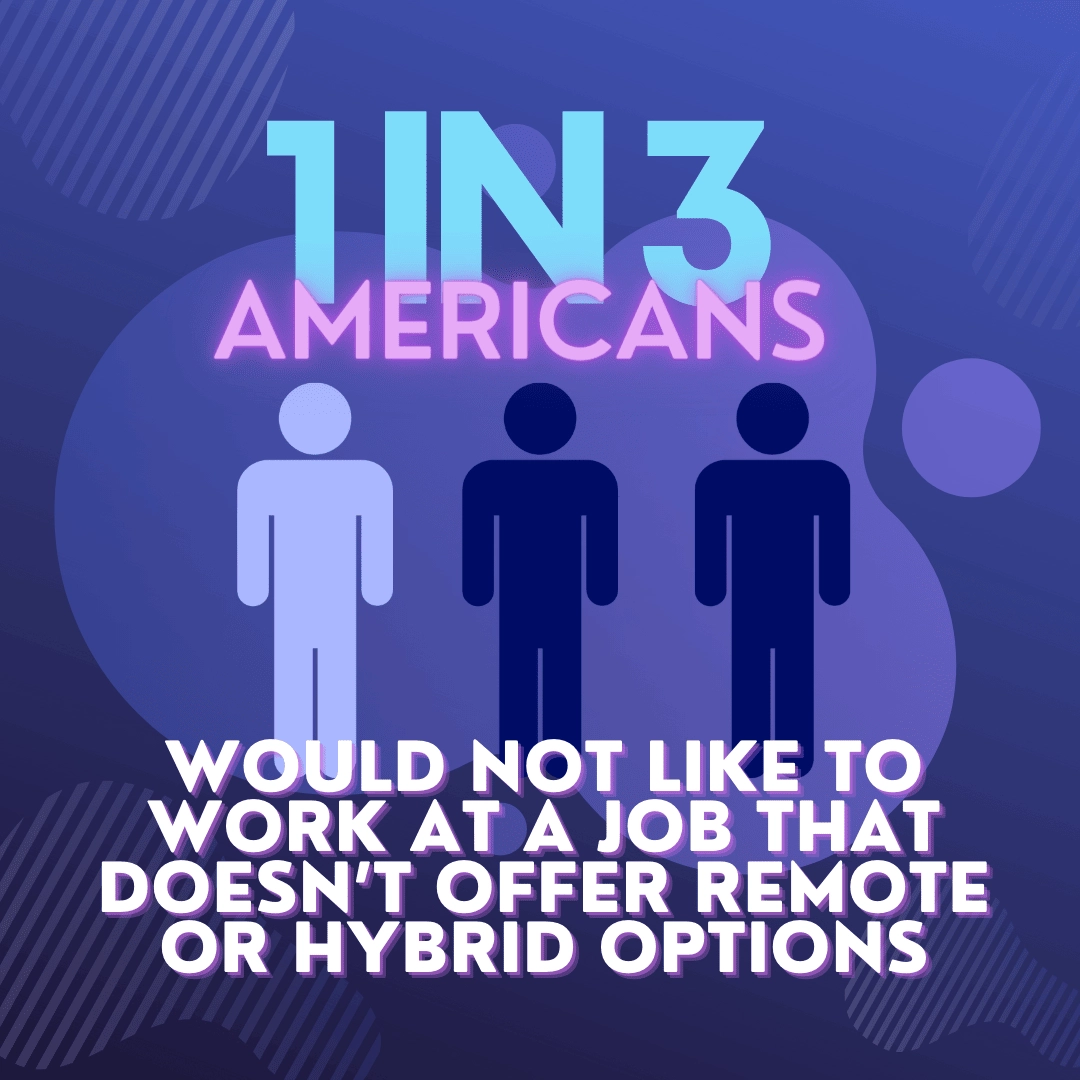 Perks and benefits
Workers today prioritize benefits. Hiring trends show they value perks as much as a decent paycheck. Some companies are making the most of this. To entice new hires, they may offer unlimited PTO, health budgets, a home office setup, or tuition reimbursement.
Depending on a company's budget, this is a great time to invest in employees' wellbeing. If a business does not improve their benefits, employees may seek greener pastures.
Work culture
Several factors impact work culture. If left unchecked, any environment has the potential to turn toxic. Some employees may feel excluded. In fact, one out of five Americans attribute toxic workplaces as the reason behind quitting a job.
Employees are likely to stay at a company that values their contributions. They may also be loyal to a company that supports them during crisis. It is vital to promote an environment that feels safe and inclusive to everyone.
To prevent toxicity in the workplace, we recommend getting your HR department involved. Policies need to be put in place for reporting instances of harassment. Training for mid-level and senior management may prove to be helpful.
Will the Great Resignation continue into 2022? 
Yes, the Great Resignation will continue into 2022. Although, it will be at a smaller altitude than the previous year.
Over the last year, companies have increased their base pay. They have also upgraded their benefits. Some have gone far to ensure employee satisfaction. As a result, fewer people will be motivated to seek new opportunities in 2022.
How to protect your business from the Great Resignation
As someone who owns or manages a business, it is natural to feel anxious. You may even feel disheartened. You don't want to lose your top performers to another business. We have a few pointers that might help in this regard:
Establish a two-way street for communication
Show appreciation towards employees
Provide resources for self-development and learning new skills
Offer remote or hybrid work schedules
Encourage workers to take PTO
Respect the need for mental health days
Provide bonuses to combat inflation
Upgrade benefits package
Promote a supportive work culture
Take a look at our resources aimed at helping businesses minimize turnover and boost productivity:
Conclusion
The Great Resignation has changed the job market in many ways. Jobseekers have more power now than they did in the past. Plenty of workers are riding this wave to take their careers to greater heights. They are seeking higher pay packages, better benefits, remote work flexibility, and more. Some workers are prioritizing their mental health and families by switching to less demanding careers.
The employment scene has seen a sharp shift in the last year. We can only hope that balance is restored. Employees need to work in places where they are compensated well and valued. Businesses need to re-evaluate their policies to accommodate workers' needs. Workplaces need to get rid of toxicity to promote growth and a healthy environment.
Hopefully, this piece was able to shed light on the Great Resignation. It has had many effects on businesses and the economy. We suggest taking immediate steps to prevent turnover and retain talent.