Combat cybercrime by building a strong and secure website
Having a secure website is the first and best defense possible when it comes to cybersecurity. We're here to discuss the best ways you can secure your website and keep hackers at bay. Plus, we have expert insight!

It's a new era for businesses as we overcome a global pandemic. We continue to find better ways to conduct business. We are using technology to scale new heights. The last couple of years saw an increase in global eCommerce usage. Businesses owners have adjusted their business strategies to meet the changing needs of consumers.
A large volume of business now takes place over the internet. Promoting one's business online has become the norm. Ecommerce has helped businesses survive during Covid-19. However, it has also opened the floodgates to unwanted elements. In fact, there has been a 600% increase in cybercrime since Covid began.
Why is it essential to secure your website?
As a business owner, your website is your window to the digital world. It is a platform for you to highlight your products and services. Some businesses offer online ordering and payment options. A website is the customer interface that enables a business to draw in and convert new leads. Customers often enter their personal and financial information when placing orders and making payments. It is vital to maintain the integrity of your website for the following reasons.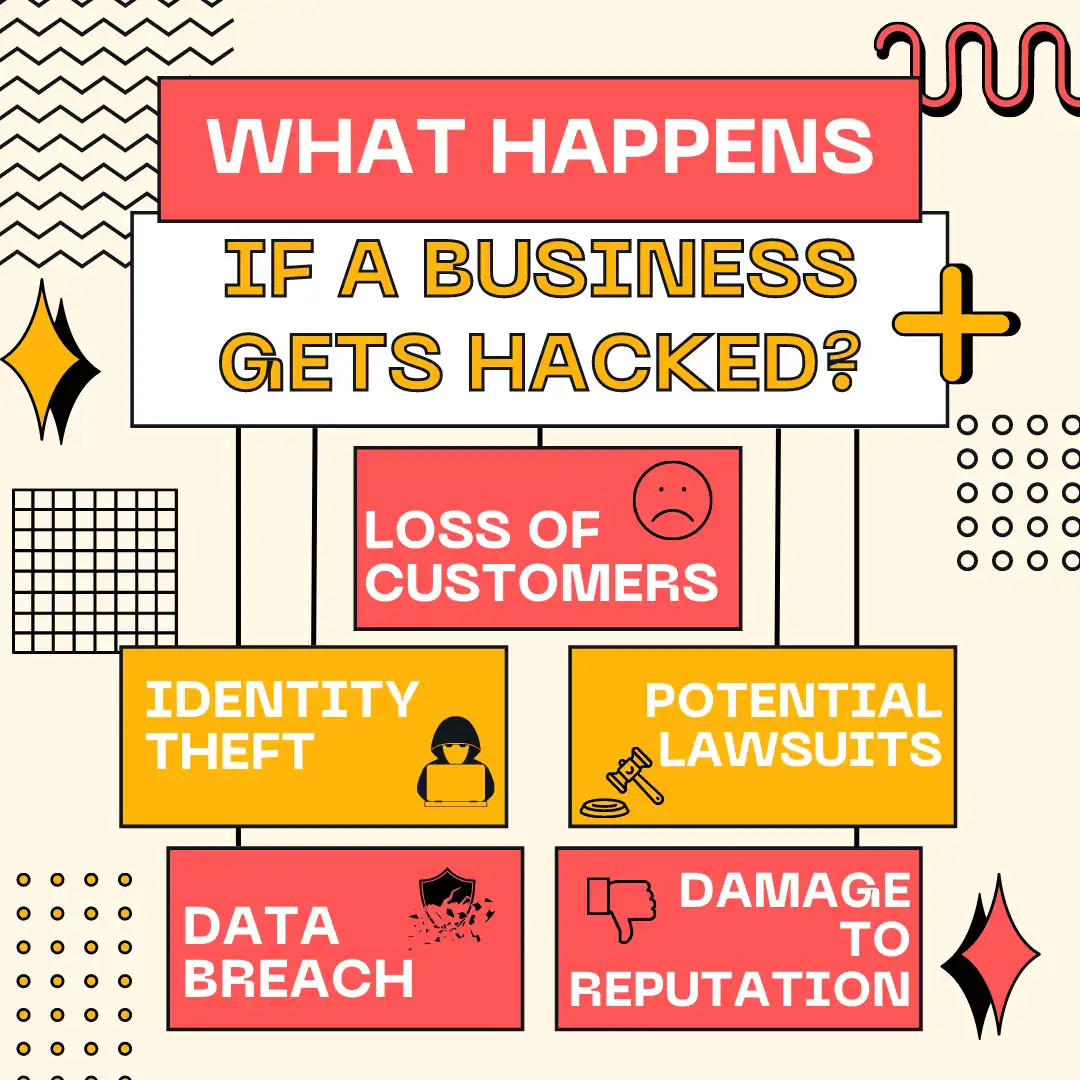 Data breach
If hackers penetrate your website, it could open a whole can of worms. Data breaches occur mainly because of stolen or compromised credentials. Credit card details, social security numbers, and more can find their way into the wrong hands. Businesses need to be aware that data breaches jeopardize the wellbeing of their customers. Often miscreants cause cybersecurity breaches to commit theft, extortion, and other forms of fraud. This can cost a company a lot of money.
Identity theft
Identity theft is a potentially dangerous form of fraud. It can be carried out by a hacker who has a person's data such as name, address, social security number, or banking information. Identity theft puts a victim in a vulnerable position. Their identity might be used to commit fraud and rack up debt. This could destroy the victim's credit and finances. It is so rampant that 15 million Americans fall prey to identity theft every year.
Potential lawsuits
If a company loses customer data, they are liable to be sued. Businesses have a responsibility towards their customers. Their data needs to be handled in a secure manner. However, customer data has been leaked with varying levels of consequences. It has happened to big- name corporations as well as small businesses. A company can run into serious legal trouble if they don't have effective cybersecurity measures in place.
Damage to reputation
Some things in life are extremely hard to regain once lost. Business reputation is one of them. Business relations aren't built overnight. It could take a company decades to build trust with its customers. All of it could come crumbling down over one bad incident. People take data breaches very seriously. Everyone wants to avoid scammers. It is tough to recover from something that can push customers towards financial ruin.
Loss of customers
It doesn't take a lot for customers to switch loyalty these days. According to a study, 39% customers have lost trust in a company due to data breach or misuse. Businesses are competitive enough already. Throw in some cybersecurity issues, and you've got yourself a recipe for disaster. When word gets out that you've been compromised, customers may switch over to a competitor. You are likely to receive negative reviews on online platforms. This will dissuade new customers from choosing your business. Build and keep your customers' trust by securing your website.
What can a small business do to secure their website?
We reached out to Rashaad Newhouse, IT Support Specialist at Acumen Connections. He says, "The biggest thing would be to have people with expertise in cybersecurity heavily involved. They should help with creating and administering your network. Establish both administrative (written policies) and technical controls (things like antivirus and firewalls) that force employees to practice good security hygiene."
He elaborates, "If a company can't afford to retain a dedicated IT staff, managed services providers (MSPs) are an excellent option. MSPs employ highly specialized staff that will be able to help you protect your company. They may also be cheaper if you don't need to utilize their services often."
Rashaad confirms that risk mitigation can be done by professionals that are aware of the risks in your network. This is not something that a business owner should try to do themselves.
How to secure your website
We have a few pointers on securing a website. These are guidelines that may help you thwart cyberattacks and keep you safe online. Let's explore them: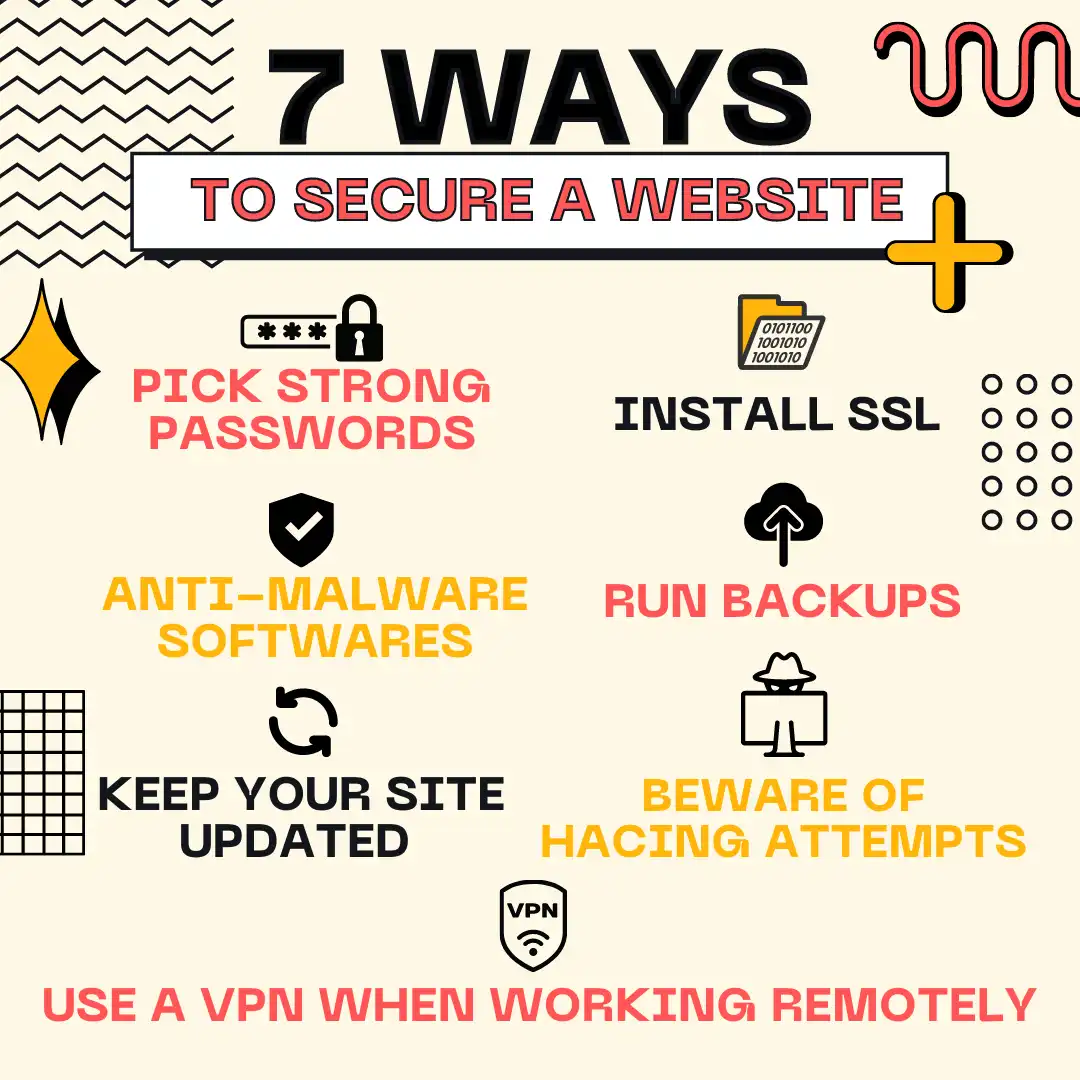 Pick strong passwords
You've heard it before. We've all heard it, but it is an effective defense when securing a website. You need to pick strong passwords for your website's admin login. Your passwords shouldn't be easy to guess. We recommend using a combination of random uppercase and lowercase characters, numbers, and special characters. Avoid using personal information in your passwords. Do not write them down or share them with anyone. Changing them every now and then is a good idea.
Anti-malware software is non-negotiable
Anti-malware software is an effective tool that helps in securing a website. There are options such as Norton, McAfee, Bitdefender, and SiteLock. Most of these can customize your security to your needs and budget. Web scanning, malware detection, PCI compliance, and firewall are usually offered in a malware package.
Install SSL
Installing a Secure Sockets Layer (SSL) certificate is a smart and easy way of securing a website. It encrypts data exchanged between your website and visitors and keeps login details safe. Did you know that Google actually warns users if they're entering a website without SSL? Google search results are also biased against websites without SSL. Without an SSL, your data is unguarded and can be obtained by hackers. You can pick a website builder that comes with SSL. Or you can select a hosting provider that includes SSL with its plans. Another option would be to install an SSL with Let's Encrypt or ZeroSSL.
Beware of hacking attempts
Hacking attempts are more frequent than one would think. On average, there is one hacker attack every 39 seconds. That's why it is important to watch out for signs that point towards hacking. We suggest avoiding public or open Wi-Fi connections. Refrain from clicking on suspicious links sent via email. Restrict website or data admin access to a few trusted professionals. Remember that 88% data breaches are attributed to human error. Training your employees to identify red flags could prove to be beneficial.
Rashaad explains, "The best way to become aware of the potential problems in your environment, or red flags, are to actually try and 'attack' your network. Routine penetration testing and vulnerability scanning will help you to discover potential problems within your network."
Keep your website updated
Most website builders take care of software and security updates, but that is not the case if you use a platform like WordPress. You will need to protect your website by running updates for your core software and plugins. Not doing so may cause your website to become vulnerable to bugs and hackers. Choose quality plugins for your WordPress website. Consult reviews and pick a website builder from a trusted developer before installing a plugin.
Use a VPN when working remotely
A Virtual Private Network (VPN) facilitates data transmission through an encrypted tunnel across different networks. It offers a layer of security when your employees use a public or private Wi-Fi connection other than the one provided by you.
If your employees work from home, it is essential to establish a secure VPN. Remote work can add to the vulnerability of your website and data. Rashaad shares, "A VPN's greatest benefit is providing a secure way of providing remote access to your business resources. It can help you to prevent loss of critical data even when the network your remote employee is connected to isn't the most secure."
He adds, "Most businesses can set up a VPN at no additional costs. Commercial firewalls have this functionality built into them. It's up to the IT department to configure access to the VPN. If they don't already have one, the necessary equipment is not very expensive."
Run backups
We believe that stopping a hacker in their tracks is the best form of defense. However, we also advocate for being prepared if something bad were to happen. Creating backups of a website enables you to have a recent version if something affects your site. Backups are copies of your website data. They contain files, media, and databases. Having a large website would require you to have a larger backup storage to save your data. We recommend using a backup service like CodeGuard, CrashPlan, and Acronis Cyber Backup. WordPress users can find backup plugin options here.
What training would help employees identify and avoid cybersecurity risks?
Rashaad advocates for "any and all training." He affirms that end users are ALWAYS the biggest threat to a company. Providing training material to make your staff aware of the dangers a business faces. It can make a significant difference. You should still limit network privilege levels to employees who absolutely need access to do their jobs. The less privileges they have, the less of a threat they become.
Conclusion:
Cybersecurity for businesses is an absolute necessity. Regardless of business type or structure, securing a website should be at the top of your list of priorities. As a business owner, it is your responsibility to protect your customers' information. Cybersecurity breaches can wreak havoc. Online safety is important for individuals and businesses alike. We hope we were able to shed light on the issues and offer insights on securing a website.
Acumen Connections is a leading provider of hassle-free solutions to collect payments. They offer payment processors and payment gateways. If you own or run an eCommerce store, make sure to check out our resources:
How to Fairly Price Your eCommerce Store
How to Boost Shopify Store Traffic
Anna Reeve, MBA