Discover how you can leverage Google My Business to grow your business
Businesses worldwide are always seeking new ways to expand their influence and increase their sales. The world today is largely digital, and it makes sense to utilize every possible option to reach your goals. Google My Business is one option that can have monumental impact on your business.
If you own or run a small business, you impact your customers and your community. Going digital expands that influence. With online tools, you reach a wider audience and tap into new markets. Moreover, an online presence is essential to staying relevant in today's market. An online reputation is vital for any enterprise. So, with a business, you should be managing a social media presence on the right platforms. This is where Google My Business, a free tool for businesses, comes into play.
We recommend you check out our other online resources here:
What is Google My Business?
Google My Business lists your business on Google Search and Google Maps. It shows essential information such as business address, hours, and contact details. It may also feature details like ratings, reviews, products, photos, and more.
Google My Business is simple to set up and easy to use. If a person types a query relevant to your business, your Google My Business profile shows up in the search results. For example, if you are a dental practice, your listing will show up when a user googles "dentist near me" or "dentist office in."
Did you know that Google accounts for 91.9% of the search engine market share worldwide? People looking for your products and services are searching with Google. In addition, the average business gets 59 actions a month from their Google My Business. These statistics just make it more imperative to have a Google My Business account that your prospects can find.
Businesses with a physical location should make the best use of this platform. It will help them promote their business and maintain an online presence. For businesses that are entirely online and do not have a physical location, we recommend utilizing tools like Google Ads and Google Analytics instead. These two programs can also help your website get noticed on Google.
Is Google My Business free?
Yes, Google My Business is free to use and manage.
Why does a business need a Google My Business account?
Having a Google My Business account is essential for every business for a few strong reasons. A Google My Business account will enable you to
Get discovered via Google Search and Google Maps more easily
Maintain and control your online presence
List your products and services
Direct traffic to your website
Update vital business information like location, hours, etc.
Build credibility and trust with online reviews
The first point in marketing is to ensure that your business gets noticed. Once you are noticed, you can expect leads that may develop into customers. Google My Business helps customers notice you. It opens the gates to a wide range of audience.
Google My Business search results are far more eye-catching than other general search results.
If we Google search "Acumen Connections", this is a screenshot of what pops up on the screen.
As you can see, information regarding our business is displayed. Our address, hours of operation, link to website, and phone number are all listed. This would help a user easily access the information they need.
How to set up your Google My Business account
It is not a back-breaking task to set up your Google My Business account. In fact, it is pretty simple. Let us walk you through the process:
1. Have all the necessary information ready
For starters, you'll need a physical address. Google will use the address to send you a postcard in the mail to verify your account. You will need a phone number where customers can contact you. It is recommended that you have a business website, but it is not a requirement when setting up your Google My Business account. In addition, we suggest having good-quality photos of your store and products to build visual appeal.
2. Sign up for an account
You will need a Google account to get started. If you don't already have one, create one here. Visit Google My Business page and follow the steps to sign up for an account.
3. Add location and contact information
Location and contact information are vital details. Fill out the fields with your physical address and contact information as prompted. Remember that your contact details are visible to everyone. Make sure you don't enter your personal contact details by accident.
4. Select a business category
You will be prompted to enter a business category. Type in yours. For example, Acumen Connections is categorized as a "business-to-business service." Yours should highlight what you sell or offer.
5. Finish and verify
This is the last step in the process. Once you complete your application, you will have to verify your information. You will confirm your address so that Google can mail you a verification code. This may take up to 14 days. Once you receive your code, go to google.com/verifymybusiness and enter it in the field. You are all set and done. Your business will now show up on Google search results.
How to create posts on Google My Business
Like with all online platforms, you should consistently post on Google My Business. You could write about new deals, upcoming holidays, or upcoming changes. Follow these steps to post with your Google My Business account: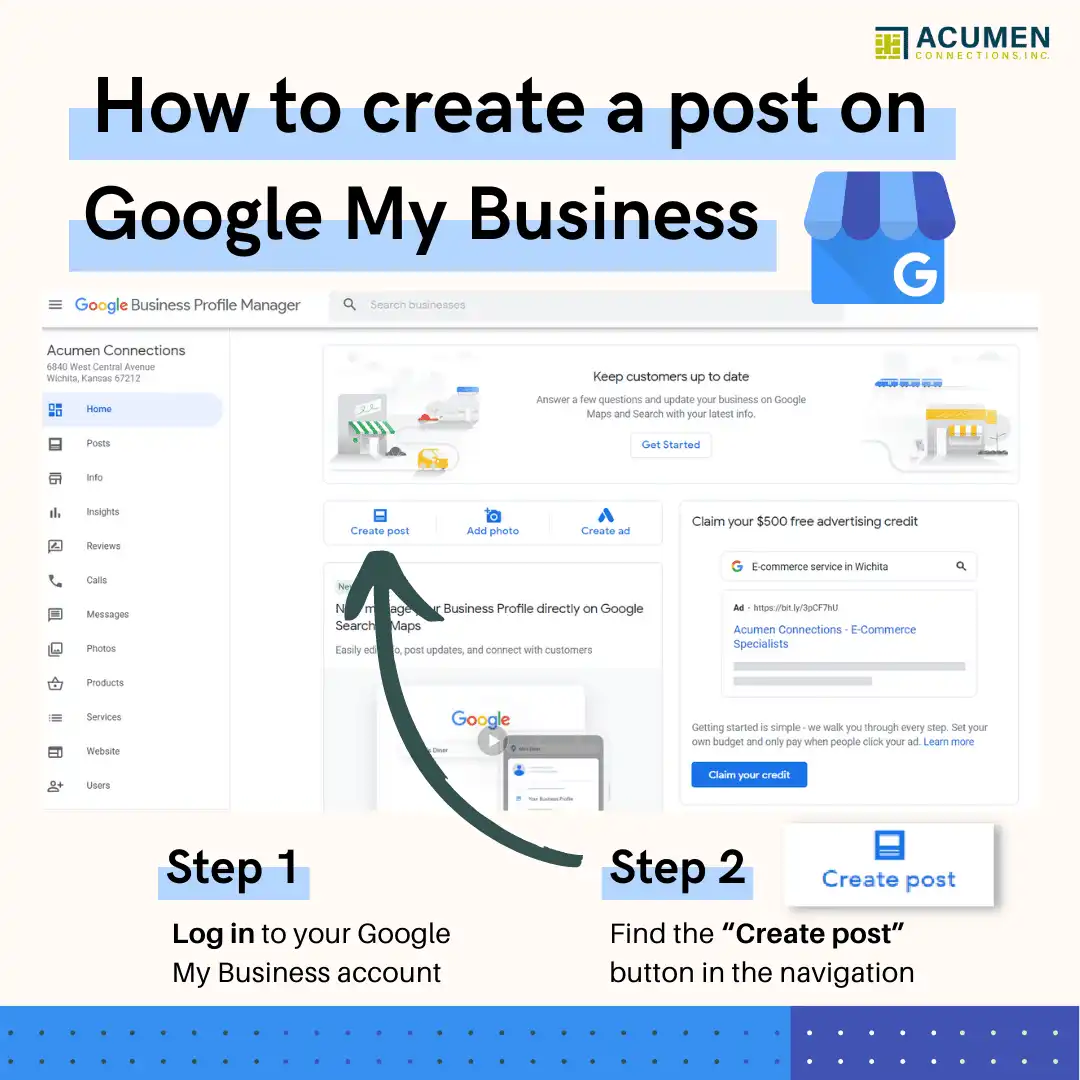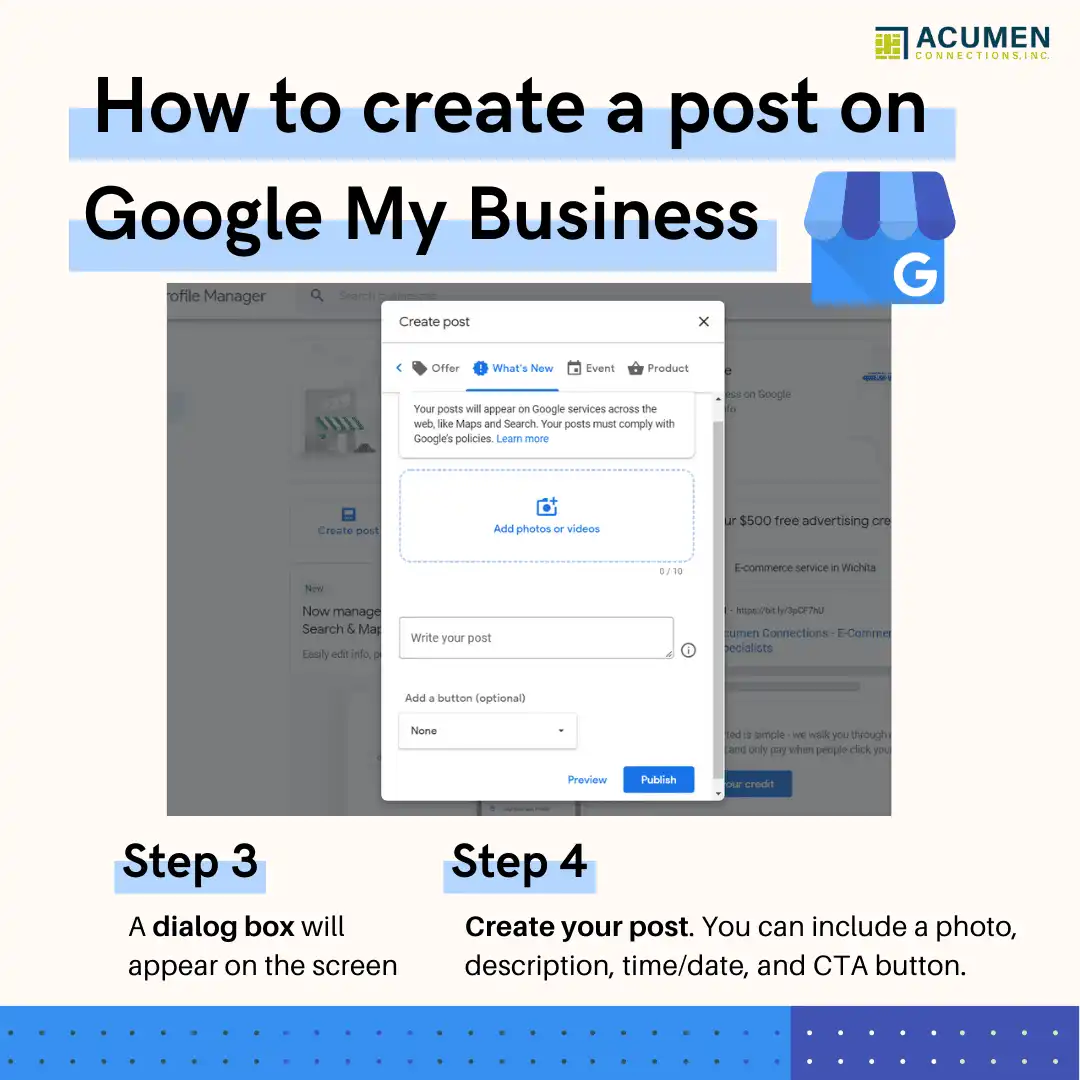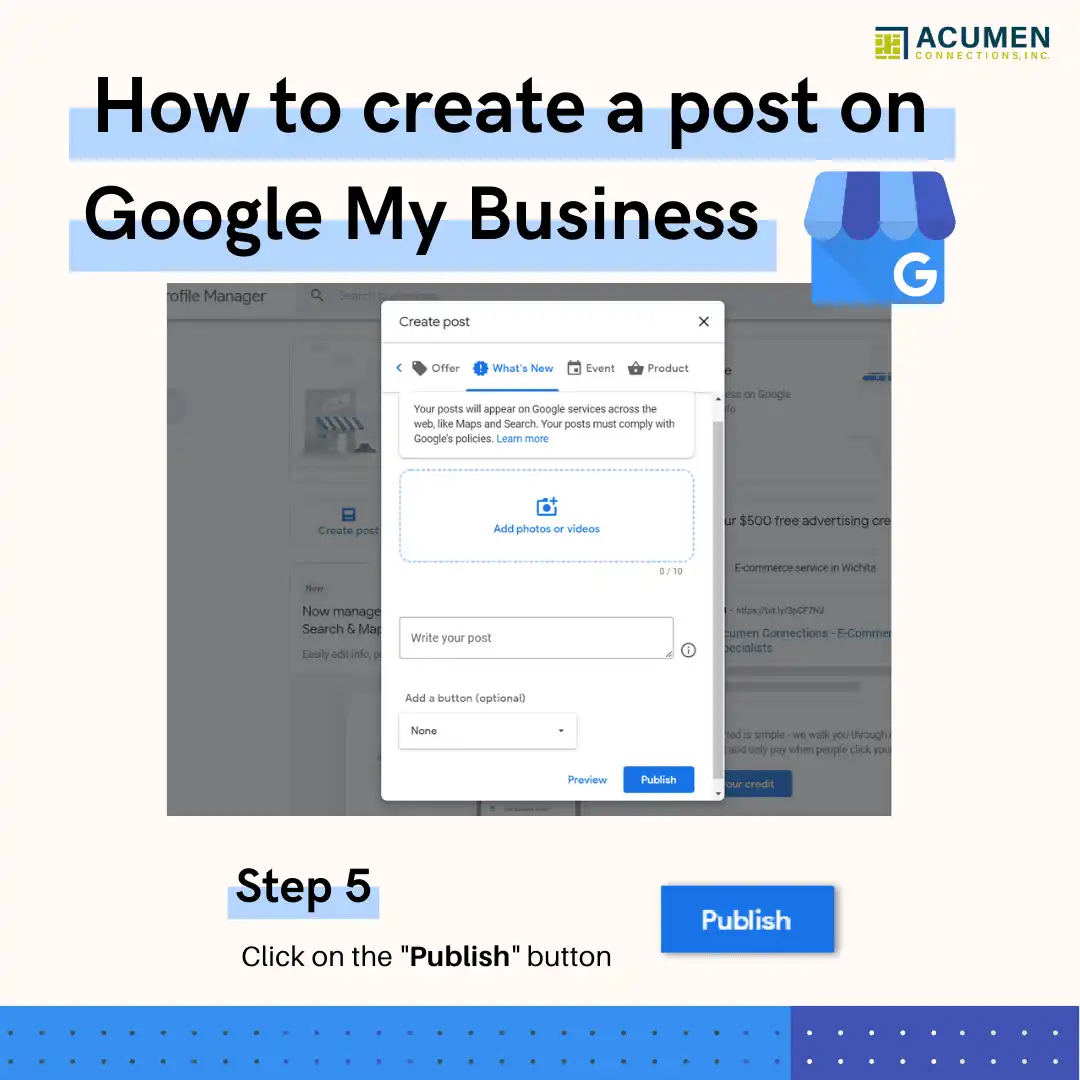 Go to your Google My Business account and click on your listings
Find the "Create posts" button in the navigation
A dialog box will appear on the screen
Create your post. You can include a photo, description, time/date, and CTA button.
Click the "Publish" button
That is how you can create posts on Google My Business.
Final thoughts on Google My Business
We understand that small businesses have a lot to do. There is hiring, training, managing, tracking inventory, payroll, etc. It could be difficult to tackle additional tasks. However, setting up a Google My Business profile is absolutely worth your time.
Along with improving your online presence, it helps you serve your customers better. Ratings and reviews will boost your credibility. Remember to thank users for their positive reviews and respond appropriately to negative ones. Your business reputation is essential to its growth and longevity.
We hope you now see the importance of having a Google My Business account. Your business could benefit immensely from trying out this platform. Acumen Connections is dedicated to helping you at every step. We know you got this!
Anna Reeve, MBA