Low-budget restaurant redecorating tips
Thinking of renovating your restaurant or bar? Read this first! According to studies, restaurants that had a recent renovation often see an increase of about 10-20% in sales.
Trends aTrends are cool, but functionality is key! A well-designed restaurant can improve aesthetic of the building and improve functionality. We realize most restaurants cannot afford to move to a brand-new building. That is why we have compiled this list of affordable restaurant remodel ideas. Remodels are all about customer perception. Good design looks attractive and conveys a message to your customers. If your restaurant looks professional, customers will perceive that your food and customer service are better.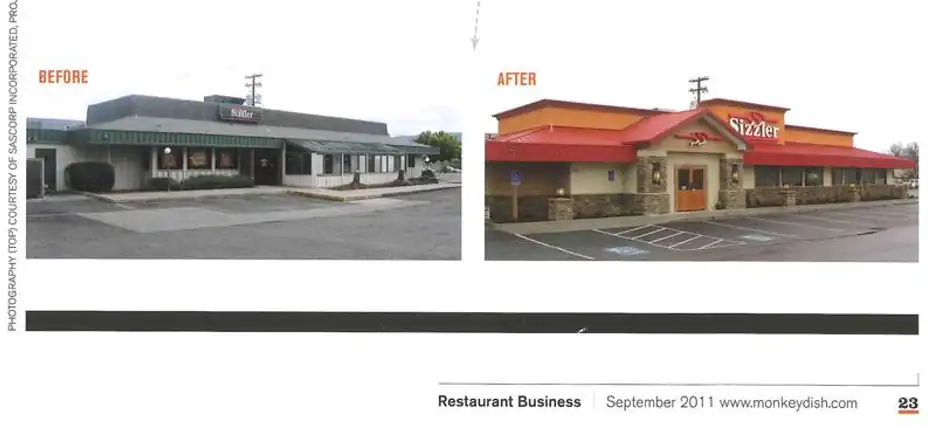 Your restaurant's appearance serves as a first impression for visitors. How your building is presented becomes a pivotal factor for potential customers contemplating whether to step inside or continue driving down the street. As demonstrated by the transformed look of Sizzler restaurant (pictured above), renovations can yield a striking difference.
What does the first image say about the restaurant? What does the second image say? The food, team, and quality may have stayed the same. However, the perception of the restaurant has forever changed with a few new walls and a coat of paint.
There are various options for enhancing your building's frontage. These can range from a complete redesign to more economical changes like altering vinyl window stickers or repainting the front door. If you lack a prominent sign, consider installing one. Regular patrons are already acquainted with your restaurant's location. A sign can help an unfamiliar passersby find and recognize your establishment.
Need a refreshed logo for the perfect sign? Check out our logo design tips.
Creating an Atmosphere
The uniqueness of your design corresponds to a specific market niche.
I recall many frequent visits to a certain coffee shop during my college years. I was drawn by its serene and secluded ambiance. It provided an excellent space to study, sip coffee, and get a bite to eat. Often, other patrons would catch up on reading, or even play boardgames quietly. The ceiling was low. Almost half the walls were lined with bookshelves filled with books you could check out. Those pieces together likely absorbed a lot of the noise, making it a quiet space. It felt like a library. The regulars would agree the cuisine was good. Yet, it wasn't categorized as a 'fine dining' experience. It didn't have to be fancy. It just needed to have its own unique ambiance, and it needed to provide a consistent experience.
The key to crafting an ambiance is to pick what you want your restaurant to be known for, and then ensure that every redesign decision is made around that. Are you a romantic date night spot, a quiet corner to read in, or a lively and fun venue?
Shifting perceptions
Take inspiration from Line, which revitalized their restaurant by incorporating numerous plants. You need not go to the extent of an extensive plant setup like theirs. Instead, think about introducing more natural light and greenery. These additions contribute to the perception of wholesome and healthy food offerings.
Contemplating a fresh paint job
Evaluate the possibility of updating the building's color scheme. Prior to making a selection, familiarize yourself with color psychology. Many eateries opt for shades like red, which is linked to strong appetites.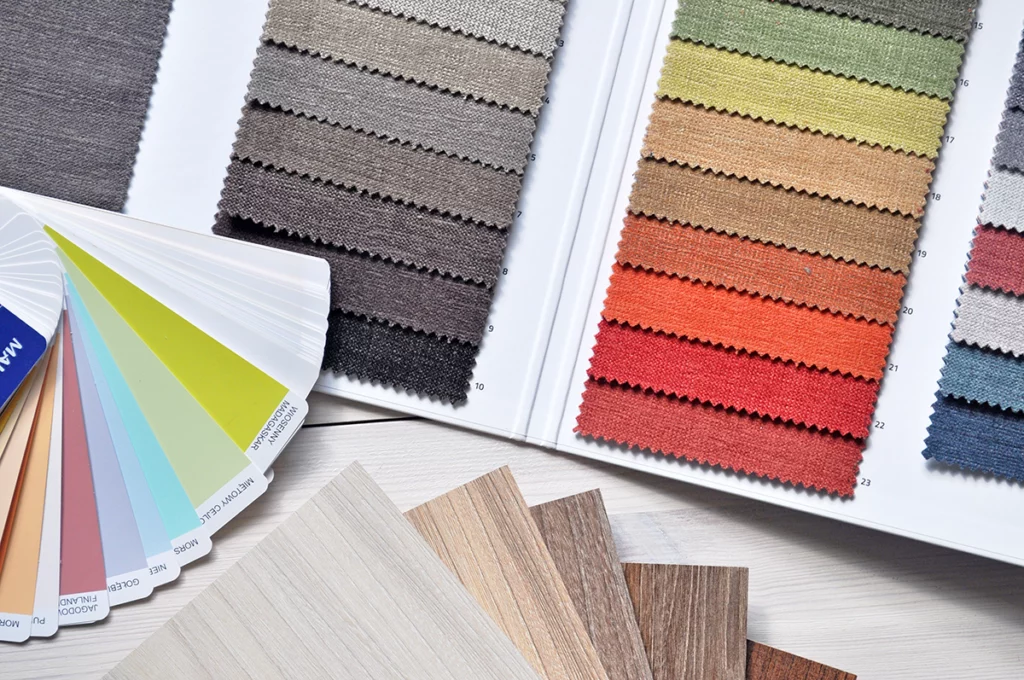 If repainting the entire building isn't feasible, consider refreshing the doors, windows, or panels. These are budget-conscious options. Alternatively, you could paint the internal walls instead. Even just one accent wall might have a noticeable effect.
One thing we're seeing on the rise is trendy restaurants setting up a single accent wall to act as a selfie backdrop. Often, the name of the restaurant is on the wall, it has nice lighting, and a fun display. Customers are taking photos there, sharing them on social media, and tagging the restaurant in the process. This can help a restaurant's social media presence and provide opportunities for word-of-mouth marketing. It's just one way that a restaurant remodel and marketing can work together.
Updating Your Restaurant's Flooring
Give thought to the flooring. A restaurant with shag carpeting would appear out of place, wouldn't it? It's been half a century since sag carpet floors were in style. When was the last time you got new flooring? Hardwood floors and tiles communicate sophistication. Best of all, your team will thank you as wooden floors tend to be more durable, and easier to clean. Even if there was a food stain on the floor, it would be harder to see on a wood floor than on carpet.
Upgrading Your Restaurant's Lighting
Lighting has multiple effects on your restaurant. The design of light fixtures conveys a distinct message. For instance, hanging glass bottles adorned with lights evokes a different atmosphere than wall-mounted lamps with antler motifs. The light bulb type further contributes to the ambiance. The warmth of the light influences the restaurant's aesthetics, referring to whether the light appears warm and yellow or cool and blue. Your choice of bulbs can shape the room's ambiance.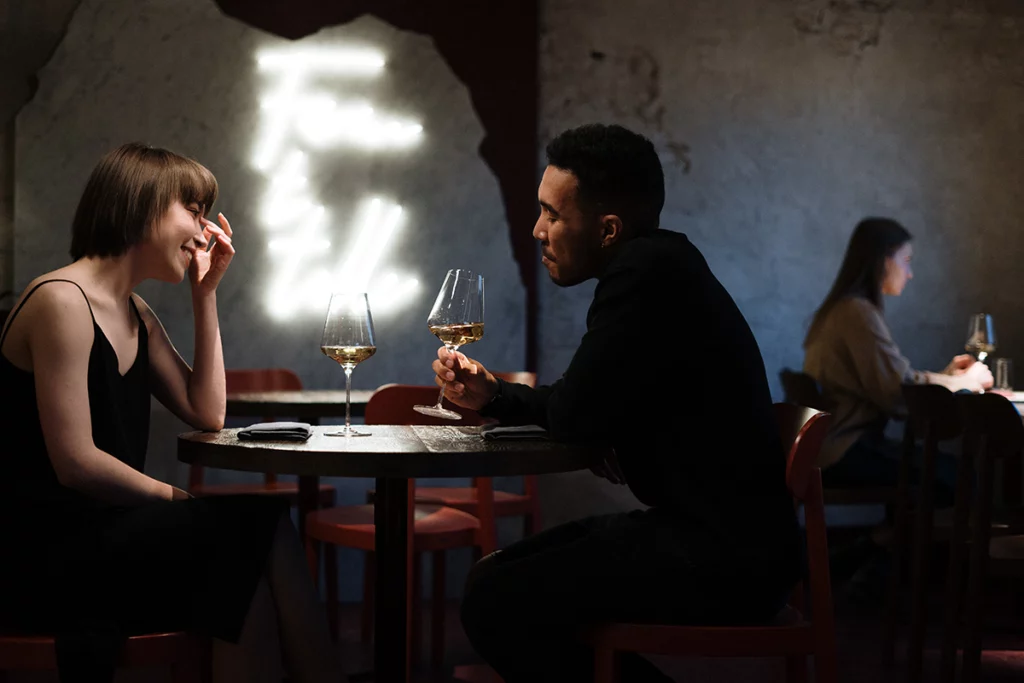 Moreover, the number of light fixtures also communicates a particular message. Dim, individually suspended fixtures over each table cultivate an intimate and secluded atmosphere, fostering a more romantic dining experience. On the other hand, bright fluorescent bulbs make any restaurant feel like the perfect option for a quick family meal.
One restaurant near us put red lamp shades on their light fixtures at each table and added red and purple twinkling string lights. They keep their dimmer switch on their lights set to low. Their lighting alone gives the restaurant a soft pink color, making it an intimate space. It's quickly become our favorite date night spot.
Final thoughts
Need more ideas? Check out the best before and after images of restaurant updates on the Food Network. Pinterest and other sites also have a ton of ideas for restaurants of any type.
Not ever renovation or update has to cost an arm or a leg. Many renovations can be small changes or even DIY.
Of course, if you need a small business loan to help cover the costs Acumen Connections can help! We offer merchant cash advances, lines of credit, payroll advances, commercial real estate financing, and inventory factoring.
If you want to know more information about our business loans you can call us at 800-864-4644. If you prefer email, you can also email us at support@acumenconnections.com.
Renee McBride