Thinking of renovating your restaurant or bar? Read this first! According to studies, restaurants that had a recent renovation often see an increase of about 10-20% in sales.
Trends are cool, but functionality is key! A well-designed restaurant can improve aesthetic of the building and improve functionality. We realize most restaurants cannot afford to move to a brand-new building. That is why we have compiled this list of affordable restaurant remodel ideas. Remodels are all about customer perception. Good design looks attractive and conveys a message to your customers. If your restaurant looks professional, customers will perceive that your food and customer service are better.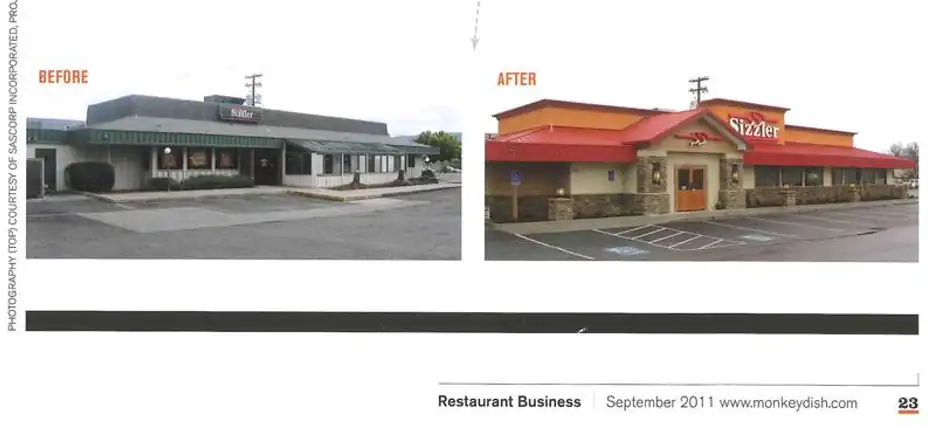 Your building is the first impression people have of your restaurant. The way your building looks is a deciding factor for customers thinking about entering your restaurant. As we can see, the restaurant Sizzler (above) looks very different after its renovations! Redesigning the front of the building is one option. Changing up the vinyl stickers on the windows or repainting the front door are more affordable options. Put up a sign if you do not have one displayed. Loyal customers know where your restaurant is located. Passerby may not know what your building is. A sign can help with that.
Creating an Atmosphere
The more out there your design is, the more niche of a market you have. I remember going to The Phoenix all through college because of its quiet and secluded feeling. It was a great place to eat food and study. The food was fantastic, but no one would have called it a 'fine dining' experience.
Changing Perception
Line upgraded their restaurant with a lot of plants. You do not have to go as plant crazy as they did. Instead, consider adding more natural sunlight and plants. Adding these two things leaves people feeling that the food is all-natural and healthy.
Consider a Fresh Coat of Paint
Consider upgrading the building's color. Read up on color psychology before choosing a paint. A lot of restaurants use red. Red is believed to be associated with things like hunger. If you do not want to paint the whole building you could just paint the doors, windows, or panels to save money. Alternatively, you could paint the internal walls instead. Even just one accent wall might have a noticeable effect.
Updating Your Restaurant's Floors
Think about the floors. It would be weird to walk into a restaurant with shag carpeting. Right? Hardwood floors and tile say it all. They look nice, are almost indestructible, and hide stains well.
Upgrading Your Restaurant's Lighting
Lighting has multiple effects on your restaurant. The design of the light fixtures says one thing. Hanging glass bottles with lights has a very different message than antler-styled wall-mounted lamps. The light bulbs that are used add another dimension to the message. The warmth of the light affects how your restaurant looks. When we say the "warmth of the light", we are not talking about its temperature. We are talking about if the light looks yellow or blue. The type of bulb you use can affect the room in a number of ways. The number of light fixtures you have also sends a different message. Dim independent light fixtures set over each table gives your restaurant a more secluded vibe. It creates a more romantic and intimate dining experience.
Need more ideas? Check out the best before and after images of restaurant updates on the Food Network. Pinterest also has a ton of ideas for restaurants of any type. Many of their ideas are small changes you can DIY.
Of course, if you need a small business loan to help cover the costs Acumen Connections can help! We offer merchant cash advances, lines of credit, payroll advances, commercial real estate financing, and inventory factoring.
If you want to know more information about our business loans you can call us at 800-864-4644. If you prefer email, you can also email us at support@acumenconnections.com.