Looking for accounting software for small business? Look no further!
Small business accounting can look a lot different from the bookkeeping in huge corporations. The size and in-house capabilities of a business can matter in this area. Here, we have a list of accounting software for small business that could be extremely helpful. Keep reading!

As a small business owner or manager, nobody understands your business the way you do. You're aware of your numbers. You're aware of the feasibility of having an in-house accountant or accounting department. You might even be considering paying for bookkeeping services from an external party.
All businesses need some sort of accounting system. Someone has to take care of the financial side of things. As a small business owner, your time and attention is constantly being split in several different directions. We have created an excellent resource on small business accounting to offer insight to business owners on tackling their numbers.
Accounting software for small business is something that's been around for a while now. So long now, that there are many to consider. It can be overwhelming.
Seamless integration, effortless payments
Keep business running smoothly. Our solutions integrate with popular programs
Accounting software for small business
Several businesses use small business accounting software and have had great results. They facilitate bookkeeping and simplify the accounting process in general.
We have carefully curated a list of accounting software after a thorough comparative analysis.
Let's explore them!
The first option on our list is FreshBooks. It was founded in 2003 and is headquartered in Toronto, Canada. They cater mainly to small and mid-size businesses. This accounts payable and receivable management software has an integration with Gusto for enhanced features.
Pros
Cons

Inventory tracking
Mileage tracking
Time tracking tools

Dashboard inadequacies
Invoice customization is limited
FreshBooks' Lite plan starts at about the cost of coffee for a month! It's not quite free accounting software, but it's close. After comparing these, we think that FreshBooks is the easiest accounting software for small business. It has a 4-star rating and a score of 8.4 out of 10 on TrustRadius.
The world was introduced to QuickBooks back in 1983. This accounting software caters to small and mid-size businesses. It was developed and marketed by Intuit. Yes, the makers of TurboTax and Mint. In addition to accounting features, QuickBooks has cloud-based versions. They can accept payments and perform payroll. A popular choice for small businesses, it offers flexibility and convenience. This easy-to-use software is designed to work for a wide variety of businesses.
Pros
Cons

Optional payroll services
Inventory and invoice features
Offers checks/credit processing
Free trial period

Limited inventory listing
The online version has reported security issues
QuickBooks has the widest range of prices. There are options that are suitable for many small business operations. Compare QuickBooks' pricing options to find the exact level of support you want. It is worth mentioning that QuickBooks is the best accounting software for self-employed individuals. It has a 4-star rating and an 8.2 out of 10 score on TrustRadius.
Looking for free accounting software options for your business? Wave is your best bet. It has several features and tools that cater to small businesses. Headquartered in Toronto, Canada, Wave is an accounting software. Yet, it also features invoicing, receipt-scanning, and more.
Pros
Cons

Basic accounting features are free
Invoice and transaction management
Features multicurrency support

You must pay to access payroll
Lack of time-tracking features
Their free version comes with unlimited income/expense tracking. It allows you to track sales tax, and to make and send invoices as well. They do have more expensive options if you want to upgrade to additional tax services. Wave has a 3.5-star rating and a score of 6.8 out of 10 on TrustRadius.
This is a cloud-based accounting software that caters to small and mid-size businesses. The company's headquarters are located in Wellington, New Zealand. It has customers in 180 countries! Their products are based on the SaaS (Software as a Service) model. Xero offers excellent tools to manage sales and transactions. It has undergone improvements that make it a smart choice for small businesses.
Pros
Cons

Easy to use
Excellent customer service
Features cloud computing
Includes payroll

It can be slow if your business conducts a high volume of sales via PayPal
Does not support Exchange Trade Products (ETP)
Xero has a 4.5-star rating and an 8.8 out of 10 score on TrustRadius.
Zoho Books launched in 1996 by Zoho Corporation. Today, it is headquartered in Chennai, India. This accounting software deserves a spot on our list. Neat user experience and fair pricing make Zoho Books a smart choice for small business accounting. It is flexible and offers a wide range of bookkeeping features.
Pros
Cons

Reasonable cost
Ample support options
Payroll integration

Time-tracking is tied to projects
Some level of complexity
For companies earning below $50k in annual revenue, Zoho Books is completely FREE! Their free version allows you to manage 1,000 invoices in a year. Plus, it includes features like journals, expense tracking, and more. They have several plans, with varying prices and features.
Zoho Books has an impressive 4.5 stars and a score of 8.8 out of 10 on TrustRadius.
We hope our list helps you pick a small business accounting software in tune with your needs. Want to compare each accounting system? Use our comparison chart.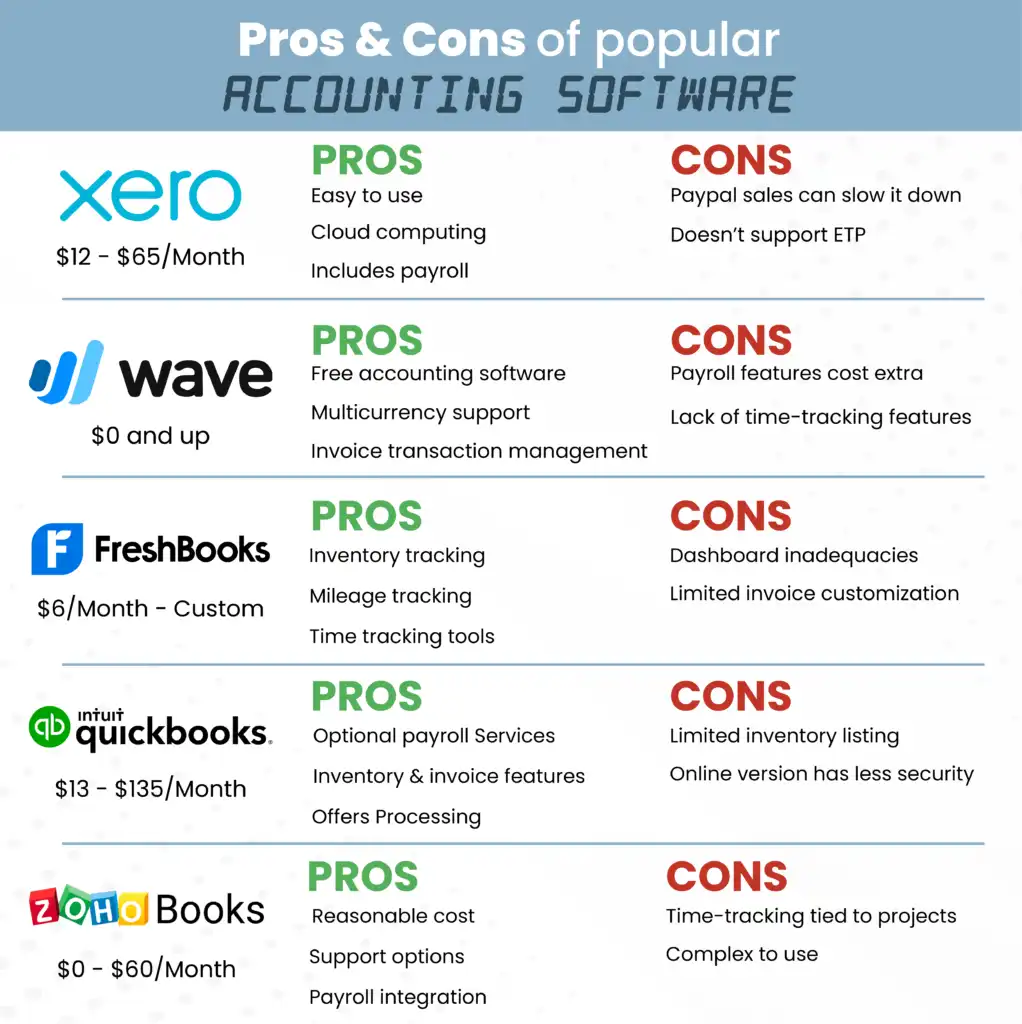 Accounting and payment processing
Let's face it, traditional invoices can be a bit of a hassle. The same applies to checks and cash. With the world going digital, cashless transactions are on the rise. This is where credit and debit cards swoop in to make things convenient. You don't have to carry a bulky checkbook or cash on you anymore. Bank cards are sleek and easily fit into the card slots in most wallets.
To accept credit and debit card payments, you need to have payment processing set up at your business. They streamline the payment process in a secure manner and help you get paid for the products and services you offer.
With Acumen Connections, you get paid faster! Yes, that's true. In addition, we work with popular accounting services like QuickBooks. Learn more about our risk-free trial.
There are no contracts, no monthly minimums, and no BS!
Conclusion
Bookkeeping isn't child's play. You need to be on top of your numbers to maintain pristine records. Tax season will be a breeze if you have a meticulous system of keeping your books in order. Not every business can rely on an accounting service or have an in-house accountant. Under such situations, accounting software for small business comes to save the day.
We hope our list enables you to make an informed choice as you pick one for your small business. They each have their list of pros, cons, and characteristics. The determining factor is your needs. Choose well!
Anna Reeve, MBA