Firework stand best practices and marketing tips
So, you're wondering how to start a firework stand.
The good news is that opening a firework stand takes work, but it can be very rewarding. Opening a firework stand requires you to go through the same process of starting a business. Some items will be the exact same, and some pieces will be a little different.
In this guide, not only will we show you how to start a firework stand, but we'll also provide you with best practices. We want to help your new business find success and grow!
Follow our steps to set up a firework stand. Once you have it set up, come back, and learn our best practices and marketing tips.
Start a firework stand in 10 steps.
1. Conduct marketing research and pick a location.
For your fireworks business to be viable, you're going to want to look at the different areas in your city. Finding a good location is key to having a successful business. You'll want to do market research to identify where your future customers are located.
Part of this research will include looking into state and local laws around firework sales. APA has helpful information on firework laws in your state. Your firework stand location affects your taxes, regulations, and sales.
Determine what makes your business stand out from others. That's your competitive advantage. Use location and competitive advantage to determine your business strategy.
2. Write out your business plan and choose a name
Your business strategy will fuel your business plan. A business plan is a written document that provides an outline about the business goals, the strategy, and an outline of steps. The business plan also lists out the timeframe for the achievement of the steps and goals. If this is the first time you've made a business plan, you can use the SBA's guide.
Choosing a name for your firework stand takes work, but it should be fun. Make sure your business name is easy to spell and easy to remember. As your business returns year after year, you'll want your most loyal customers to recognize it. Do research to make sure there's not currently a domain name or social media accounts issued under the business name you're considering. Ideally, you'll want your name to be related to fireworks, and be in alignment with your strategy.
Oh, and one more thing. Take our advice and add the word "Firework" or "Fireworks" to your company name. It lets consumers know exactly what you sell. Plus, more customers will be able to find your website that way.
3. Get the funds you need
Steps three and four often happen simultaneously. Depending on how you get the fuds for your firework stand, it may impact which business structure you use.
Starting any business requires a lot of money. It's the same for starting a firework stand. When determining where to obtain funds from, you need to decide how much you need first. Consider the cost of your stand, the cost of licenses and permits, an online website, and marketing. All of these factors go into it. Once you determine how much you need, then you can consider the source. With any business, you have the ability to fund the business yourself, with business loans, or with investors.
4. Choose a business structure
Ultimately, your business structure will impact almost every piece of your business. It will affect operations, taxes, personal risk, ownership, and more. You'll want to consider the four major business structures: sole proprietorship, partnership, corporation, and LLC. Each type will have pros and cons based on you and your firework stand's needs.
5. Register your business
You'll want to formally register your business to ensure it is a legitimate legal entity. This process can look a little different based on your firework stand's location and business structure.
6. Obtain your tax IDs
Once you're registered, you'll need to get your state and federal tax ID numbers. These numbers are sometimes referred to as an Employer Identification Number, or EIN for short. Similar to your personal social security number, this number registers your business as a tax paying individual.
Your EIN is important. It allows you to pay your business' state and federal taxes. Plus, it's required in order to buy wholesale fireworks.
7. Apply for the necessary licenses & permits
In order to start a firework stand, you will be required to get certain licenses and permits. You'll need licenses and permits from both the federal and state levels. The documents you need will vary based on your business plan and location. When looking for requirements, we suggest looking by county, rather than by state or city.
8. Open a bank account and pick a payment processor
Opening a business bank account helps ensure that you're able to securely accept or spend money on behalf of your business. It also helps keep your personal finances separate from your business finances. That helps keep you stay safe and legally protected. The bank you choose is up to you, but you'll want to let them know you're opening a business account, not a personal one.
Picking a business bank account is only half of it. If you want to accept electronic payments, like credit cards, you'll need to work with a payment processor. Since firework stands only sell through part of the year, you'll want to look for payment processors that work with seasonal businesses. They should have the flexibility to work with your schedule. They should be able to rent credit card terminals so that you're only paying for products when you use them, rather than for the whole year.
If you're looking for a payment processor for your firework stand, Acumen Connections has you covered. We have credit card terminals for rent and purchase, depending on your preference. We work around your seasonal schedule. Most importantly, we have exclusive rates for your firework stand. Learn more here.
9. Choose your products
Picking an assortment of products is ideal. There will always be the pyromaniacs that want the biggest fireworks. Some families will want to keep things simple by buying just one or two sets. Other families will want to keep the evening low key with sparklers, snakes, and pop its. Having a wide variety of fireworks will draw customers in.
Think about your product options. Are there ways to sweeten the deal? Creating a packaged deal of some of your best-selling fireworks may be one solution. If you keep the packaged deal priced just a little lower than buying all the items separately, you'll be more likely to encourage impulse shopping. Customers are likely to spend a little more than they planned if the package comes with a bunch of items they already want. Plus, having a packaged deal is convenient. Families short on time are able to buy one item, instead of picking out several.
10. Set up your stand and start marketing
Once you have everything on the back end set up, then you can start building up the front facing pieces. Create a website, set up social media business profiles, and build up your stand. Once you're ready, you can start selling!
If you decide to continue forward and start a firework stand, let us be the first to tell you: congratulations! It takes hard work and dedication, but this is a very rewarding industry to be in.
How to promote a firework stand.
Promoting a firework stand can be a real beast. But you can do it!
Now that you know how to start a firework stand, we'll show you how to market it.
The seasonality of the business makes it difficult to establish a connection with customers. The similarity between products makes it nearly impossible to differentiate between brands. Locations can change every year, which can be confusing to customers even if they do have a preferred vendor. Price does impact consumer decision. However, impulse purchases are the real driver for your customers.
Marketing a firework stand is very different than most other businesses. Competition tends to be very high. It's important that your marketing efforts blow your competition away. Here are five ways to get the biggest bang for your marketing bucks.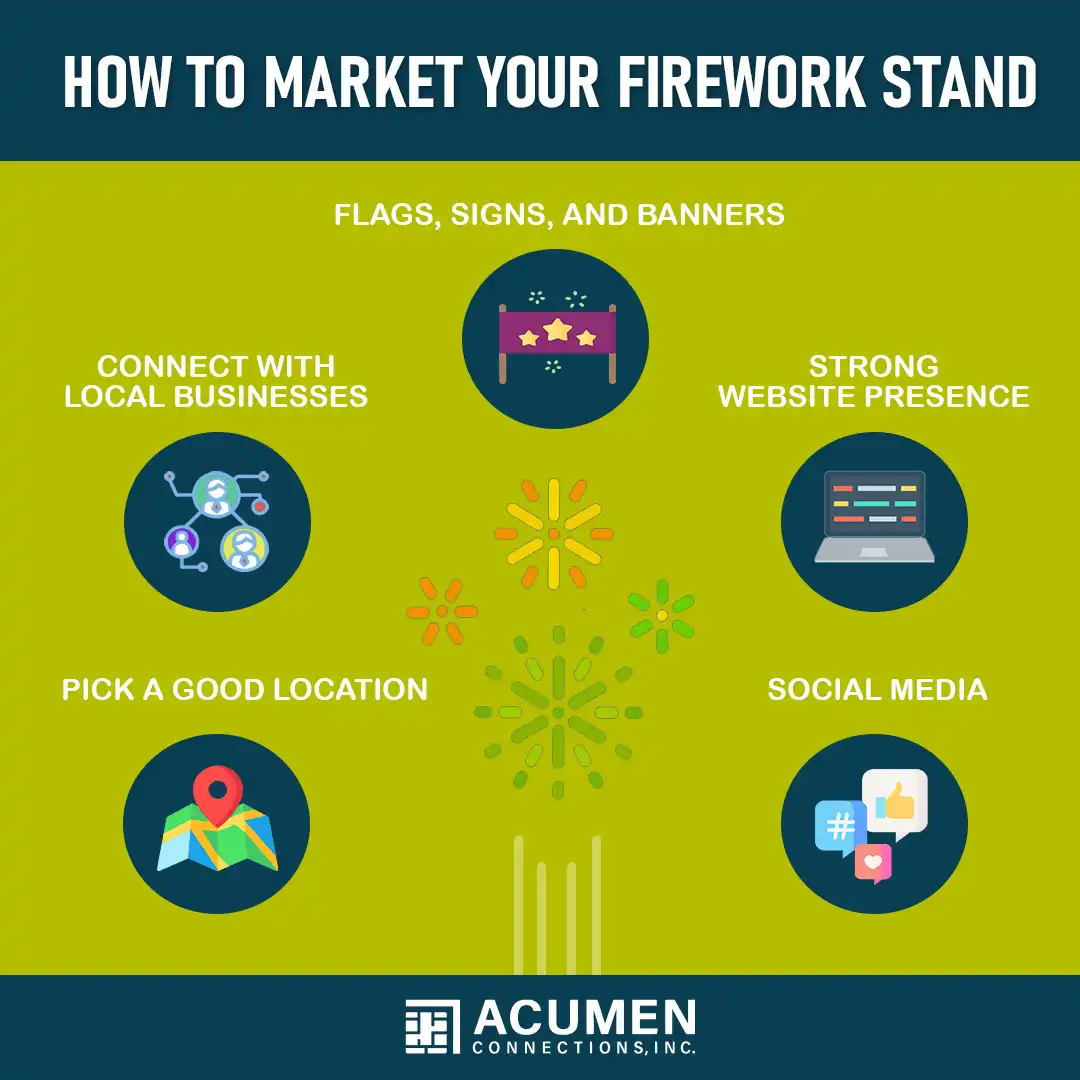 1. Pick a good location.
Location, location, location. Location can be such a key element when it comes to catching your customers' attention.
Ultimately, there are laws and logistics that dictate where your stand can and can't go. However, you may have a little bit of a say where your stand is located. There are several preferred locations to place your firework stand:
Next to a busy intersection to catch the eye of the hundreds that drive by day after day.
Near a grocery store or shopping center to make shopping convenient for consumers.
Around the corner from a residential area so families don't have to travel far.
Location isn't just important for marketing purposes. Location will be one of the biggest impacts on your firework stand's success. When planning, be sure to set aside a large chunk for market research. You'll want to take time to determine the best place for your firework stand.
Nothing catches the attention of impulse shoppers like promotional flags, signs, and banners. Your traditional red and white "Fireworks" signage in all caps usually does the trick. However, there's other, better, ways to attract the eye of your customers
Ultimately, there are some rules and logistics on where you can put signage. You'll want to find out what is and isn't legal in your area first. But here are a couple of our favorite ideas.
Placing a big sign at the corner of the nearest busy intersection with an arrow pointing in the direction of your store along with the distance.
Funny signage gets noticed. It stands out, it's memorable, and it differentiates your stand from the competition. Consider Archangel Fireworks Inc. They're a fireworks seller out in the middle of Canada, but they're famous for their funny signs. You can find some examples on the company's Pinterest.
With social media, you have three options:
Use your free business account to get the word out to your followers.
Hope you're funny enough to make a post go viral organically.
Use paid promotions.
Honestly, a strategy with a little of each of those is probably ideal.
Posting content regularly helps get your post in front of the eyes of people that follow you. You'll want to do that regardless. Might as well target and encourage those loyal repeat customers to come back again this year.
Posts that go viral tend to go viral because they're funny, relatable, or encourage interaction. Think about the posts that you've seen going around. Use them as inspiration. You might consider posts with the following:
DIY polls where the Facebook reaction emojis are used to vote.
Encouragement to tag a friend that can relate to something pretty universal and funny.
Informational graphics that can help people stay informed. You might consider making a fireworks safety graphic during late June.
Finally, there's Facebook Ads. You'll want to pick the right audience. You could target your current audience's friends. Or you could set up a custom audience based on gender, age, location, interests, and more. Location is probably the most important piece for you. You'll want to target families that live immediately near your stand .
4. Connect with local businesses.
We all know word of mouth is one of the best forms of marketing. Jump start the process by connecting with local small businesses in the community. Visit nearby small stores and local businesses. Chat with managers and owners. Let them know who you are and that you're just trying to meet other business owners. Ask them questions about the area, get to know them a little, and shoot the breeze. Keep it personal and fun. At the end, thank them for their time and offer them a stack of coupons for their team to get a free item from your stand.
You read that right. A free item.
It's a nice gesture, and since their team works right around the corner of your store, they're more likely to stop by. Keep the free item something small so that you're not losing money. A small pack of sparklers maybe? The goal with the coupon is to have them stop by to claim their free item, and then use the power of impulse purchases to encourage them to purchase the rest of their fireworks for the holiday. I mean, they're already at your stand.
If the owner or manager of a local business responds positively to meeting you, see if they'll let you put a flyer or stack of coupons with a small discount at their front desk next to the register. Offer them the same kindness in return at your stand.
At Acumen Connections, we believe in the value of networking and building connections. We think great things happen when small businesses help support small businesses.
5. Build a strong website presence.
I'm sorry to tell you, but most customers aren't looking for your website by name. They're searching for things like "fireworks near me", "cheap fireworks", and questions about fireworks. Then, they're clicking on the first result they see.
When you build up your website, build it up well so that it has a better chance of being that first result. You can do things like:
Speeding up how quickly your website loads.
Testing to see if it works well on desktop and mobile.
Creating content, like blogs, that helps answer customer questions about fireworks.
Look, we get it. Marketing should be affordable. We tried to provide you with 5 firework stand marketing ideas that were low-cost to no-cost. Still want more affordable advertising ideas? Check out our blog for eight more ideas!
At Acumen Connections, we're all about helping small businesses find success and grow. We want to help your new firework stand do the same.
Still have questions about how to start a firework stand? Let us know in the comments.
Acumen Connections is a locally owned and operated payment processor in Wichita, Kansas. Our organization seeks to help small businesses meet their goals with real solutions designed by real hardworking people. To help businesses and individuals achieve personal and professional successes, we're providing new content weekly. Stay up on our posts by visiting the Acumen Connections Facebook, Instagram or Twitter pages, and visit the blog for a full catalog of resources fit for hardworking people.
Ariel Westphal