5 Steps to improve your holiday ecommerce marketing strategy.
Here's our list of the best holiday ecommerce tips. Learn how to prepare your online store for the upcoming holiday sales. We have tips for every holiday season, including Memorial Day, Mother's Day & Father's Day, Labor Day, Black Friday, and the New Year.
Promoting special holiday discounts and sales through your website's email and social media platforms is a great way to engage with existing and potential customers. It helps them stay in the loop on changes to your store. At the same time, it encourages them to make a purchase or even become a loyal customer.
Holidays are exciting because there's an opportunity to run special sales or deals. Today we'll show you how to set up a holiday sale for your ecommerce store. We'll cover best practices and walk you through the steps to get it set up.
Every holiday sales season has different strategies that work better or worse than others. Along with the sales' best practices and instructions, you'll also find out about the specific marketing tactics that work best for each holiday or holiday weekend.
Best practices
Step-by-step tips
Find out how to target customers on:
Memorial Day weekend
Mother's Day & Father's Day
Labor Day weekend
Black Friday weekend
New Year
Ecommerce holiday best practices
With any holiday ecommerce sale, there's a couple essential best practices to follow.
Embrace the festivities.
Use imagery and colors associated with the upcoming holiday. Use it for your social media posts, ads, and even marketing emails. Show fellowship by celebrating the holiday with followers. Take time to spread some holiday cheer.
With an online store, it can be difficult to meet your customers face to face. The next best thing is social media. Connect with your customers online.
Encourage them to interact with your content. Having them share, comment, like, or tag friends are great options. They allow your customers to have fun and get to know your brand a little more. Be sure to like and comment on their responses. The holidays allow us a little fun time. It might be the opportunity for them to interact more with you.
Identify a sales and discount tactic.
Sales are expected, but you don't have to go overboard. When you promote your business, you want to give customers a reason to click your call to action. A free trial or a small sale is a great reason to click. There's no point to go overboard either. With any sale it's essential to be mindful of your margins.
There's a lot of different discount tactics you can use for your ecommerce store. Customers may react differently to a 30% or $10 discount, even if it's worth the same amount. Conditional promotions are good if you typically sell multiple products in one transaction. With conditional promotions, you can encourage customers to buy more than they anticipated. Or you can encourage customers to return for another purchase. Use A/B testing to determine which solution is best.
Work ahead to avoid a crunch.
Please don't overwork yourself or your staff during the holiday time. No one wants to rush around last-minute before a long weekend. The holidays should be enjoyed. Work ahead of time so that the promotion is ready to go a couple days before you need it.
If your store sells a digital product, it's best to make sure everything is working ahead of time. That way, when the holiday arrives, you can log off worry free. You and your team deserve to enjoy the holidays. If you're selling products, you can worry about packaging and shipping when you return.
Prepare your online store: Step-by-step tips.
1. Prepare and update your catalogue
Is your online list of products up to date? If customers are shopping on your site, you want to ensure that the information is accurate. Update your product listings with correct pricing, descriptions, and stock levels, if applicable.
Before the big day, ensure that you know how to add a promotion to your store. Either through your ecommerce site, or through your payment gateway. You'll want to make sure you know how, so that the process of setting it up on the big day is easy.
2. Optimize your website
How much traffic can your website handle at once? Depending on the holiday, your products, and your sale, you may have higher than usual website traffic. It's important to ensure that your website is optimized.
There are a few things you can do to improve your site.
For starters, ensure your links are working properly. Error pages are annoying for customers, especially when they know what they want. It's enough for most consumers to jump ship and look elsewhere. You can run your URL through a dead link checker. They'll let you know if any of the links on your site need to be updated.
It doesn't hurt to read through your copy. It's a good opportunity to check for typos and ensure that your website provides the tone and message you want to customers.
Something else you might consider is your mobile site. More and more people are using their phones to shop online. In 2015, about 12.8% ecommerce purchases were made via phone. By 2019, mobile commerce accounted for 25% of all online purchases!
Images and text that display one way on desktop might not display the same on mobile devices. Take a second and view your website on your mobile device. If something needs to change, now is the perfect time to make edits!
If you want to get customers excited for your sale, you might consider a pop up. This lets website visitors see your sale as soon as they're on your page. Check your website builder to see if they have free pop-up options that you can set up. If not, there are free online options you can find. If you use a popup, make sure it's in season for the holiday, and remove it when the sale is over. No one likes out of date popups.
There are a couple different ways you can set up your popup. Promoting your current sale, or a discount code is a great option. If you're wanting to run an email capture campaign, you can use it to encourage viewers to give you their contact information in exchange for a coupon.
If you want to build excitement, you might consider a countdown timer to the end of the sale. Customers that show up a day or two before the sale ends might feel pressured to act. Countdown timers help encourage more impulse purchases.
3. Create fun and effective promotions
It's okay to get festive with the promotions. If anything, it's encouraged to bring a little holiday joy to customers. With any promotion, you want to have a clear call to action. You can use tools like Adobe or Canva to create imagery for your promotions. Adobe provides more editing features, but Canva is great for beginners. Create imagery that can be used for both social media and email.
First, you'll want to determine your goal with your promotion. Are you trying to attract new customers? Bring back older customers that haven't visited in a while? Encourage new customers to return again? Or provide something special for VIP clients only? If you answered, "all of the above", that's okay too. There's nothing wrong with the general goal to bring more traffic to your site. Picking your goal for the sale is the first step.
Next, you'll choose your audience. New customers, old customers, VIP customers, prospective customers, or a different group. Whether you're targeting them on social media, or email, you'll want to make the decision on who you're picking and why. Picking your audience is almost as important as picking a message.
Don't get us wrong. Your marketing message is important too. Depending on your goal, you'll want to create a sale that makes sense for your needs. Here are some ideas:
Celebrating your VIP customers? Thanks for being a VIP customer! We appreciate your business. Here's a 50% coupon just for you. Use it the next time you shop with us.
Encouraging more sales? This weekend only! Buy two items and get one free!
Bringing back older customers? We've made some changes since the last time you shopped with us. Check out our new products. Here's a 20% coupon on any of our new 2021 items!
No matter your message, you'll want to determine a clear call to action. If you have an online store, your goal is for them to visit your website. That's usually in the form of providing a URL. Be sure to provide customers with the best link for them to reach your items. You might consider providing them with links to your home page, as well as links to the individual product(s) you're promoting.
Social media is free, or close to free. Whether you decide to share your sale with customers via free posts, or via paid promotions, we have tips for you.
Keep your messaging light and fun. Provide customers with enough information to just entice them. Lead them to your ecommerce store where they'll find more information about your discount and products. Not all of your followers will see every post. It's okay to post multiple times about the same discount or sale.
Basic posting is easy. You can post directly to your website's social media. Or you can use a service like Buffer or Hootsuite to schedule posts out. Both services are great, but Buffer has a free plan. If you're new to scheduling social media, you can follow this step-by-step guide.
Boosted posts or paid Facebook advertisements are easy to set up too. It's similar to a regular post where you decide the imagery and text. The only difference is that you get to pick the audience it's targeted to.
To keep things easy, you can create a post, and then click the "Boost" button so that it's shared with your current followers as well as perspective customers. When picking the right audience, you have a couple options. You can pick an audience based on who already likes your page, their friends, or you can set a custom audience. Facebook's custom target options lets you pick consumers based on a few demographics. Choose from gender, location, age, career, interests, and more. From there, you'll set your budget and timeline for your boosted post.
5. Create and distribute emails
On average, email marketing has one of the highest conversion rates, and they often cost less than other forms of marketing.
Services like Mailchimp and Constant Contact are a great way to get the message out about your new promotions. These services are easy to use with drag and drop features to help you bring your email to life.
If you currently use one of these services, you can separate your customer audience into smaller groups. This allows you more marketing options. You can send a specific email to a select set of customers. Or you can A/B test your emails.
Not sure how to get started? Watch our step-by-step MailChimp tutorial to build your first campaign.
Our first email tip is to use a catchy email subject line. In order to encourage customers to click a link, you'll need to get them to open the email first. Keep your email subject line enticing to pique their interest. It doesn't hurt to keep it holiday themed as well.
Customers like hearing something that catches them off guard in a positive way. If you're writing your subject line, we recommend keeping it funny or exciting. Customers love seeing numbers. If you have a sale going on, don't be afraid to let them know in the subject line.
A 30% sale? Yes, I want to learn more!
Make sure you message is clear in the text and imagery. Where do you want them to click? What page are you taking them to? You'll want the same consistent message in your text and imagery.
Seasonal sales during holidays.
Now that you know how to promote your seasonal holiday sales, it's important to determine the best strategy for each holiday.
Customers expect different items to go on sale at different times of the year. (Review our seasonal trends infographic.) The same can be said for holiday sales. Customers have expectations for certain items to go on sale certain holiday weekends. They may align their calendar to make those purchases during the expected time.
Below we have a list of holidays and holiday weekends along with their respective best practices.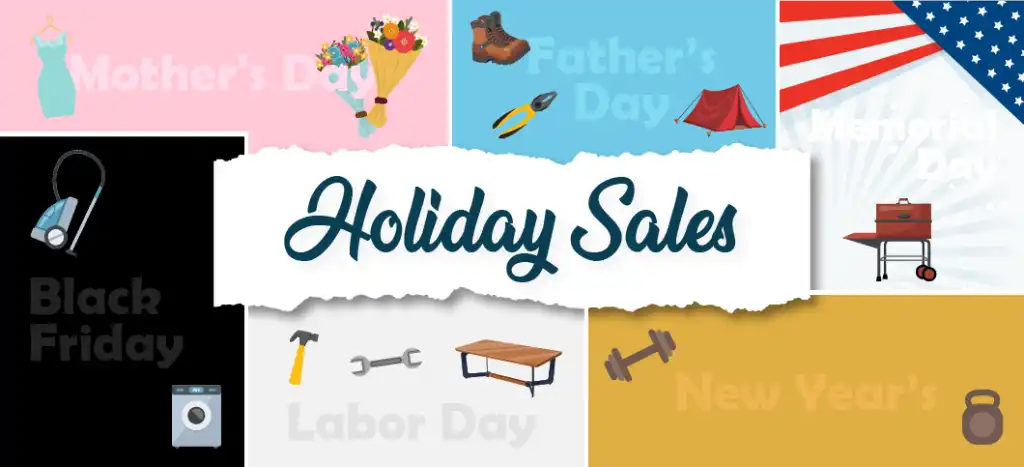 How to prepare your online store for Memorial Day
Memorial Day is a day of honoring and remembering our fallen heroes. Over time though, the three-day weekend has become synonymous with the start of summer.
Many businesses choose this extended weekend to offer sales to customers. Consumers expect sales on outdoor summer items. They may see sales up to 70% off on items like patio furniture, grills, and summer apparel. With the school year ending, technology items like laptops, and computers also tend to go on sale. Consumers often anticipate mattress sales during this time.
These are the most common sales items during Memorial Day weekend, but there's plenty of sales happening for all three days. Regardless of what you're selling, there's opportunities for you to promote your business and your products with a sale.
It's important to remember that unlike other holidays, Memorial Day is not a happy day. We recommend avoiding terms such as "Happy Memorial Day". It can be a difficult day for many. Here are three Memorial Day post ideas that you're welcome to use. The images are free to use for commercial purposes.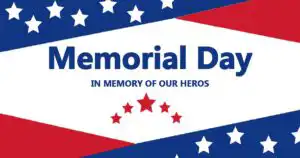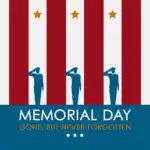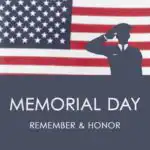 You don't have to credit us. But if you do use them, please follow us on Facebook for more business tips.
Although the holiday is a somber one, the three-day weekend tends to be associated with a happier tone: BBQ, vacation, camping, and shopping. With more families having a longer weekend, it provides them an extra day to shop for the items they need. It's the perfect time for your business or ecommerce store to hold a sale!
How to prepare your online store for Mother's Day or Father's Day
Consumers expect to see sales on women's clothes and shoes, as well as spa services, flowers, and home gadgets around Mother's Day. If you provide any of these services, early May is your time to shine!
If you sell men's clothes and shoes, as well as camping gear and toolsets, we recommend planning sales in June around Father's Day. Customers will likely be shopping for those items at this time. You might as well offer your sales when they're already in the market for them.
Many customers will make last-minute purchases online for these holidays. They're often forgotten because they don't come with a day off of work. At the same time though, there's a lot of pressure for consumers to still celebrate the holiday by getting their parent a gift. A sale during this time is the perfect way to help your customers choose a last-minute, but thoughtful gift, from your store.
For these holidays, we recommend posts that come from the heart. Either address them to parents or sign them off from the team. These images are free to use for commercial purposes.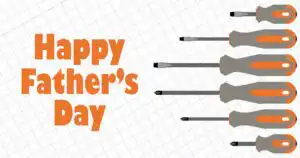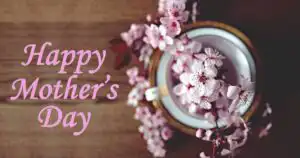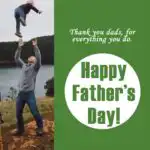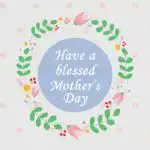 You don't have to credit us. But if you do use them, please follow us on social media for more business tips.
How to prepare your online store for Labor Day.
Similar to Memorial Day, many customers have an extra day in their weekend to make a purchase. During Labor Day weekend, these shoppers are looking for sales on home improvement services, furniture, and outdoor summer items that didn't sell during the season.
These are just some of the most common sales happening Labor Day weekend. There's plenty of other sales happening all three days, and the week leading up to it. Regardless of your products or service, there's opportunities for you to promote your business on Labor Day weekend.
Labor Day tends to be a very low-key holiday. The first Monday in September is set aside to celebrate American workers. Similar to Memorial Day weekend though, the three-day weekend has become synonymous with the end of summer.
Labor Day is a celebration for the workers of America. You could use it to celebrate your employees, or you could celebrate hard working Americans as a whole. It's a calm, but uplifting, holiday that many workers spend with their family. Here are three free to use images for your social media game.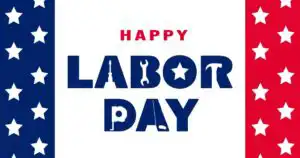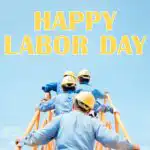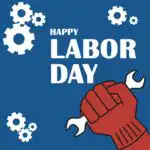 No credit is needed, but please follow our Facebook for more business tips!
How to prepare your online store for Black Friday
Black Friday is an interesting holiday season weekend. It seems that this holiday has gotten bigger and bigger year after year. Similar to other sales holidays, it's based around a weekend that many consumers have time off to shop. They may have Thanksgiving off, or they may have that Thursday and Friday off.
In the past, Black Friday, Small Business Saturday, and Cyber Monday seemed to be three separate holidays. As time has gone on, all of these celebrations have merged into one long weekend. Customers like shopping online more and more often. Last year alone, online sales accounted for 21% of all sales!
If your store sells retail items, Black Friday weekend is the perfect time to run a promotion. Shoppers are looking for retail items to purchase for themselves or as gifts for others. During this weekend, there are more impulse purchases as people are attracted to sales and savings.
For more tips, check out our small business Black Friday article.
Black Friday weekend is solely a retail holiday. It doesn't celebrate much other than the love of shopping and discounts. Keep your Black Friday posts lively and fun.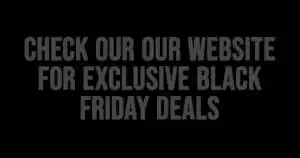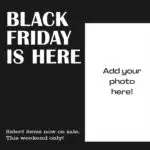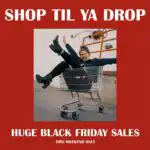 Using one of these free for commercial images? Follow our Facebook for more business tips.
How to prepare your online store for New Year's
For the most part, the New Year welcomes new opportunities for self-improvement. If you sell self-improvement items, or holiday décor, this is the best time of the year for you to promote your products and services.
With the new year, people are thinking about what they can do to improve their life. They're looking for gym memberships and healthy food to work on a diet after the holidays. They're shopping for planners to keep them organized.
Along with self-improvement purchases, customers are also looking for discounted holiday decorations that didn't sell well during the holiday season.
New Years is all about excitement. Think fireworks, glitter, and self-improvement. An exciting and powerful post is best for this holiday!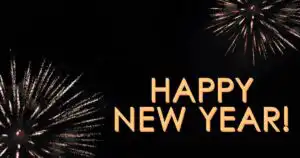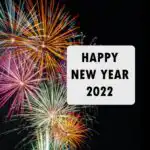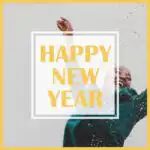 No credit is needed, but please follow us on social media if you use one of these images.
Unlike other holidays, New Years follows after one of the biggest spending seasons of the year. Customers might be strapped for cash. They'll be more likely to make purchases if a big sale is presented, rather than a small sale.
If you're going to offer a discount during this holiday, we suggest going big or going home.
Holiday sales are for online ecommerce stores too
If you run an online store, you can participate in shopping and sales holidays as well. If anything, ads are easier to you because you can direct customers to your store with the click of a button. Online shopping is convenient, and popular. It's here to stay.
Hopefully with this guide you were able to find holiday ecommerce tips that work for your online business. Our best practices partner will with our step-by-step recommendations so that your online business can find success throughout the year.
We hope that you enjoyed our free holiday posts as well. If you used any of the free holiday social media post ideas from this article, you don't have to credit us. But we do ask that you, please follow us on social media for more business tips.
Enjoy your upcoming holiday.
Acumen Connections is a locally owned and operated payment processor in Wichita, Kansas. Our organization seeks to help small businesses meet their goals with real solutions designed by real hardworking people. To help businesses and individuals achieve personal and professional successes, we're providing new content weekly. Stay up on our posts by visiting the Acumen Connections Facebook, Instagram or Twitter pages, and visit the blog for a full catalog of resources fit for hardworking people.
Acumen Connections