7 interview tips for interviewers  
Interviews are arguably the most important element in the hiring process. Learning how to conduct an interview is not a skill that comes naturally to most professionals. That's why we're here to help.
A successful interview can lead to a key hire, while an unsuccessful one can result in the job remaining unfilled. Just as the saying goes, "It takes two to tango", completing a successful interview is just as much on the interviewer as it is the interviewee. The processes businesses put in place to conduct interviews can ultimately determine the quality of new employees. How businesses conduct them can determine the quality of new hires.
If you're looking to hire, it is necessary to go through a few interviewing best practices. After all, you want to recruit the top candidate for a position in your company. Having picked a handful of resumes from the pool of applicants, your next step is to invite them for interviews. In this piece, we shall discuss in-person as well as virtual interviews.
As candidates compete against each other to secure a great job opportunity, businesses compete amongst themselves to acquire top talent. Every employer wants to hire the right fit and retain them.

Hiring and training new employees are two processes that exhaust a lot of time and resources. High turnover resulting in low employee retention can be a common problem for businesses, however, by making a few slight changes, they can dramatically improve their ability to identify and capture top talent and weed out the rest.
The following are a few interview tips for interviewers. We believe these will help elevate the experience for you and your candidates:
How to start an interview as an interviewer
We get it. Starting out on the right foot can be challenging. There is a reason most applications are thrown out at the first email.

You want to make a good impression. But interviews are already stressful to begin with for most people. Learning how to start an interview is an important skill to have. It helps make the entire interviewing process easier. Let's begin with the following steps:
Make introductions:  
This might be the first time you're meeting a candidate face-to-face or virtually. You might have corresponded over email in the past or might have even conducted a phone interview. It is wise to start by introducing yourself and anyone else from the company that is present. People like to put a face to the name. Try to put the candidate at ease by remaining courteous and channeling a comfortable environment. First impressions work both ways. How you present yourself is a representation of the company to the candidate.
We asked Jason Largent (Director of Operations at Net Pay Advance Inc.) how he keeps the tone comfortable in an interview.
He replied,
"I start off by doing a lot of talking about who we are, what we do, and what our values are.  I find that the initial nervousness declines with a little time before jumping into asking questions of the candidate. This also gives me time to evaluate non-verbal cues like listening skills. It's different with higher level positions, but the majority of the interviewing happens at the entry level. I then begin with open ended questions that allow the candidate to communicate without worrying about answers that may be right or wrong. One opening I use a lot is – Tell me about your work background and what you are looking for in a new position. It may be a little generic, but I expect them to be prepared for it and as such it adds to their comfort level."
Briefly describe the role:
Talk about what the job entails. Try to be more detailed than the job posting. List out the tasks expected of someone in the role. Be clear on the responsibilities and working conditions. This is when a candidate can gauge if it is the job for them. You could mention other aspects of the job like your work from home policy, flexibility, growth opportunities, and benefits.
Conducting the interview as an interviewer
This is when the movie starts after the trailers. Some may even describe it as the crux of the interview. You have opened the floor and set the stage for the candidate. Now it is their time to shine. Below are the steps to follow in this section of an interview.
Ask questions:
Start out by asking general questions to get to know the applicant. What prompted them to apply, what they're looking for in a job, their goals etc. Their responses might give you an idea of how they would fit in the role. We recommend using our reference guide for interview questions. It will give you a good idea of what type of teammate the candidate is. As an interviewer, this is your chance to learn more about this candidate's work experience and interests. You'll want to consider if they are a good fit for the role, and the company work environment.
We consulted with Jason Largent and asked him how he determines if a candidate is a good fit for the company.
He responded,
"I have specific things that I look for in their answers and behaviors that relate to coachability. I am looking more for attitude and aptitude than anything else. I try to get to the heart of how things ended with other companies as a measure of coachability. Was it a matter of the role or was it more of a personality conflict with co-workers or managers? I also like to know a few things about them personally, what they value, how they unwind, what hobbies they enjoy, etc. What a person does with their free time will tell me a lot. If they have very little to offer it's likely that they aren't managing their free time all that well. That will likely result in difficulties at work."
Keep in mind that it's always possible to train someone new skills. Picking a person with the right attitude is key!
We asked Jason what are the attributes or dialogue that allude coachability.
He answered,
"One thing I really like to hear is that a candidate loves to learn new things. I will not ask that question; they must volunteer it. If they can speak to that with some specifics, I will nearly always hire them. What books are you reading? What skill sets have you added recently? Are you a perpetual learner and keeping your learning skills fresh? Tell me about what you learned that helped you grow in a former position. That tells me you're driven and open to development."
As an interviewer, you are expected to ask questions. But there are interview questions you need to avoid asking. Some of them are deemed illegal and could land you in legal trouble while others are just invasive and unnecessary. We've listed a few questions interviewers need to avoid.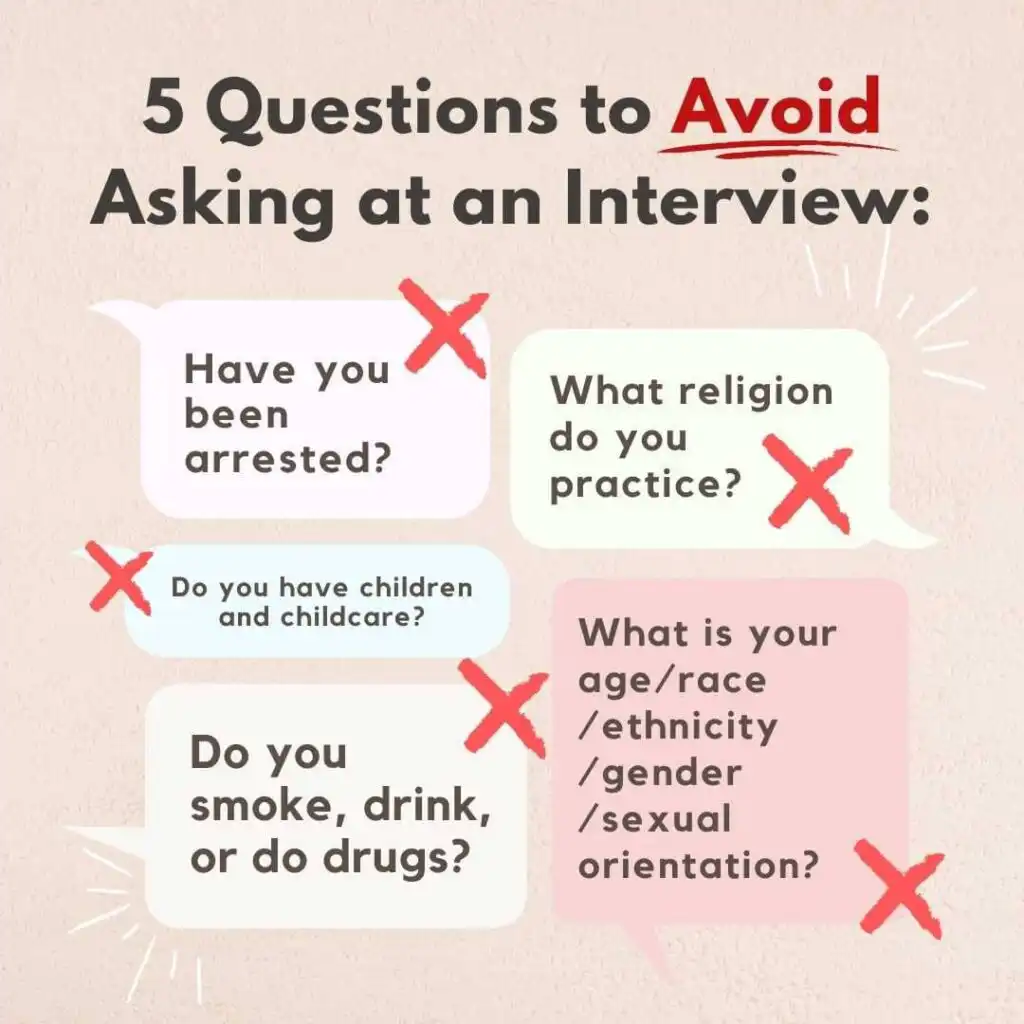 Most interviewers check applicant's personal social media accounts. Depending on how it's conducted, this process can cause issues. Viewing a person's social media may provide you with a lot of this very personal information that you would not otherwise know when interviewing. Sometimes this personal information may sway a recruiter's opinion of a candidate. It's good to ensure a potential candidate is behaving responsibly online. But what if they post something about their marital status, or veteran status? What if they post a political or religious belief different than your own? Ethnocentrism (comparing someone's culture or beliefs using your own as the standard of reference) needs to be avoided at all costs. You do not want to be biased. The goal is to hire the right candidate and steer clear of possible discrimination lawsuits.

Here's how to conduct a compliant social media screen.
Review candidate's resume:
You might have gone through the candidate's resume while weeding out the ones you didn't consider for an interview.  But it is wise to go over it during the interview as well. Use their resume as a reference as you ask specific questions about their education, previous jobs, internships, and volunteering experience. You could ask them to elaborate on the responsibilities they undertook in previous roles. Ask about the skills they have used before that would come in, were you to hire them. Discuss past accomplishments and challenges that they've encountered in their professional lives.
Keep in mind that sometimes life happens. In reading a resume, you may see unusual work experience, or even a gap in employment. If a candidate's work history suggests job-hopping, give them the opportunity to explain. A lot of professionals have been left with gaps in their employment due to the pandemic. There could be genuine reasons like relocating, starting a family, illnesses etc. that contribute to frequent job switching. Ask them questions or give them space to talk about these occurrences. Do not jump to conclusions.
Assess expectations:
Sometimes, candidates will flat-out inform you if there's something they don't want to do in a job. When interviewing for an office manager position, a candidate might tell you that they don't like to answer phone calls. This is something to consider as you might need them to perform front-desk duties in case your receptionist is unavailable. If the candidate is expecting a fully remote work policy, you might want to disclose your company only allows hybrid work. There are some applicants that will provide you with a salary expectation that might be beyond your budget.
Try to ascertain if a candidate still seems as eager as when they entered the room. Does the job still excite them? Are they still interested in performing the duties? Do they seem enthusiastic about learning new skills? It is important for their expectations to be on the same page as what the job requires and offers. Part of being an interviewer is being able to read the non-verbal cues.
Disinterest can be easily seen in one's body language. You will sense hesitation or reluctance in the tone of their voice if they're not interested or lacking experience Many applicants lie on their resume somewhere. Rather than assuming they have all the qualifications, ask them for more details on specific past roles and responsibilities.

Enthusiastic candidates will ask questions and volunteer information that aims to project them in a favorable light. They will drop phrases like "I would really enjoy performing the XYZ task you mentioned." or "I would be thrilled to attend the in-office yoga classes you talked about earlier."
Offer the opportunity for the interviewee to ask questions:
This is probably one of our best interview tips on this list. Well-prepared candidates usually have questions for the interviewer. They are trying to decide if your company and the position is the right fit for them. Make sure you give them the space to ask questions. Then answer any questions thrown at you to the best of your knowledge. A candidate's questions indicate their level of preparedness and interest. In addition, it also puts the interviewer's preparedness to the test.
Be ready to answer these questions during your next interview with a candidate. These are the most common questions candidates ask during interviews.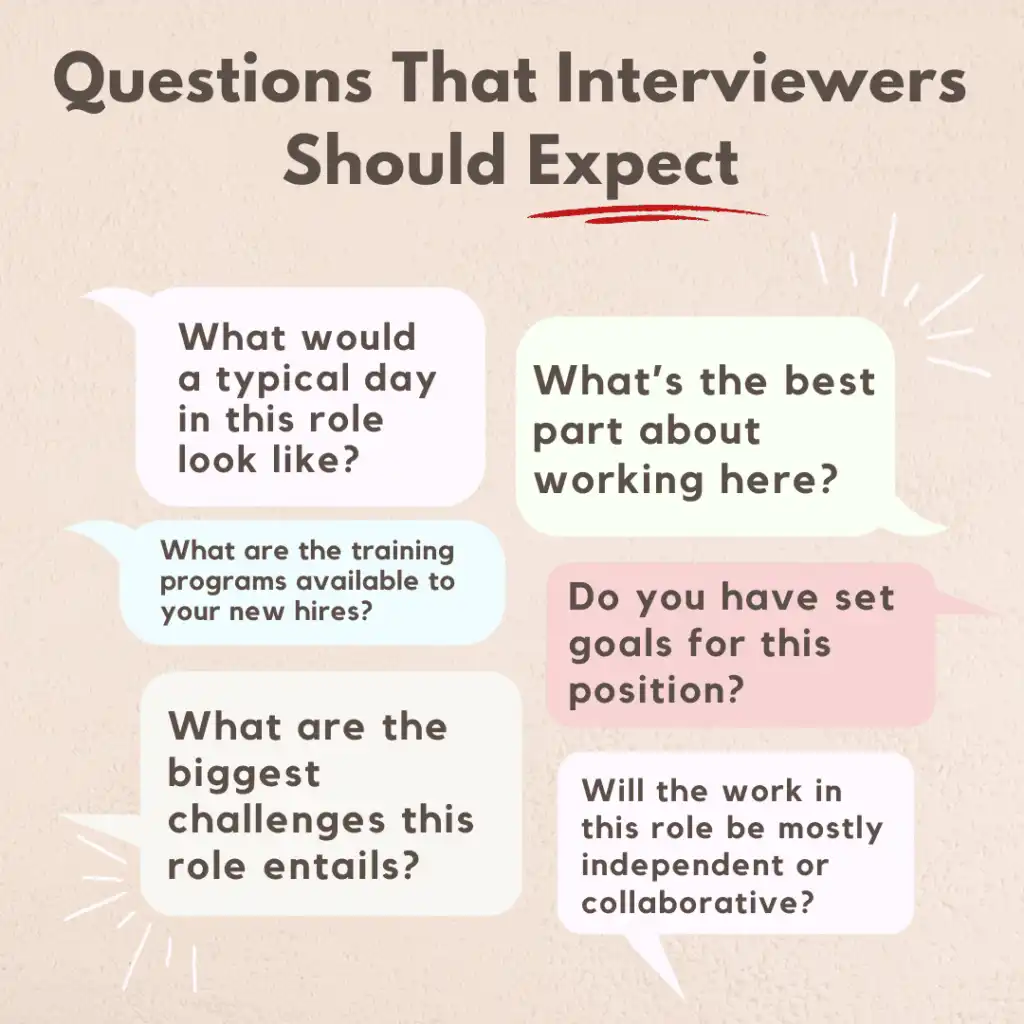 How to end an interview as an interviewer
Nothing's more awkward than an interview coming to a sharp ending. Here's how to comfortably bring the interview to a close, without forgetting any important information you or the candidate might need. Finish strong with the following steps:
Tie-up loose ends:
This is your chance to sum up what was discussed in the interview. Answer any additional questions they might have. Share your final thoughts and appreciate getting to meet the applicant. It is essential to end the interview on a good note. Even if you do not picture them as your ideal fit, you can never rule out a suitable candidate until the very end.

Provide information on the next steps:
Also known as the final wrap, this is when you inform a candidate when they can expect to hear from you. A timeline would be beneficial for both you and the applicant. Let them know if you'd be calling them or sending an email to share your decision. If there's one or more rounds of interviews, make sure the candidate is aware of it.
Most importantly, follow up, even if you don't plan to hire them. No one likes waiting around for a call. It's never fun calling to tell people that another person was selected for the job. But it's important to have that talk with them so they stay informed and have closure.
Who knows? Maybe one day you two will work together.
Interviewing can be scary for the interviewer too!
The above interviewer tips are simple guidelines that would work for most professional job interviews. We hope you find them helpful. Interviewing can be daunting for candidates and interviewers alike. They're trying to land their next big opportunity as you're trying to land your new star employee. There are wants and needs on both sides. Are you able to provide the tools and the environment for an employee to thrive? Does an applicant seem like they would fit right in with your work culture?
As an employer, you want to avoid turnover and retain your best employees. The first step is to hire the right applicants. You want people who have a strong work ethic and can perform what is asked of them. You also want them to be a positive addition to your team. Some personalities can be trickier than others but in a professional setting, do you think an applicant will carry themselves as such? These are questions you'll have to mull over either in solitude or with the input and feedback of other people in your company.
A specific trick that Jason swears by is:
I like to ask a candidate what they would do if they were able to do anything they wanted to do professionally, with no restrictions.  I like to remove obstacles like the cost of education or the time it would take to become whatever they wanted.  I want to know if they possess a creative mind and maintain an optimistic view of the world.  You'll find some very interesting answers but I'm still waiting for a person to reply with astronaut, my personal favorite. 
Businesses across the country are hiring, but failing to find the right applicant. This means that you have fierce competition as every business wants to hire the best people. Onboarding and training new employees can be expensive. That's why you need to be extra cautious when hiring someone. Our resources are meant to provide information to small businesses. We aim to create a learning platform where business owners can discover new ways to improve processes. Let's combine forces, shall we?
Acumen Connections is a locally owned and operated payment processor in Wichita, Kansas. Our organization seeks to help small businesses meet their goals with real solutions designed by real hardworking people. To help businesses and individuals achieve personal and professional successes, we're providing new content weekly. Stay up on our posts by visiting the Acumen Connections Facebook, Instagram or Twitter pages, and visit the blog for a full catalog of resources fit for hardworking people.