How to Boost 4th of July Sales at Your Store
People love sales and you love good business. We have 4th of July ad and marketing ideas to help you be the awesome business owner you are.
The year is halfway over, and summer is in all its glory. As June comes to an end, you know that 4th of July is just around the corner. In fact, one realizes it way sooner. Thanks to the red, white, and blue merchandise and decor at most stores.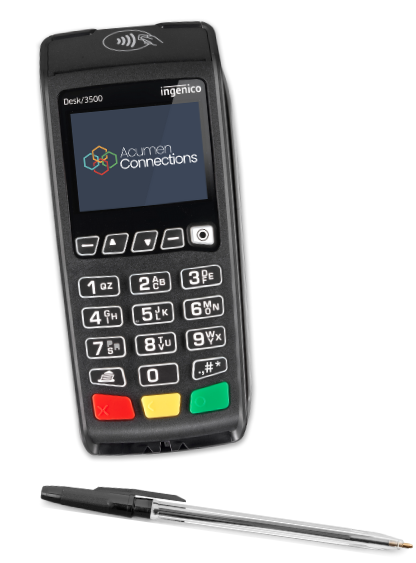 Level up your payment game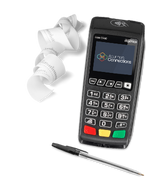 Take payments with confidence. Make our YouTube channel your go-to for all things payment processing.

For business owners like you, holiday seasons are the highlights of the year. The American consumer is conditioned to shop at sales. And holiday sales are the absolute pinnacle! You can play this to your advantage by employing a few effective methods. These are simple and do-able tactics that you can use for your store. You don't necessarily have to work with a big budget. In fact, we have 9 affordable advertising strategies for you. These help keep the costs to a minimum. Preparing your store for any holiday sale is a huge task. At Acumen Connections, we're dedicated towards helping businesses perform their best. We've curated a list of effective strategies for this holiday season.
We encourage small businesses to use our checklist below.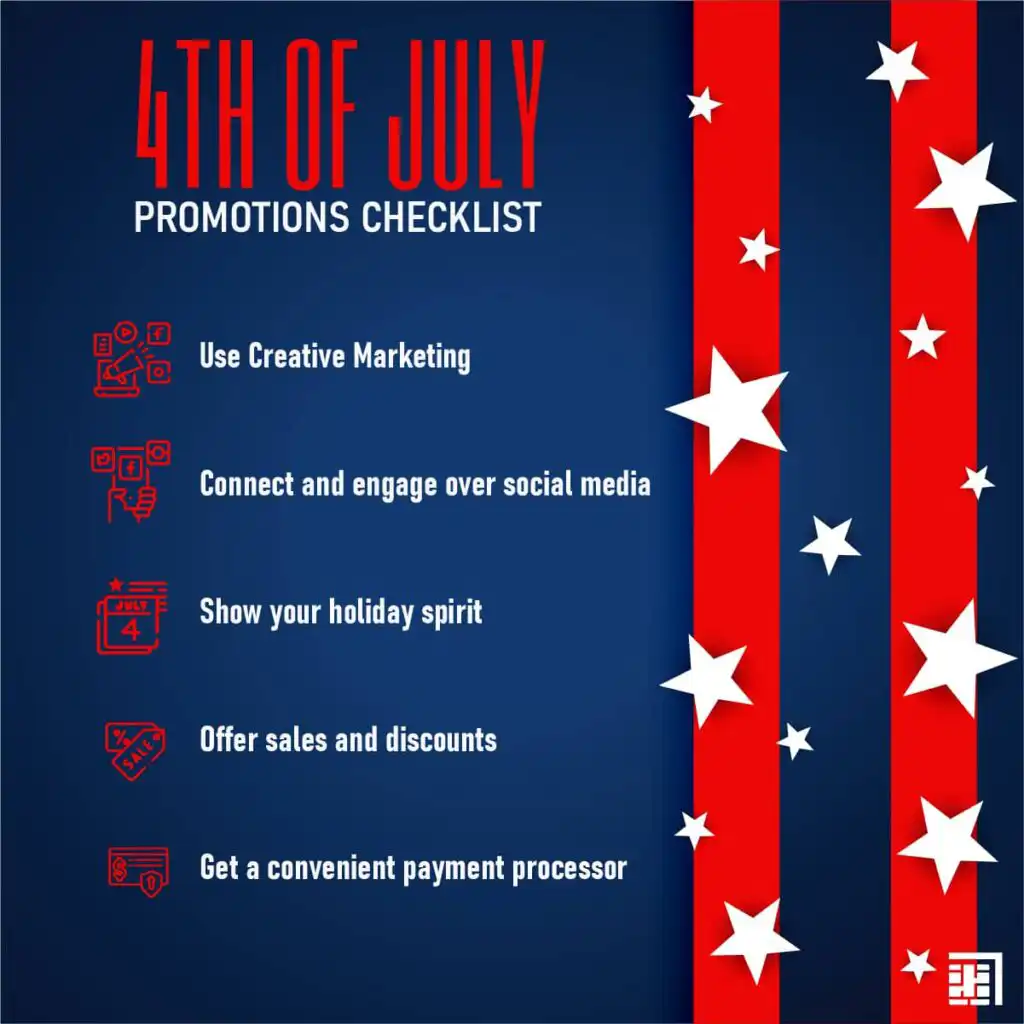 These insightful pointers and 4th of July marketing ideas can help you get ready for a weekend sale. They're as follows:
1. Creative Marketing works!
As you already know, marketing is what connects your customer base with your product or service. With competitors everywhere, it only makes sense to get more creative with your marketing efforts. This is true for both digital and traditional marketing. Design posters and flyers promoting your 4th of July sale. Start by writing a few catchy and relatable slogans.
Creative marketing helps you get noticed. If creativity is not your forte, it could be worthwhile to hire a contract-based freelancer. Find yourself a talented content developer to create graphics and design your marketing materials. Fiverr is a great place to find freelancers and their services are as low as $5!
If you keep an email list of your customers, consider sending them an email blast. 4th of July emails will keep them informed and aware of your upcoming sale.
To show our appreciation towards local businesses, we have created FREE 4th of July ad templates for your business. Keep reading for more information.
2. Social Media and beyond
There's no platform more powerful than social media when it comes to digital promotions. Most of your customers and prospects are active on Facebook, Twitter, Instagram etc. Creating 4th of July ads on these platforms will help reach a larger audience.
We understand that you're busy running a business with little time to spare. Tasking an employee with your social media needs is one solution. Or you could hire a social media contractor. To attract customers, you need to build a social media presence and share content. Try to connect with them during the days leading up to the sale.
The next step is to create social media engagement. Effective communication is a two-way street. Listen to what your customers are saying about your products and services on social media. Try to engage with them though your posts. For instance, you could organize social media contests and ask them to use hashtags that relate to your business.
3. Smells like holiday spirit!
4th of July is a patriotic holiday as we celebrate our independence. Decorating your store in flag colors and dressing up in patriotic gear are excellent ideas. So is selling patriotic products like fireworks, bottle-rockets, flags, and apparel with flag print. You could highlight the "Made in America" items in your store to increase sales. This encourages people to buy more. We all want to support our domestic businesses. If you have an online store or a website, consider using patriotic images and graphics.
4. Sales and discounts galore
People expect to save money when they shop sales. Your 4th of July promotions should aim to give customers an incentive to shop at your store. Offer discounts on your products and offer coupons with every purchase. To honor those that served and still do, offer military discounts for the active and the retired. We realize that you might already have a military discount in place. Our suggestion is an additional discount only for the 4th of July weekend. After all, these are the selfless men and women that ensure we remain the land of the free and the home of the brave.
5. Convenient payment processing
There are few things as irritating as having a payment processor that doesn't do its job well. As a business owner, you are responsible for the smooth running of your business and customer experience. At the end of a shopping spree, we all want a hassle-free and speedy checkout. It is all part of the experience, and you want to retain your customers. Acumen Connections has credit card terminals. We carry countertop terminals, mobile readers, and more. The traditional terminals are the ones placed on the countertop at checkout. If you want to avoid long lines at the checkout lane, consider investing in a few mobile readers. These can be moved around the store so that customers can pay anywhere. Easy and fast checkout is all part of a great shopping process.
Our gift to you: A free 4th of July ad template
Businesses are not built just on sales and profits. They're built on trust, hard work, customer loyalty, and community. And we are always finding ways to improve how we do business. Acumen Connections is all about empowering small businesses. As mentioned earlier, we have created FREE 4th of July ads for small businesses: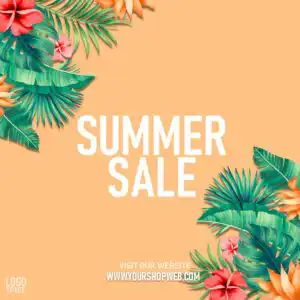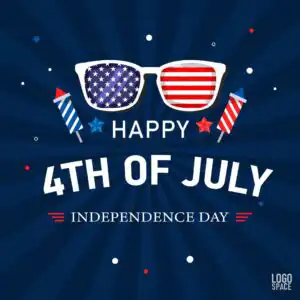 Click them to download. Customize them to reflect your store and business. Add your business name or logo to make it yours. Share them on your website, social media, or even as direct mail!
We wish you a super successful 4th of July sale!
Acumen Connections is a locally owned and operated payment processor in Wichita, Kansas. Our organization seeks to help small businesses meet their goals with real solutions designed by real hardworking people. To help businesses and individuals achieve personal and professional successes, we're providing new content weekly. Stay up on our posts by visiting the Acumen Connections Facebook, Instagram or Twitter pages, and visit the blog for a full catalog of resources fit for hardworking people.
Anna Reeve, MBA