Newsletters Every Entrepreneur & Business Owner Should Subscribe To
When information is served on a silver platter, you hit subscribe and say, "Thank you!". Explore our list of business newsletters to realize your true business potential.
The best way to stay relevant in business is by staying updated on industry news and topics. As an entrepreneur, you're always figuring out new ways to cut costs and boost productivity. You want to increase sales and profits, reduce error and losses, improve ratings etc. In addition to these quantifiable areas, you're also dealing with people. Your employees and customers are real people with emotions and have lives outside of work. Communication and a positive work culture helps reduce turnover. Excellent customer service builds loyalty and brings in referrals.
Running a business comes with a million intricacies. Luckily, there is an abundance of information available on the internet. But as someone that has a lot on their plate, you don't have a lot of spare time. Our goal is to save you from spending hours going down the rabbit hole known as the internet. We dove in head-first and compiled a list of the best business newsletters. None of these cost a fortune. But they bring you information that might save you from making expensive mistakes.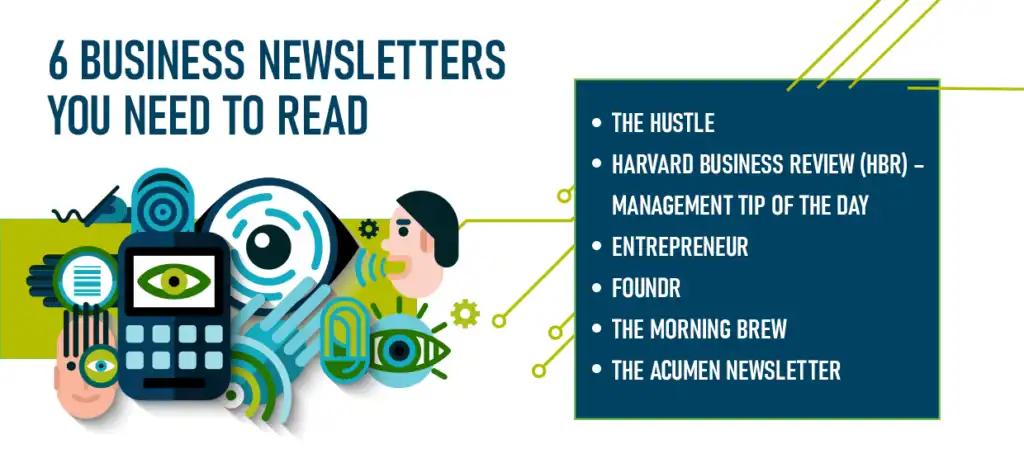 We did the groundwork for you. You're welcome! And we picked the 6 best business newsletters that entrepreneurs and business owners should subscribe to. Without further ado, let's explore our list:
The Hustle 
With over a million subscribers, The Hustle is among our top picks of business newsletters. It is catered towards new and aspiring entrepreneurs. The Hustle aids in making business decisions while keeping risks low. Business insights served with a side of entertainment sounds awesome. Doesn't it? But that is exactly what The Hustle does.
Harvard Business Review – Management Tip of the Day
This weekday newsletter is more than your daily dose of motivation. It offers ideas and insights on strategy and leadership from experts across the world. These are practical tips you can implement in your life and at work to create a winning culture. This newsletter touches on almost every facet of a business owner or manager's work life. Be it managing your workforce or getting tasks done efficiently. It not only helps you be better at your job, but it enables you to be a better leader for your team. Sign-up to receive business tips delivered to your inbox.
Entrepreneur
This newsletter is the perfect balance of inspiration and latest industry news. It brings you tips and ideas from successful business professionals across the world. You are exposed to a plethora of ideas for strategy, marketing, business structure, and more. Their success stories aim to motivate while the newest industry updates keep you informed on various topics. If your aim is to get your start-up started or to do better as a business, the Entrepreneur does not disappoint.
Foundr
When you subscribe to Foundr, you join a community of entrepreneurs from all over the world. You gain knowledge and insight that could turn your business into a total game-changer. It has featured hundreds of remarkable entrepreneurs spanning across several industries. Foundr features exclusive interviews you simply don't want to miss. Additionally, you get special offers on their training programs. If you're looking to improve your prowess, Foundr is a weekly business newsletter you must subscribe to. It is packed with new takes and ideas to foster growth and build a successful business.
The Morning Brew – 2.5 million subscribers
A great way to start your day, The Morning Brew is a free daily newsletter with 2.5 million subscribers. It gives the reader an overview of business and finance with a slight dose of humor. This in turn, enhances and adds to the content while preventing it from becoming monotonous and boring. For busy entrepreneurs and business owners like you, this newsletter is an efficient way to stay on top of things. The Morning Brew is known to be concise as they bank on relevance and getting to the point over fluff.
Acumen Newsletter
Wrapping up our list is this little gem of a small business newsletter. A true star in the making, this newsletter strives to present the latest business information to their subscribers. It addresses topics like building professional skills, networking, marketing & sales tips, consumer behavior, trends etc. For small businesses, this is a must-subscribe business newsletter. You will be exposed to ideas that could lead to building better business strategy. As a small business owner or entrepreneur, you need to stay informed on what's going on in your industry. Time is valuable. Subscribing to the Acumen newsletter will save you both time and trouble.
Acumen Connections customers are privy to more information and free resources. Newsletter subscribers get access to the best content and resources. You don't want to miss any of it.
We hope this list serves its intended purpose. Our aim was to provide you with a concise list of business newsletters. Successful businesses are products of time, effort, capital, dedication, and good old hard work. After putting in so much into a business, you want to get the best return on investment. This is where newsletters come to play. They constantly share new tricks to improve various business functions. Their tips also help you manage your team in a way that benefits everyone.
Keeping up with the trends in business is an absolute must if you're running a business or hope to launch one. You need to be aware and stay current on the shifts and changes in all aspects of your industry. Newsletters in their true essence are periodic updates and information. They seek to create awareness, introduce fresh ideas, and offer business tips. Often, they share experiences of notable business titans. The best newsletters inspire and motivate you to push boundaries and to exceed expectations.
Acumen Connections is a locally owned and operated payment processor in Wichita, Kansas. Our organization seeks to help small businesses meet their goals with real solutions designed by real hardworking people. To help businesses and individuals achieve personal and professional successes, we're providing new content weekly. Stay up on our posts by visiting the Acumen Connections Facebook, Instagram or Twitter pages, and visit the blog for a full catalog of resources fit for hardworking people.