Keep your team motivated and engaged with our list of fun activities for team building
It is one thing to find and attract employees. Retaining them takes real work. We have a few fun activities for team building that will help bring your staff together through a myriad of activities to foster a sense of belonging. Let's get started!

If you own or manage a business, you know how difficult it can be to find the right employees. You want people that work hard and consistently try to improve. Just when you think you've hit the jackpot with an employee or two, they hand in their notice. This could be due to various reasons but often it's because they found a better opportunity.
Losing valuable employees to a competitor can be a nightmare. Along with offering your employees good pay and benefits, there are other areas you can focus on to help retain them. Retaining your best employees is extremely important for your business. Think of all the money, time, and resources you can save when you don't have to interview, hire, and train their replacements.
Activities for team building provide multiple opportunities for companies. Team events help retain employees. They also enhance productivity and lower stress in the workplace. They boost employee morale, promote effective communication, and encourage collaboration.
At Acumen Connections, we are continuously seeking ways and means to unite our employees. Over the years we have tried and tested a few activities that were an absolute hit with the staff. We decided to collect our take on fun team bonding ideas to help businesses like yours.
We asked our team to share their ideas regarding fun activities for team building. We're confident this list will help bring your staff together through a myriad of activities to foster a sense of belonging.
10 Fun Activities for Team Building
Need help choosing an activity for team building now? Spin our wheel!
1. Trivia
One of the most easily executed ideas is to hold a trivia contest. You could create an online trivia game and send your employees a link to the questions. It could be questions spanning categories. Or, it could be riddles you want people to solve. Teams would be required to answer within a time frame. The winner(s) would be awarded a prize.
You could even randomly divide employees into groups. When you put people from different departments in the same team, it helps them get to know one another. They also get to show off their skills and build interpersonal relationships.
2. Scavenger hunt
Few things are as exciting as the thrill of uncovering clues and looking for hidden treasure. This activity can be planned and arranged in your office with one person in charge of it all. The rest get to participate in this fun and anticipation-filled activity. Your team is sure to talk about this team building activity for ages.
3. Sports and games
Cornhole, darts, ladder balls, board games, you name it! Organize a games championship in your office breakroom or parking lot. It will bring out the team spirit and competitiveness in your employees. This does take some planning and preparation. However, it is all worth it when you see how it encourages your staff to do better and create new friendships.
Another fun way to incorporate games and sports would be for managers to take their teams out bowling, mini golfing, or to an arcade.
If athletic events aren't your team's idea of fun, consider other games. You could hold a board game or video game championship instead.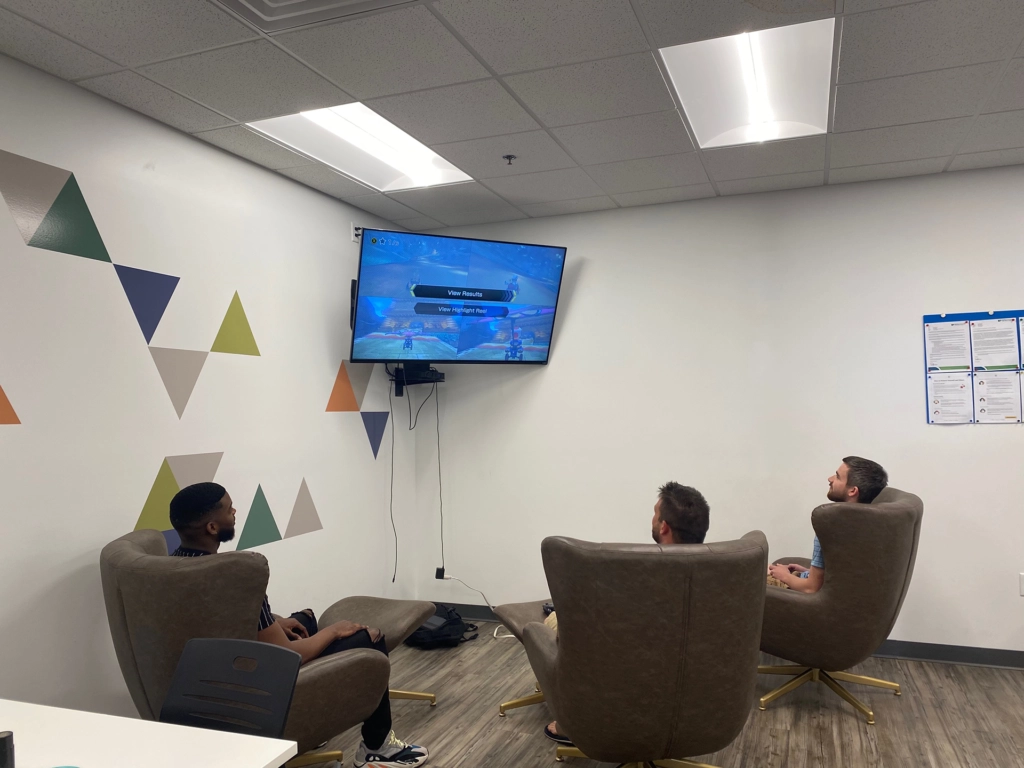 Amber from Operations tells us, "Something we did at a Christmas party a few years ago was a bingo game. The blocks on the bingo board were filled with random facts about employees. We had to go around and ask everyone what their 'secret' was to fill in the square. I loved that one!"
She also adds that health–based challenges are some of her favorites. She suggests activities for team building like The Biggest Loser challenge or DietBet. They're excellent ways to incentivize employees to get healthy.
Jamie, our Change Control Manager, shares her favorite contest, "We did a contest where everyone brought in a baby picture. You had to guess who each person was."
4. Anything to do with food or beverages
Company-sponsored lunches or potlucks both have the ability to delight.
Food often brings people together. One gets to know their coworkers on a deeper level when they're at a barbeque or sharing pie with each other.
"We [once] did a pie-eating contest. We just put Jell-o in the pie tins. It was hilarious!" shares Jamie.
Providing food is always a great option. But letting your teammates show off their culinary talents is another option. You can incorporate food in your team bonding activities by organizing themed potlucks and contests.
Amy from Operations shares, "For Breast Cancer Awareness Week, we were encouraged to bring pink food for a potluck. We also had a contest for Halloween [where] everyone brought scary food. Those were fun and delicious!"
Alternatively, managers could periodically take their teams out for lunch or drinks. Weekly or monthly Happy Hour at a local bar or restaurant is a fun thing to do. If your budget allows it, consider handing out vouchers for appetizers and drinks with a limit, of course. This helps employees take the edge off after a long week at work. In addition, you might be able to score discounts at your local bar!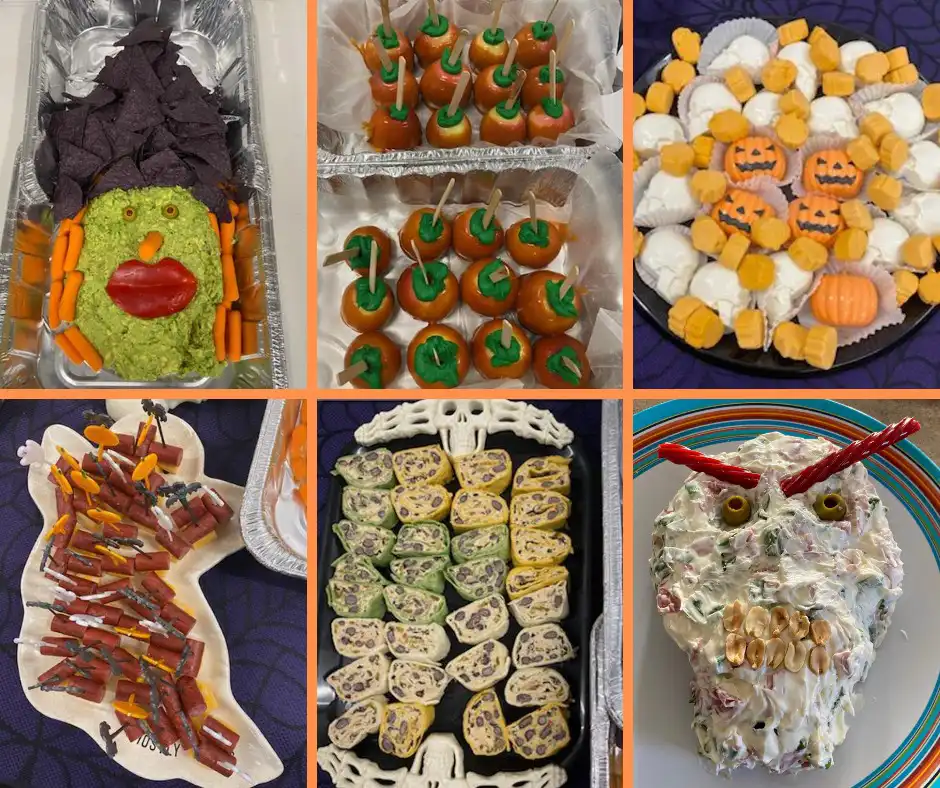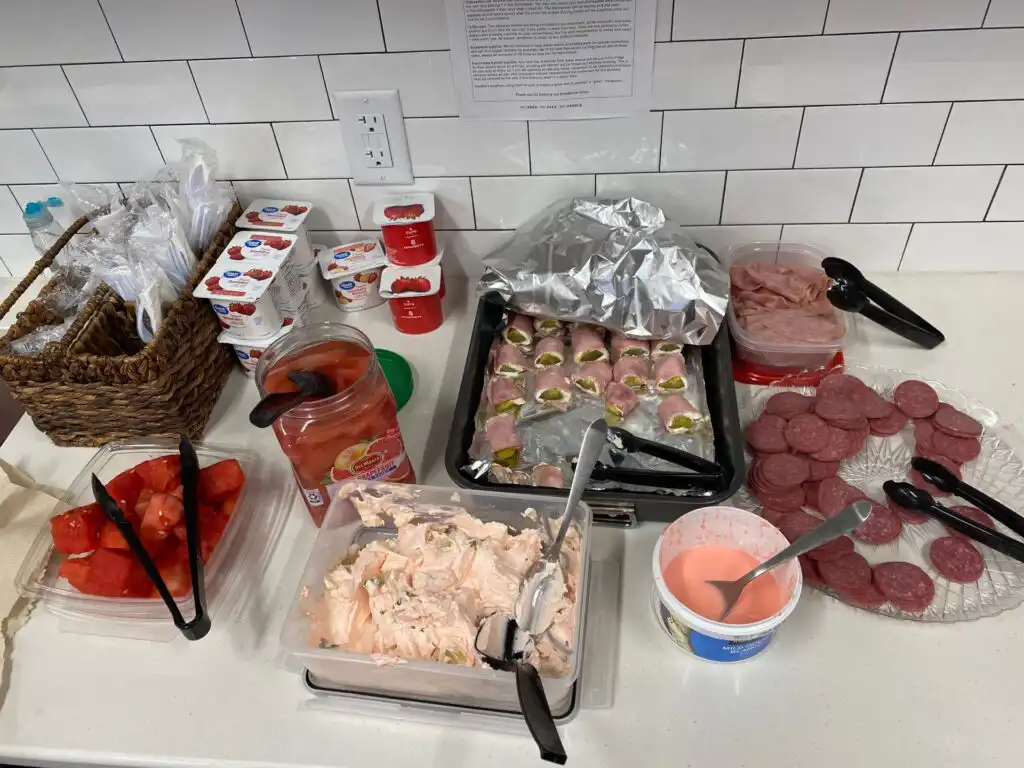 5. Get creative around the holidays
For a lot of people, holidays are something they eagerly look forward to every year. Incorporate festivities in the workplace and get into the holiday spirit! Halloween costume contests are a fun way to encourage friendly competition. Ugly sweater contests can draw out creativity. Encourage staff to decorate their cubicles or offices for the holidays and pick a winner. Contests like Christmas ornament decorating, or Halloween pumpkin carving offer a platform to the craft enthusiasts. Many can't wait to show off their skills.
"During the holidays we do a Secret Santa gift exchange, which is always a fun time to get to know your colleagues in a way that you normally might not." says Kelsey from Customer Service.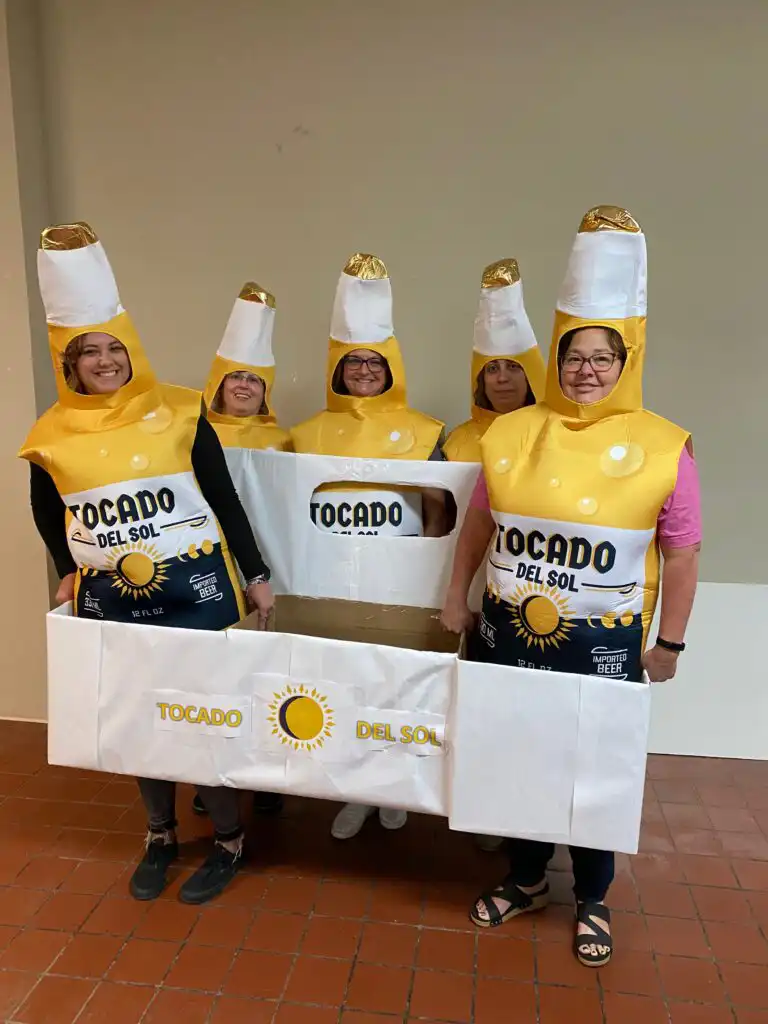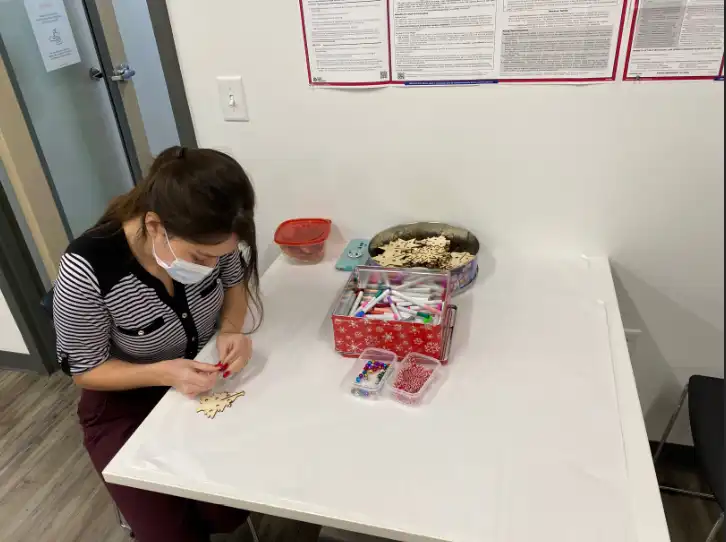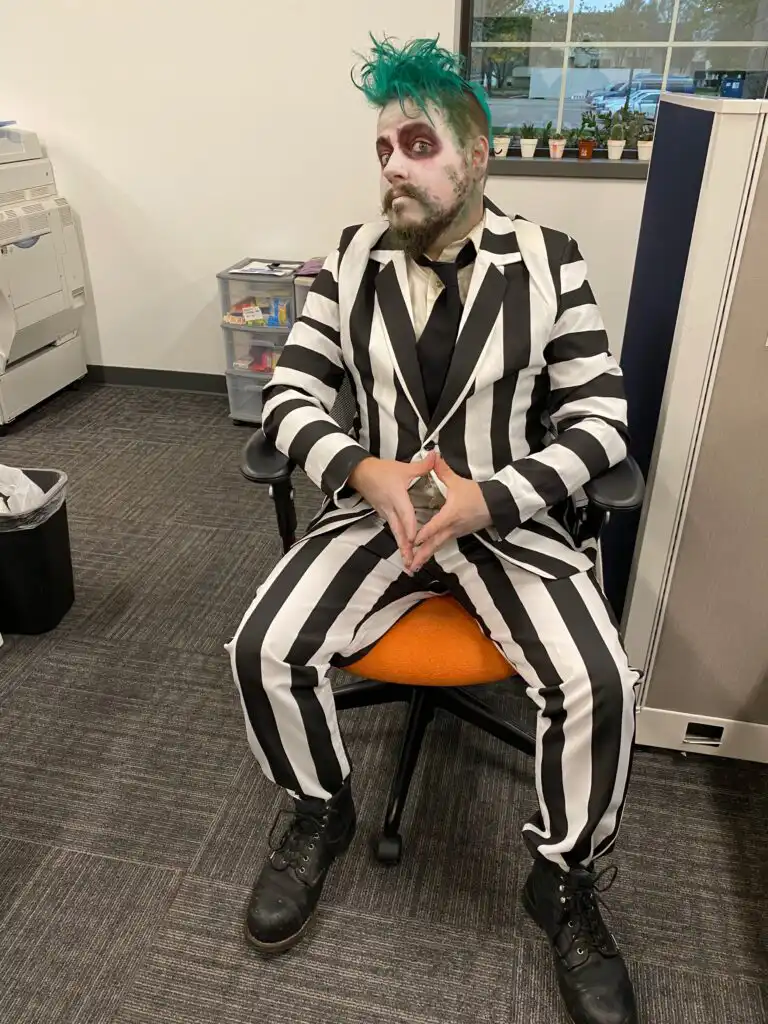 6. Annual summits and retreats
These could be a day-long event or could take several days. Depending on the type of organization and available funds, there are possibilities to explore. It could be a spa trip and dinner after a day of intense activities for team building. You could add games, entertainment, and food to a day of brainstorming ways to improve work culture. Or it could be a day of exploring local sights, taking group pictures, and devouring lunch. Some employers plan and arrange for their staff to attend local concerts.
7. Escape room
This is an absolute must-do! Escape rooms are one of the best-known group activities. They challenge people and require them to work as a team. Some people thrive under pressure. This can be witnessed as they fiercely unlock doors and solve clues to get closer to the win. They are a fun way to unite a team of people as they all seek to "escape" from the room in time.
8. Murder mystery
For crime-buffs and mystery maniacs, this is pure heaven! Plenty of people are true crime fans or just love sinister stories. They're some of the morbid fascinations of the human mind. A murder mystery event allows them to channel their inner Sherlock as they piece clues together to see the bigger picture. Just like Escape Rooms, murder mysteries come with challenging twists and turns. These obstacles encourage friendly competition and bonding among coworkers.
9. Competitions and other affordable activities for team bonding
We understand that some of these ideas may require significant investment. That's why we have something for organizations working with a modest budget. Hold events like talent shows when participants get to show off their skills. The winner walks away with bragging rights, social media recognition, and perhaps a $10 gift card to a local business. Create a book club for the bibliophiles that walk amongst you. In-office movies and popcorn could be a fun team bonding activity on a budget.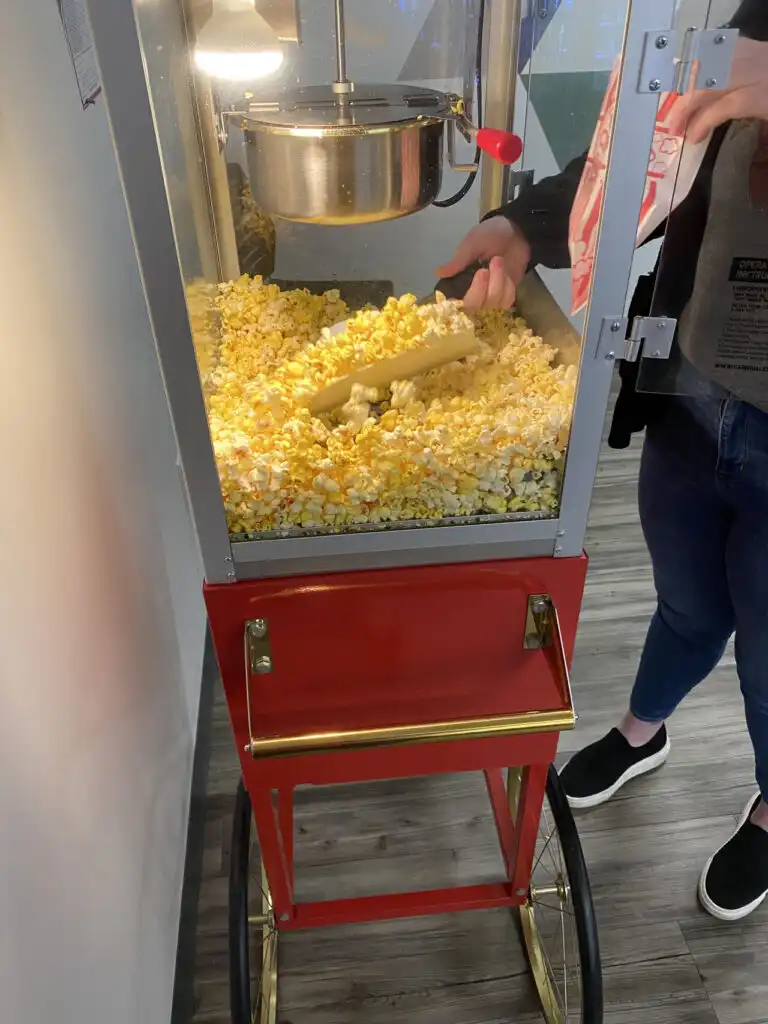 Renee from Marketing shares, how she's seen smaller organizations save up money for staff events.
"A swear jar or other change jar can be used to encourage a specific company environment. Or money can be earned by reaching certain goals. Maybe, the employee of the month gets their department an extra $50. Or if the team meets all their goals that month, $100 is added to the staff devo jar. It's a small recurring incentive that helps employees directly correlate good work with extra money for team building activities."
10. Volunteering opportunities
You'd be surprised how many people take social responsibility seriously. Encourage your employees to support a cause of their choice. Offer them a few extra hours of PTO every month strictly for volunteering. Not only does it help give back to the community, but it also helps your employees see you in a positive light. Encourage teammates to go to volunteer events together.
Try to co-sponsor community events or participate in them. These are perfect opportunities to advertise your business and hand out cool merch and swag. Being involved with the community helps build recognition and trust.
Conclusion
No organization is perfect. There is always room for improvement. If you're trying to make things better for your employees, you can be confident that you're headed in the right direction.
As an employer, you are responsible for the well-being of your employees. We hope our list of fun activities for team building will help improve your work environment and benefit your employees. Remember to have fun!
Anna Reeve, MBA