Looking for ideas for your next business venture? Keep reading!
Starting a business can be exciting yet intimidating at the same time. If you have the passion to build and grow something of your own, you need to have an idea and a game plan. The first step for starting any business is coming up with a winning idea and that's why we decided to bring you the best business ideas for women 2022. Plus, we interviewed two women entrepreneurs for first-hand accounts of the ins and outs of their experience running a business.
Along with providing business solutions, we aim to offer valuable insight to budding entrepreneurs like you. In this article you can expect to see:
How to start a business
List of business ideas for women
First-hand experiences of running a business as a woman
Women-owned and operated businesses account for 42% of all small businesses in the United States. If you want to join the league of female entrepreneurs, you'll need to find your niche and identify your strengths.
Any business needs to fulfil a need or serve a purpose. That's how businesses continue to exist. They provide products and services to customers who have a need for them. For instance, plenty of households struggle with keeping their homes tidy and that's where professional cleaning services come to their rescue. Similarly, people often need alterations for their outfits and that's how someone can utilize their sewing skills to start a tailoring business.
One might argue that gender does not factor in when considering a business idea and that could be true for a lot of people. Women can work in construction or with heavy machinery if they want to do so. Our list of business ideas for women includes ideas that are seen as more female-friendly although all genders can successfully execute them. We hope to encourage more people to consider entrepreneurship and expose them to a variety of business ideas for women.
In case you already have an idea for a business, we would encourage you to still take a look at our list. Often, we tend to miss or overlook great ideas by being fixated on something very specific. It is important to have an open mind when exploring business ideas for women.
Starting a business
Even if you know what you want to do, the next step is to formulate a business plan.
Do you know how much investment your new venture will require? If not, you'll need to investigate avenues to calculate your initial start-up cost. Is your business going to be online or would you have a physical location? Where would the production occur? Do you have a work site or building ready?
These are the tough questions you need to consider before moving forward. Always remember that having an excellent product or service isn't enough. You require effective marketing and customer service along with the need to build a positive reputation. Also, you will need to consider how you collect payment. Will you use PayPal, only accept cash, have credit card swipe machines set up for in-person checkout, or use payment gateways to collect online payments?
When it comes to starting a business, we always recommend talking with the experts. (Hint hint – It's other business owners.)
Learn from other female entrepreneurs
We interviewed two dynamic women entrepreneurs who will share their insights throughout this article.
We asked them how they got started in business.
Denise explains, "As with so many things in life and business, one dot connects to the next." Entrepreneurship isn't always planned. Sometimes entrepreneurship kind of just falls into your lap. She continues, "You can take each piece of what you learn in entrepreneurship and get better at the next task in business."
Denise shares her personal experience, "I believe it just naturally happened! I got a degree in business and design at the International Institute of Art & Design in Atlanta, GA. During that time, I started taking in clothing alterations as a side gig." While in college, this small side gig grew into a small design company. "I produced custom clothing for weddings and special events. That small company turned into being a partner in a bridal and prom store in Marietta, GA for the next 10 years," she explains.
Sara had a similar experience of finding herself growing from a one-woman show to a full business. She shares that after a couple years of being in business, reality set in—just as new parents can't do it alone, a doula can't do it alone either. Being on call 24/7 by oneself isn't exactly sustainable! Sara elaborates, "In 2015 I converted Wichita Doula, LLC from a solo practice to an agency. Today, we have a staff of 10 incredible doulas, childbirth educators, night nurses, and sleep consultants to serve parents through every stage of having a baby."
Whether you've discovered an underrepresented niche market with a need or have a skill that is growing in demand, you understand what it's like to suddenly find a business or career fall into your lap.
Once you've determined owning and operating a business is right for you, then it's time to set up the groundwork.
How to start a business
Here are the steps for starting a business.
Assess yourself to determine if this is the right step for you
Fine-tune your product or service idea
Research the market you're looking to enter
Create a business plan
Secure funding (could be yourself, a loan, or investors)
Take care of legal aspects like registering your business
Find a location (could be your home or a rented space)
Put together a team
Advertise your business and yourself
Keep a growth mindset
You don't have to tackle all of these in one day. It's okay for some of these tasks to take months or years.
Denise shares a piece of advice she's discovered over the last few years, "Being an entrepreneur is messy and you'll never be on the exact path you planned. [Bring] tenacity and a 'failure forward' attitude. [You'll see that] the hard times become less and less. Eventually, you can have the attitude that 'hard is not really hard.' It's just part of the success plan."

Want more information on any of those steps? We suggest referring to our ten steps to start a business article for more information.
Alternatively, if you're thinking of starting an eCommerce store, consider reading our article on how to start an online business. You'll be able to gain a deeper understanding of the subject while exploring business ideas for women.
70+ Business Ideas for Women
Throughout history, women have continued to strive for equality and recognition in almost every field.
In 1988, the Women's Business Ownership Act came into effect and created support for women entrepreneurs who no longer needed a male co-signer when taking out loans.
Even prior to that, women had been slowly changing the business landscape of this country. From the likes of Eliza Pinckney who became a businesswoman quite unintentionally and pioneered the Indigo industry in the 1700s, to Madam CJ Walker, America's first self-made female billionaire, history has been created and shaped by legions of brave women.
Will you join them?
In modern day, we see successful businesswomen like Oprah Winfrey, Ariana Huffington, and Sara Blakely to name a few. There are women scaling the heights in almost every industry. Unfortunately, women are still underrepresented. It might be your turn to venture out into the world of business with a brand-new idea.
We asked Denise and Sara if they think it's harder for men or women when it comes to running a business. Denise weighs in, "I think it's hard for people who think it'll be EASY. I live by the motto 'Dreams are free, but the hustle is not!' You must be willing to make mistakes. Mistakes are how we learn to be successful and move forward."
Sara explains, "Starting a business is hard in general, but as a woman your business can be considered by some [as a] 'hobby' or a 'side project'. We have to work harder, show up more consistently, and reach a higher level of outward success before we are taken seriously as CEOs." She makes an interesting point as she draws attention to the fact that most women also have to tend the needs of their household and family despite them working full-time hours or more.

Our list of business ideas for women is categorized by type for your convenience. A major chunk of these can be done online and can be termed online business ideas for women. Let's explore:
Children, elderly, and pets
If you enjoy working with kids, seniors, or animals, you might consider one of the ideas in this category. Most of these would require some type of training and certification or licensure. You might also need to hire other people to share the workload. The most important thing when working with these populations is to be extremely responsible.
Daycare/nanny service
Baby clothes designer
Caregiving services for the elderly
Private driver for the elderly
Pet sitting
Dog walking
Grooming services
Pet breeding
Pet shelter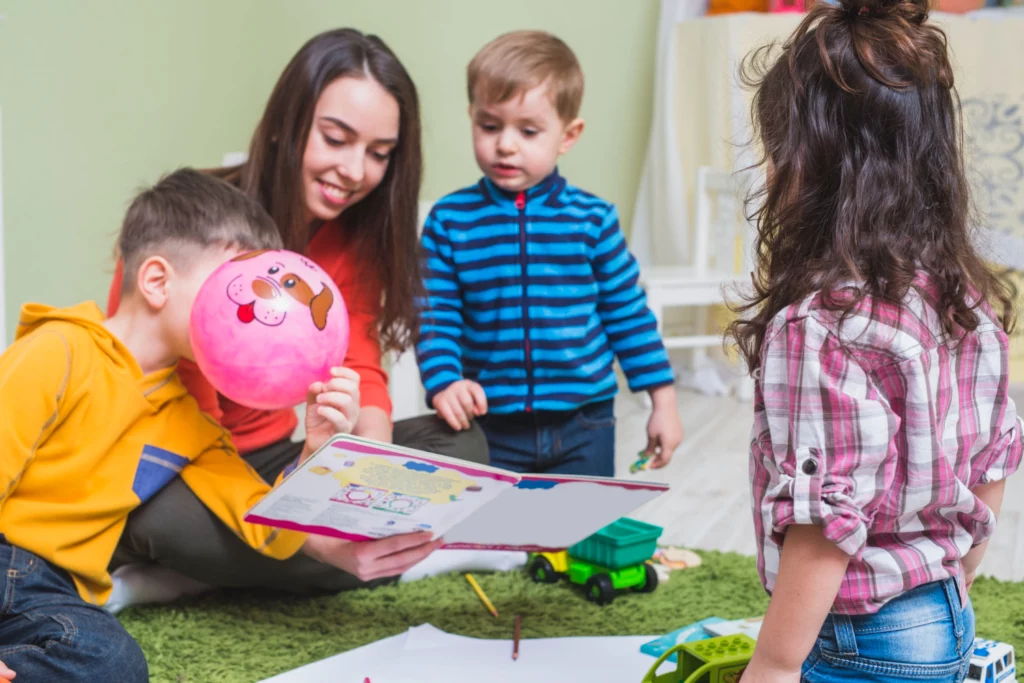 Fashion, health, and beauty
Every year, millions of Americans pay significant amounts of money towards clothes, shoes, accessories, health & beauty products, procedures, and supplements. People want to look and feel great. That's why there are whole industries dedicated towards making that possible. Find what triggers your soul and get ready to take the world by storm! Scores of women live and breathe beauty and fashion, making it a sought-after business for women.
Boutique
Thrift store
Nail parlor
Lash parlor
Hair salon
Tanning
Cosmetology solutions (Botox, fillers, cryotherapy, ect.)
Yoga or Pilates
Diet and nutrition
Doula services (birth, postpartum care, and lactation support)
Sara recalls realizing where there was a need in the community.
"When I had my first son in 2012, I realized how much support was truly needed for young parents growing their families. There is so much anxiety and overwhelming information when it comes to pregnancy, birth options, figuring out what to do when you go into labor, why your baby isn't eating or sleeping, and the list goes on. Having an experienced professional support person to guide you through all these things in a low-stress and compassionate way is truly invaluable. I could hardly believe that it was a real job!"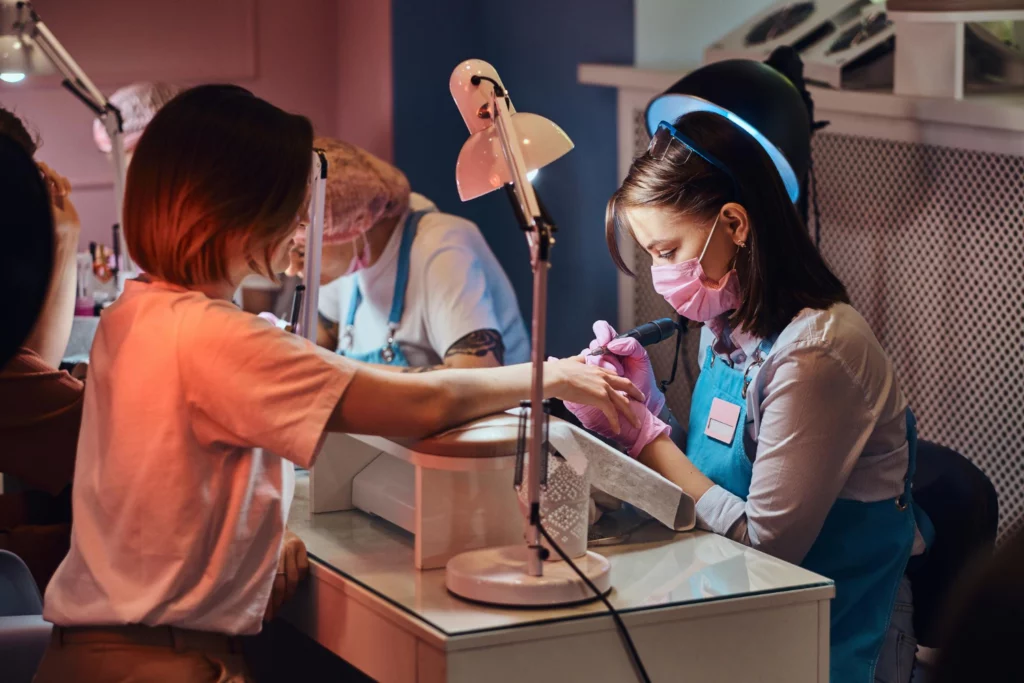 Educational
Plenty of people seek out courses to learn a new skill or indulge in a hobby. If you're trained in something, you could charge customers to teach them the same. Some training and licenses may be required when pursuing these ideas. You'll need to have people skills and a whole lot of patience as we all learn at different paces. Some of these can be performed entirely from the comfort of your home and as such they are terrific business ideas for women at home.
Pet training and discipline
Tutoring
Dance lessons
Music lessons
Culinary
Languages
Arts and crafts
Gardening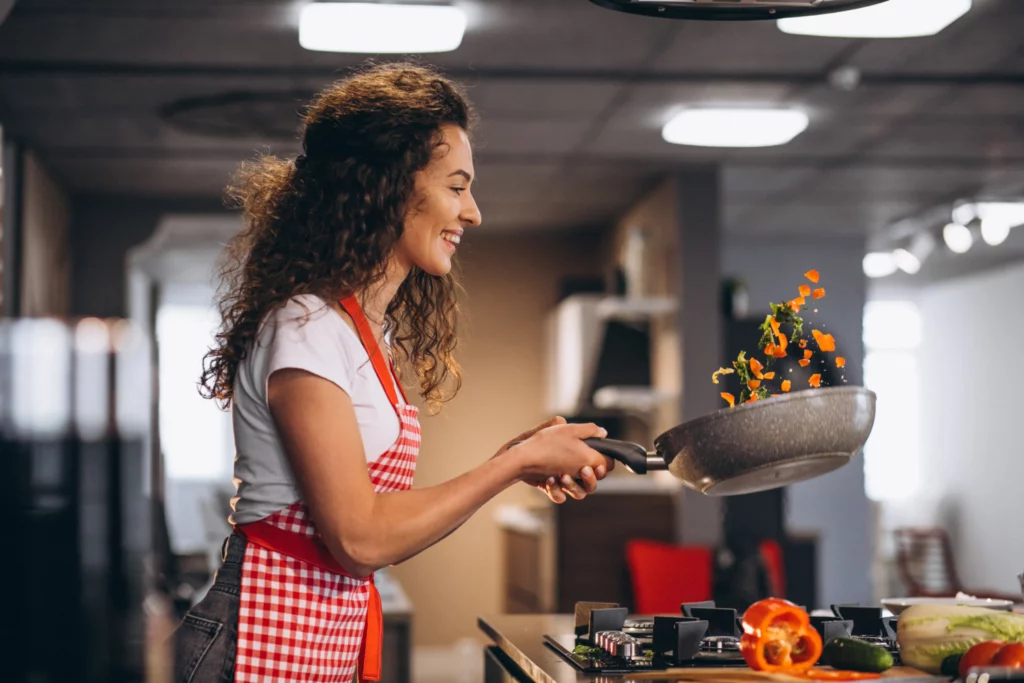 Creative
If creativity is your forte, let it show in your work. These ideas tap into your creative potential and require you to be diligent and detail-oriented at the same time. Best of all, they're the perfect business ideas for women at home.
Copywriting
Proofreading
Graphic design
Calligraphy
Artwork
Custom design shirts
Refurbishing furniture
Voice artist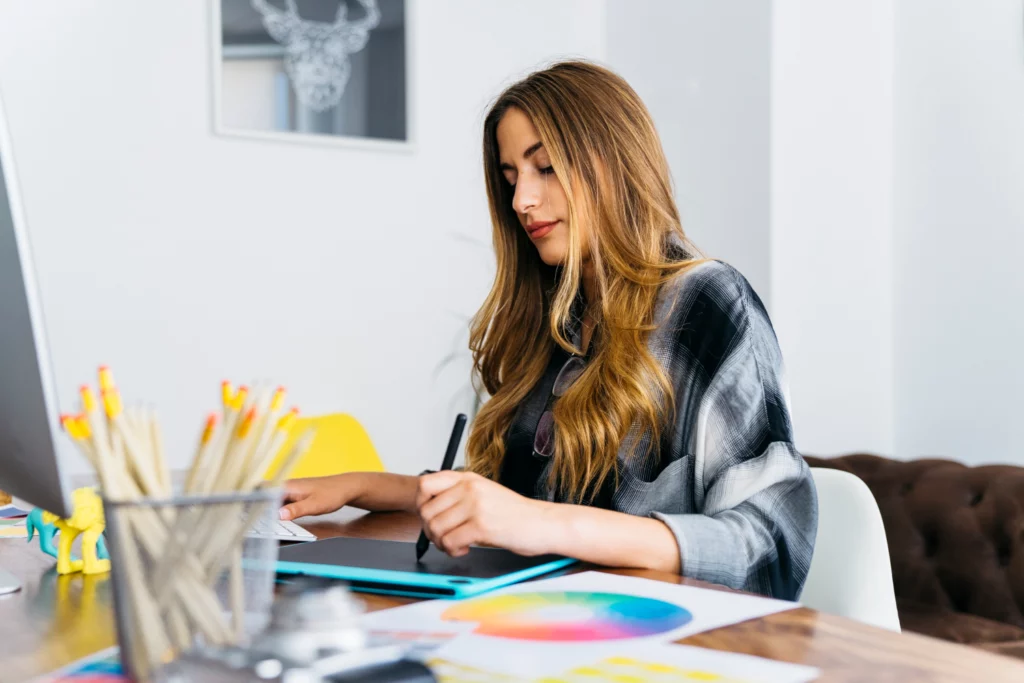 Brick and mortar
If you happen to have the space or are able to acquire it, any of the following ideas could be excellent ventures. Be mindful of the location, competition nearby, foot traffic, and spending potential of customers in the area.
Retail store
Florist
Renting coworking space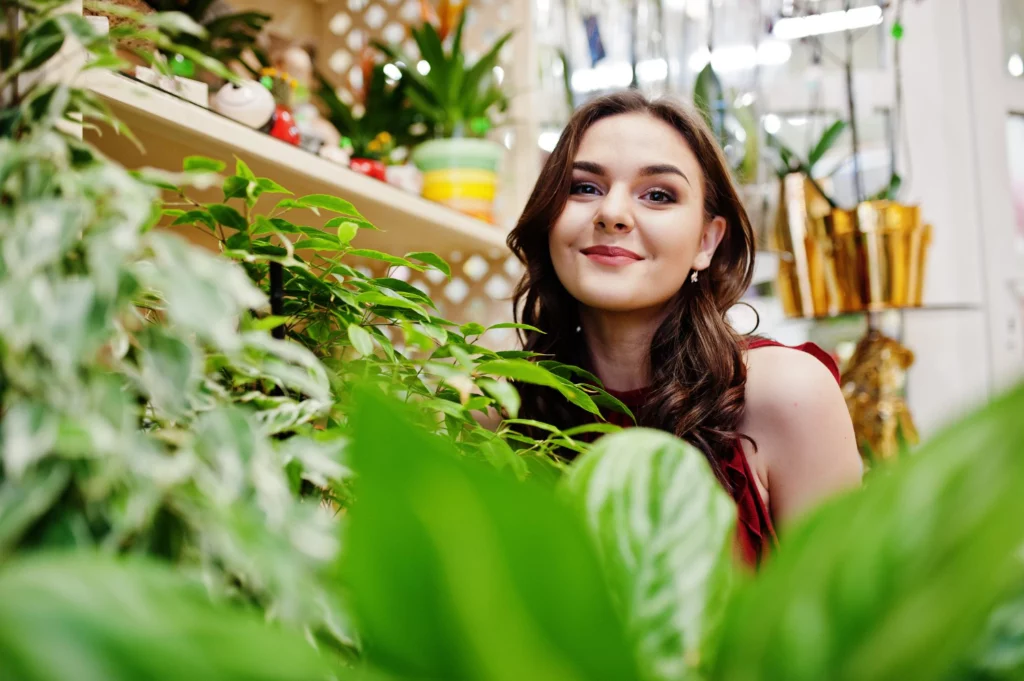 Events
Are you the type A personality that thrives on checklists and gets satisfaction from getting things done on time? If so, you might enjoy taking care of details that all come together to create a memorable event. Alternatively, you could perform more of a passive role in an event by providing chairs, sound equipment, bouncy houses, and other party essentials for a fee.
Party planner
Party rentals
Children's party entertainer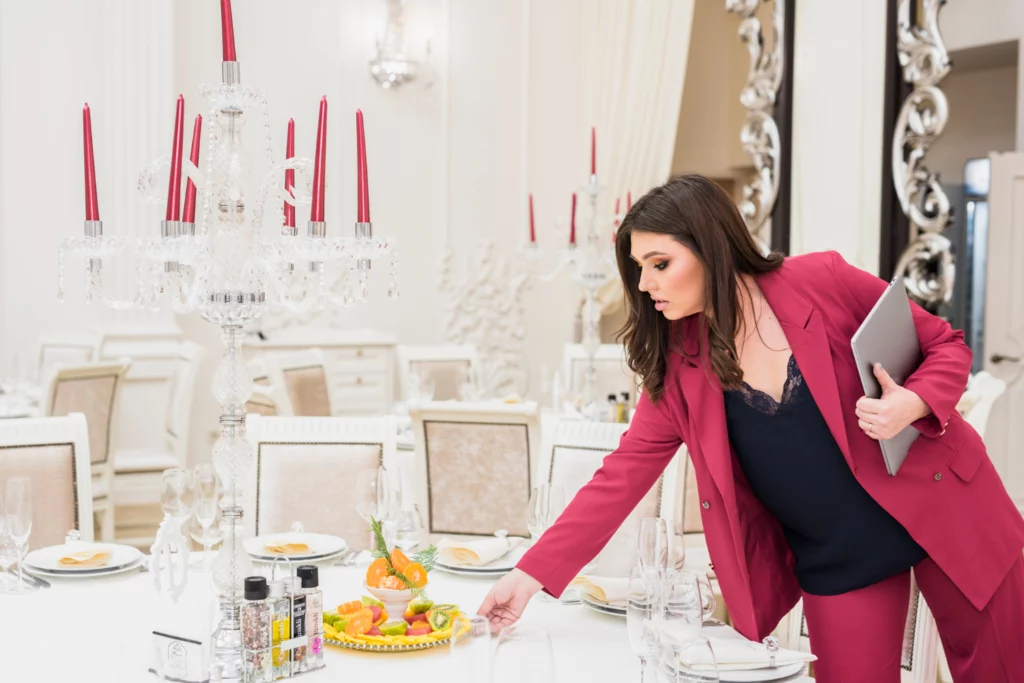 Consulting
Here are a few of our favorite online business ideas for women. Individuals and organizations pay for expert opinion and advice. That's why you need some education and expertise if you want to become a consultant. Some ideas below require a professional certificate and training while others can be executed with a business license and a few easy-to-acquire skills. Tax and accounting services are among finance business ideas for women while a few of others can be claimed under marketing business ideas for women.
Business consultant
Legal consultant
Real estate consultant
Tax consultant
Accounting and bookkeeping consulting
Marking and social media consultant
Web design consulting
Technology or security consultant
Career consultant
PR consultant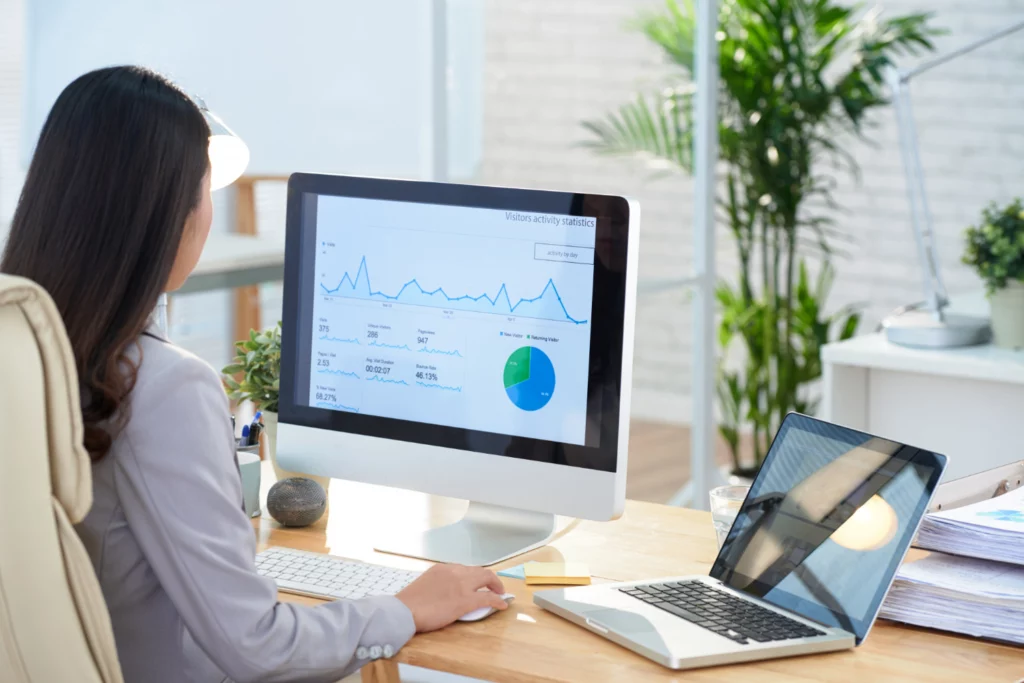 Independent contractor
As an independent contractor, you often have uncapped earning potential, but you need some skills to succeed. Are you good at selling? Can you convince someone to pay for a product/service? Creating digital content and amassing a large following could potentially lead to paid promotions and other ways to generate income.
Digital content creator – YouTube, TikTok, Instagram, etc.
Driving for Uber, Lyft, DoorDash, etc.
Photographer
Insurance agent
Salesperson
Transcription services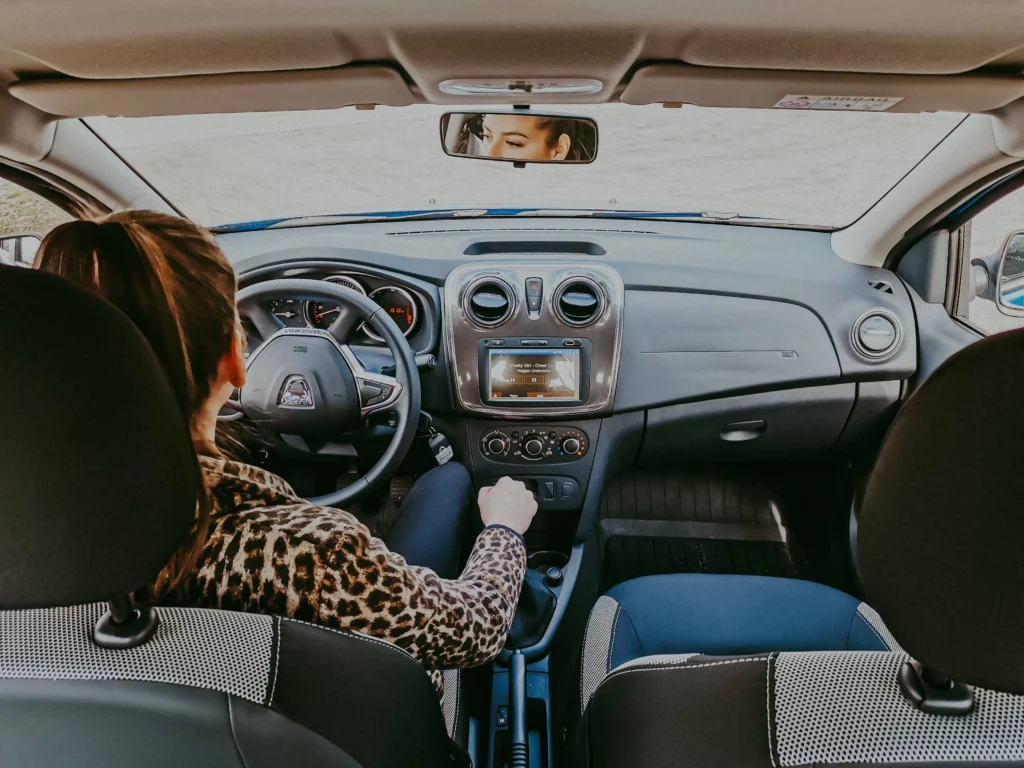 Cleaning and organizing
Some of us are obsessed with keeping our surroundings pristine. Why not make a career out of it? People pay top dollar for housekeeping or janitorial services. Professional organizers can help transform messes into masterpieces. If you think you can deliver results, it's time to roll up your sleeves and get working!
Closet and household organizer
Home cleaning services
Office cleaning services
Power washing
Car cleaning and detailing
For women seeking to start a business in a similar industry, Denise advises, "Service fields have traditionally been dominated by male owned businesses. However, women are amazing in these fields. Women can bring a different perspective to customer service and our clients appreciate how women take care of details."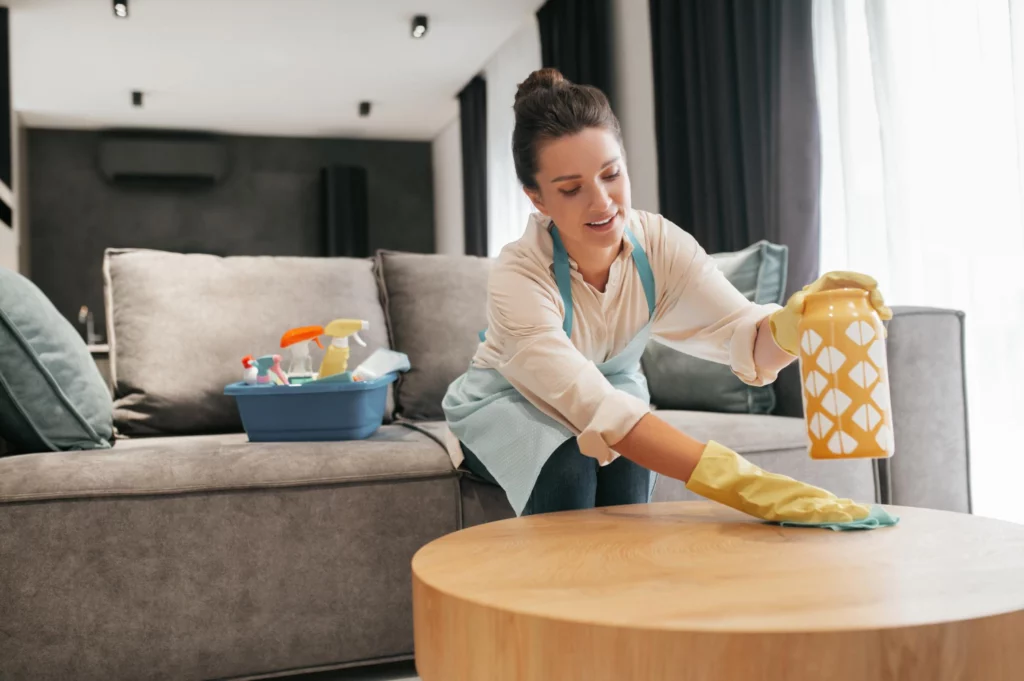 Food and hospitality
Want to add to the culinary delights of your town or city? It might be worthwhile looking into something in the food and beverage domain. Although owning a restaurant or café has its own set of challenges, it can be done. You can even start out as a caterer and do events. That way all you need is a license and a professional kitchen, depending on your state laws. Unlike restaurants, you don't have to deal with seating arrangements, paying for servers and hosts, etc. If you have a spare bedroom or a basement suite, consider Airbnb hosting. It can be extremely profitable depending on where you live.
Café/restaurant/bakery
Catering
Food truck
Airbnb hosting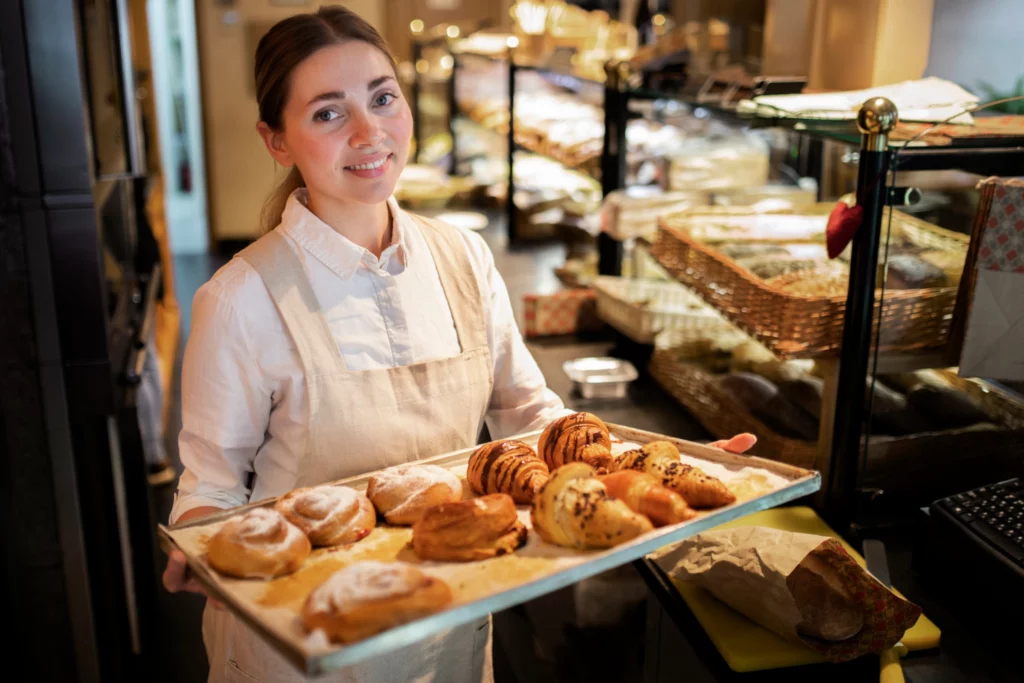 Home improvement
Some people have a passion for home improvement projects and stop at nothing to achieve the aesthetic and functionality they desire. If you're ready to take on client projects doing what you enjoy, you're looking at monetary benefits and job satisfaction.
Remodeling
Home repair
Interior design
Painting
Deck staining
Gardening/landscaping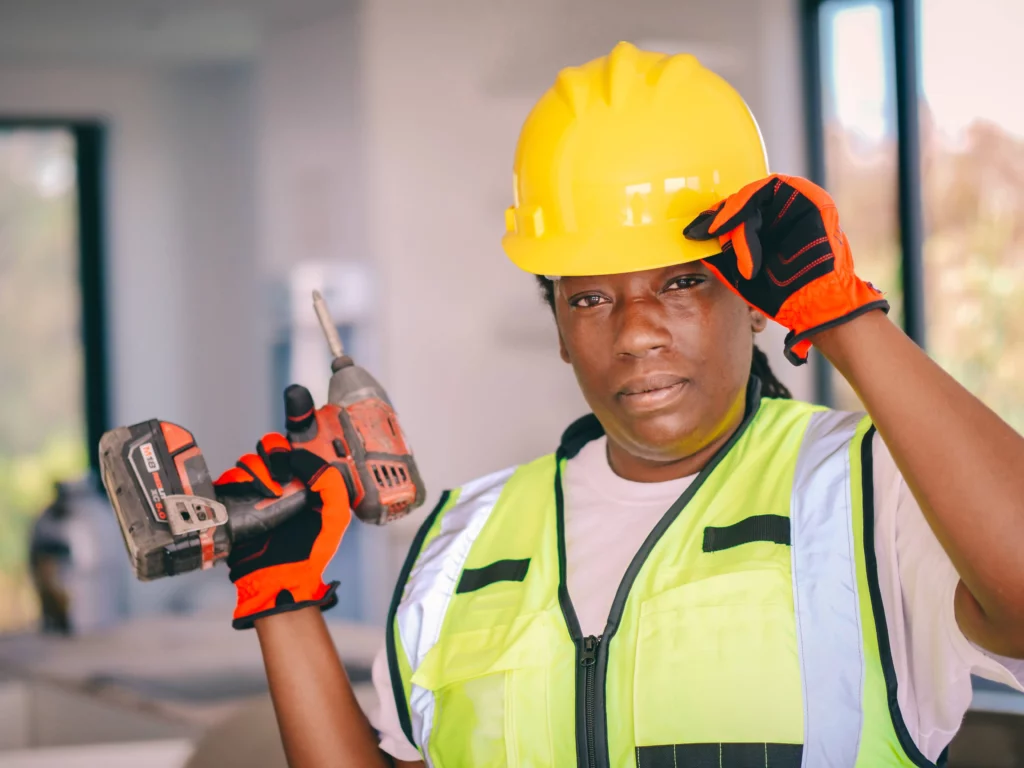 Closing thoughts
Starting a business isn't the easiest thing in the world. It is complex and has so many layers to it. You might get disheartened in the beginning. The important thing is to not give up because you're overwhelmed. Take your time and analyze each and every aspect of a potential business. Gone are the days when women owning a business was almost unheard of as more and more women-led companies are emerging. Did you know that being a woman-owned business can help you qualify for tax breaks? Additionally, there are grants, loan guarantees, and tax incentives offered by the state and federal government.
We asked Denise and Sara to share any advice they may have for potential women entrepreneurs. Sara says, "If you're nervous or unsure about starting or growing your business, ask yourself this question: Is it okay with me if I never get to help people or improve their lives with my product or service? Would I rather remain in my behind-the-scenes comfort zone, or make a wider impact?" She confirms that there is no wrong answer, but it may help one gain some clarity on their mission.
Denise opines, "Don't get stuck in analysis, move forward. Don't allow negativity to keep you back. You'll never have the perfect plan [or] the perfect time to start… It's a process. So just get on the path and start moving. When you hit those roadblocks, you pivot and keep going. Don't get stuck!"
She adds, "Don't let a male-dominated field intimidate you. Find the niche you want to fill and start working on your plan. You'll find there's plenty of room for someone who's willing to treat their clients and employees with respect."

Women all over the world and from all walks of life have managed to build and grow their own businesses. With the right attitude and motivation, you'll be on your way to becoming a business owner. We hope our list of ideas was helpful in some way and got you thinking of the possibilities.
Here's a hammer, go smash the glass ceiling!