Personal and professional milestones in your 30s
Every decade has its own charm. It is fascinating how each decade brings important moments and experiences that make you who you are. Let's talk about the best things to do in your 30s.
Turning 30 is a mega life event. You're still the young and energetic you, but usually with better judgement, logic, and finances. It might seem like you're a more put-together version of yourself. Responsibilities may outweigh fun at times, but your 30s have the potential of being better than your 20s.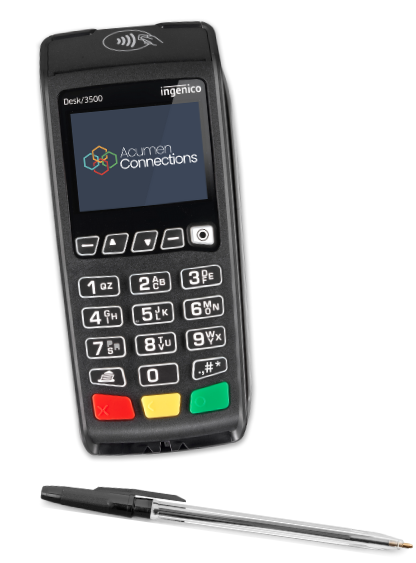 Level up your payment game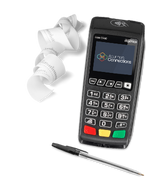 Take payments with confidence. Make our YouTube channel your go-to for all things payment processing.

Interested in another decade of milestones? Check out these:
As human beings, we are likely to remember the big moments in our lives. These moments can be described as milestones. Graduating high school, getting your first job, becoming a pet-owner are all events you are less than likely to forget.
We've jotted down a few milestones we believe are congruent with your 30s. They are as follows: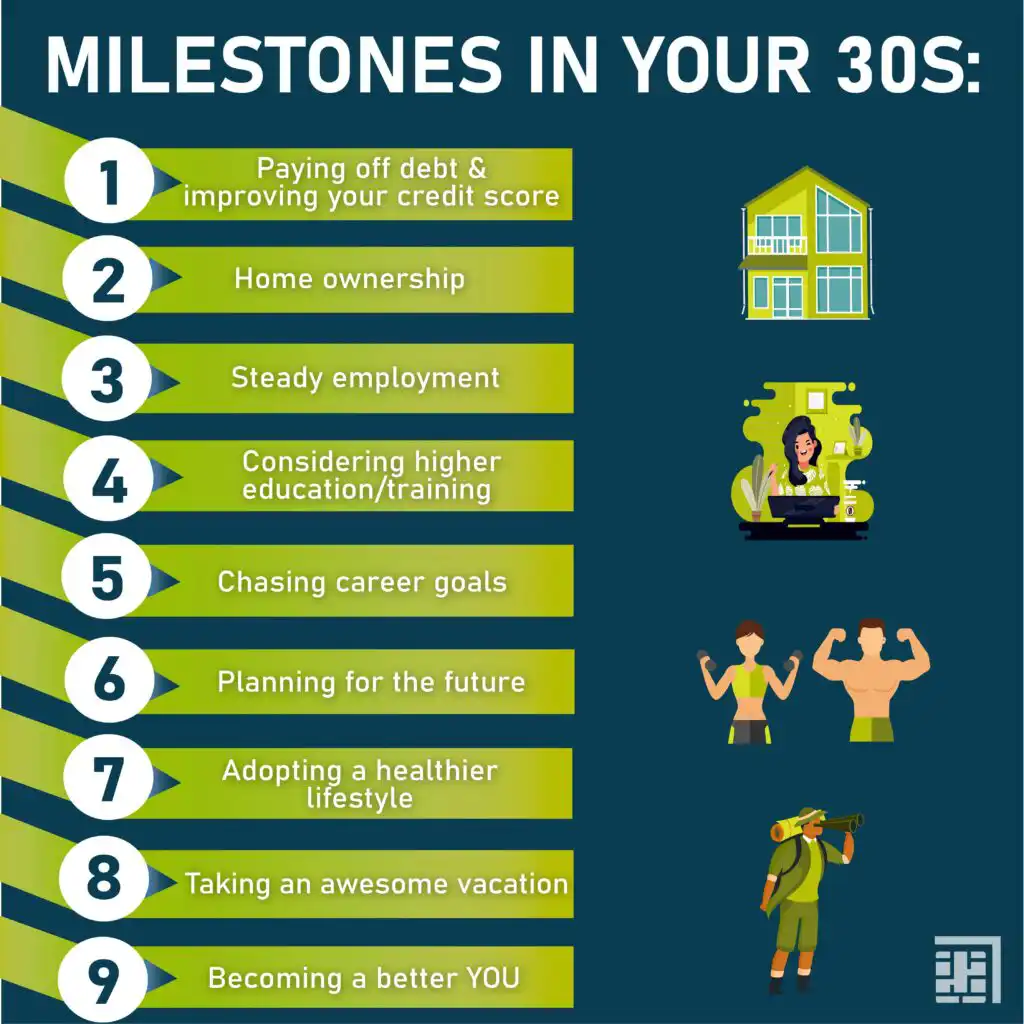 1. Paying off debt & improving your credit score:
Financial health is one of the most important things in life. That's why it's first in our list of things to do in your 30s. It allows you to live without stressing out over money at every step. A principal component of your finances is your debt situation. Most people in their 30s have student loans and credit card debt. You need to be financially responsible and pay off your debts. Your credit score indicates the state of your financial health. Having a high credit score opens plenty of doors for you.
2. Home ownership:
Owning your home is an achievement regardless of age. Some people make it happen sooner than others. If you're stable in your career and are looking to set down roots, investing in some real estate could be the next big step. Factors such as location and affordability come into play. You might read up on tips and tricks for buying a first house. But if everything aligns, becoming a homeowner in your 30s may just become an option.
3. Steady employment:
As someone in their 30s, you're most likely to have more responsibilities than you did before. Mortgage payments, car payments, bills, childcare etc. all add up to your expenses. Having a steady income is imperative to you and your family. It is smart to channel multiple sources of income. A side gig or monetizing a hobby is something many people do. The pandemic caused mass layoffs. Unemployed people resorted to making ends meet by working gigs. Delivery services like Doordash, Uber, and Lyft became popular.
4. Considering higher education/training:
We get it. School isn't for everyone. But what if a few credits can improve your paycheck or career growth? We know this could be expensive and time-consuming. Do some research and conduct a cost-return analysis. Some of us spend our 20s working our way up. And this means, we probably didn't get post high school education. There's no harm in looking into some options. Many people switch careers and pick a different trade in their 30s. Corporate employees may undergo training and certificate programs. This enables them to grow in ranks within the company.
Training can happen outside of the classroom too. Check out some of our favorite online courses:
5. Chasing career goals:
Most people in the workforce have professional goals and ambitions. This could be a great time to eye a promotion or try to get a raise. Some of us change careers and start businesses. We make all kinds of life-changing decisions at this stage. It is important to have goals and a game plan to achieve them.
6. Planning for the future:
Growing old is inevitable! Everyone ages towards their golden years. To have a secure life as a senior citizen, you must start planning now. Some people retire earlier than most because of smart financial planning. Setting up a retirement fund is one of the best gifts you can give yourself. Investing in insurance policies helps prepare for the unforeseen. Life can be unfair at times. And as difficult as it sounds, setting up a will may help your dependents and loved ones.
7. Adopting a healthier lifestyle:
The biggest investment you can make is in your health. If you start taking care of yourself and your wellbeing, you might save thousands of dollars in treatments later. Living a healthy lifestyle improves quality of life and longevity. Focusing on your diet, getting adequate exercise, meditation etc. all have significant positive impact.
8. Taking an awesome vacation:
Don't we all dream of taking vacations but don't because life happens? Perhaps we didn't have enough time-off from work nor the funds to make it happen. Whatever be the reason, now is the time to take that vacation you deserve. We recommend taking one epic vacation in your 30s – solo or with friends/family. It is an excellent way to decompress and make lasting memories.
9. Becoming a better YOU:
Self-improvement is a continuous journey. Your 30s are one of the most eventful decades of your life. They're full of opportunities. Invest time in improving yourself as a professional, spouse, parent, or pet owner. Spend time with loved ones and work on improving relationships. Try to reconnect with old friends and visit your extended family when you can. We also recommend considering ways to give back. Check out volunteer opportunities at your local soup kitchen or animal shelter. Donate to a cause. Get involved with the community. All of these make a positive impact in your life and in the lives of others.
What are your goals in your 30s?
Our list of humble suggestions may contribute to improving your life now and in the future. It is acceptable to work at your pace and time. Our lives are made up of several significant milestones. It all starts when we come into this world as infants. Babies are expected to meet growth and developmental milestones. As we outgrow infancy, our milestones get more and more challenging. Once we're fully functional, our milestones usually mark important achievements and triumphs.
Overcoming tragedy, recovering from serious ailments, choosing sobriety etc. are phenomenal milestones for a lot of us. It is important to show compassion to oneself and others. After all, life isn't always rainbows and unicorns.
As adults, our milestones may vary vastly from those of our peers. Some people scale Kilimanjaro, others raise large families. There are those that climb the corporate ladder while others champion causes. Your goals are a portrayal of your hopes and dreams. Having concrete plans towards them help guide your journey. Honor your 30s to making informed decisions. We are all for spontaneity, but a little bit of structure doesn't hurt.
The best part about being a grown-up? You get to modify your list of goals and milestones!
What are your goals for your 30s? Check out our Facebook post and let us know!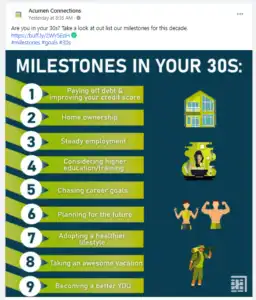 Acumen Connections is a locally owned and operated payment processor in Wichita, Kansas. Our organization seeks to help small businesses meet their goals with real solutions designed by real hardworking people. To help businesses and individuals achieve personal and professional successes, we're providing new content weekly. Stay up on our posts by visiting the Acumen Connections Facebook, Instagram or Twitter pages, and visit the blog for a full catalog of resources fit for hardworking people.
Anna Reeve, MBA