The Competition Between Food Trucks and Restaurants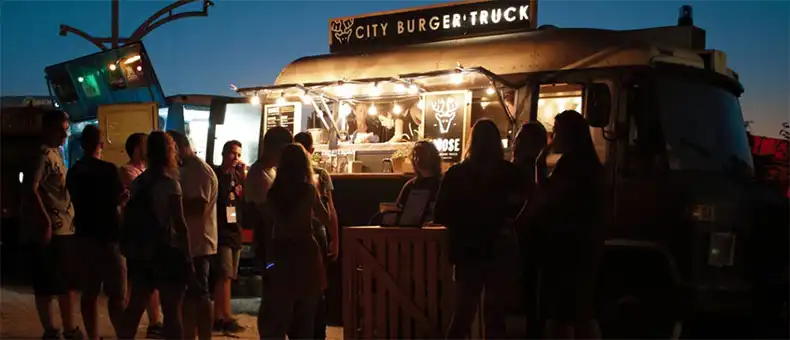 Innovative business plans and operations creating a buzz in the food industry
The face of business has been seeing quite a few changes in the past decade. Technology has changed the game as to how we can reach customers and having the ability to owning a successful could be as simple as having an internet connection and a great idea (ahem, Jeff Bezos Founder of Amazon). While it is nearly impossible to operate a restaurant solely online, there is a new age of "restaurants" that are making waves in the food industry that completely defy the traditional brick and mortar restaurant. Hello, food trucks.
Are food trucks a new idea?
Now, selling food outside of traditional restaurants isn't a new concept. In fact, New York City began regulating street carts in 1691, allowing vendors to sell food on the street. From there, they are seen across history in many forms. Starting in 1917 the US army used mobile canteens (field kitchens) to feed troops during times of war. Oscar Mayer presented the infamous "Weiner Mobile" in 1936. All the way up until 2014 when the National Food Truck Association is created. Food trucks have gained so much popularity that there is even a show on The Food Network centered around them. So, food trucks aren't anything new, but their ever-growing popularity and accessibility outside of mainstream cities is something that we haven't seen before.
What makes a food truck such a great business opportunity?
Well for one, you're mobile so you can control where you go and when. Creating a schedule and sticking to it is key though to make sure that your customers know where you are always. Meet with other food trucks in the area to create a centralized location for all customers to go and find more than one food truck. Food truck owners can also create relationships with local business that don't serve food, (i.e. bars, coffee shops, etc.) to park outside their business which can be advantageous for both business owners.
Second, social media is a huge platform for marketers and this would be the best (and cheapest) avenue for the food truck business as well. Build a following, post updates about your location and get reviews of your food all in one place. Creating a culture and encouraging customers to create content with the product will quickly expand the food truck's circle of influence.
Third, you don't have to provide the amenities that a traditional restaurant does. Instead of spending your time creating the perfect ambiance of your restaurant you can focus on creating inventive food! As the popularity for food trucks and "street-style" food increases, so does your chances for success; however, ensuring your success as a food truck business takes a lot of planning just as any other business. Get to know your customer base, find a product that fills a need in the market and isn't overdone, obtain permits and ordinances from the city and pass health regulations are all part of this process.
How are food trucks affecting traditional restaurants?
The food truck revolution has taken away some of the business from traditional restaurants. Why? Growing popularity and interest in food is on the rise. Not just regular food, but fun, dynamic, and interesting dining experiences that introduce them to a new culture and is something they can "share" with their followers. Chefs can create sophisticated dishes that expand their audience's way of thinking about food. Fusion food such as Asian tacos or crazy combinations like peanut butter on burgers can create a lot of buzz among customers causing the food trucks to become a destination rather than just a restaurant.
Also, we live in a very digital and connected world. This is great for food trucks! Their ideal customers are on the go and are always connected in this "share-happy" generation. What does that mean for them? Customers can track where their food truck will be on social media, through an app or word of mouth. Once there they can snap a picture and "share" the amazing meal they just ate with all their friends. Going to food trucks can become an event rather than a traditional dining experience.
How can restaurants combat with food trucks?
Conventional restaurants might have lost some of their market share due to food trucks, but the reality is they will always be the titan of the restaurant industry. Nothing can replace the quintessential date night of getting dressed up and going to dinner at a nice restaurant. It's a social interaction and one of the most genuine that we have maintained even as everyone is communicating through technology more and more. If anything, the increased competition is a motivator for restaurant owners and chefs to get creative with their menu to encourage customers to come to their space. Using the tools that food truck owners do to market their business like social media where customers can engage and share their experience directly with the business and other potential customers. Making sure that they are creating great experiences from start to finish will ensure that they remain relevant in the restaurant industry.