Enliven your business with our innovative Easter marketing ideas
Yes, it is that time of the year again! Easter is here. Is your business ready with sales or a marketing campaign? Get a step up from your competition with our free Easter marketing ideas.

We've bid adieu to Santa Claus and welcomed the new year. Some of us dodged while others got struck by Cupid's arrow. Superbowl, St Patty's Day, and March Madness are all over and we're heading towards Easter!
Follow us on all your favorite platforms!
Follow us on all your favorite platforms!
They say that the only thing constant is change. Trends, social dynamics, and businesses all undergo change over time. Seasons change too and with that comes the myriad of celebrations across the calendar. As we step into April, we're venturing into the Easter Bunny's turf. Did you know that in 2021, consumers spent $21.6 billion on Easter?
You deserve some of those sales!
Some of us have fond memories of Easter from our childhood. As adults and business owners, it's time to brainstorm some effective Easter marketing campaign ideas!
Keep reading to score some free customizable promotional campaign materials for Easter.
Almost every holiday has a theme and so does Easter. Regardless of industry, it is important to incorporate holiday campaigns into your marketing plans. Doing so adds a personal touch to your business, which customers love. According to the National Retail Federation, the predicted total spending for Easter this year is $20.8 billion!
Our marketing team has compiled a list of Easter campaign ideas that could boost your Easter campaigns and sales.
7 Easter Marketing Ideas for Businesses
Are you a business owner looking for Easter marketing inspiration and insights? Like you there are many others who seek the same. This is especially true around the holidays. Easter is a spring holiday with oodles of potential as far as marketing campaigns are concerned. Let's explore our list of Easter marketing ideas!
Easter egg hunt
Is it even Easter if there isn't an egg hunt? Egg hunts are a prominent Easter attribute, and you need to use it to your advantage. For a fun campaign, you could hide Easter eggs with your business logo on them in several locations around town or you could make the contest virtual.
We recommend using your business logo as you don't want people adding in generic Easter eggs to boost their score. The participant that finds the maximum number of eggs is declared the winner.
This is also an excellent opportunity for a free press release, and free social media hype. Picture the headline now: *Your Business* Brings Joy to the Community with Traditional Easter Egg Hunt
Easter giveaways
Make some noise for this campaign: The Easter Giveaway! Amp up your Easter campaign by asking new and existing customers to participate in an online or in-person survey. All entries will have a chance at winning a grand prize.
A survey or questionnaire can help gain clarity over certain business aspects. It is a way to assess what your customers want or need. Conduct a lucky draw and recognize your winners on your digital platforms.
We suggest awarding something of value as a prize if you have the budget. An Easter-themed prize might be best. Alternatively, it could be a basket of goodies from your business.
Digital Marketing Manager, Renee McBride, shares her tips, "I love using a holiday campaign to ask for reviews. Feedback is essential to any growing business. Incorporating the holiday charm makes requesting reviews feel more fun… Who doesn't love an Easter prize?"
In-store and online contests
Play into the competitive spirit of your customers for this campaign by organizing contests online and in-person. Prizes could be gift cards to your business or coupons for your products or services. Get creative with Easter-themed riddles, trivia, and more.
Have an enormous glass container sitting at your counter filled with Easter eggs and have customers submit their guesses.
If you have the bandwidth, consider creating graphics with a hidden Easter bunny that customers need to spot just like Where's Waldo.
Ask for caption submissions and display the winning entry on your receipts for a week. The possibilities are endless!
Promotional materials and swag
It is always a smart campaign move to have promotional materials for big events and holidays. These need to be in hard copy like booklets or flyers as well as digital formats. We know that creating unique promotional materials may not be possible for all businesses. That's why we decided to create a few free marketing templates that you can customize to fit your needs.
"Not all our customers have the ability or time to design graphics for an Easter campaign. So, we thought we'd step up and provide them with several free options," shares Morgan Lyles, Junior Digital Designer.
Print out copies or share them on your website, social media channels, and via email. They're entirely free to use. All you need to get started is an email address to sign up for a free Canva account.
"I was egg-cited for the opportunity to give back to the community!" exclaims Lyles, "Plus, the Easter pastel colors and puns were fun to play around with too."
No credit is necessary for the designs. They're for your business' benefit. But if you find the templates helpful, we'd love it if you'd share this article to social media. We want to get the word out. That will allow others in the community to take advantage of this gift.
Download Easter marketing templates for FREE! Click the image to customize the template!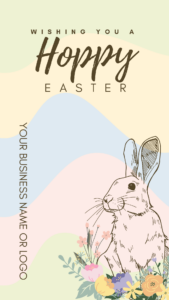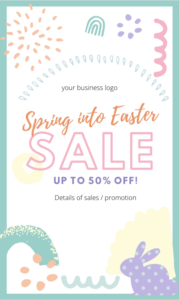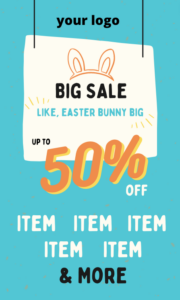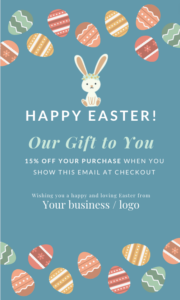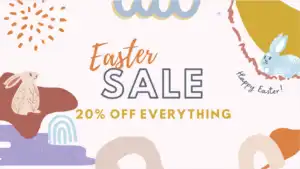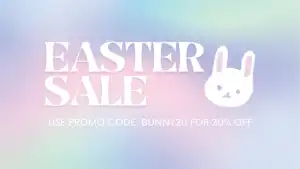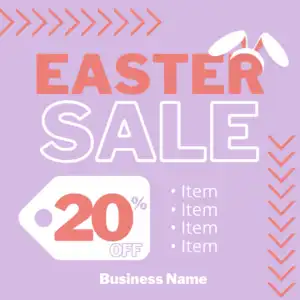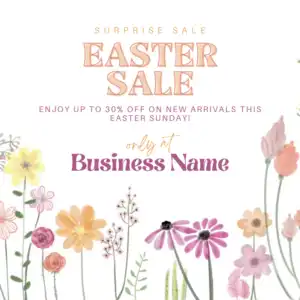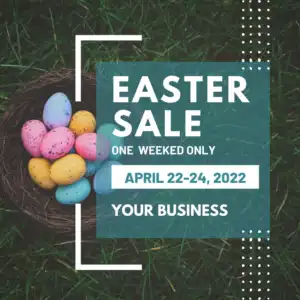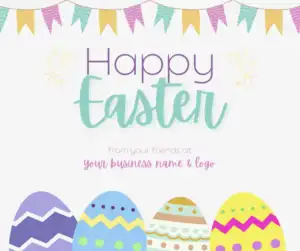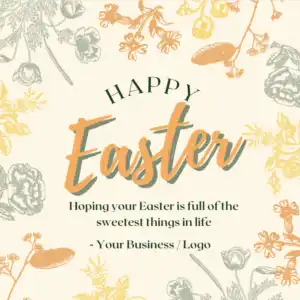 Have an in-store Easter bunny
Just like Santa Claus completes Christmas, nothing encapsulates the spirit of Easter like the Easter bunny. In fact, our list of Easter marketing ideas wouldn't feel complete without mentioning the Easter bunny.
Getting one of your staff members to dress up in costume could be a huge hit among your customers. Kids are often drawn to characters, and this might be an opportunity to appease children and their parents. "There's opportunity for news coverage and word of mouth [promotion]," explains McBride, "the social aspect encourages families to tag your business when sharing their Easter bunny photos".
Promote your Easter bunny campaign as a major attraction on your digital platforms. Drive up the buzz!
Text and email alerts
We strongly encourage using every platform you have to promote holiday events at your business. Easter is no different. Like most businesses, you might already have customers signing up for email or text alerts. Utilize these mediums to communicate with your customers.
Encourage new customers to sign up by entering their email and phone numbers during in-person or online checkout. An email collection campaign might do just the trick.
Digital displays and website promotion
If your business has a digital sign outside your building, it could be a great way of advertising holiday events. This campaign could attract the attention of passersby and motivate them to visit your store. Similarly, your website needs to carry an Easter announcement on the homepage. Some might even go on to create a separate landing page just for Easter. "I [included] different-sized graphics. Use them for your digital board, website, or social media," shares Lyles.
The goal is to generate traffic, gain leads, and make sales. Your business website is the virtual equivalent of a storefront. Make sure to leverage it when promoting anything of value.
Final thoughts
We hope our egg-cellent Easter marketing ideas have given you some inspiration. It can be challenging to navigate the market and customer needs during holidays. Most businesses focus mainly on the big holiday campaigns like Christmas and Black Friday. We believe that every holiday, even Easter, could bring in business opportunities. It doesn't make sense to pass on them when you could be leveraging them. Make the best use of advertising options like radio, local television channels, your website, social media, flyers, etc., to spread the word. After all, good marketing does involve considering every available option.
At Acumen Connections, we actively try to help small businesses do better in every aspect. Our goal is to arm small businesses with the resources they need to boost sales and score beyond their targets.
Marketing is vital to every business. There are times when small business owners struggle with finding time to streamline their marketing efforts. Holidays are often the busiest times of the year for businesses. Be it Easter or Thanksgiving, your marketing campaign is essential to your business. We hope to be of help in that regard. Happy Easter!
For free design templates and holiday marketing ideas, check out our other campaign resources:
Anna Reeve, MBA