Beat holiday season stress with our effective small business holiday tips
Holiday season can be a challenging time for most businesses. Small businesses often struggle and get overwhelmed during this time of the year. Let's discover how small businesses can brave the storm like a pro! Here's five ways to prepare for the holidays as a small business.
Ah holidays! The time of the year when there's magic in the air! Friends, family, and delicious food aside, it's the season of gifting. People flock to the stores to get their holiday shopping done. There are aisles and aisles of gift options for your loved ones and for yourself.
Most businesses get more customers during the holiday season. It's a great time to sell your inventory during the small business holiday sales. But are you ready to handle the surplus of everything? There are more people coming to your store and so your shelves need to be stocked more frequently. You need an adequate number of employees to assist customers. There is some planning involved in order to "sleigh" the holiday season in style!
How do I prepare my business for the holiday season?
At Acumen Connections, we constantly try to provide solutions to small businesses. We did some research and came up with a few select strategies that will help you navigate this season. Take a look at our list of small business holiday tips:
1. Embrace the festivities
Decorate! We're talking Christmas lights, fake snow, garlands, wreaths, blow-up Santas, everything! Welcome consumers to your business by drawing them in with your dedication to the holidays. Prove that you're ready for the busy holiday season! There's nothing wrong with spreading some holiday cheer.
Decorating your store makes it feel warm, inviting, and festive. Your customers will be exposed to the sights and stimulation of the holiday season. This is bound to elevate their mood and enhance their shopping experience.
2. Use slow periods to your benefit
There are going to be some days that aren't as busy. On such slower days or slow times during busy days, use the lull in activity to get your responsibilities completed. We recommend taking care of tasks like:
These should occur during slow periods so that your business is in tip-top shape when it starts to pick up again!
3. Don't overwork your staff
Yes, this includes yourself. Schedule appropriate breaks and avoid making your employees work more hours than they're comfortable working.
This is a good reason and a great time to hire seasonal workers! You'll have extra sets of hands without sacrificing time to rest and recuperate.
Seasonal workers can be a real life saver during the holidays. Holiday sales are expected to increase by 9%. Therefore, there is a need for seasonal workers to keep up with this increase. Amazon declared that they're hoping to hire 150,000 seasonal workers which is 50% more than what they had announced last year. In fact, in July 2021, there were over a million openings for retail jobs.
Remember that it's the holidays. Your staff will likely need time off and personal days so they can celebrate with their loved ones. Staff well so your team has flexibility. Be understanding!
4. Connect with your customers
The most important aspect of your business during the entire year, not just the holidays, is the consumers who choose to spend their money with you. The best way to guarantee survival during the holiday season is to give back to your customers.
Offering deals, coupons, and gift cards is how you're going to entice shoppers to your business to spend their money on your products or services. Be competitive! Make your business impossible to ignore with show-stopping doorbusters and impossible-to-pass-up bargains. It's the season of giving, after all!
Outside of your face-to-face interactions with customers, you need to up your digital game. Spend time on creating and scheduling holiday-themed social media and email blasts. Your customers would love to receive digital coupons. You can use digital means to promote your sales and discounts.
Let us show you how to get started with email marketing.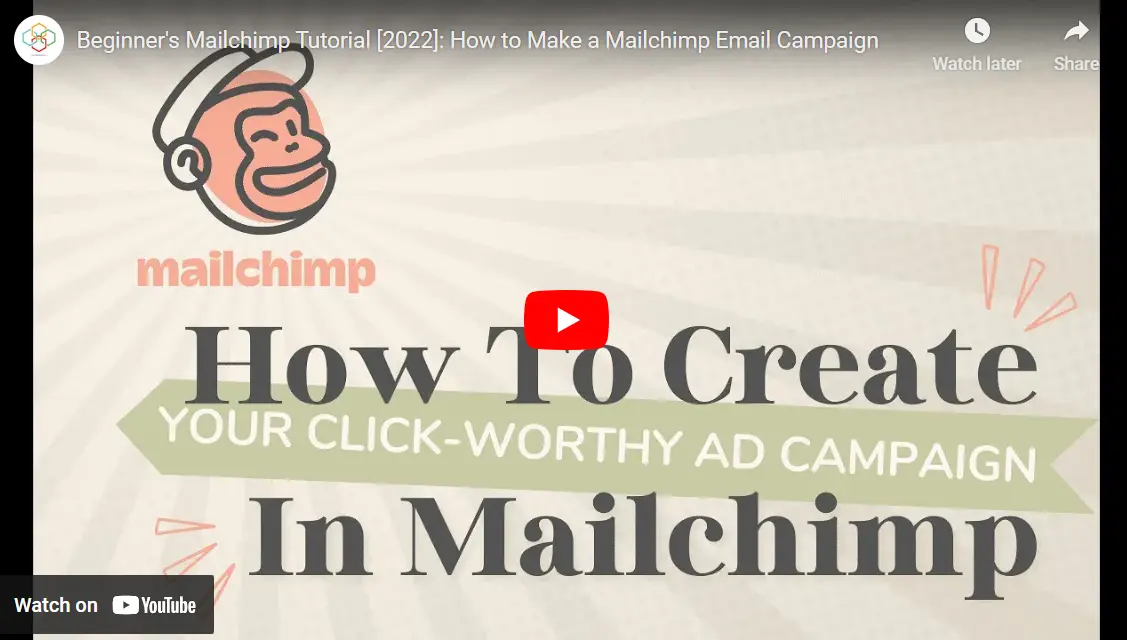 Are you a local business located in the Wichita area? Promote your small business in our facebook group!
5. Prepare for the holidays
For holiday seasons to come, remember that it's better to do your preparations earlier rather than later. In the weeks and months leading up to the busiest time of the year, order extra inventory, interview for seasonal positions, and have a plan for deals and sales to make your business a go-to this winter. Make a list of things you need to accomplish (and check it twice)!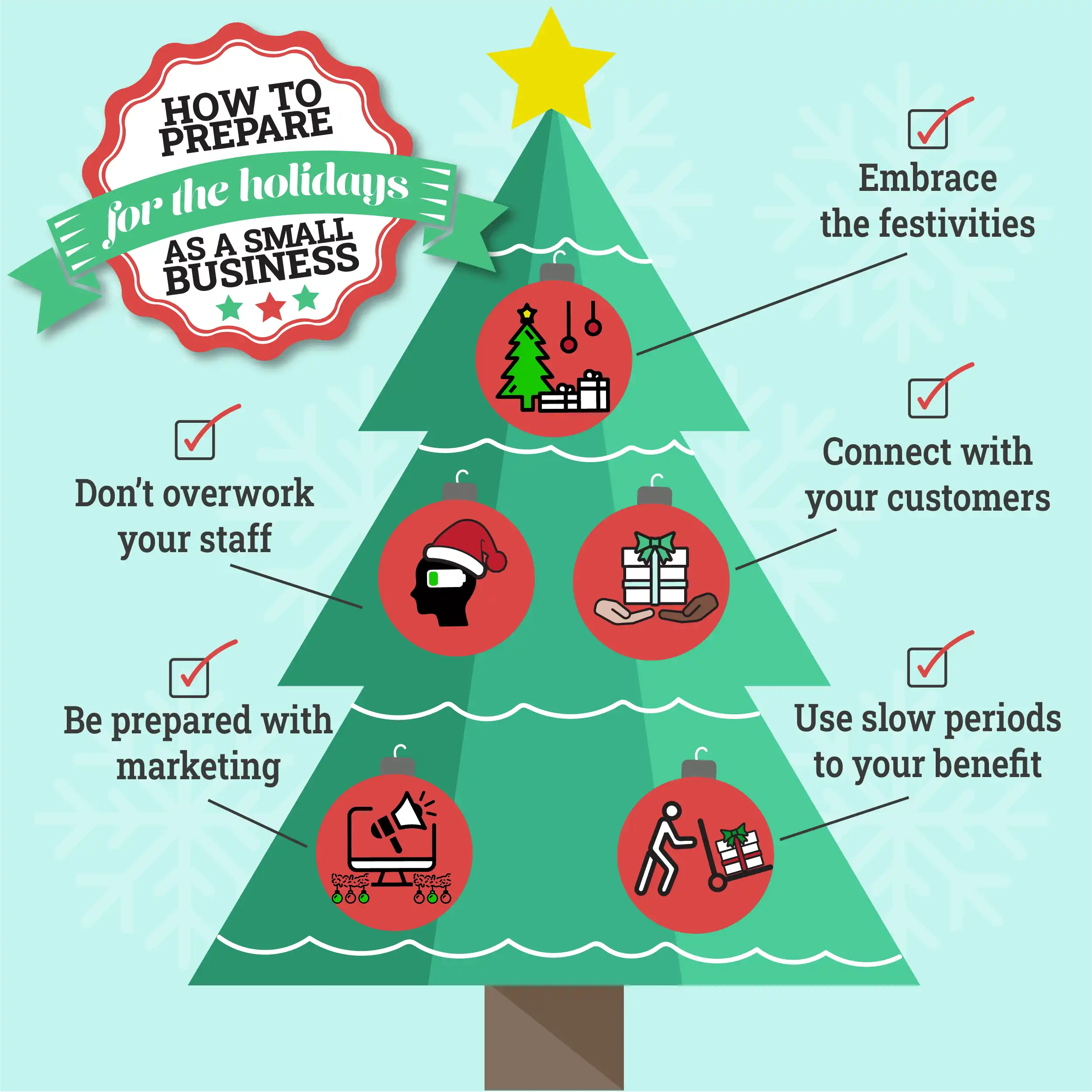 Don't forget the details, either – this includes designing posters, advertisements, gift cards, and other holiday essentials. Take charge and you'll be fine!
If you haven't already this year, now is a good time to brace yourself for the upcoming holidays of Christmas and New Year's by ordering extra inventory and hiring seasonal staff. Make sure you have promotional materials ready to go.
The bottom line is that preparation is crucial. You can't expect to tackle the holidays without it. We would advise small businesses to prepare for the holidays way ahead of time.
We hope this list will help you get started as you attempt to face the madness. Small business holiday sales can get crazy. It's the busiest time of the year, but it can also be the most stressful. You want to offer your customers a great shopping experience, and you can. It just requires getting a head start.
Happy Holidays from our team to yours!
Renee McBride