Want to sell products on Amazon? We can help you get started.
Online shopping is more popular today than it was a decade ago. Buying from Amazon has become increasingly common. In fact, it is now a part of our daily lives. Did you know there are ways to sell on Amazon? Yes, you can become an Amazon seller. Follow our guide and start selling on Amazon.
Selling on Amazon has worked out for a lot of people. You could become one of them! You can consider selling on Amazon if you're looking for some extra income. Some people go on to replace their 9 to 5 jobs with successful Amazon selling. There is no scarcity of business ideas one can choose from to make extra cash. Take a look at our list of
100 small business ideas
. Some of those ideas could be started as an Amazon seller business. Maybe one day, they can be brought to a larger scale.
Is it free to be an Amazon seller?
No, it is not free to become an Amazon seller. It costs $39.99 in monthly fees in addition to selling fees.
How much does an Amazon seller make?
Amazon sellers can make $45,080/year which is the national average in 2021 according to
ZipRecruiter
. The top earners make as much as $79,000 a year!
How can I join Amazon as a seller?
If you want to learn how to become an Amazon seller, this piece will shed some light on how to begin the process. We have broken down the entire process into small actionable steps.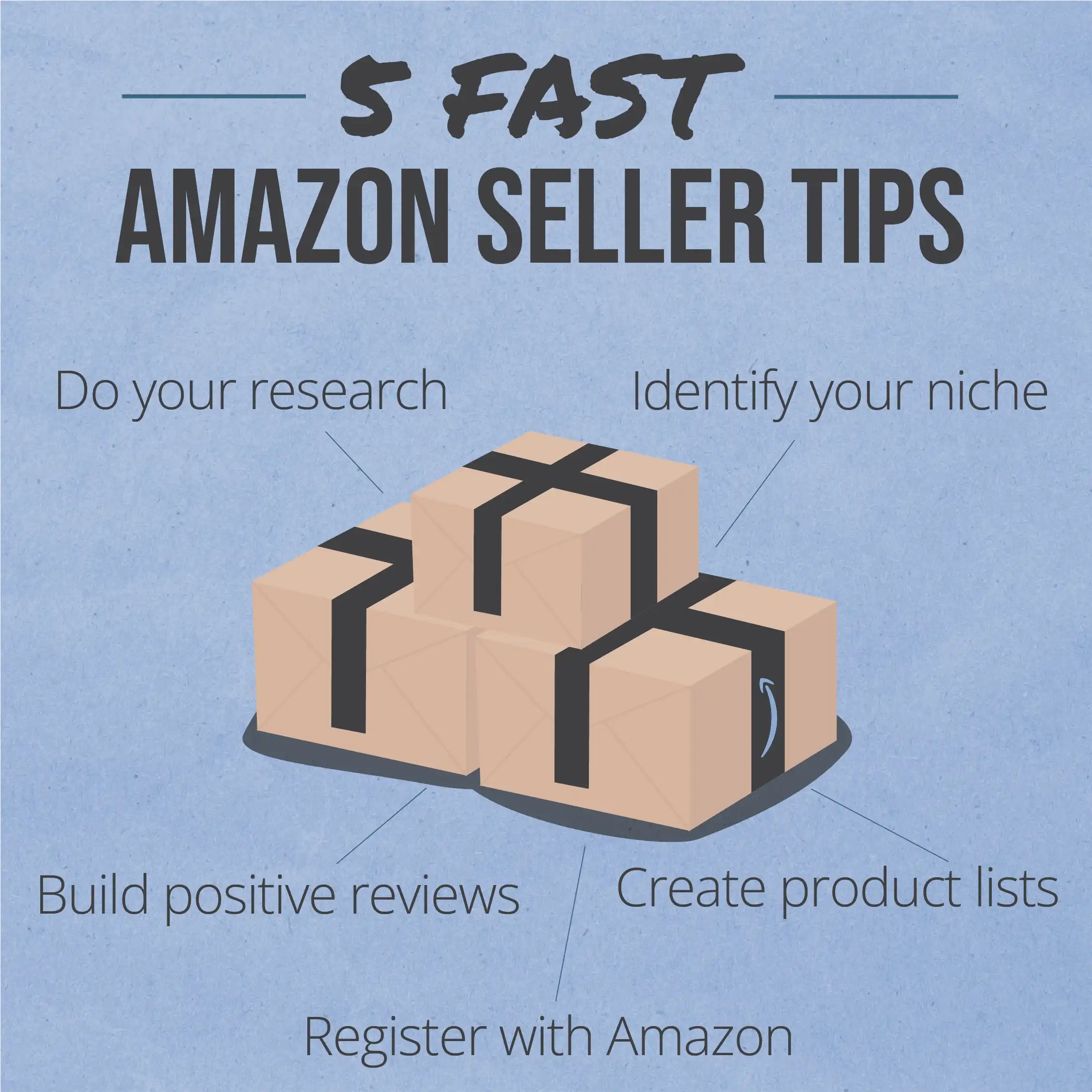 Each step depicted will include information and directions for the Amazon seller in you:
1. Do your research:
One effective strategy to get the task at hand down is breaking up projects into smaller, more manageable pieces. You don't have to have a full plan. As long as you can identify what the next step is you should be good. Divide your task into smaller, less daunting fragments. The less you have to do at one time, the easier it will be to complete tasks! Turn the next step into a bite-sized piece. Then, complete the task.
2. Identify your niche:
Amazon sells innumerable products spread out over a wide range of categories. From gadgets to holiday decorations, Amazon really has everything under one roof. To become an amazon seller, you'll need to narrow down the categories and pick your niche products. Some people sell toys while others sell stationery. There are factors like cost and profit margins that come into play here. Needless to say, there are shipping and packaging costs too. All of these untie to influence your decision. Some product categories bring in more money than others. There are products that sell more frequently than others. Try to identify the more profitable
product categories
. We suggest taking time and making lists as you select your niche category or products.
3. Register with Amazon:
n order to join Amazon as a seller you must sign up for a seller account and choose a plan to register. If you intend to sell less than 40 items in a month, you can choose the "individual" plan. The "professional" plan is for sellers who sell more than 40 items a month. You'll need a few items such as:
Bank account number
Routing number
Credit card
Government ID
Tax information
This information will help you to complete registration. Upon completing your registration, you can access Seller Central. It is a portal that helps you manage your business. You can track inventory, update listings, monitor performance, track sales etc.
Where can I find Amazon Seller Central?
You can access your Amazon Seller Central any time by going to
sellercentral.amazon.com
.
4. Create product lists
For customers to buy from you, you'll need to list your products. You can either match a listing if another seller is selling the same product as you are, or you can create a new listing if you are the only seller selling that product. If you registered as an Individual seller, you have to list products one by one. On the other end, professional sellers can do bulk listings. To list a product, you need the following items:
Product title
Sku number
Product description
Images
Keywords
Once you have those items, you can set up the product listing.
5. Choose a fulfillment option:
In order to deliver your products to your customers, you need a fulfillment option. You can either choose to do it yourself or have Amazon do it for you. You have to decide which option works best for you. When you choose to do it yourself, it means that you're storing and shipping products directly to your customers. Amazon will charge you for shipping and the rates depend on product category and shipping service chosen by the customer. If you opt for Fulfillment by Amazon (FBA), you send your inventory to Amazon, and it is stored in one of their fulfillment centers. Packing and shipping is handled by Amazon. They collect payments from customers and then pay you every two weeks. Amazon takes care of returns and refunds.
6. Build positive reviews:
Did you know that about
93% shoppers read reviews
before buying? This conveys that a consumer's buying decision can be swayed by what the reviews say. As a seller, you want to build an overall positive rating. Striving for five-star ratings means you'll need to gather positive ratings. Be accurate in your descriptions. Customers do not want to feel misled. Offer excellent customer service by being responsive to queries and transparent about shipping details and delays. Work towards building credibility by being diligent in your dealings. Ship out orders as soon as possible. It is easy to become an Amazon seller, but it takes work to become a reputable one.
Is becoming an Amazon Seller right for me?
A whopping
2.05 billion people shopped online
in 2020. The number only increases every year. There are over 2.5 million third-party sellers on Amazon and 86% of them are profitable. You could be one of them. It doesn't take a lot of education or experience to sell on Amazon. You can figure things out with a little bit of patience and some consistency. It takes time to browse for inventory, place orders, package, and ship them. You are also responsible for printing labels. Tracking your performance is a way to stay on top of your game. There are standards that Amazon sellers are expected to meet. Metrics like order defect rate, pre-fulfillment rate, and late shipping rate need to be monitored. As an Amazon seller, you are in charge of managing your business. Bookkeeping is another aspect of being an amazon seller. You need to keep track of your spending and expenses along with income generated. We would advise you to keep records of every purchase for tax purposes. We hope our insights prove to be of use as you embark on your journey to become an Amazon seller!