Guide to post pandemic employee recruitment and retention
Discover the best employee benefits that help attract new hires and keep existing staff during these post-Covid times.
Seamless integration, effortless payments
Keep business running smoothly. Our solutions integrate with popular programs
The pandemic changed the way we live and the way we do business. It also changed the hiring model in many ways. When Covid struck the economy, many people found themselves out of work. Job-security became a thing of the past amidst lay-offs. To make ends meet, most people started resorting to gigs or temporary jobs. It doesn't take long for people to get comfortable with what they're doing. Same goes for gig workers.
Workplaces across the country are now hiring, but many people are reluctant to go to work. Businesses are facing employee shortages. People prefer to work gigs and temporary jobs or stay on unemployment. This is a concern for companies trying to hire and retain talent. And a bigger concern for businesses trying to stay afloat.
To entice potential employees, a paycheck isn't enough. People want more from their jobs. As an employer, you may not always be able to hand out pay bumps. A smarter alternative would be innovative employee perks. People are less likely to quit a job that offers great benefits.
Are you offering any of the 10 best employee benefits?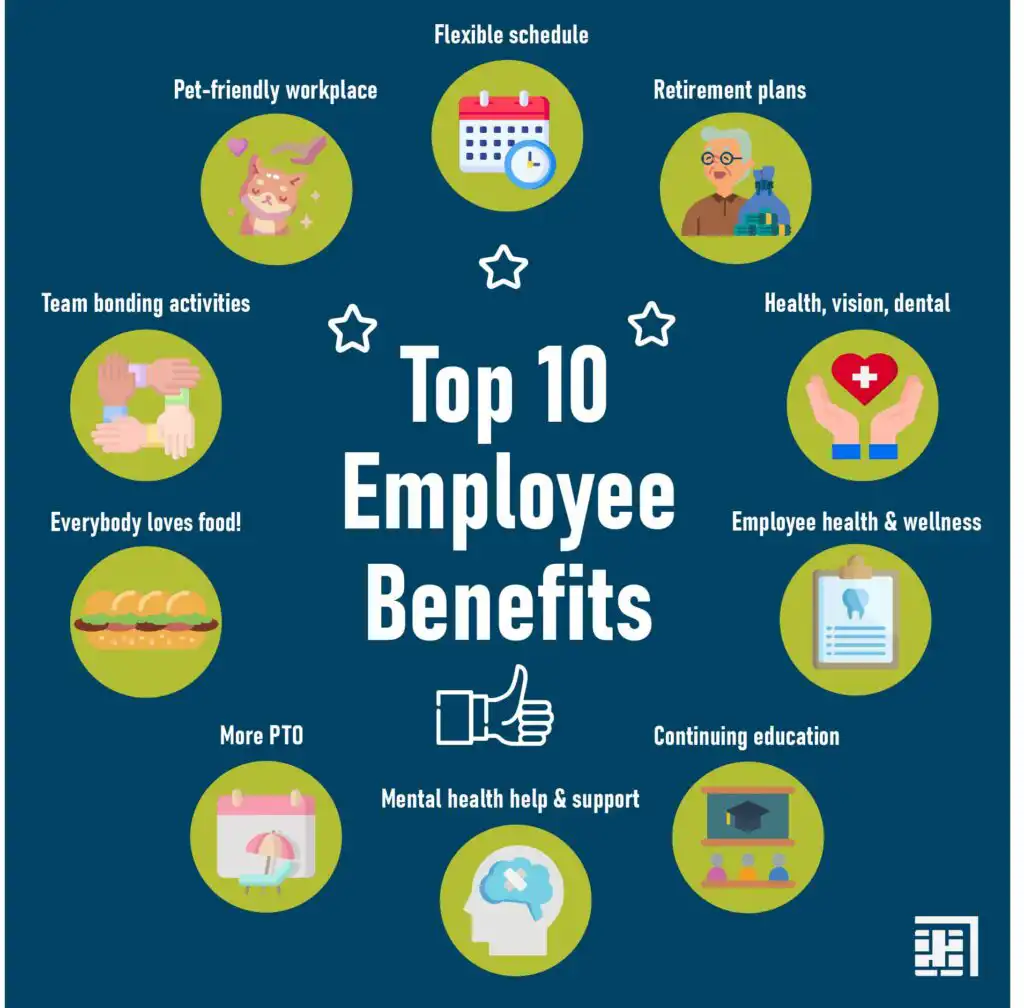 We have compiled 10 best company perks to help attract quality candidates. They are as follows:
1. Flexibility
This is at the top of our list of employee benefits for 2021. It accounts for fair work-life balance. And it also encourages employees to perform better. Ability to set one's schedule within business hours is a great perk. So is being permitted to work remotely when necessary. These ultimately reflect your company's approach towards putting people first. And when you put people first, you retain them longer.
2. Retirement plans
A solid retirement plan is among the top employee benefits. It shows that you care even when they're no longer of service to your company. Most people wish to retire comfortably and plan accordingly. A 401k with employer match is something most people want. As a business owner, you get tax breaks when you contribute. Offering an effective retirement plan will never go out of style.
3. Health, vision, dental insurance
This is probably the most expensive perk for any business to offer. However, sky-high healthcare costs make insurance options a prime employee benefit. People are far less likely to quit a job that offers them great health insurance. It is a fail-proof way to attract and retain employees.
4. Employee health and wellness programs
Your employees' overall well-being can impact their job performance. Perks like YMCA memberships, Yoga retreats, discounted or free Pilates classes, etc. contribute towards their health and wellbeing. These initiatives can boost productivity and improve quality of work. Wellness programs are among the most desirable employee benefits.
5. Continuing education
Cost is a huge deterrent for people seeking higher education. You could use it to your advantage by offering tuition assistance. Ambitious employees are more likely to work in jobs that offer this perk. It will help workers bring more value to their jobs. They will be motivated to perform better. Investing in their growth and development leads to building a better workforce.
6. Mental health help and support
Mental health and well-being are just as important as physical health. We live in a high-stress world with multiple components that demand our attention. Regardless of cause or magnitude, mental health concerns apply to us all. It is necessary to have knowledge regarding mental health issues. Counseling and mental health education make great additions to a benefits package.
7. More PTO
If we're talking about the best employee benefits, PTO (Paid Time Off) deserves a solid spot on the list. A practical approach to productivity is keeping track of what your team has accomplished. Imposing specific working days is only a measure of hours clocked in. When you offer generous PTO, your employees will appreciate that you care. If you're hiring, this is a great time to review your PTO policy. A day off on one's birthday or a half-day Friday every month will contribute to job satisfaction. It sort of humanizes your team as people with lives outside of work.
8. Everybody loves food!
"There is no sincerer love than the love of food." – George Bernard Shaw
And we agree! Food makes everything better. Offering snacks at the workplace is bound to be a hit among your employees. Donuts on a Monday morning could be just what your team needs to battle the blues. We are all for team lunches, barbecues, and potlucks. Food brings people closer and that's the first step towards a thriving workplace culture.
9. Team bonding activities
All work and no play doesn't sound fun or fair. Team-building activities will encourage your employees to connect. These activities promote teamwork and engagement. They also hone leadership skills and improve culture. Budget friendly options would be board games, scavenger hunt, office trivia, etc. Elaborate ideas include escape room, axe throwing, excursions, bowling, and more. A little friendly competition never hurt anyone.
10. Pet-friendly workplace
Pet parent or not, every workplace deserves some four-legged furry love! This one made our list as one of the more innovative employee perks. During the pandemic, many of us were working remotely and our pets got used to having us around all day. Consider allowing your employees to bring their pets to work. This must be within reason of course. And you will need to set guidelines to avoid unwanted situations. But, in the end, it will all be worth it.
All businesses want to recruit the best workers. Hiring is a tedious process and so is retaining employees. Staying informed about recent workplace trends empowers you to hire smarter. But what gives you that little extra? What makes your company different from your competitors? There's always room for improvement when it comes to your workforce. Pay raises are a great boost to an employee's morale. But what can you offer in addition to raises? What would make applicants WANT to work for you? Now is the time to get creative with unique employee benefits to invite, gain, and keep top talent.
Acumen Connections is a locally owned and operated payment processor in Wichita, Kansas. Our organization seeks to help small businesses meet their goals with real solutions designed by real hardworking people. To help businesses and individuals achieve personal and professional successes, we're providing new content weekly. Stay up on our posts by visiting the Acumen Connections Facebook, Instagram or Twitter pages, and visit the blog for a full catalog of resources fit for hardworking people.
Anna Reeve, MBA