Is your website doing what it's supposed to do? We believe it could do better!
Your website is supposed to build brand awareness, generate leads, and turn prospects into customers. Not all websites are created equal, and some need more TLC than others. Learn about website conversion. Discover how you can make the most of your website with our proven strategies and tools.
Yes, every successful business needs a website. Even the ones that have been in business for decades and have managed to get by without one for a long time. A website not only helps you stay relevant, but it also helps build brand awareness and a digital presence. It offers prospective customers the opportunity to know more about what you offer.
Just having a website just for the sake of it isn't going to do you any favors. Some business owners believe that they need a website so that they can get a Google listing. However, that is not the sole purpose behind businesses needing a website. It is supposed to do more than just offer an online avatar of your business. Websites are supposed to draw in prospects, captivate them, and motivate a purchase.
What is website conversion?
Let's start with the basics. Website conversion takes place when someone visiting your site completes a pre-set action like making a purchase, subscribing to a newsletter, or filling out a contact form. Several websites have no problems gaining traffic, but they struggle to find leads and make sales. Your goal is to seamlessly lead your prospect to the desired action without losing them.
What is a high converting website design?
A high-converting website is one that guides visitors through the important elements of the site, all the way to the CTA (call to action) without losing them in the process.
A common problem faced by businesses is low website conversion. They have spent all this time and money to build a website, but it just isn't serving them as expected. There could be several reasons why a website isn't converting leads to sales. In this piece, we will attempt to help tackle common issues and recommend website best practices.
First, we'll cover the ins and outs of conversion. Then we'll cover how to increase website conversions.
How to calculate website conversion
In order to calculate website conversion or conversion rate, you will have to ascertain what you're attempting to measure. You need to have clear goals in order to convert them into metrics.
Find the ratio between the number of goals achieved in a given time period and the total number of website visitors, and then multiply the result by a hundred to calculate rate of conversion.
Rate of conversion = (Goals achieved / Total visitors) x 100
For example, let's say your goal is to get website visitors to fill out a contact form. If your website or landing page had a total of 15,000 visitors in a month and 460 of them fulfilled the desired action of filling out the contact form, your conversion rate is:
(460/15000) x 100 = 3.07%
What is a good conversion rate?
Anything in between 2-5% is considered a good website conversion rate. It is to be noted that "good" varies by industry, website type, and type of goals.
How to track website conversions?
There are different tools to track website conversion. We have elaborated on a few of them:
1. Google Analytics
This is a free tool used to focus on a large amount of data that can be narrowed down by setting filters. Filters allow you to concentrate on specific data that reflect your goals. Google analytics is used to report website traffic and it shows the aftermath of a prospect interacting with your ads. You can see if they made a purchase or filled out a contact form.
A notable feature of Google Analytics is that it allows users to set goals. They help measure how well your website is meeting the desired outcomes. There are several different types of goals and the fulfilment of each is tracked. For more information on Goggle Analytics, click here.
2. Hotjar
This tool enables you to understand behavioral aspects of your site visitors. You can quickly gain insights into what a prospect needs from how they act on your website. Their prominent features include heatmaps, recordings, feedback, and surveys.
Hotjar allows you to see things such as:
How far down visitors scroll on pages
Which CTA's buttons they're clicking
Which CTA button's they're ignoring
And which text customers want more information about
With clients in over 180 countries, Hotjar is a strong choice for a conversion tracking tool.
3. Adinton
A hub for tracking clicks and conversions, this tool also tracks your marketing spending. It shows you if you're over or under-invested. Adinton offers performance details on every channel along with pointers on improving performance. You can opt for a 45-day free trial to decide if Adinton suits your needs before signing up for a paid plan.
4. Adobe Analytics
This tool helps track website visitors and conversions and has a drag-and-drop data visualizations feature to facilitate better reporting. The benefits of Adobe Analytics include web analytics, marketing analytics, attribution, and predictive analytics.
5 ways to build a high converting website and increase conversions
1. Focus on copy, design, and layout
Your copy, design, and layout are the building blocks of visual aesthetics.
This calls for a great headline, effective explanation of how your product or services can benefit a prospect, and an easy-to-navigate layout. Designs should add to a viewer's experience and not distract them from the real purpose. All of these will grab a visitor's attention and help retain it until the very end – the CTA (call to action).
Every website has a goal. You want a visitor to buy, subscribe, or sign-up.
Your CTA goal should be clear and easy to access. That's what leads to an increase in website conversions.
Look at this bakery website. What do you think they want the website visitor to do?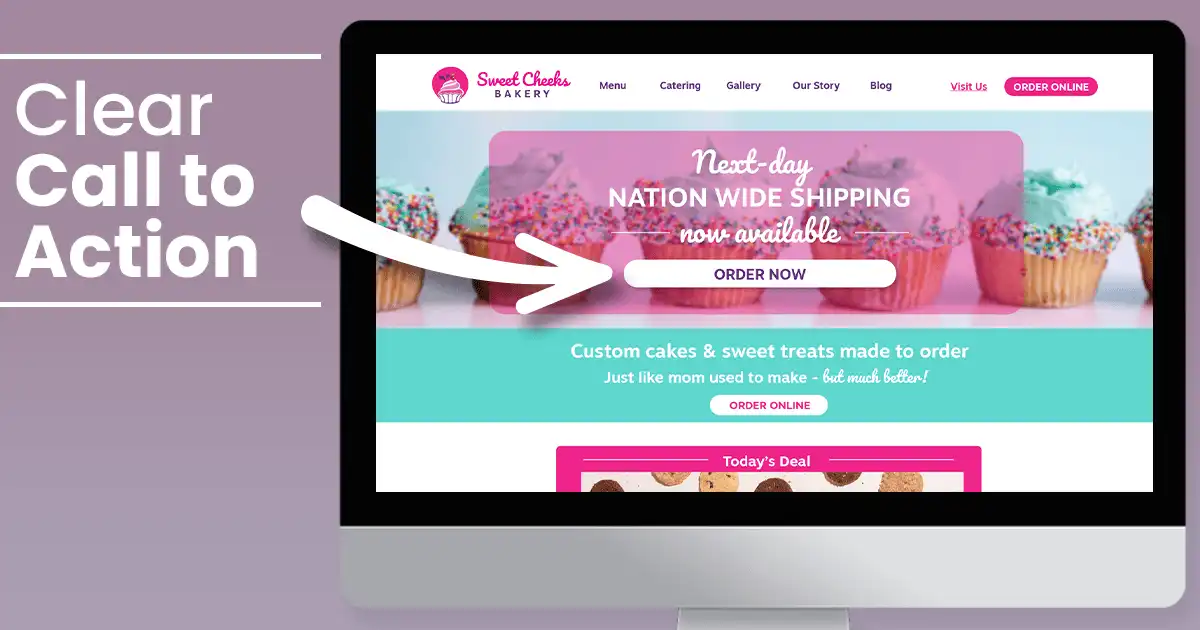 This bakery makes it really clear they want you to order something.
Whether you click the main purchase button at the top of the screen, or just below the header image, you'll land on their custom order page. They make it easy to find, access and click.
Your CTA needs to be powerful and convincing. That doesn't mean it has to be a sale or purchase though. Maybe you have an expensive product or service that requires more research to be done before customers make a purchase decision. Encouraging customers to sign up for your marketing emails is sometimes just as valid of a CTA as getting visitors to make a purchase.
Look at this architecture website. Armin set a slightly different goal. However, his CTA goal is still just as clear.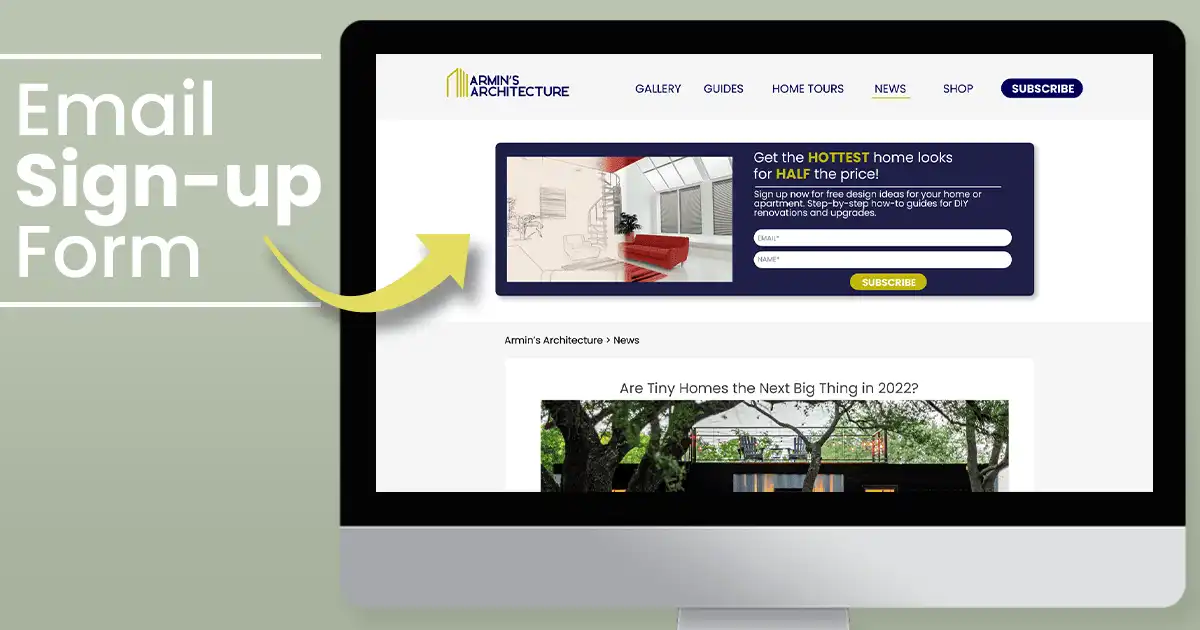 Are there key features or text placement that make the CTA obvious?
2. Up your SEO game
In order for visitors to land on your website, you'll need to have a strong SEO (search engine optimization) strategy in place. You want to be found when a prospect is seeking a solution to a problem using a search engine. You want your business to be features at the top of the search results. So, when someone is typing product names or services into Google, you want your business to rank higher than your competitors in the search results.
SEO is a broad subject and includes two main facets – on-page SEO and off-page SEO. On-page is more relevant to what is on your website like keywords, title tags, meta descriptions etc. Off-page SEO is relevant to elements outside of your website like backlinks, social media marketing, guest blogging, brand mentions etc.
One major element of SEO is customer experience. Conversion and website performance go hand in hand, as a lot of the stellar customer experience elements are the same.
Customers that enjoy what your website has to offer will stay on your website longer. If they're not happy with what they're seeing, they'll bounce and leave your site. Customers that are happy with your site are more likely to interact with your site. They're more likely to make a purchase or complete your conversion goal.
Make it easy for your customer to travel around your site. It could make your website visitor's journey look something like the first example: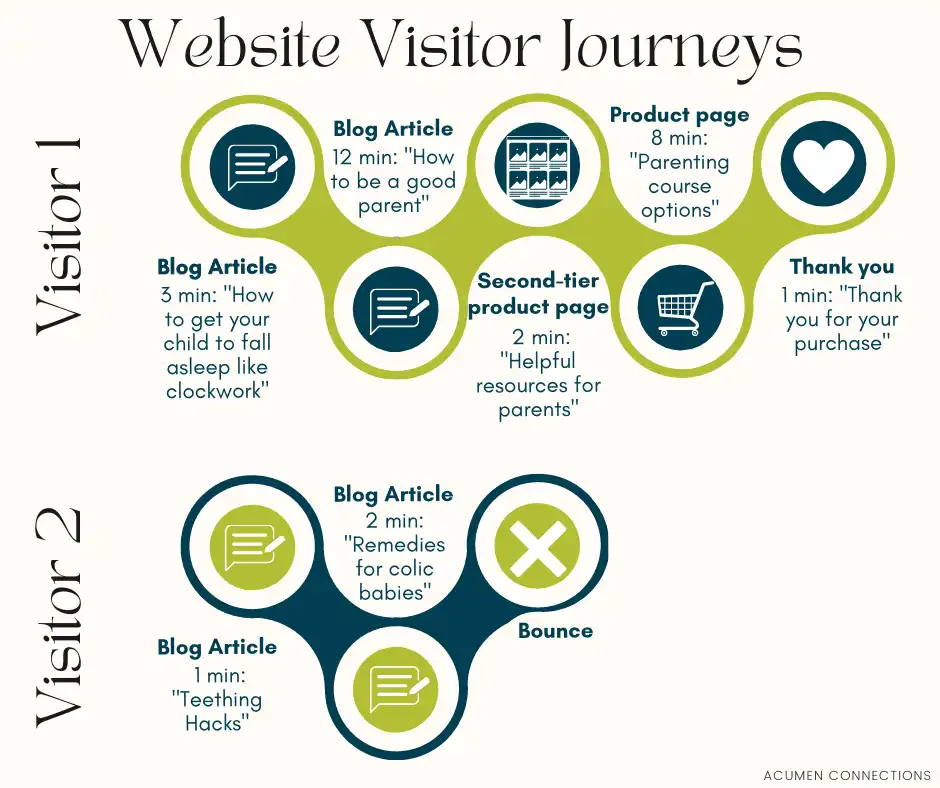 The first viewer might have landed on a page with info that was interesting to them. If it was written to carry the reader onto another blog, it could help be part of a sales flow. The first website viewer is far more likely to make a purchase than the second viewer.
A website with a higher conversion rate is likely to have better SEO strength. A website with strong SEO strength is more likely to have content people want. Viewers are more likely to stay on and complete a conversion.
We recommend a few SEO tools like Ahrefs, SEMrush, and Moz to help you optimize your website.
For additional information on SEO best practices, consult our resources.
3. Mobile-friendliness and load time are essential
About 50% of all internet traffic is attributed to mobile devices. Therefore, it is indispensable to have a mobile-friendly website. This means your website needs to work as seamlessly on a mobile device as it does on a desktop computer. 60% of all organic search visits are done through mobile devices.
It is smart to assume that a huge percentage of your prospects are using their mobile devices to access your website. Remember to optimize large images to ensure they display well on mobile devices and do not take too long to load. In addition, ensure that any visual elements on your site, including text and imagery, are readable on a desktop or mobile device.
Load time is a measure of how long it takes for a webpage to show up on a screen. It is calculated from the when you click on a page link or type in a web address to when the page is fully loaded.
Although 2 to 5 seconds is touted as ideal load time, every second beyond the first two seconds leads to higher bounce rates. Who wants to sit around and look at a blank screen? Pages that take 2 seconds to load have a bounce rate of 9% while those that take 5 seconds to load have a bounce rate of 38%. A couple fewer seconds can have an enormous impact on improving website conversions!
These statistics confirm that load time is crucial to retain visitors and avoid losing them. Prospects are less likely to revisit a website that didn't offer them a good customer experience previously.
4. Reliability helps consistency
Often underrated, reliability is an important attribute for website conversion. Your website needs to be available and perform consistently to avoid decline in conversion rates. Most visitors will bounce to a competitor's website if yours is deemed unreliable.
If your website has error pages or if the pages don't work as expected, visitors will leave, and you'll miss out on sales opportunities. We recommend using a secure and trusted website hosting service to maintain the reliability of your website. Use a tool like Dead Link Checker to ensure you don't have broken links on your website.
Offering a wholesome and well-sounded customer experience is a sign of a consistent website. Sending thank-you notes, having a branding voice or tone in writing makes all the difference. Customers may interact with your website or even your social media. Ensure that their experience is the same, no matter which of your platforms they're on. Another example of website consistency would be maintaining the same navigation at the top of every page.
5. Social proof matters
Did you know that 89% of customers read online reviews before making a purchase? Yes, this is a huge chunk of all buyers who shop online. This is why your website needs to display positive testimonials from customers.
Most consumers trust reviews and it influences their buying decision. Positive reviews could be the prime factor between adding a product to a digital shopping cart to proceeding with payment.
There are a few reasons social proof may have such a significant impact on purchase decisions. One theory is that the bandwagon effect, or groupthink. These effects may encourage consumers to do as their peers do. In layman's terms, potential customers are more likely to do something (like make a purchase) if they see other people are doing it.
In addition, an increase in trust is another reason social proof may have a strong impact on conversion. It's hard to gain customer trust if they've never worked with you. It's easy to manipulate customers, or even lie. Putting credit card information into a new website is a huge commitment. They want to ensure that others have done the same and had a positive experience in return.
There are many ways to help add social proof to your website. Any of these could help improve website conversions. Consider the following ideas:
Customer testimonials
Celebrity or influencer endorsements
Customer photos
Customer ratings and reviews
Badges earned from third-party sites (such as the BBB)
Purchase or customer counts
Falling short in any of the above can contribute to higher bounce rates and lower conversions. Once you drive traffic to your website, you want to retain your visitors long enough to convert. Having a high-converting website is important for a business to succeed and gain an edge over their competitors.
A well-converting site is the real battle
Getting potential customers to your site is one thing. You could have the best marketing in the world. Thousands of viewers could be on your site daily. But if you don't focus on improving conversion, you'll never see the sales you want.
As a business, you want more people to buy from you and use your services. Having a website enables people to digitally access information regarding your products and services. It offers them a platform to decide whether you can help fulfill their wants and needs. A good website goes a step further and allows visitors to sign up or make a purchase with minimal effort.
Website conversion is important since a vast majority of people look online when seeking a product or a solution. If your website isn't doing its job, your target audience are going to pick one of your competitors.
Avoid losing out on potential sales due to a faulty website. Our strategies are designed to tackle common problems like high bounce rate, customer dissatisfaction, and low conversions. We hope our list of strategies helps increase website conversions for your business.
Anna Reeve, MBA