Here we are in October. We have officially entered into the fourth quarter of what may go down as the longest year in history. Before we jump forward, let's take a look back at September.
September is the time of year we transition from the warm of summer to the cool of fall. Ah, summer. What three words would you use to describe this summer?
Mine: That was summer?
By now, you know a thing or two about COVID-19 and its effects on small business. As we saw in August, consumer spending at small businesses is still on the upswing since its dip in March and April. While this number has leveled out some following a peak in July, there is continued improvement as local economies adapt to the pandemic.
Comparatively to a baseline set in March, total sales at a sample of U.S. small businesses hit its best mark yet. Total sales at this sample of small businesses, according to one report, were up nearly 30% from March in the first week of September.
What it means. That's good, right? Absolutely. Continued improvements from the benchmark bring small businesses who were once on the brink close to recovery. While we're not out of the woods quite yet, signs like this point to a positive recovery.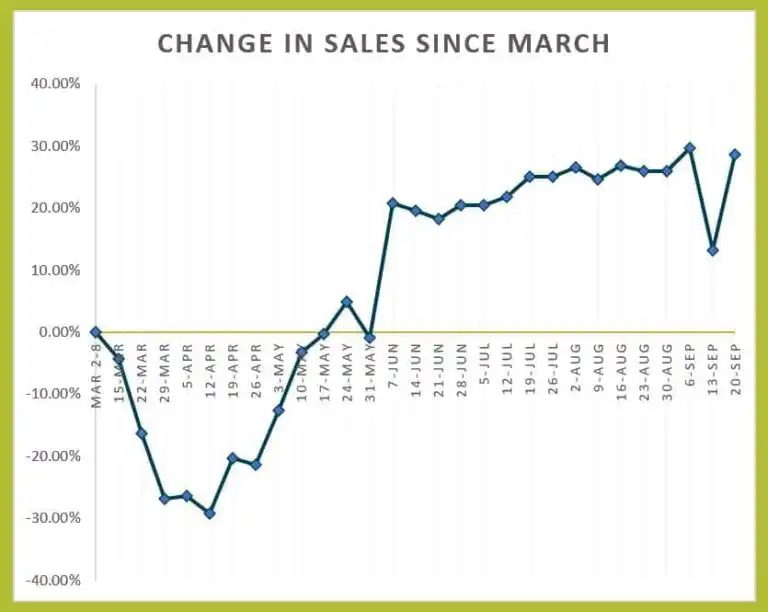 Good news, you say?
If there's one thing to notice, it's not that sales and transactions sagged around the Labor Day weekend (down 12.7% week-over-week). It's the near-instant one-week recovery (up 13.7% week-over-week) that occurred following the summer holiday.
A little holiday dip was expected. This was projected by analyzing small business sales performance following a three-day holiday weekend where the holiday falls on a Monday. The report anticipated a 10% drop in weekly sales numbers, with a 75% drop in sales on Labor Day alone. The reality was a 52% drop in sales on Labor Day, but an overall 12.7% drop in sales for the week. This blip shows that the trend of increased sales (up 28.6% w/e Sept. 20) and transactions (up 25.6% w/e Sept. 20) are both holding.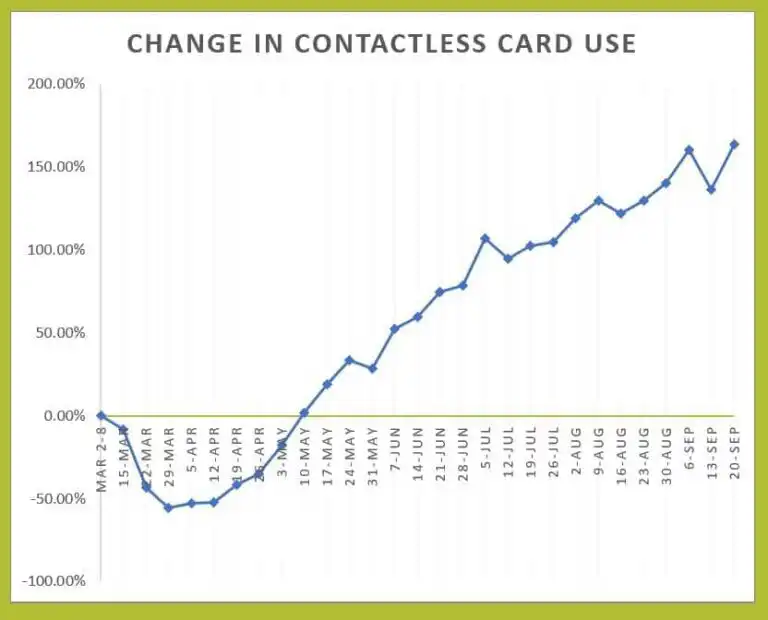 Contactless is more
The U.S., compared to Canada and Europe, has been historically slow to adopt contactless payment. Enter the COVID-19 pandemic and that trend has risen to mammoth popularity, including at businesses big and small. This shouldn't be much of a surprise, considering the attention to sanitation. Some have been also quick to note the security benefits of using contactless as compared to other payment options.
As compared to pre-pandemic baseline levels, contactless payment transactions are up 164%. For reference, contactless payment transactions were up almost 95% from the baseline in July. That rise in popularity has not slowed. In fact, contactless payments are growing so quickly they're outpacing EMV chip card transactions at this sample of small businesses. If this drift is any indicator, this trend may survive and thrive well beyond the pandemic.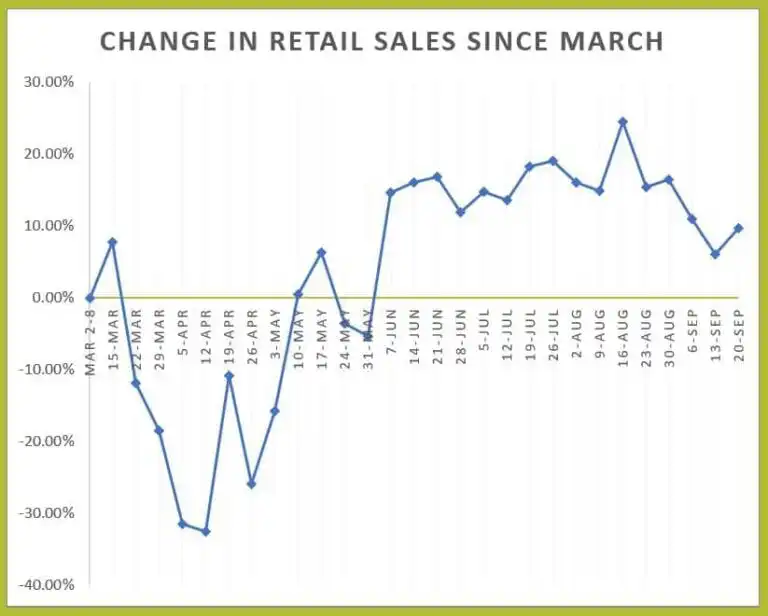 Retail is back, baby!
In the shake-up that COVID-19 has had on our economy, American households have strikingly shifted their attitude toward savings habits. How much Americans collectively save of their disposable income rarely exceeds 10%. Since April, that figure has nearly tripled. In this shift, retail spending was dumped off, ultimately leading to the end of some major big box retailers.
Slowly but surely, we're returning to old form. Early August reported some of the best retail sales numbers we've seen since the pandemic. While there has since been a leveling off, another figure here is rising: transaction counts. Overall sales numbers in this segment did decrease throughout the month, but the transaction totals are the highest among our sample in two months. This could be a sign that consumer savings habits are returning to old form.
Here's the big picture.
Sales were hot in July. August was a little cooler. September … Well, it's tricky. Credit card sales and transactions were on an up-and-down slope in the month, with the expected drop during the Labor Day weekend that will likely blip September in a month-over-month comparison. As more are getting outside again, consumers are spending more and more often.
Industries like food service likely suffered a sizable hit from the holiday before returning to form. Transactions in this industry, likewise with others included in the sample, continue to level. While sales figures show depth in performance, transaction counts also serve as positive indicators — and those numbers are also trending in the right direction. Sales and transaction totals among retail establishments pointed to an up-and-down in sales, but highest mark in transactions in two months.
Contactless payments are the new iPhone — kind of. Remember that thing that suddenly everyone had? Walkman. iPhone. Contactless Payment? With COVID-19 concerns still front-of-mind for most Americans, the growth in contactless payment transactions continues to grow at a head-turning rate. This might be your cue to jump on the wagon.
Small businesses — We're in this together
Small businesses should be equipped to process credit card and contactless payment transactions. Acumen Connections provides your business with the tools to make accepting payments fast, simple, and secure. We know that one size does not fit all. We work with you to understand the uniqueness of your business, and tailor a solution right for you.
Real solutions from real people. We're here for you around the clock with real people who know your business. Have the help you need, when you need it. Call us to learn more.
Acumen Connections