Many people are being affected in cities that are under a shelter-at-home order. Business owners and employees are having a difficult time with COVID-19. Employees have been laid off and entrepreneurs are having to close their doors. Some businesses may never reopen. So, how can customers help now?
We already know that local business is an essential part of our community. Shopping local keeps dollars in your city. When you shop at a local restaurant, you are helping support other businesses in your area. That restaurant is probably working with a local farmer or advertising agency. All these places help support other nearby businesses. These same places also hire employees that live in your neighborhood. Shopping local helps build a sense of community. When you shop local, you likely know the person you are buying from.
The business owners that are being affected are local people. It is friends, neighbors, and family. There are many ways customers can help support the local businesses they love during this difficult time. Some of these ways include spending money, and some of these ways cost nothing!
Here are 7 ways that customers can help a local business: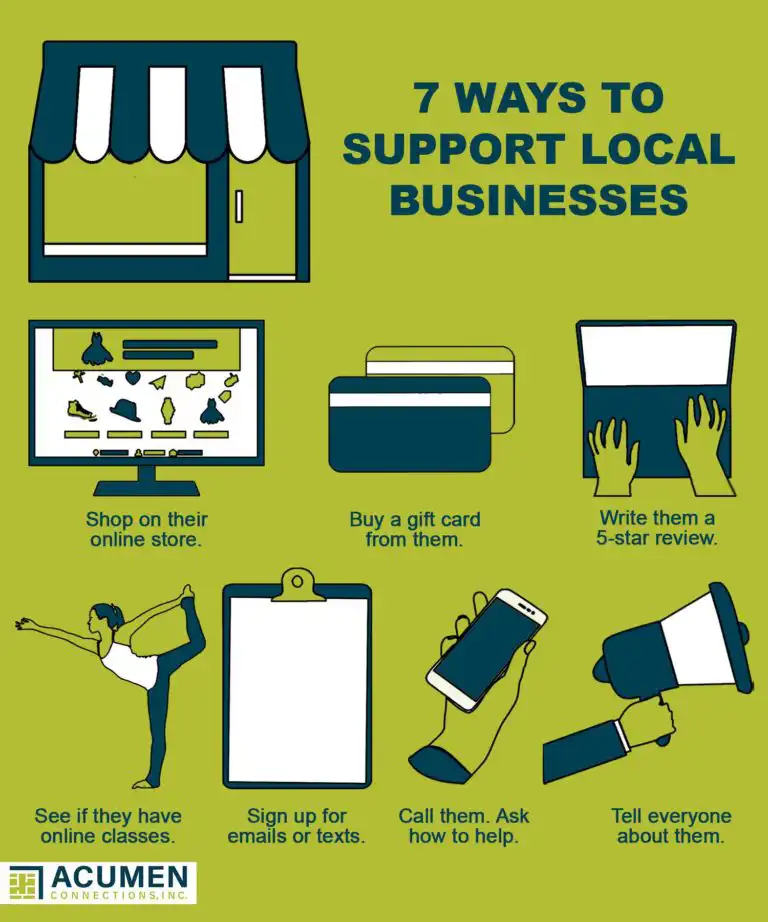 Here is how business owners can help:
Create a website and online store for your customers to shop at. You can reach customers across town or across the world. We have more information here.
Offer gift cards. By working with Acumen Connections, you can offer your customers gift cards to buy. We have more information about this topic on this page.
Call and email customers asking for a review. Provide them with links to things like Facebook, Yelp, Google, or Trustpilot. It just depends on where you feel like you need more reviews. Are there other review services your business has an account with?
Depending on what product or service you provide, creating an online store might not be a good fit. For some companies, like a gym, they provide an experience. Consider creating an online site where customers can pay to watch a video or take an online class.
Let your loyal customers that are following you on social media know how to sign up for your email or text list. Provide them with a link so that they can sign up. When you are ready to start marketing again, you will have a large base of customers to contact.
If your customers call to ask how they can help, let them know. Do not be afraid to let customers know how they can help. Send out an email, text, or even social media post. Loyal customers do not want to see their favorite shops or restaurants go away. More people might be willing to help where they can. If possible, try to offer both paid and free solutions. You can even share this article with your customers!
Finally, ask your customers to tell everyone they know about your business. Word-of-mouth is one of the best platforms to get your brand out there. People usually see it as being more trustworthy than an online ad or commercial.
Have other ideas? Comment below and share! We are all in this together.
Renee McBride