Feel like your successes are a fluke? You might be dealing with imposter syndrome
The professional world is competitive and challenging. We're always chasing new milestones and goals. However, oftentimes we are left doubting their abilities despite having all the qualifications, skills, and experience. In this piece, we work with a career coach to address imposter syndrome types and use expert intel to explain it better.
Do you feel like you aren't as capable as you're perceived to be? Are you scared of being "exposed"? Chances are, you're dealing with Imposter Syndrome. Yes, you heard that right but don't worry, it is not a disease (even though it might sound like one).
Follow us on all your favorite platforms!
Follow us on all your favorite platforms!
What is imposter syndrome?
Imposter syndrome is based in self-doubt. It's the self-perceived sense that you're inadequate, or not competent. Many individuals with imposter syndrome feel like their successes were mostly flukes. Others believe they're good at presenting themself to peers in a way that makes them look better than they are.
Sound familiar? You're not alone. In fact, this is a very common thing among working professionals and around 70% of all people have experienced Imposter Syndrome at some point.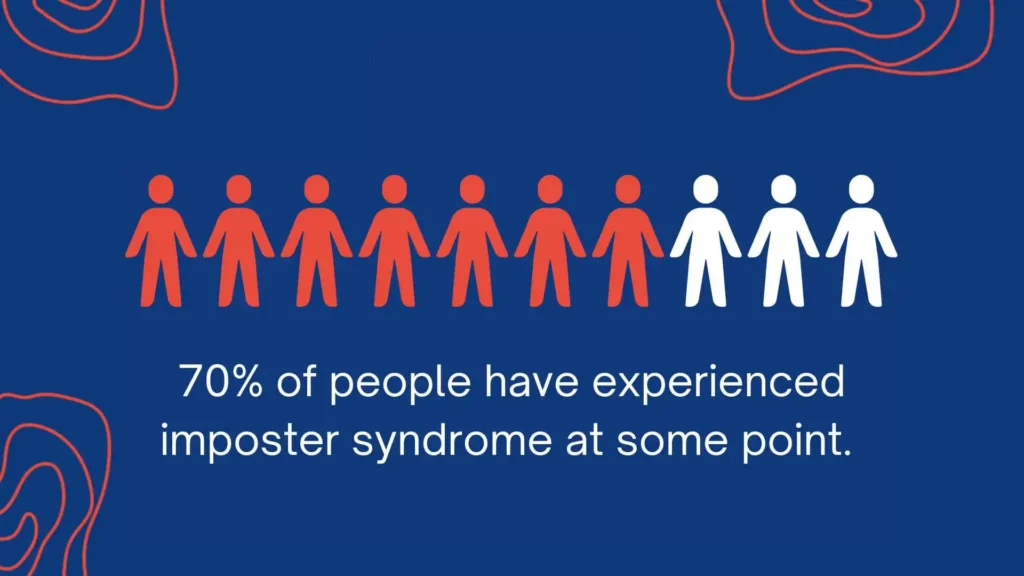 Those dealing with imposter syndrome are usually high-achieving individuals with several accolades under their belt. They are capable and qualified professionals that are often assets to their teams and organizations. In spite of all their successes, they deal with crippling self-doubt and feelings of not being good enough at their work. They often attribute their successes to sheer luck and irrationally fear that other people might figure out that they aren't very capable.
Let's dive into:
Expert intel is key!
We reached out to career coach, Angie Callen, to help provide better insight into imposter syndrome. Angie is a Certified Professional Career Coach and Resume Writer, and the founder of Career Benders. She's a Carnegie Mellon graduate and has over five years of experience helping business professionals and entrepreneurs achieve career satisfaction.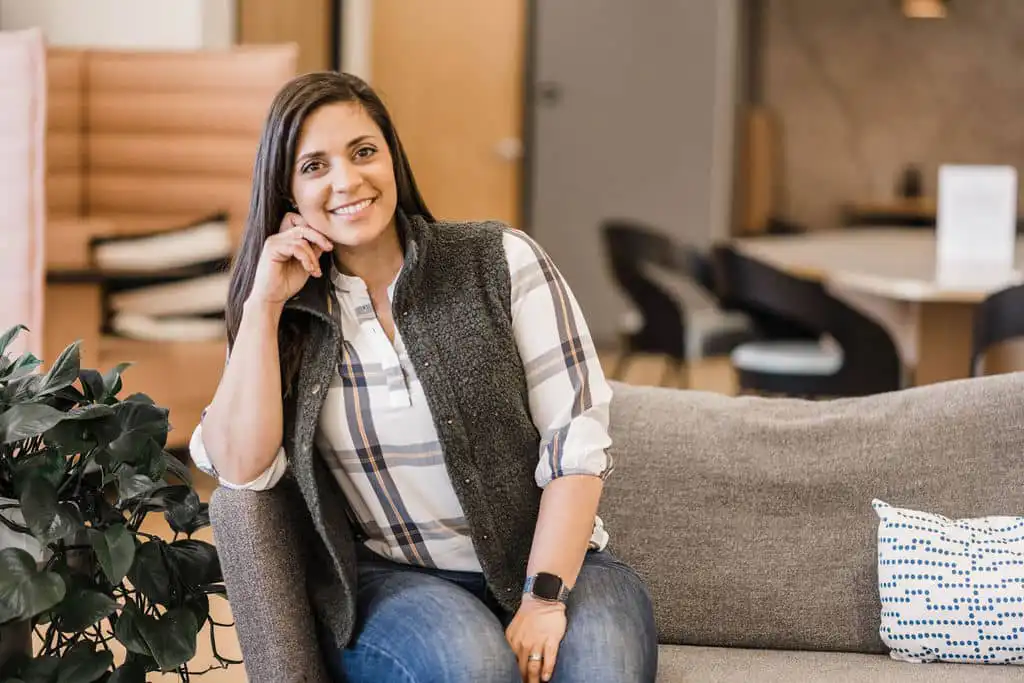 Career coaches are a lot like life coaches. They help you set goals and steer yourself where you want to go professionally. It's exciting to find your dream profession! But big changes can come with big fears. One way Angie leads others to success is by helping them recover from life and career situations that have broken their confidence. She's helped plenty of individuals overcome imposter syndrome so they can climb up the corporate ladder.
Angie has also faced imposter syndrome firsthand and has been kind enough to share her insight on dealing with it on a personal and professional level.
"I started my career as a civil engineer after graduating from Carnegie Mellon, which is a very reputable engineering school… When I decided to leave the profession in the middle of the Great Recession, I had no idea how much of my identity would be stripped away… I questioned my worth, intelligence, and value to the professional world for years."
During that time, Angie worked in a number of roles she considered to be, "menial," and "well 'below' a CMU engineering grad." But during that same time, Angie found some positives. "[I] found my strengths through experiences I would have never had if I hadn't taken the risk to make a change. Imposter syndrome ended up helping me get to where I am today, as ironic as that is."
Imposter syndrome myths
Imposter Syndrome is likely to be prevalent in all demographics. Around 75% of female executives spanning several industries have reported experiencing Imposter Syndrome at some point in their careers.
Thorough research was published in a journal of the National Library of Medicine which studied the prevalence of Imposter Syndrome across countries and populations. It stated that imposter syndrome is common among some racial groups that imposter feelings have correlations with depression, anxiety, and psychological wellbeing.
To better understand imposter syndrome, you'll need to separate it from what isn't imposter syndrome. Sounds confusing? Take a look at this:
| What imposter syndrome is | What imposter syndrome isn't |
| --- | --- |
| Feelings of self-doubt, inadequacy, and incompetence | General anxiety |
| Irrational fear of being exposed as a fraud | A mental health diagnosis (since it has the word "syndrome" in it, it is often understood as a mental health condition) |
| Obsessively striving for perfectionism | Exclusive to women and minorities |
| Insisting on being productive all the time | Specific to millennials |
| Setting impossibly high standards | An issue faced only by less-confident professionals |
Something else Angie wants to stress is that imposter syndrome can be positive or negative. She believes, "imposter syndrome can be debilitating; it can cause someone to shrink and fear pushing towards goals, but… imposter syndrome can also inspire someone to re-discover themselves and their purpose in the world."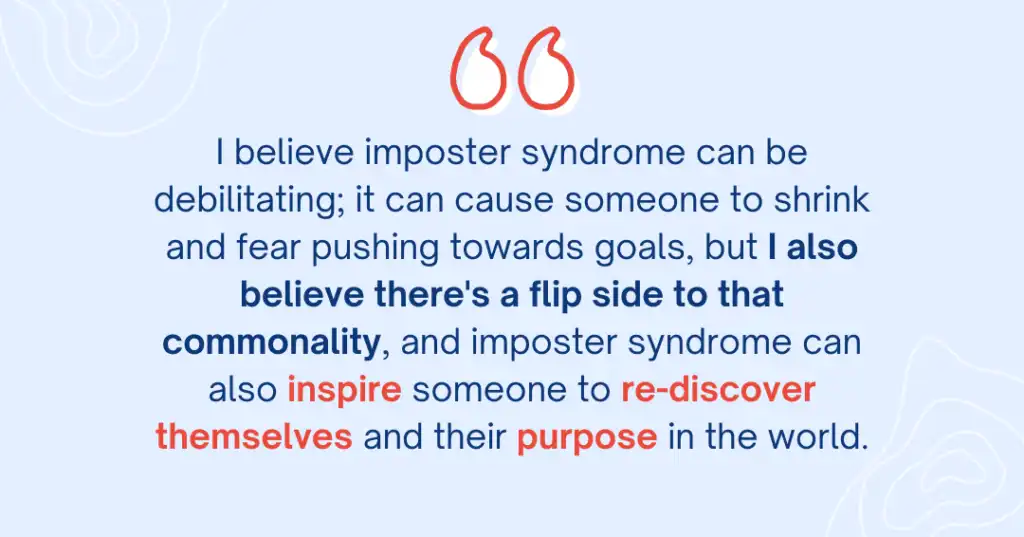 Imposter syndrome types
Imposter syndrome can be broadly classified into five categories, and they are as follows:
1. The Perfectionist
People in this category find it difficult to celebrate success. This is because they believe that almost every task can be executed in a better way. They constantly strive for improvement and perfection. They have this urge to be productive and give their 100% all the time. They're likely to be described as micromanagers or even control freaks!
2. The Superwo(man)
These individuals are prone to pushing themselves to work harder than most other people. This is because they believe themselves to be frauds and fear "exposure". Overworking often leads to physical and mental health issues. This group tends to do way beyond what is expected of them at the cost of their wellbeing, social life, and familial obligations. Their list of accolades doesn't stop them from seeking validation that comes from constantly working.
3. The Natural Genius
This group sets ridiculously high standards similar to perfectionists but there is a key difference between the two. They feel like they need to be "geniuses" who get things accomplished on the first attempt. Not only do they hold themselves to impossible standards, but they also focus on doing it in less time or with less effort. They feel a sense of shame even if their project is flawless, but it took considerable time or effort.
4. The Soloist
Soloists avoid asking for help as they fear that they will be exposed as unknowledgeable if they do so. They are independent workers but often their independence comes at a cost as they refuse help in the quest to prove themselves. They have this innate need to accomplish goals on their own at all times.
5. The Expert
This category of people is known for being critical of their own competence and being convinced that they will never know as much about a topic as they should. They fear that their peers might see them as inexperienced or lacking knowledge. As a result, they refrain from applying to jobs unless they meet every single requirement. They feel the need to seek credentials and certifications as they obsess over improving their skills.
Reasons behind imposter syndrome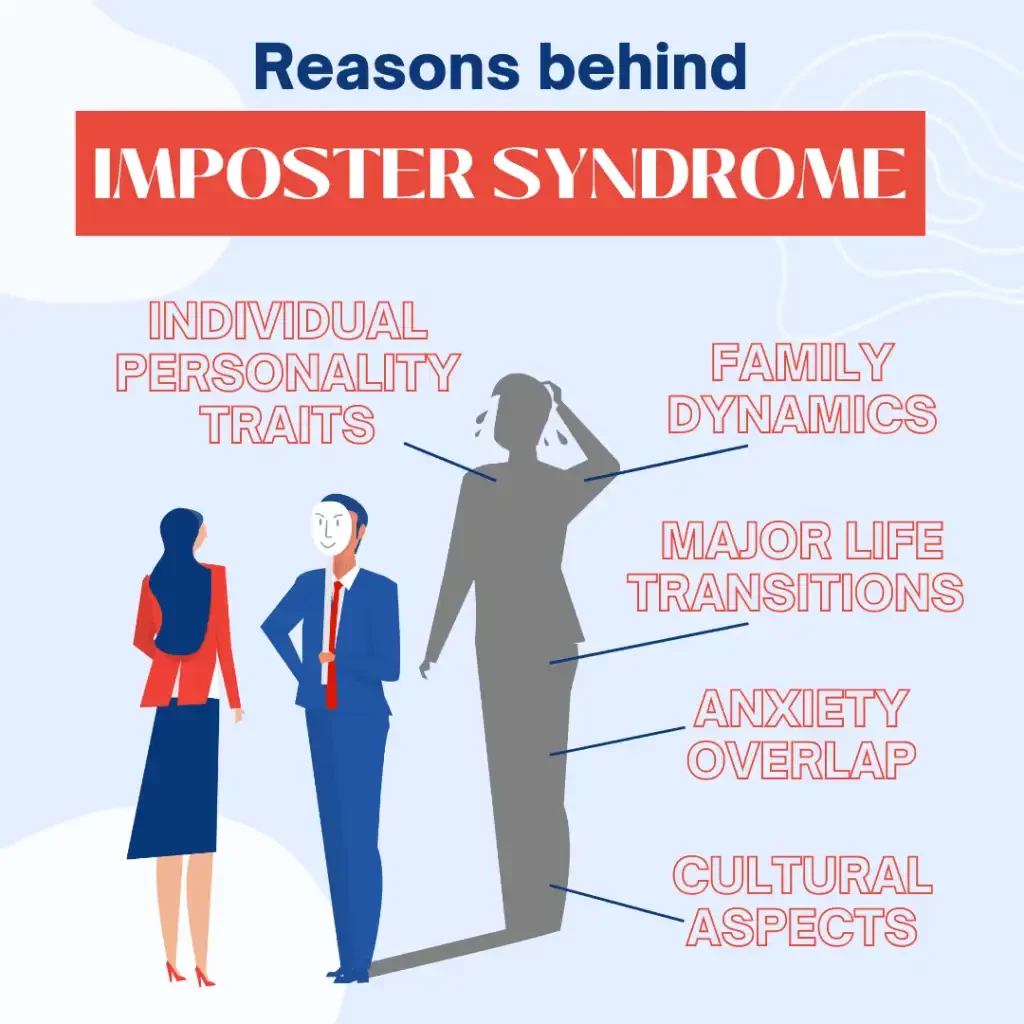 Imposter syndrome could be caused by one or more factors. Some of these are:
1. Family dynamics
An individual can develop a flawed sense of self-worth and success due to childhood experiences. Their perception of themselves is largely shaped by their family at an early age. They go on to associate their identity with the skills they have and their accomplishments. Parenting styles, level of support, and presence of conflict during one's childhood can contribute towards imposter syndrome in an adult.
2. Individual personality traits
It is observed that some personality traits are associated with the possibility of experiencing imposter syndrome. These traits include perfectionism, neuroticism, and low self-efficacy.
3. Major life transitions
When one goes from working at a local business to a major fortune 500 company, their whole life changes. Now they're working with highly knowledgeable and intelligent people whereas they were used to being among the smartest people in the room at their old job. This could potentially lower their confidence and cause imposter feelings.
Angie's own experience from switching careers is one example of how major life transitions can cause imposter syndrome.
4. Anxiety overlap
Imposter syndrome and anxiety may overlap in many causes. If someone has anxiety, it doesn't automatically mean that they also suffer from imposter syndrome. Anxiety may often create feelings of not belonging. Anxiety can contribute to low self-confidence, especially in social situations. This leads to feelings of social incompetence which one doesn't want exposed.
5. Cultural aspect
There are cultural elements that might contribute to imposter syndrome. Some cultures place higher value on education, career, and financial success than others. This causes a lot of individuals to attach their worth as a person to the degrees they acquire or job titles they hold.
Angie explains that even in the U.S., "We live in a world where we're so defined by what we do."
Imposter syndrome in coworkers and teammates
You might be completely unaware but one (or more) of your teammates might be dealing with imposter syndrome. That's why we asked Angie to shed light on what to expect when working with a teammate with imposter syndrome.
She explained, "You may not know you're working with someone with imposter syndrome right away, so it's important to stop and think about why someone is acting the way they are. If they're defensive, territorial, or threatened, it's quite possible imposter syndrome is to blame."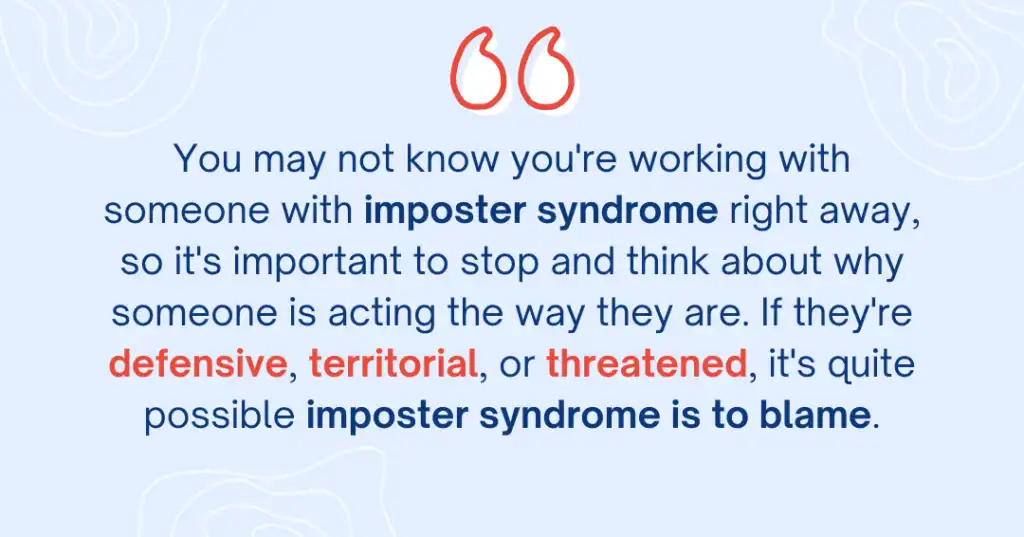 Angie further adds, "Instead of reacting, or assuming they're [a jerk], stop and put yourself in their shoes. Why are they feeling imposter syndrome? What can you do to help? Perhaps reaching out to ask them what they're struggling with and how you can help is a great first step to rebuilding a fruitful and collaborative working relationship!"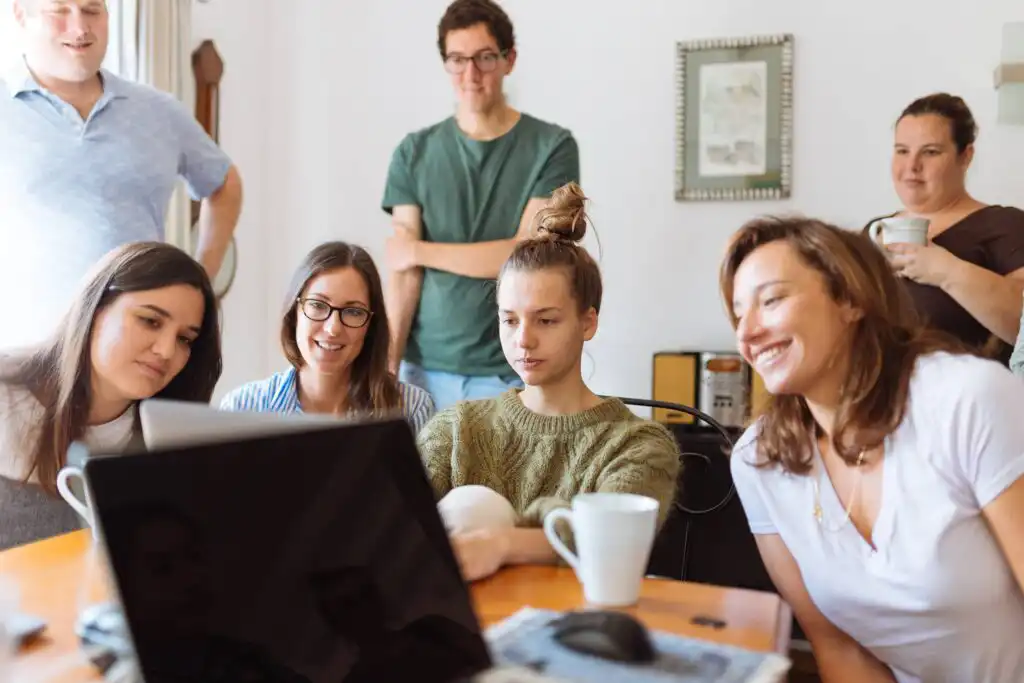 Potential triggers
There are some potential triggers for imposter syndrome in professionals. We've listed some of them: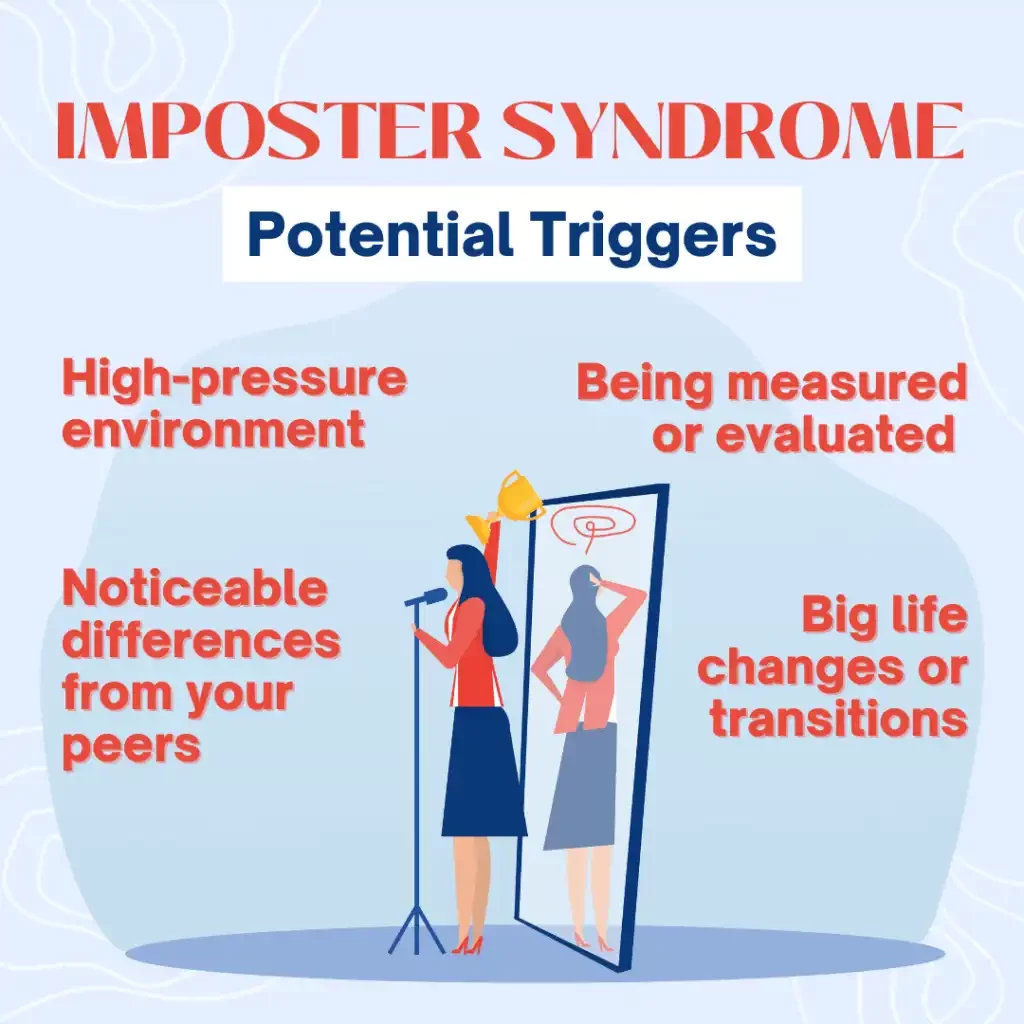 High-pressure environment: Workplaces that are extremely fast paced are notorious for causing stress and burnout in employees in addition to cases of imposter syndrome.
Noticeable differences from peers: Being an "odd duck" among a sea of seemingly similar people in terms of age, race, gender, education, work experiences, and other identifiable differences
Being measured or evaluated: Workplaces that have routine evaluations with consequences often contribute to imposter syndrome among employees
Big life changes or transitions: A career change, accepting a bigger job or promotion, change of management or ownership of the company etc.
How to cope with imposter syndrome:
For starters, you might be thinking, "imposter syndrome seems to keep people on their toes and push them towards improving and almost sounds like a positive thing". Why cope with it?
We had the same thought and decided to seek our expert's take on the matter. Angie shared her own experience, "Imposter syndrome – and pushing through it – is what helped me identify my strengths."
Considering her advice, we have listed a few suggestions when it comes to managing imposter syndrome. They are: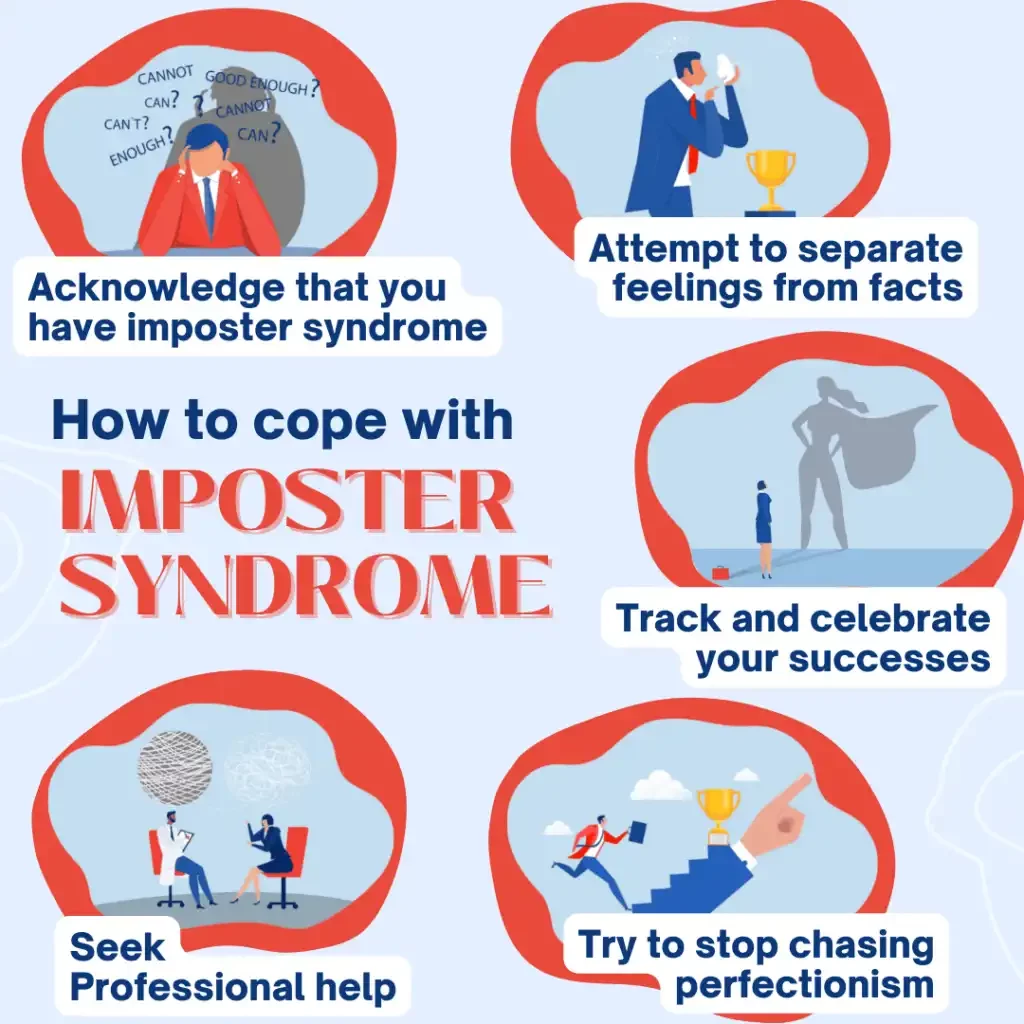 1. Acknowledge that you have imposter syndrome
The first step towards coping with any issue is acknowledging there is a problem in the first place. Without accepting that you are indeed dealing with imposter syndrome, there's very little you can do. Take time to identify your problem areas and be kind to yourself. You are not alone in this.
2. Attempt to separate feelings from facts
This can be difficult for a lot of people because at the end of the day, we are human and often guided by emotions. We suggest listing down facts like your qualifications, skills, certifications, professional training etc. Once you have these written out, you can see for yourself what the facts are. How you feel about yourself, or your abilities, is valid but not always factual. Understanding the difference between facts and feelings will go a long way as you try to manage imposter syndrome.
Working with a coach is a great way to accomplish this. Angie explains, that sometimes an outside, "objective view can mean everything to rethinking how your knowledge, experience, and skills can be leveraged for your future".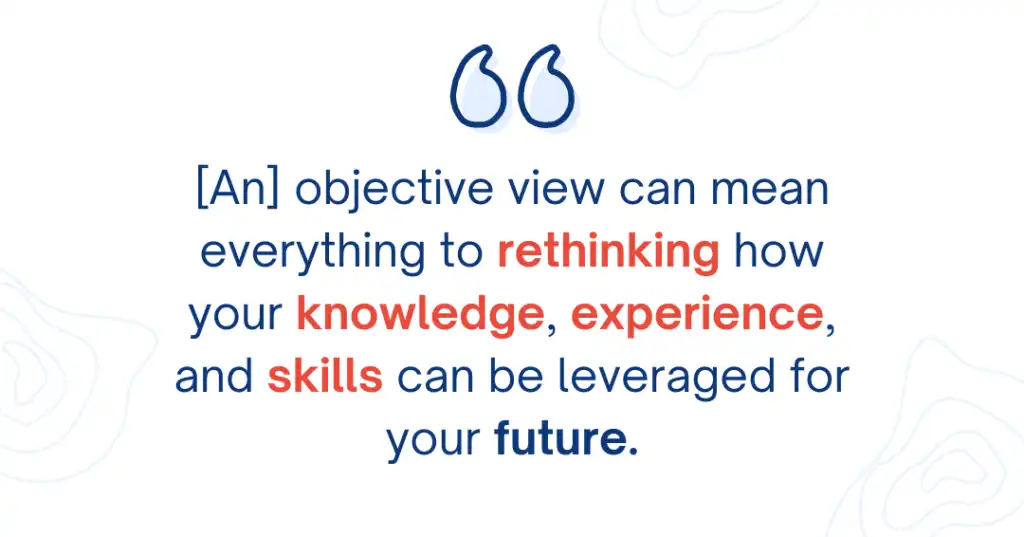 3. Track and celebrate your successes
Make it a point to jot down your professional (or personal) accomplishments and successes. Every milestone, however small, needs to be recognized and celebrated. It doesn't have to include other people. You can be your own cheerleader, as cheesy as it sounds. Tracking your accolades and achievements will boost your self-confidence and play a major role in combating imposter syndrome.
4. Try to stop chasing perfectionism
Plenty of high-achieving individuals are perfectionists at heart. They set impossibly high standards for themselves and are often disappointed when they fail to meet them. Chasing unrealistic goals can be daunting. Also, perfectionism and anxiety go hand-in-hand. The fact is perfection isn't real. So, to get out of this draining cycle, one needs to take a step back from constantly trying to do and be the best. Setting achievable targets can be the first step towards trying to untangle your anxiety. Sometimes "just enough" is more than enough.
5. Seek professional help
If your symptoms are simply unmanageable or if you think you can benefit from speaking to a professional, do so. A counselor or coach might be able to help you in ways that you can't help yourself. It is important to be open to the experience and genuinely want the process to work.
Angie explains, "This is where coaching can be invaluable because it often takes someone unbiased and outside of your own head to help you see yourself in a new light."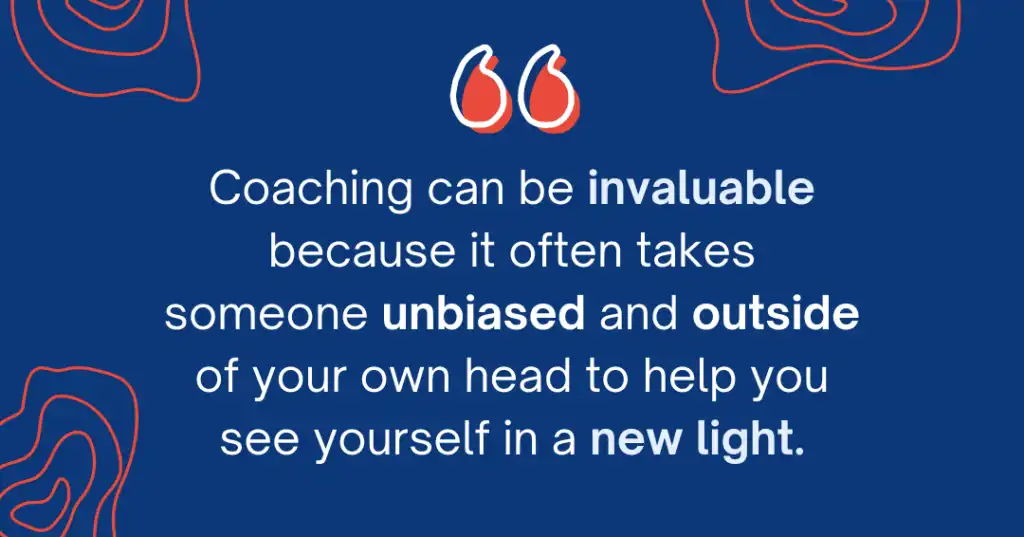 Closing thoughts
Having situational anxiety is understandable. Modern life is stressful for most adults regardless of their employment status. At Wichita payment processor, Acumen Connections, we recognize that most professionals are dealing with stress, anxiety, and burnout.
Are you experiencing burnout at work? Get tips on how to manage it here.
Effective leadership and management can help alleviate some of the work-related stress faced by employees. In addition to day-to-day struggles, a fair number of professionals are also battling imposter syndrome and we wanted to provide a helpful resource. We hope we were able to address the ramifications of imposter syndrome types and suggest effective ways to tackle them.
Anna Reeve, MBA