There are lots of benefits to local advertising. Some of these benefits include getting seen by hundreds of local customers, having a flexible run time, improving brand recognition, and more. With all the pros of having local signage and advertising, it only makes sense to start. You could spend thousands of hours and dollars building a marquee outside of your store. Or, you could rent space on a neighbor's marquee to save money and man-hours! At Acumen Connections, we are dedicated to helping your business succeed. That is why we are excited to announce that we now offer space on our electronic marquee board. Our marquee sign is located on West Central Avenue, near the intersection with North Ridge Road. The sign is about 13 ft x 7.5 ft of digital LED lights. This means that we can display text, image, or even video. With this marquee, your ad's options are almost unlimited.
Why Marquee Signs Work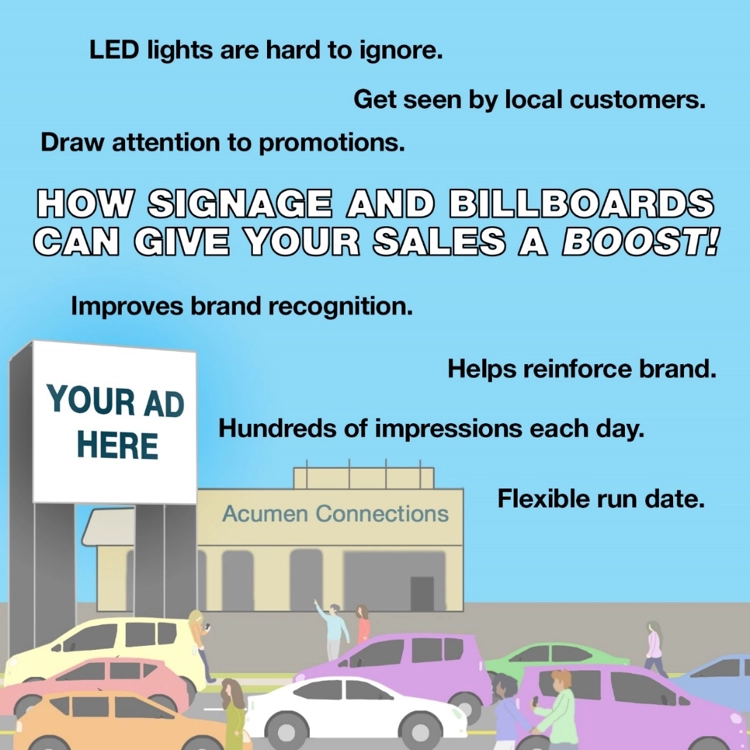 Signs with LED lights are hard to miss. The average person might miss a flat dull printed sign, but neon LED lights really stand out. Your message will stand out to passersby. In addition, every day we have hundreds of local shoppers drive past our sign. Real customers, located in the Wichita area, will be able to see your ad. Direct mail is dying, more people are cutting the cord on cable, and no one is reading the newspaper these days. However, local advertising, such as with a marquee, is still one of the best ways to advertise. You can get your message and brand in front of actual customers who are able to shop at your store.
We keep our scheduling flexible. Most sign and billboard schedules are set to run from the first day of the month to the last day of the month. With us, you can start your ad any day of the month. Your ad will run for 30 days after its start date. This means that if you want to start a special mid-month, you can start promoting it on the 15th. You are not stuck to our calendar. Instead, we work with your calendar to make sure your ad displays when you want.
Getting your brand and logo out there does two things for your company. It (1) improves brand recognition as people drive past it and see your logo and (2) helps reinforce the brand to consumers. As people drive past and see your sign, they acknowledge the logo. One marketing theory is that shoppers need to see your company name at least 7 times before they remember it. Seeing your logo multiple times helps them feel like they can trust your company. In addition, signage can help reinforce your brand image for shoppers. When they see the sign multiple times, they can start to understand what your company is and what you provide. Customers can become familiar with your store well before stepping inside.
How to Design a Marquee Sign
We have previously discussed multiple design rules here and here. Now we want to talk about design recommendations for billboards and signage. We want your signage to be successful, so we will let you know how to make the perfect signage for your store. With our Adobe program tutorials on our YouTube page, you can get all of the information you need to design the perfect marquee sign for your store. Alternatively, we can design the sign for you so that you can save a lot of time.
Keep your message simple. There are many cars that drive past our building every day, and they will only have about 5 seconds to read your message. Keep your communication simple, and avoid writing full paragraphs. There is a rule out there that says for billboards and signage you should keep it 7 words or less. Some professionals recommend keeping it 4 words or less.
Use contrasting colors to make your message pop and catch attention of passersby. A combination of black and white or red, blue, and yellow are best. Statistically, black text on a yellow background is the most readable. We recommend avoiding the use of dull earthy tones.
The great thing about our marquee is that it is located right next to a road where hundreds of cars drive by. However, there is also a bus stop nearby. Not only are there people driving by, there are also people waiting for the bus every day. Many of these people sit there for about 10 minutes, with nothing to do except watch the marquee.
We recommend creating an image that is 448 pixels x 224 pixels. If that does not work for you, you can always create a larger image with the same the width to height ratio. Again, if designing a sign on your own sounds too time-consuming, we can help you with that process too.
Are you a current Acumen Connections customer that wants more information about our electronic marquee? Send us an email at support@acumenconnections.com and let us know.
Are you a company that would like to start accepting credit cards? Check out our website AcumenConnections.com and contact us via phone at 800-864-4644 or via email at sales@acumenconnections.com.
Renee McBride